When virtue-signalling goes wrong
LGBT rainbow crossings are apparently confusing guide dogs.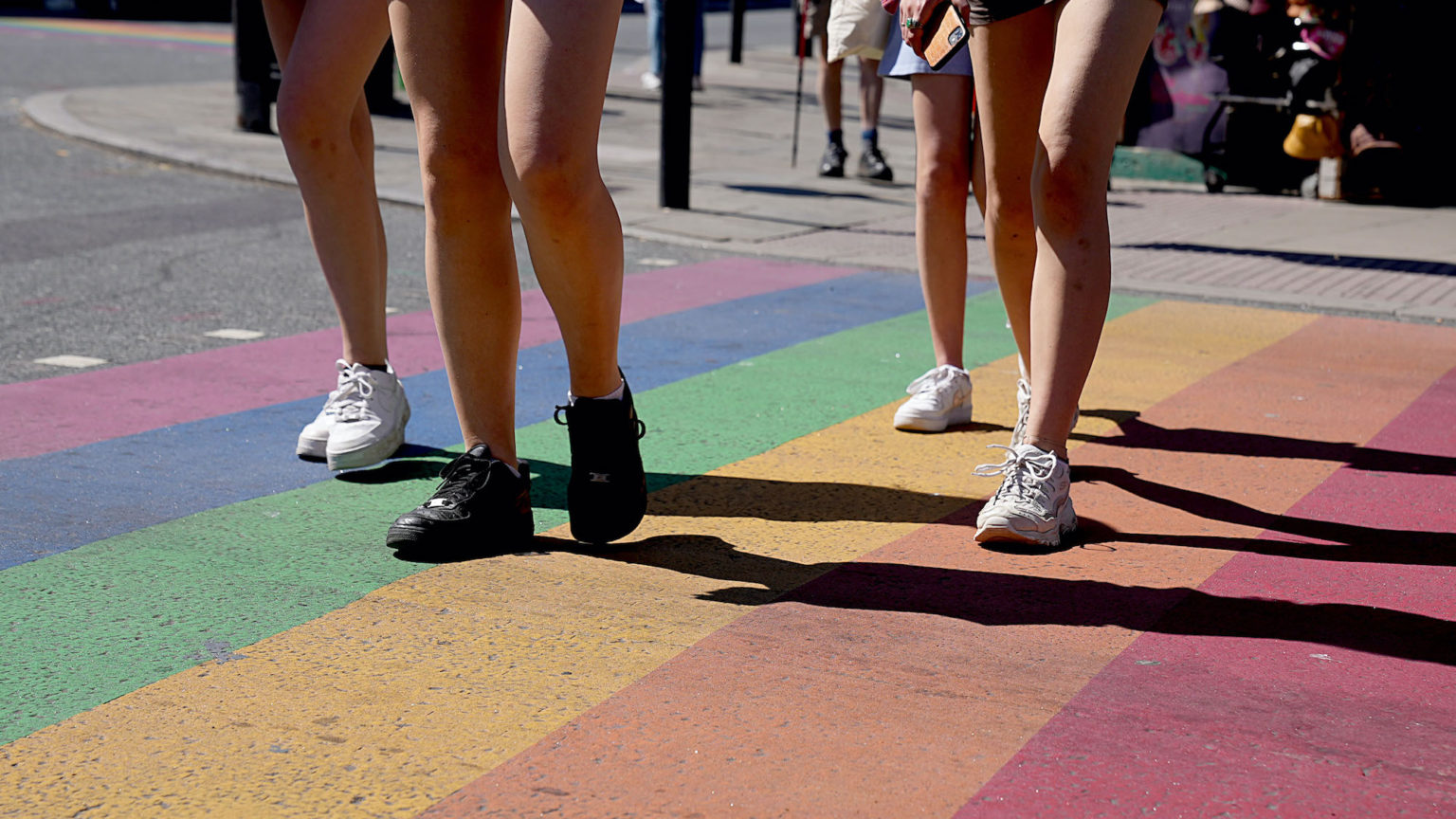 Rainbow zebra crossings have spread like an unsightly rash across the world. When one first appeared in the town in which I live, opinion was divided. Well-meaning straight people enthused about 'inclusivity' while others harrumphed about 'PC gone mad'. As for those who were supposed to be represented by the rainbow, most of us were somewhere between bemused and embarrassed – the overwhelming response was 'why?'.
It's hard to fathom what issue these gaudy stripes are supposed to address. Do local councils and highways agencies believe that special provision needs to be made to allow sexual minorities to walk across roads? Perhaps they imagine that, like hedgehogs, our only defence against the scourge of heteronormative traffic is to curl up into squishable balls.
In Canada – an early adopter of rainbow crossings – skid marks from car tyres were investigated as potential hate crimes against the LGBTQ 'community'. The BBC reported that a rainbow crossing had been 'smeared with burnt rubber'. Presumably similar incidents at black-and-white zebra crossings will now be considered racially aggravated offences.
A scheme in the German town of Hanau took things further. Local-council officials created 'diversity' parking spaces in an underground car park for migrants and LGBTQ people. City councillor Thomas Morlock said the idea was to help people who feel 'a special need for protection'. Thankfully, users will not be required to carry papers to confirm their migration status or LGBTQ identity when using the spaces.
The drive to parade inclusive values goes beyond simple rainbows. In 2016, 50 traffic lights around Trafalgar Square in London were replaced with symbols to celebrate diverse sexual orientations and gender identities. Although conceived of as a temporary measure for Pride, they have remained in place ever since – presumably removing them might constitute a hate crime.
But it turns out, there are large portions of the population for whom these apparently well-intentioned initiatives mean exclusion from public space. Last month, the disability-advocacy group, Access Association, wrote to UK transport secretary Grant Shapps to highlight the dangers posed 'to disabled people, older people and children' by painting rainbows across roads.
The Access Association explained that the replacement of black-and-white pedestrian crossings 'may lead to people's loss of independent travel and increased social isolation'. It cited the example of visually impaired people, saying: 'We are concerned about the impact of colourful crossings on assistance dogs. The inconsistency of design will make training very difficult.'
Those with dementia, autism and neurological conditions were also mentioned as groups likely to be impacted by the multicoloured crossings. But let's face it, disabled, visually impaired and elderly people just aren't seen as fashionable causes – they don't even have a flag.
Corporations don't fight to cover themselves in logos for Alzheimer's awareness, nor do they sponsor floats for disability pride. While organisations like Transport for London are flying rainbow flags, it's still the case that there are just 50 stations where someone in a wheelchair can access trains unassisted. Disability and ageing are arguably far greater barriers to social inclusion than your choice of intimate partner or gender identity. But creating accessible, inclusive spaces for disabled people requires more investment than a lick of paint and a media release.
Let's be honest, the reason many straight people and local councils latch on to all things Pride is because it is a social shorthand – a way to show how open-minded they are about sex and sexuality. The fad for the rainbow is a heterosexual peacock's tail, a way to attract a mate – a mate who will most likely be of the opposite sex.
For all the cooing about inclusivity, rainbow crossings are a dangerous and unnecessary fad. Road markings exist to make sure that people know what is expected of them and are kept safe. The crass politicisation of public space threatens to undermine public safety, and further exacerbate existing social fissures. Rather than bringing people together, rainbow crossings draw attention to what divides us.
Jo Bartosch is a journalist campaigning for the rights of women and girls.
To enquire about republishing spiked's content, a right to reply or to request a correction, please contact the managing editor, Viv Regan.