Oh, so now the woke left cares about misogyny?
Sorry, but you can't spend years calling feminists 'bigots' and then suddenly claim to care about women's safety.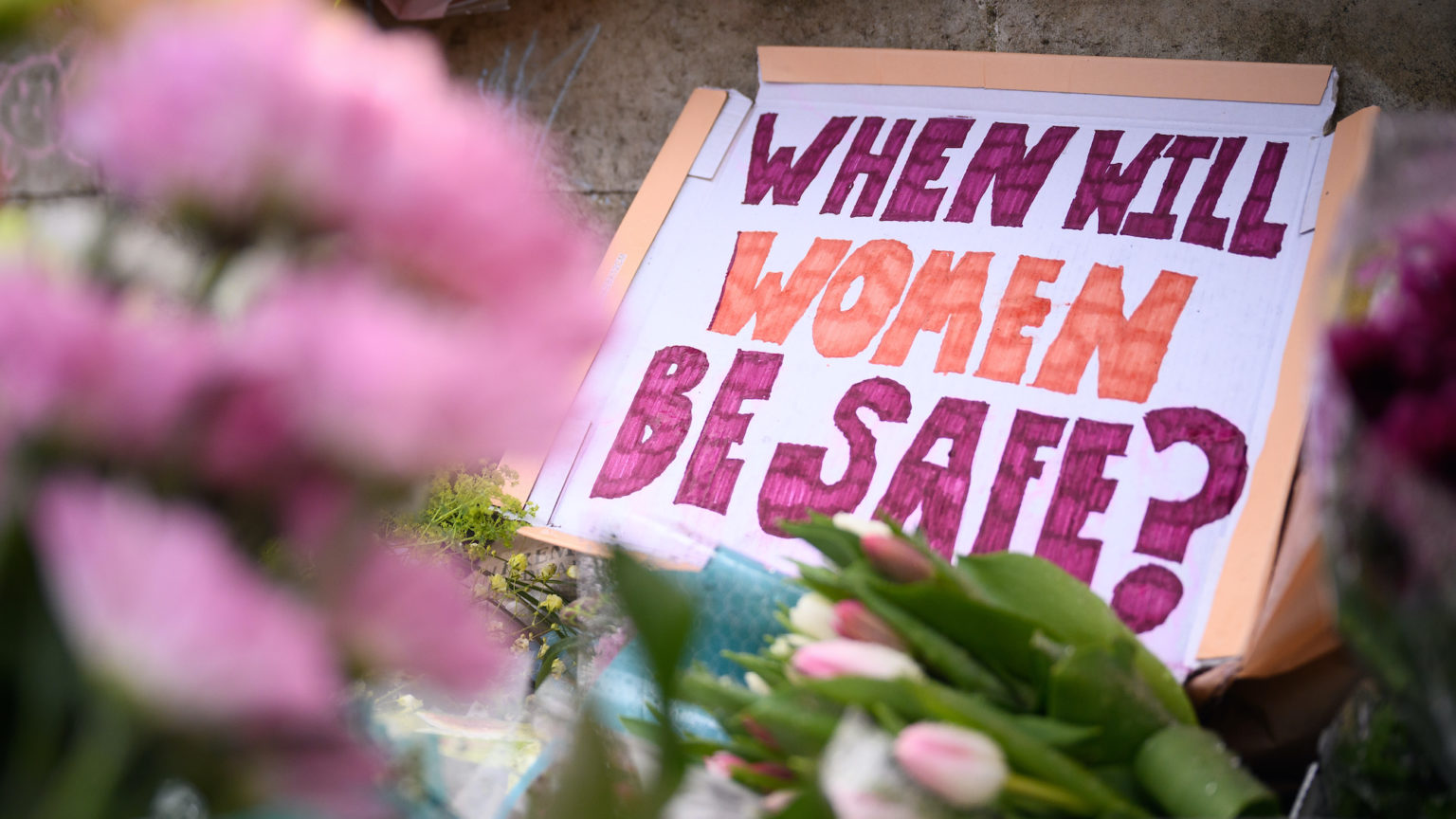 If there was a prize for brass neck, the Guardian would win it hands down. After it was revealed that Wayne Couzens' vile misogynistic behaviour included acts of indecent exposure, the Guardian started wringing its hands over the scourge of flashing and the terrible impact it can have on the women subjected to it. 'Women face "epidemic" of indecent exposure', it said in a frontpage splash on Saturday. This is the same Guardian, the very same one, which just a few weeks ago devoted a huge amount of journalistic resources to trying to rubbish an alleged act of indecent exposure. The same Guardian which decided to cast doubt, and aspersions, on a woman of colour who had raised the alarm about a bloke allegedly exposing himself to women and children.
In the wake of the Wi Spa scandal in June – which sprung from a viral video of a woman complaining to staff at an LA spa about having seen someone with a penis in the women's changing area – the Guardian took a very different approach to the one it is taking now on indecent exposure. 'What's the big deal?' – that was the tone struck by Guardianistas and other woke warriors when it was alleged that a man who apparently identifies as a woman was seen wandering among women and a minor naked and in a state of semi-arousal. Did it even happen, they asked? Maybe these nasty women are lying?
In July, the paper sent two of its American reporters essentially to shit all over the woman's claims that she had been subjected to a flashing. Perhaps the whole affair was 'viral misinformation', they said. '[No] other witnesses have… spoken out to corroborate the account', they reported. What's more, the woman of colour in that viral video is a Christian who doesn't like gay marriage, they nudge nudged. Untrustworthy much? As recently as last month, after a biological male had indeed been charged with exposing himself to four women and a minor at Wi Spa on the day that viral video was made, the Guardian was still making light of this vile alleged act. In an interview with gender nut Judith Butler the paper referred to the events at Wi Spa as a 'furore' whipped up by 'transphobes' (it has since deleted this section from the interview).
And now the Guardian thinks it can reinvent itself as a media warrior against the 'epidemic' of indecent exposure? That isn't going to wash. You cannot casually shift, in mere weeks, from sending your hacks to call into question an allegation of indecent exposure to demanding on your front page that society take the problem of indecent exposure more seriously. You can't essentially excuse an act of misogyny one month and then bang the drum about the scourge of misogyny the next. And this doesn't just go for the Guardian – numerous activists and commentators on the woke wing of the culture war are now posing as the defenders of women from misogyny, despite having spent the past few years berating women for talking about misogyny.
Couzens' depraved crime, his murder of Sarah Everard, has given rise to a furious discussion about misogyny in the police and in society. Now, some of us think this discussion hasn't been entirely helpful. Linking relatively minor incidents of misogyny, such as a man making lewd comments about a woman in the street, with a horrific act of kidnap, rape and murder ends up lumping together bad behaviour with barbarous crimes to the detriment of serious public discussion. And yet we can all agree that misogyny, where it occurs, is a problem. It's just that some of the people now making this point, now insisting we must all stand up to anti-women hatred, are hypocrites of the highest order. They've been trying to silence women who want to talk about misogyny for years.
The increasingly tense transgender discussion has shone a light on what we might call woke misogyny. The identitarian left is often at the forefront of misogynistic harassment in the 21st century – or at least turns a blind eye to it. Witness the rape threats and death threats hurled at JK Rowling merely for raising reasoned objections to the idea of gender self-ID, or the relentless demonisation of Rosie Duffield for saying only women have cervixes, or the Twitterstorming of any feminist who so much as suggests that women's refuges, women's changing rooms and women's prisons should be for women. (Actual women, not trans women.) These trans-sceptics are motivated by a belief that women sometimes need a safe space away from men. For expressing this belief they have been turned by the woke mob into vile bigots deserving of demonisation and No Platforming.
Now, displaying a jaw-dropping dearth of self-awareness, some of the woke shamers of women concerned about misogynistic behaviour want us to believe that they are fighting the good fight against misogynistic behaviour. Following Couzens' crime they are dolling themselves up as gallant defenders of women from hate and violence. There's the Guardian, doubter of indecent exposure turned warrior against indecent exposure. Apparently being made to look at a male appendage against your will is bad when it's a 'cis' bloke who's doing it but not so bad when it's a 'trans woman'.
There are woke columnists like Owen Jones, who often sets the dogs of Twitter on to feminists who merely want to maintain women-only spaces as a safe haven from opportunistic misogynists, who is now reimagining himself as a leading critic of 'institutional misogyny'. Last week Labour MP David Lammy was criticising the 'dinosaurs' in the Labour Party who object to the excesses of the transgender ideology, claiming that these people are 'hoarding' rights. Now, in the wake of the life-sentencing of Couzens, he's saying violence against women and girls should be treated as seriously as terrorism. But those 'dinosaurs' he attacked were actually only thinking and talking about how to protect women and girls from opportunistic males. You cannot slam activists for women's safety one day and then pose as a super-enlightened warrior for women's safety the next.
I know self-identification is all the rage, but it is a bit much to 'identify as' a crusader against misogyny when you have contributed, whether wittingly or unwittingly, to a new culture of misogyny. One in which women are monstered, censored and sometimes even sacked merely for talking about problematic male behaviour. One in which you can be branded scum and a bigot for arguing that women should have their own spaces in which no biological male is allowed to enter. One in which women are called hags and bitches and subjected to sexual threats by armies of faceless Twitter crazies simply for suggesting that some dubious men will exploit trans loopholes in order to get close to women.
The Johnny Come Latelys to the campaign against misogyny are currently slamming the police for failing to do something about a violent man who opportunistically exploited his power to attack a young woman. Yet some of these people have spent years insulting and sidelining women who make a very similar point about opportunistic males exploiting self-ID laws to obtain access to women's spaces in order to do harm. Even though this has already happened, in women's prisons.
We need a serious discussion about where the culture of misogyny is coming from these days. Yes, there is still a problem of unreconstructed men behaving in lewd and sometimes threatening ways in public spaces. But the larger problem, it seems to me, is the pervasive culture of woke misogyny, which holds everywhere from social media to the Labour Party to the educational establishment. This often vicious ideological clampdown on women's right to talk about misogyny, and to talk about what women need, strikes me as a far more thorough assault on sex-based rights than the crude and lewd behaviour of some stupid men. The new self-styled warriors against misogyny fail to see that really they are helping to construct a whole new machinery of misogyny. They are not women's friends.
To enquire about republishing spiked's content, a right to reply or to request a correction, please contact the managing editor, Viv Regan.