Only women have abortions
Womanhood is a question of material reality, not identity.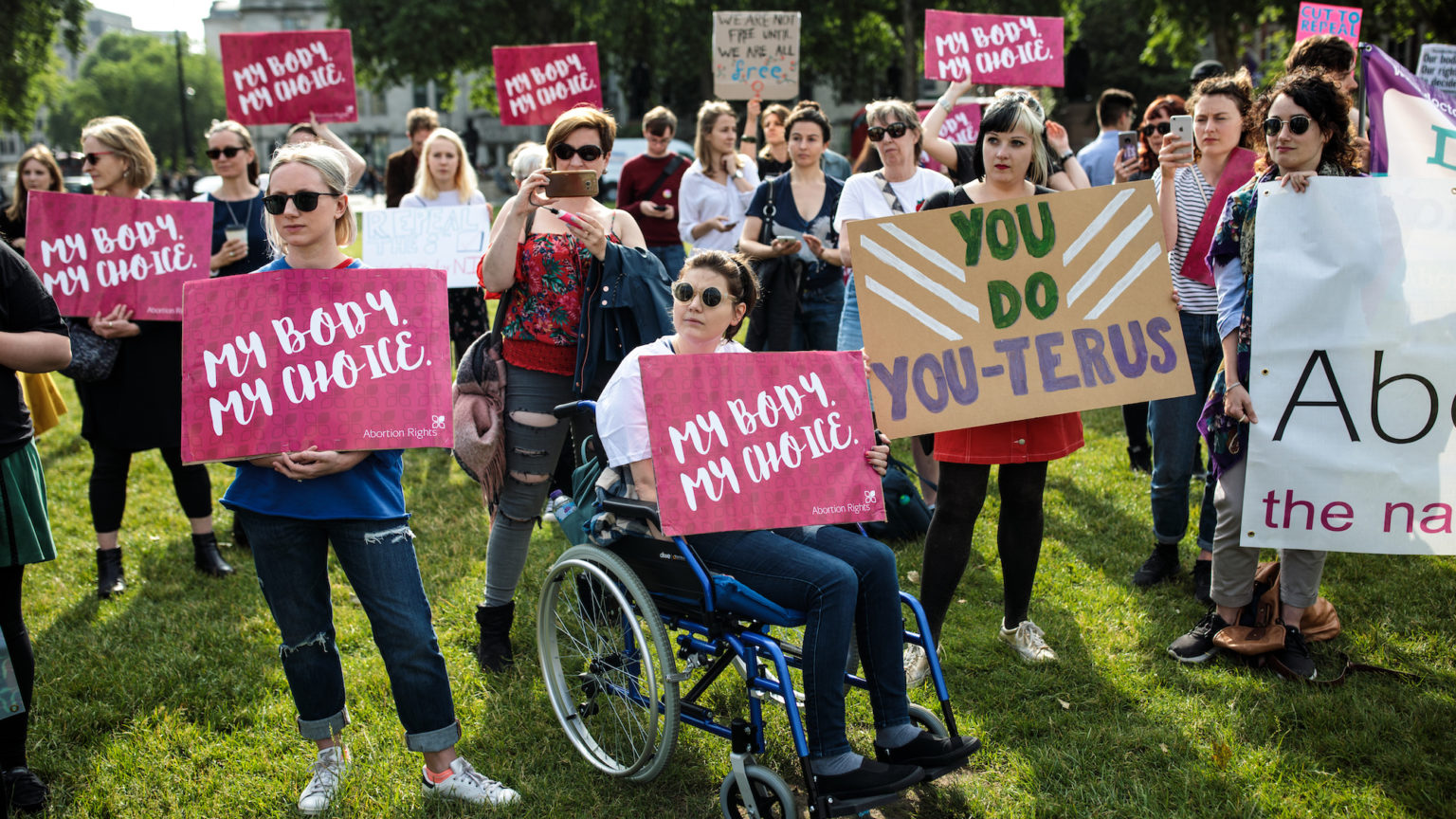 Following a barrage of criticism, the American Civil Liberties Union (ACLU) has apologised for revising an iconic speech by the late Supreme Court justice, Ruth Bader Ginsburg, to fit with today's woke-speak.
At RBG's confirmation hearing in 1993, a time when anti-choice activism was rife in the US, she was asked about her position on abortion. She did not mince her words:
'The decision whether or not to bear a child is central to a woman's life, to her wellbeing and dignity. It is a decision she must make for herself. When the government controls that decision for her, she is being treated as less than a full adult human responsible for her own choices.'
On the anniversary of her death, reproducing the quote on Twitter, the ACLU redacted the word 'woman' and the attendant female pronouns: 'The decision whether or not to bear a child is central to a [person's] life, to [their] wellbeing and dignity.'
So now we have an unsayable w-word to join the other unsayables: the n-word, the f-word and the c-word. It seems beyond parody that an organisation that is supposedly committed to free speech regards 'woman' as a word too offensive to tweet, even in a quote from a historical event.
What comes next? Does the ACLU's censorship suggest that every document or piece of literature that has ever referred to women should be revised? Obviously, that would be stupid. But then so was the ACLU's tweet.
The ACLU's executive director has since apologised for a 'mistake among the digital team'. However, he then went on to tell the New York Times that it was necessary to understand 'that the people who seek abortions are not only women. That reality exists.'
Actually it does not. And the sooner women's healthcare providers and advocates drop this performative pretence, the better it will be for everyone who needs to use our services.
The people who seek abortions are, without exception, human females: those creatures who have been known throughout history as women, and who, despite what trans advocates would have us believe, generally still identify as women. It is true that a small number of those seeking abortions do not identify as women. But their identification as non-women does not change the fact that they have bodies that have the reproductive capacities of an adult human female – the very thing most people associate with being a woman.
Of course, not all women can use or want to use the potential that biology gives them to bear children. But the point is that the biological difference between men and women exists – and we have acknowledged this crucial differential since society began. You might argue that theoretically there are other ways the social Sorting Hat might work. Why type people according to their possession of a vagina or penis? Why not height or hair colour? But life is not Hogwarts – and there is a long historical story about how our cultural roles and functions have been built around the male / female distinction. Friedrich Engels took a good stab at explaining this in 1884, basing his theories on what is still an important idea: that the stuff of social practice and culture does not simply drop out of our ideas, but is rather based on a material reality.
The material reality of womanhood is intimately connected to the social culture of womanhood. That doesn't change overnight because someone, or even a large group of people, want it to. The group of 'persons' waiting for treatment in an abortion clinic have a very crucial thing in common: pregnancy. And pregnancy is only possible if you are a sexually mature human female. No person other than one with a uterus, a vagina, a cervix and a healthy quantity of female hormones – ie, what we would normally call a woman – will be in need of an abortion. And to have become pregnant, that person will, in all but the most unusual circumstances, have had sex with a person with a penis, testicles and a healthy quantity of male hormones – ie, what we would normally call a man. Take any individual and call him or her what you want, but those facts do not change.
The reality of abortion services is that they are sought by adult human females – also known as women. A few do not identify as women – but, despite their identification, their bodies require the same treatment as those who do. Someone who identifies as a pregnant man would be ill-advised to seek a specialist in men's health. Clients who identify as other-than-women know full well that they are walking into a 'women's service' as soon as they get through the door. They know this not because of whatever language is used on the signs, but because of the others in the waiting room who, whatever their self-identification, share not only a biological similarity (a pregnant womb), but also a set of experiences that are not as easily redacted as a word in a speech.
Even when the Lancet, in a special on menstruation, refers to 'bodies with vaginas', we all know that this is woke code for women. And we know that menstruation refers to more than just bodies that bleed. There are experiences that we women have in common that are based on it: the weirdness of our first period, choosing tampons and towels, worries about 'leaking', and so on. When the brilliant Simone de Beauvoir said that 'one isn't born a woman, one becomes one', she meant that the whole of her life shaped her experience of woman-ness. That 'whole life experience' is not easily set aside.
An increasing number of women, especially younger women, do not wish to identify as women, which is their prerogative. Abortion services are used to caring for individuals with special personal needs – and we were probably way ahead of the game in asking how clients wish to be addressed. Confidentiality was important long before we worried about pronouns. Abortion providers know that a couple with a diagnosed fetal anomaly in a wanted pregnancy may feel uncomfortable in a waiting room with women wishing to end a 'normal' pregnancy that they would have cherished. A pregnancy that results from rape is different to one that results from contraceptive failure. Clients are treated as individuals. And however a person 'identifies' they need one thing: personalised abortion care. Good, individualised care should always be provided. This has nothing to do with being compliant or not with the zeitgeist – it's about being sensitive and putting people at their ease.
But an abortion clinic is not an appropriate venue for a 'teachable moment' about trans issues. It does no one any favours to imagine the world is not as it is. Right now, the challenge that faces every abortion service is how to make everyone who needs it feel at ease and able to trust those in whose hands their care rests. Yes, that includes someone who identifies as a 'pregnant person' or even 'a body with a vagina' (should such a person exist outside the imagination of the Lancet's editorial board). But it also includes the far greater number of women for whom English is not their first language or who have low literacy skills. And it includes those women who feel strongly that their womanhood is more than an identity and that it should not be cancelled.
It helps no one to pretend that the world is woke. It helps hugely to accept that abortion is a woman's service, but that sometimes, despite their biology, those who need it do not identify as women.
Ann Furedi is author of The Moral Case for Abortion. Follow her on Twitter: @AnnFuredi.
To enquire about republishing spiked's content, a right to reply or to request a correction, please contact the managing editor, Viv Regan.