Rwanda: a dictatorship loved by the West
Michela Wrong's Do Not Disturb tells the grim story of Rwanda's post-genocide dictatorship.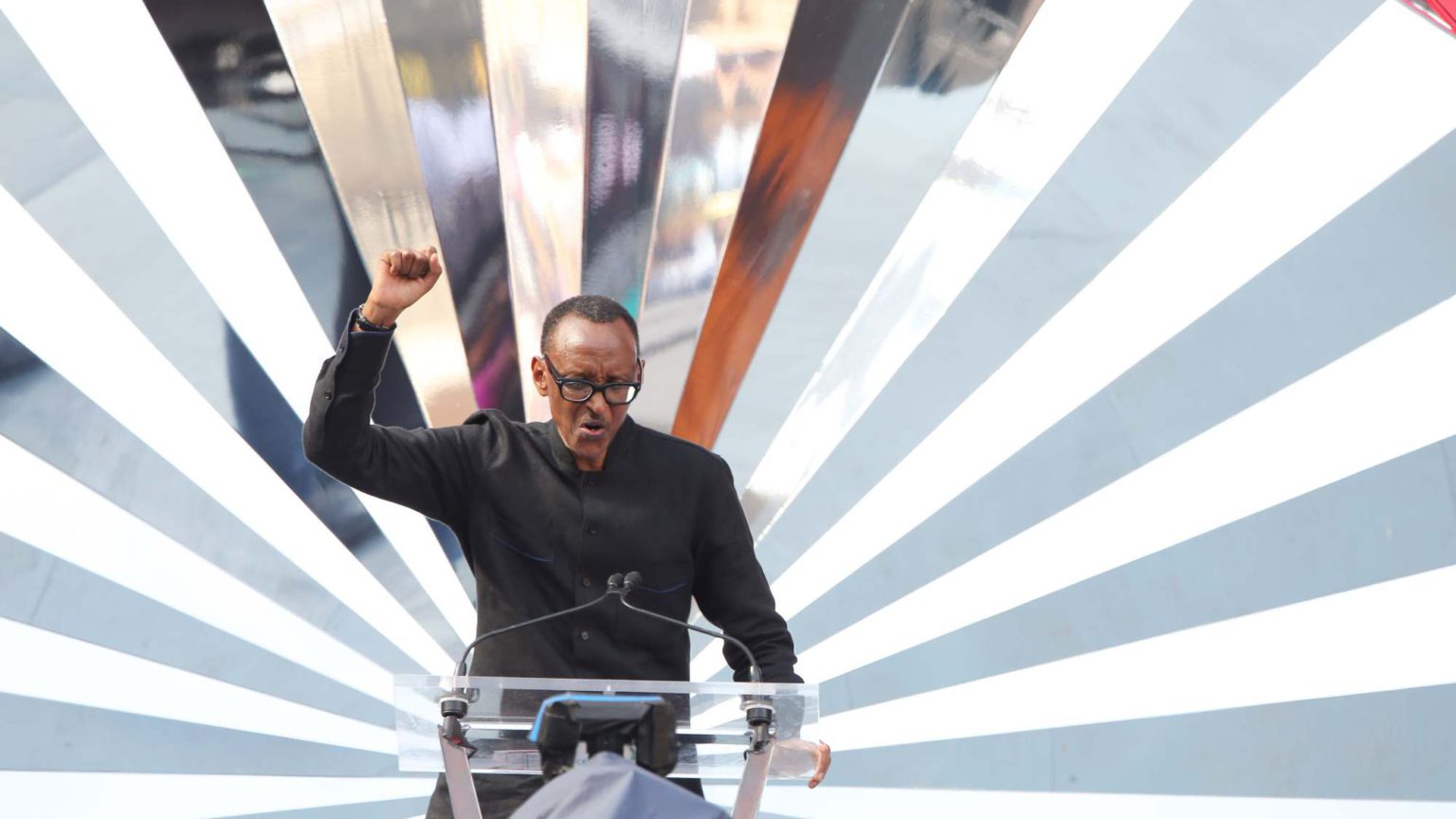 An army of exiled Tutsis invaded Hutu-dominated Rwanda in October 1990. They came from Uganda, where many of them had aided Yoweri Museveni's successful revolt against the Tanzanian-backed Obote regime. After an initial setback, the Rwandan Patriotic Front (RPF) pushed far into Rwanda. The UN brokered a power-sharing peace deal between the RPF and President Juvenal Habyarimana at Arusha, on 4 August 1993.
Neither the RPF nor Habyarimana were happy to share power. On 6 April 1994, Habyarimana was killed when his plane was shot down by a missile, restarting the war. The interim regime in Rwanda launched a mass slaughter of Tutsi civilians in response, killing 800,000. The RPF defeated the Rwandan government forces in July 1994.
Rwanda is still controlled by the RPF. The government – and its allies among Western governments and human-rights groups – claim that the 1994 killings constituted a genocide. Some critics, including those who were part of the previous regime, baulk at the characterisation. They argue that there were illegitimate killings on both sides in the civil war.
The claim of genocide became central to Rwanda's social order and its relations with the outside world. The RPF's claimed right to govern rests on its determination to confront the genocidal ideology of 'Hutu Power'. From 1994 to 2015 the International Criminal Tribunal for Rwanda tried prominent Hutus for war crimes, while local courts heard lesser cases.
Linda Melvern's latest book, Intent to Deceive, takes on the so-called genocide deniers. In contrast, Michaela Wrong's Do Not Disturb picks up the story of Paul Kagame's RPF regime and its suppression of dissent. It does so through the prism of the assassination of Patrick Karegeya, who had been the head of the RPF's external intelligence forces before breaking with President Kagame.
Melvern insists that anyone who does not agree that the killings of Tutsis were part of a genocide is denying that they happened, or is minimising them. Her approach makes a balanced view of the conflict impossible. It only allows you to see arguments in terms of whether they confirm her thesis or deny it (in which case, they are unworthy of consideration).
Melvern's dogmatism comes unstuck when it comes to the RPF's killings of civilians. Seth Sendashonga, who was minister of the interior in the RPF government in 1994-5, claimed that the RPF was responsible for half a million deaths. These were Hutus who were slaughtered before and after the fall of the capital, Kigali. In a dramatic demonstration of his point, at a press conference he gave while in exile in Nairobi, Sendashonga tipped out a huge ream of teleprompter paper listing hundreds of thousands of names of the dead. For Melvern, though, these deaths have to be minimised. 'Revenge killings' by the RPF were not systematic, she says, and the RPF killed Hutus 'in battle' rather than in cold blood.
The claim that there were many Hutu victims of the RPF – and that their killings were systematic – is hard to contest when it comes to the hundreds of thousands who fled Rwanda into refugee camps. Those refugees were attacked by the RPF in 1994. 'Everyone had become more or less militarised,' claimed RPF general Jack Nziza. 'There was no demarcation between them', he said, meaning that Hutu refugees were not victims, but 'genocidaires' and therefore legitimate targets for revenge.
The UN reported 617 separate incidents in which Hutu refugees were bludgeoned, bayoneted, shot or burned to death. How many died is not known, but the UN says some 200,000 are unaccounted for. Melvern diminishes these deaths in the camps, saying that 'there were killings, but they were probably isolated acts of revenge'. The truth was that Hutus hiding in the Congo forests were invited to gather in these camps for food and medical care, only to be slaughtered.
Highlighting the RPF's slaughter of Hutus is wrong because it serves to 'conceal the crime of [Hutu-led] genocide by seeking comparable wrongs', says Melvern in a chapter titled 'moral equivalence'. But humanist morality is surely based on the idea that human lives are equivalent to one another. Melvern invokes the claim of genocide in a way that diminishes the importance of those who were killed by the RPF. While guilt for the slaughter of Tutsis lay with Hutu officialdom and the militias it engaged, the RPF was clearly a guilty party in the conflict.
Wrong's book is not about the 1994 killings, but the Kagame regime that followed, and its treatment of its critics. Do Not Disturb is a shocking account of the many people who fell out with the regime. They were persecuted in Rwanda and many were killed.
The list begins with Wrong's main source, Karegeya, who was murdered in South Africa in 2013. It includes Sendashonga, who was killed in Nairobi in 1998, and journalist Charles Ingabire, who was shot dead in Kampala in 2011. In 2010, the Rwandan army's former chief of staff, Kayumba Nyamwasa, was shot in South Africa but survived. Journalist Jean Leonard Rugambage was shot dead in Kigali a few days later. More recently, Jean Damascène Habarugira and Syldio Dusabumuremyi of the opposition United Democratic Forces (UDF) were killed in Rwanda in 2017 and 2019 respectively. Other UDF supporters have disappeared. UDF leader Victoire Ingabire Umuhoza served eight years in jail, accused of 'genocide denial' (she argued that Hutus were also killed in the civil war) and was only released after the African Court on Human and Peoples' Rights found that her detention was illegal.
In several statements, Kagame has made thinly veiled hints that the regime's opponents deserve to die. In January 2014, he said that 'whoever betrays the country will pay the price'. He was speaking weeks after Karegeya's death.
Wrong paints a compelling picture of Kagame during his rise through the RPF ranks. He comes across as ruthless, particularly when dealing with undisciplined troops. This reputation earned him the nickname 'Pilato', after Pontius Pilate. Wrong repeats a bodyguard's accounts of being beaten and kicked by an enraged Kagame on two separate occasions. Nyamwasa described Kagame having commanders whipped in front of troops at the Mukamira barracks. At a command meeting in 2000, Kagame set upon several brigade commanders, punching and kicking them. They were 'herded like frightened sheep into a corner of the room', according to one brigadier.
Early on, the RPF government tried to present itself as ethnically diverse. Leading Hutu liberals and critics of the Habyarimana regime, like Sendashonga and Faustin Twagiramungu, leant Kagame their support. But it became clear that the new regime would be ethnically based when the list of local mayors was published. 'Almost all the names were refugees recently returned from Burundi, the Congo, Uganda and Tanzania', he said. In other words, they were all Tutsis. The new regime simply reversed the pattern of ethnic domination that had existed under the preceding Habyarimana administration.
It was at that point that the Hutu ministers withdrew from the government. Twagiramungu later challenged Kagame in the presidential election. Karegeya said that the RPF leadership discussed what margin Kagame should win by, – perhaps as much as 100 per cent. Instead, Kagame settled for 95.1 per cent, after some districts reported a turnout of 110 per cent. Twagiramungu left for Belgium, and Sendashonga for Kenya.
Despite internal tensions, Kagame's Rwanda was fast becoming an important power in central Africa. It was lauded by the US and UK as a shining example of what good governance could achieve. RPF forces struck at Mobutu Sese Seko's decrepit dictatorship in the Congo, making incursions in pursuit of Hutu refugees and exiles. Allied with Uganda and supported by Angola, Zimbabwe and South Africa, the RPF installed the veteran Congolese rebel Laurent Kabila as a successor to Mobutu in the Congo. Swift as Mobutu's collapse was, Kabila's attempts to shore up a national base led him to turn on his Rwandan allies and demand that they leave the country. It was a fatal mistake.
In 1998 Rwanda invaded the Congo for a second time, this time attacking Kabila. This invasion was part of a wider civil war that cost as many as 4.7million lives. As Wrong explains, the RPF used the invasion to exploit Congolese mineral resources. Kagame had overreached. This time, Zimbabwe and Angola sided with Kabila against Rwanda. Most damagingly, Uganda's Yoweri Museveni, the RPF's long-standing ally, joined them.
RPF veteran Theogene Rudasingwa was the regime's ambassador in Washington. He told Michela Wrong how he had successfully silenced Western criticism of his government's adventurism: 'There's the genocide and "Never Again" – therefore we have a passport to do whatever we can to prevent a repeat… It's really a very cynical ploy.' 'For years, we've done it very effectively, because it really intimidates people', he explained: 'The Americans, the Brits, they become cowed by guilt.'
As Wrong explains, the regime has received plenty of support from the West. 'US, UK, Dutch and German funding regularly contributed as much as 40 per cent of the government's operating budget', she says. In 2006, 72 per cent of Rwanda's debt was written off under the IMF and World Bank's Heavily Indebted Poor Countries (HIPC) initiative. Rwanda received £11 billion in overseas development assistance from 2000 to 2019 – much more than comparable countries.
Wrong highlights how the Kagame regime was handed a blank cheque by the UN and leading Western powers, particularly the US and UK. It was free to act with impunity. The reasoning was that the RPF was the solution to the genocidal tendencies of Rwandan society.
Sadly, the RPF regime turned out to be a dictatorship, persecuting and brutalising opposition – all with the endorsement of the West.
James Heartfield's latest book is The Blood-Stained Poppy, written with Kevin Rooney.
Intent to Deceive: Denying the Genocide of the Tutsi, by Linda Melvern, is published by Verso. (Order this book here.)
Do Not Disturb: The Story of a Political Murder and an African Regime Gone Bad by Michela Wrong is published by 4th Estate. (Order this book here.)
To enquire about republishing spiked's content, a right to reply or to request a correction, please contact the managing editor, Viv Regan.