Viva Ronaldo: long may he divide us
Manchester United's returning superstar is the hero – and villain – that football needs right now.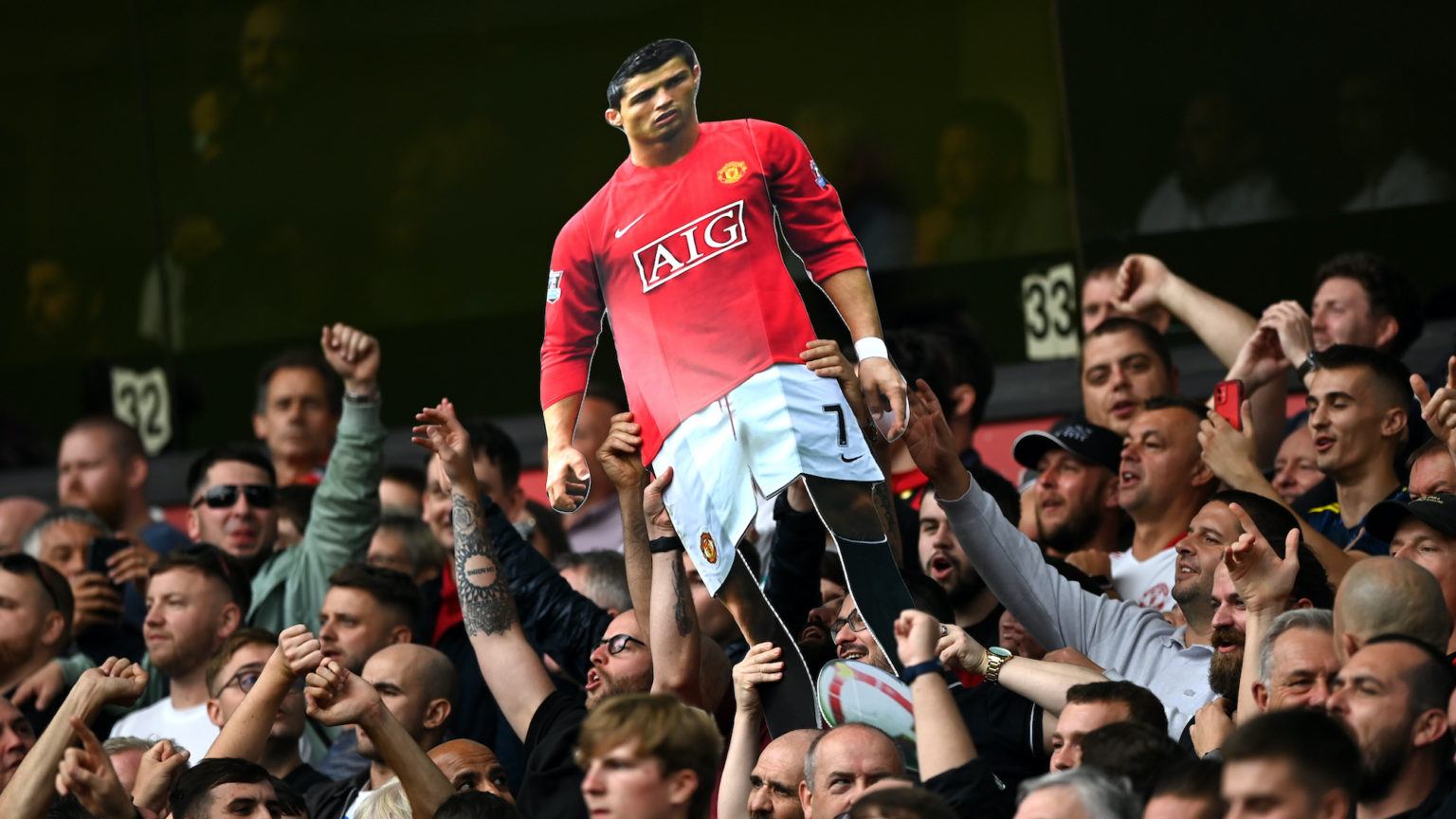 Some well-to-do Remoaners have been complaining about the reported shortage of low-paid EU delivery drivers this week. Meanwhile, other snobs appear upset about the imminent arrival of one well-paid working-class EU citizen – Cristiano Ronaldo, who is coming home to Manchester United.
In 2004, at the end of Ronaldo's first season at Old Trafford, I wrote in The Times Football Yearbook that the green Portuguese teenager quickly showed he could have the key attributes required to become a Cantona-style United icon: the skill, the arrogance, 'and the fact that fans of every other club already hate him'. He proved me right, winning three Premier League titles and a UEFA Champions League at United – without winning many hearts elsewhere.
Ronaldo has achieved almost unparalleled footballing success, winning the Ballon d'Or five times alongside 32 major trophies. In nine years at Real Madrid he scored more than a goal a game (311 in 292 league matches). He also jointly holds the world record of 109 goals in international matches – a record he may well break playing for Portugal this week. Even in an average Juventus side last season, Ronaldo was still top scorer in Italy's Serie A, ahead of Chelsea's big summer re-signing, Romelu Lukaku.
Yet Ronaldo remains a divisive and much-derided figure – certainly compared to his main rival, Lionel Messi, who receives near-constant global adulation. Of course, all fans hate rival teams' best and most combative players – the same ones we would love if they played for our club. But there is something more going on here.
No doubt some England fans have never forgiven Ronaldo for 'wink-gate', when he winked at the Portugal bench after helping to get his United teammate, Wayne Rooney, sent off in the World Cup quarter-final in 2006. By contrast, United fans upheld the football tradition of club-before-country with a favourite song: 'He plays on the left / He plays on the right / Our Boy Ronaldo / Makes England look shite…'
Far more than that, however, Ronaldo has become the highest profile target of the anti-working-class snobbery that has long been aimed at football players and fans, and has become worse since the middle-class NuFootball elites colonised the people's game.
These types and their media outlets profess to love the 'beautiful game'. But they cannot conceal their disdain for the 'ugly' proles who watch and play it. They have a particular dislike for uppity, flash, working-class footballers who get paid far more than 'proper' professional people and who refuse to know their place. Past targets of the socca snobs have included Diego Maradona and even David Beckham, before he achieved national treasure status.
Cristiano Ronaldo is arguably the flashiest footballer of them all – both on and off the pitch. He's the first footballer to earn more than a billion US dollars. He's a global mega-celebrity with even more social-media followers than Kim Kardashian. He travels the world in his private jets, etc etc. Oh, how they loathe this poor-boy-made-too-good and everything about him.
Even a (middle-class) football man like fellow Portugeezer José Mourinho couldn't help trying to belittle the young Ronaldo for his humble beginnings. After United took the title from Mourinho's Chelsea for the first time in 2007, José sneered that the 'kid' was ignorant due to his 'difficult childhood, no education' growing up on the island of Madeira. Now Ronaldo is slated for having too much money and bling. No equivalent criticism attaches to Messi, who has just signed for Paris Saint-Germain for a reported million quid a week – around twice the record wages United will apparently pay Ronaldo.
The anti-Ronaldo set also has supporters among the #MeToo lobbyists, who claim that he is not fit to play football for a fortune because of an allegation of sexual assault hanging over him from 2009 – even though the US authorities say that there is not enough evidence to prosecute him and he remains an innocent man.
The strong feelings that Ronaldo provokes on all sides are just one more reason why it is great to see him coming back to England. During the Euros, influential people tried to paint football as a unifying force in society. But for most football fans it is a pretend form of war. It is pantomime for adults. And like all the great melodramas, it needs larger-than-life heroes to cheer and big panto villains to boo. Ronaldo fits both stage costumes perfectly.
That is why we can dream that the return of Ronaldo might help to bring back real football, too. The full stadiums at the start of this season are already a revitalising antidote to the sterile, fan-free atmosphere of 'lockdown soccer' that was so attractive to those who have spent years trying to sanitise football and to disinfect the fans. Now we need Ronaldo to divide the nation once more and bring the battle to life like never before.
Of course, it could all go wrong for United. Some of the football critics who are against signing him might be right – that he is past his magnificent prime, that focusing on him could stymie the development of United's young talents, that he is not the solution to the team's problems in midfield or at the back. We shall see. It might well also be true that there is a danger in trying to recreate the glorious past rather than forging a golden future. Sir Alex Ferguson still casts too long a shadow over every aspect of United, as evidenced by the way that Ronaldo continues to call him boss.
But for now, all of that is beside the point. The return of Ronaldo to the club he calls home should put some heart and soul back into Old Trafford, and should lift the spirits of every fan. Whether or not he can still make the improved England side 'look shite', we shall have to see. But he remains very much 'Our Boy Ronaldo'. And he's coming soon to a stage near you.
Mick Hume is a spiked columnist. His latest book, Revolting! How the Establishment is Undermining Democracy – and What they're Afraid of, is published by William Collins.
To enquire about republishing spiked's content, a right to reply or to request a correction, please contact the managing editor, Viv Regan.