Woke homophobia
It used to be the religious right that hated homosexuals – now it's the woke mob.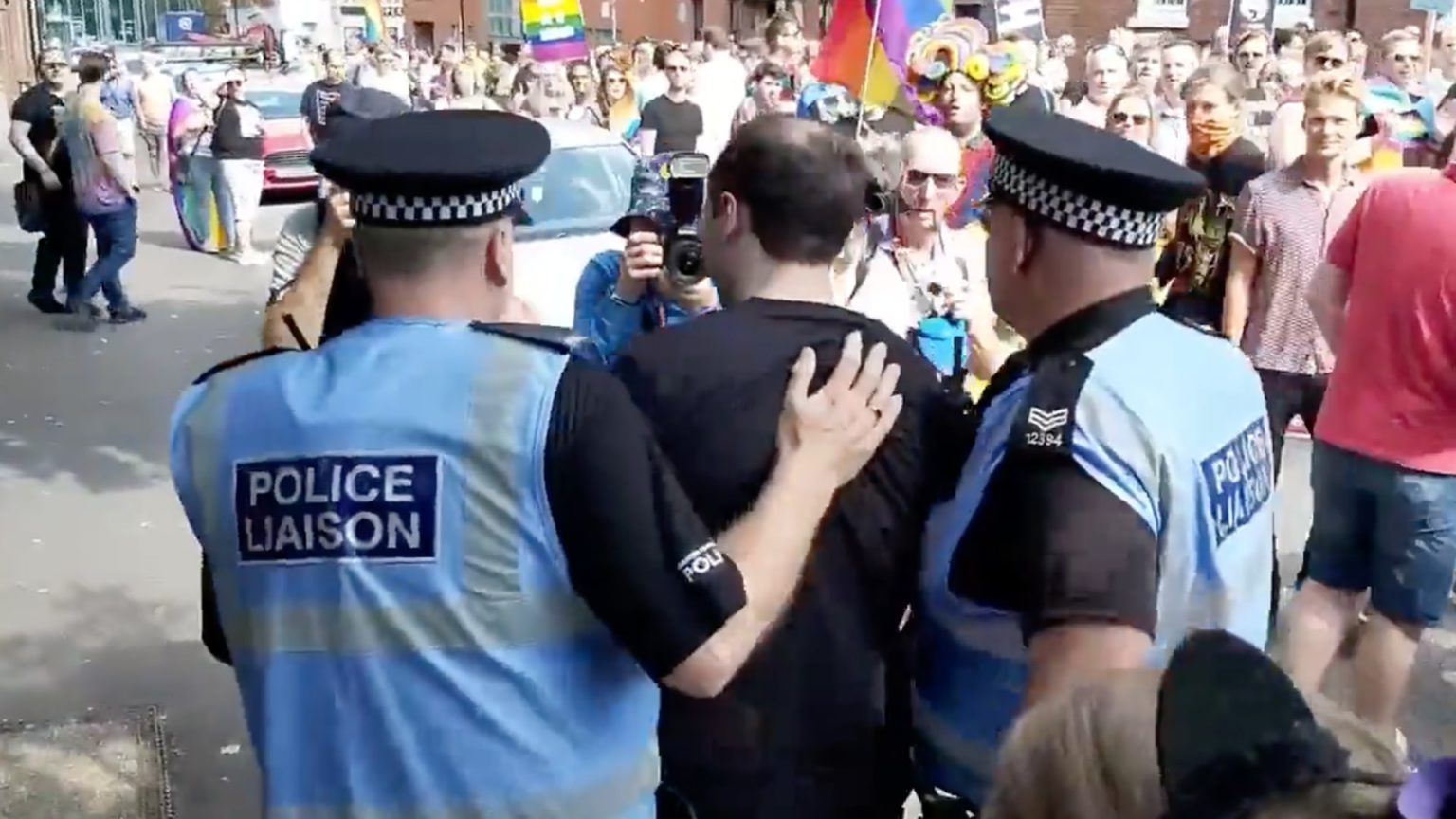 Imagine living in a country where a gay man could be screamed and jeered at in the streets simply for declaring his support for people who are same-sex attracted. A country where a gay man could be publicly harassed and shamed for standing up for the rights of homosexuals. A country where the mob erupts into ecstatic cheers when said gay man is led away by the cops. Well, if you are reading this in the UK, you live in that country. This is happening right here. But here's the twist: it isn't the far right or blue-rinse Christian fundamentalists who are treating gay people in this foul, oppressive way – it's the woke set.
These scenes unfolded in Manchester on Saturday. At the Manchester Pride Protest – a gathering of LGBTQetc activists who are unhappy with the official Pride organisation – a gay man showed up in an LGB Alliance hat and t-shirt. Anyone who has even a fleeting familiarity with cancel culture in the UK will know that the LGB Alliance is one of the most loathed organisations among intolerant identitarians. Because it questions the ideology of transgenderism, and believes that the erasure of the reality of biological sex poses a threat to the culture and rights of those who are same-sex attracted, the LGB Alliance is viewed as a vile heretical organisation. It is constantly being subjected to McCarthyite crusades by hysterical woke censors who brand it a 'hate group', 'transphobic', 'dangerous' and all the rest.
So turning up to a gathering of queer and trans activists in an LGB Alliance hat and t-shirt is a pretty brave thing to do. It's like showing up to the Westboro Baptist Church draped in a rainbow flag. What happened to the man who did it – one Alexander Bramham – was not surprising. The protesters rounded on him, screaming 'TRANS LIVES MATTER'. The subtext to this menacing chant – that lesbian, gay and bisexual lives don't matter, or at least don't matter as much – was pretty clear to anyone who hasn't had their moral worldview warped by wokeness. The mob's aim was clear: to get this uppity gay man off the streets. They exploded into whoops and cheers when they succeeded and the cops led Bramham away.
It was a disturbing spectacle. As disturbing as the event itself was the celebration of it online. Pink News loved the fact that this gay man was 'promptly told where to go'. A gay magazine celebrating a mob hounding a gay man off the streets is a new one on me. Mob fury seems to be all the rage among preening woke tweeters. One cheered at the sight of this 'transphobic bigot… being yeeted the fuck out of Pride'. The last time I can recall the deriving of so much pleasure from the public humiliation of a gay man who was standing up for gay rights was in the tabloid newspapers in the 1980s.
We are witnessing the rise of woke homophobia. In the past it tended to be hard-right loons or extremist Bible-bashers who'd go blue in the face at the sight of same-sex-attracted people standing up for their liberties. Now it's the supposedly hip purveyors of wokeness who rage against homosexuals who think that homosexuals are a real thing and deserve real rights. All the homophobic stuff that used to be done by the religious right is now being done by the supposed left. It's now woke activists who try to defund gay-rights groups – witness their ferocious efforts to have the LGB Alliance expelled from fundraising websites and to deprive it of charity status. It is now the woke who fume about 'dangerous' gay literature – recall when Boyz magazine was subjected to boycotts, bans and ceaseless invective merely for inviting its online followers to watch a webinar being hosted by the LGB Alliance.
The intolerance of it all is quite staggering. The earlier mention of the Westboro Baptist Church is not out of place. I can think of few groups who loathe homosexual activists and pro-homosexual magazines as much as the Westboro nutters and the trans mob. Partly, this all speaks to how the transgender ideology, the bizarre belief that sex is a social construct that people can chop and change as they please, has become an unquestionable orthodoxy in woke circles. It is their gospel truth. Entry into their society is entirely dependent on genuflecting to the hocus-pocus idea that someone with a penis can literally be a woman. And likewise, expulsion from their society is the inevitable outcome for anybody who blasphemes against their cult of genderfluidity. Feminists, gay-rights activists, everyday social-media users – all will be subjected to bile and writs of expulsion if they dare to utter a word of dissent.
But these recent events also reveal that identity politics is rehabilitating some dark old prejudices. Not content with having breathed life back into misogyny – just look at how women who question the trans ideology are denounced as disgusting old hags and threatened with rape, death or at the very least censorship – now the 'trans allies' of the woke mob are rehabilitating homophobia. They've given it a bit of PC spit and polish, sure, but it is unquestionable now that their irrational crusade against the reality of sex is generating a culture of hatred against those who believe that sex is important – whether that's women who want sex-based rights or homosexual activists whose campaigns for liberation were based on the belief that same-sex attraction is normal and should not be punished or viewed with shame.
It is not surprising that some homosexual campaigners are concerned that the ideology of transgenderism is becoming increasingly influential; that it has been embraced by everyone from Stonewall and the Labour Party to schools and the purveyors of popular culture. Because this ideology is redefining homosexuality out of existence. If sex is irrelevant, then so is same-sex attraction. If boys with homosexual tendencies can be 'corrected' by being encouraged to transition into 'women', what does that say about our attitude to homosexuality? If a man can now identifiy as a lesbian, and be cheered for doing so, what is the point of lesbians? If everyone's a lesbian, no one is. The hounding of that gay man off the streets of Manchester was a metaphor for the broader erasure of homosexuality that the cult of transgenderism is giving rise to. If people don't stand up to it, the new woke homophobia could prove even more adept than the old religious right at deleting homosexuality from public life.
Brendan O'Neill is editor of spiked and host of the spiked podcast, The Brendan O'Neill Show. Subscribe to the podcast here. And find Brendan on Instagram: @burntoakboy
To enquire about republishing spiked's content, a right to reply or to request a correction, please contact the managing editor, Viv Regan.