Stop-and-search is not 'systemically' racist
Disparities between ethnic groups are not evidence of discrimination.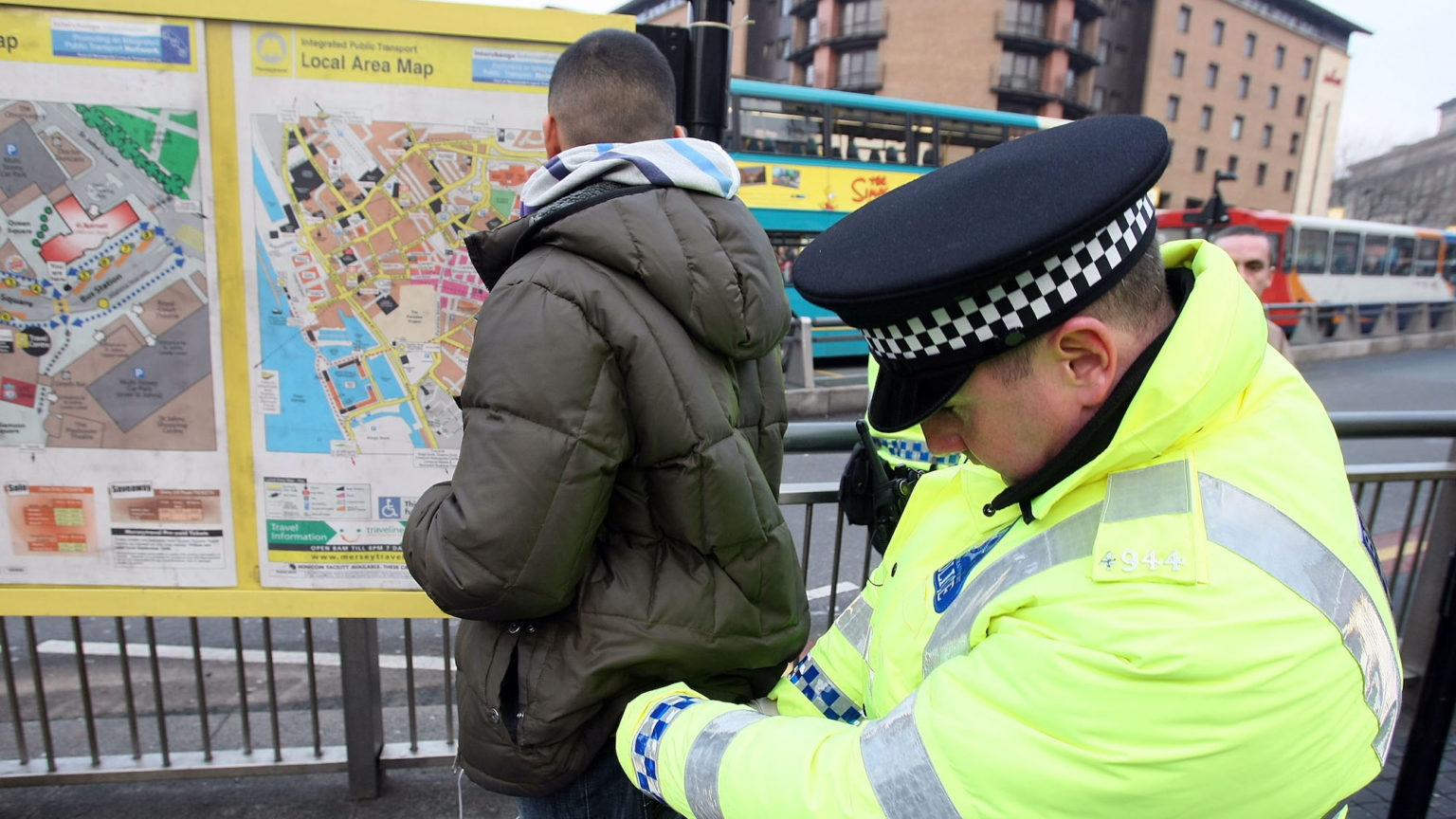 Stop and search has long been among the most controversial police practices in Britain. The government's new crime-reduction plan includes the relaxation of the current restrictions on police. The aim is to fight rising knife crime. But critics have long argued that stop-and-search is racist.
The New Statesman, for instance, in an article headlined 'How police stop and search remains racially biased', features a chart showing stop-and-search rates by ethnicity. The chart shows that black Britons are the most likely ethnic group to be stopped and searched by the police – at a rate of 54 per 1,000 people. This is comfortably higher than that figure for British people of South Asian origin (17 per 1,000 people). Black people are eleven times more likely to be stopped and searched than white Brits (five per 1,000 people).
Similarly, human-rights organisation Liberty argues that stop and search 'marginalises minority communities, destroys their relationships with the police, and funnels young people into the criminal-justice system'. It warns that the proposed relaxations will 'compound discrimination'.
Putting questions of civil liberties to one side, the assertion that stop and search is racially discriminatory is a classic example of the 'disparities equals discrimination' paradigm that has come to define the left's understanding of racism. All other factors that might feed into disparate outcomes are ignored.
Stop and search is primarily aimed at deterring knife-related offences in deprived inner-city neighbourhoods. You cannot explain these figures without looking at the demographic patterns that are most strongly associated with these types of offences – like age, ethnicity and gender. We also have to ask where these crimes are taking place, and what are the demographics in these areas. This is a sensitive subject that needs a nuanced approach.
At the individual level, gang membership is a major risk factor for serious violence (such as knife crime). At the community level, risk factors for serious violence include living in an urban area characterised by material deprivation. These problems are highly concentrated in London.
Recent ONS data show that in 2019-20, London had the highest regional rate for police-recorded offences involving a knife or sharp instrument. London has 179 offences per 100,000 people, compared with an England and Wales average of 82 offences per 100,000 people. A 2019 BBC investigation found that 16 of the 20 most dangerous places in England and Wales for serious knife crime offences are in London. A government report found that in 2017, 53 per cent of possession-of-knife suspects in London were black – and 37 per cent were young black males under the age of 25. To ignore these details when discussing disparities in stop-and-search rates makes little sense.
But what about the charge that stop and search is pitting Britain's ethnic minorities against the police? Data from the most recent Crime Survey for England and Wales undermines this racially loaded narrative. The survey shows that two in three black people have confidence in their local police – not so much lower than the corresponding figure of 74 per cent for white Brits. In fact, the survey shows that a number of non-white groups are more likely to have confidence in their local police than white Brits – namely, people of Bangladeshi, Indian and Chinese origin. According to a study by Hope Not Hate, 64 per cent of Britons from an ethnic-minority background agreed that the police were a force for good on the whole, and that any problems over racism were down to a select number of individuals. In other words, a few 'rotten apples' in police forces.
This is not to say that much more cannot be done to improve police-community relations – especially in deprived and ethnically diverse parts of the country. The recent Sewell report – published by the Commission on Race and Ethnic Disparities (CRED) – suggested that the legitimacy and accountability of the police performing stop and search can be enhanced through body-worn video (BMV) cameras, for instance. Police forces in Britain can also work closely with civic and community associations to foster public support for robust policing practices.
The institutional police racism of the past still casts a long shadow, too. The Metropolitan Police's undercover spying on Stephen Lawrence's family, after his racist murder in April 1993, has caused lasting damage. Deaths in police custody – particularly infamous cases such as that of Christopher Alder, former British Army paratrooper and Falklands War veteran, in 1998 – have also heavily damaged police-community relations.
The police definitely have a lot to do to earn the trust of black Britons. But at the same time, we must guard against the outright vilification of the police and the justice system. The view that racism in policing is 'systemic' may be presented as fact in the media, but it is not representative of mainstream ethnic-minority opinion. The framing of disparities in stop and search as a direct byproduct of racial discrimination is not only crudely simplistic – it also threatens to undermine British race relations.
The dismissal of stop and search as racist is yet another example of how the modern left is more interested in indulging in racial grievance politics than it is in finding practical and inclusive ways to cultivate stronger ties between citizens and the institutions that are supposed to serve them.
Rakib Ehsan is an independent expert in social cohesion and institutional trust. Follow him on Twitter: @rakibehsan
To enquire about republishing spiked's content, a right to reply or to request a correction, please contact the managing editor, Viv Regan.