No, Lewis Goodall, disparities do not equal racism
Newsnight's viral explanation of 'structural racism' was wide of the mark.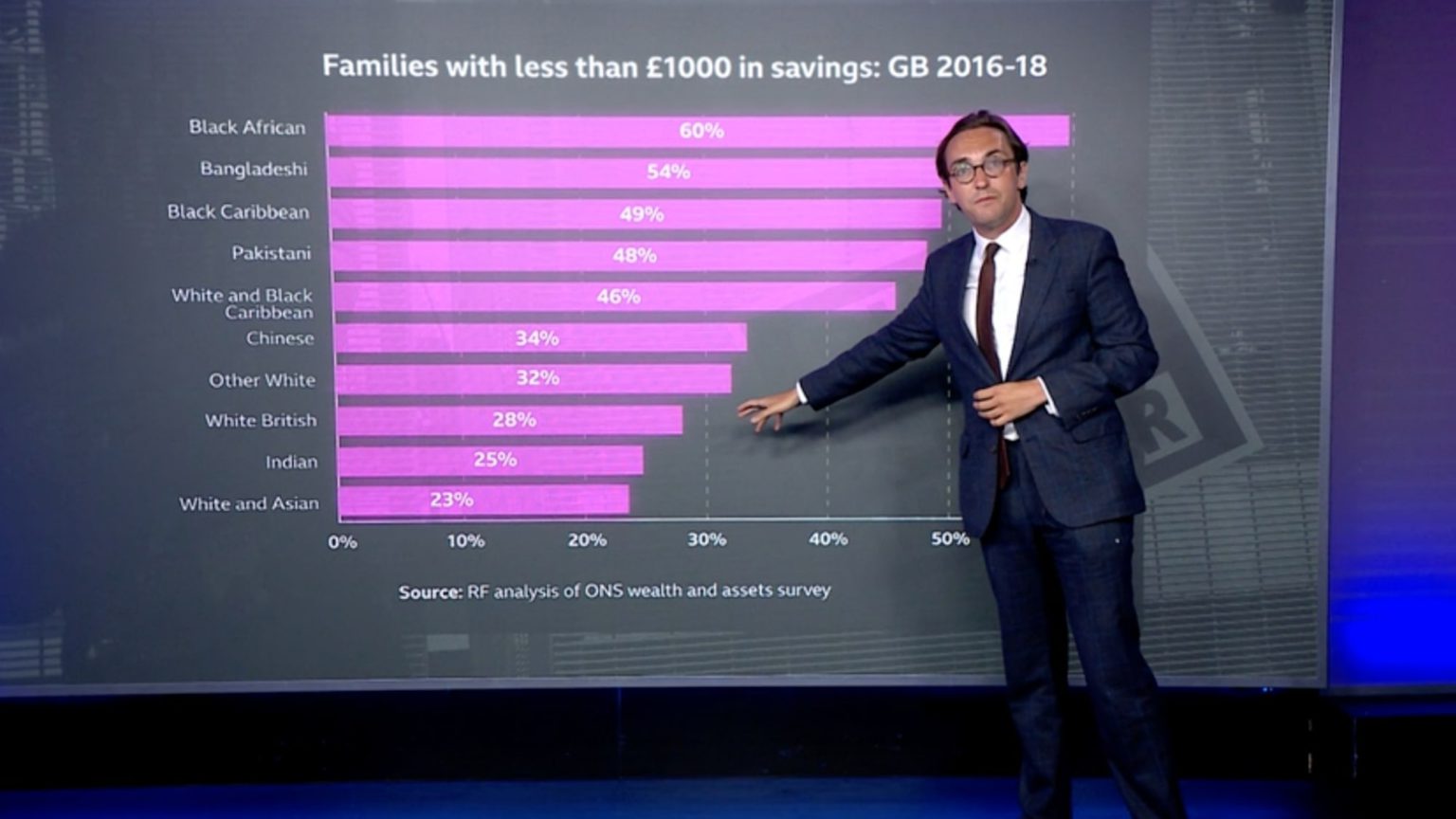 On BBC Two's Newsnight last night, policy editor Lewis Goodall provided a five-minute, wide-ranging examination of 'structural racism' in Britain. This included looking at the representation of ethnic minorities in public institutions and the differences in average household assets between groups. A clip of the segment has since gone viral on social media.
Truthfully, the term examination is far too generous. As well as presenting a contribution from race-baiting academic Kehinde Andrews as a neutral viewpoint, Goodall's segment failed to consider a myriad of social and cultural factors at play when dissecting the racial-disparity figures.
For example, it is true that South Asians are 'under-represented' and whites are 'over-represented' in Britain's police forces. But as former Surrey police and crime commissioner Kevin Hurley has observed, the decision to join the police is often a 'family affair'. Mainstream policing recruitment is partly driven by a willingness to follow in the footsteps of relatives who have already served. We might compare this to how Indian-origin parents are renowned for encouraging their children to work towards white-collar professional roles – especially in sectors such as healthcare and finance. While police forces can invest more in 'diversifying' their intake, these family and community dynamics should not be ignored.
Nor should we overlook the fact that, according to a recent Hope Not Hate study, a comfortable majority of ethnic-minority Britons believe the police are a force for good on the whole, and that racism in policing is down to a select number of problematic individuals. Needless to say, these counterpoints did not feature in Goodall's segment.
The roles played by migratory background and socio-cultural practices were also ignored in Goodall's discussion of wealth disparities. The trajectory of each ethnic-minority group is heavily influenced by the resources of the first generation who arrived in Britain. Well-educated migrants with sound business acumen tend to provide strong foundations for future generational advancement.
Bangladeshi households, as Goodall points out, have some of the lowest asset levels in Britain. But the majority of British-Bangladeshis originally migrated from deprived rural villages, particularly from the Sylhet region. And having arrived in Britain, the Bangladeshi population is concentrated in London – an expensive city to live in, making wealth accumulation even harder. What's more, conservative gender norms have led to Bangladeshi women having much larger families and lower levels of economic activity.
One of the most significant disparities in Britain is in family structure and fatherlessness – a glaring omission from Goodall's Newsnight piece. Perhaps it is a politically incorrect subject that is incompatible with his sensibilities. Recent ONS data show that only six per cent of British-Indian dependants up to the age of 15 years live in a lone-parent household. This rises to an astonishing 63 per cent for their peers of Black Caribbean origin.
Considering that two-parent households are strongly associated with a range of positive outcomes – such as educational attainment, mental wellbeing and cognitive development – these kinds of ethnic-group differences in family dynamics cannot be brushed under the carpet when discussing economic and social disparities.
Too many progressives insist that disparities must mean discrimination – or, to use Goodall's words, only 'structural racism' can be to blame. Genuine advocates of equality need to be guided by the facts, rather than simply accepting this identitarian dogma.
Rakib Ehsan is an independent expert in social cohesion and institutional trust. Follow him on Twitter: @rakibehsan
To enquire about republishing spiked's content, a right to reply or to request a correction, please contact the managing editor, Viv Regan.