Germany faces down the US – and Europe
The battle over Nord Stream 2 shows how Germany uses the veil of the EU to pursue its own national interests.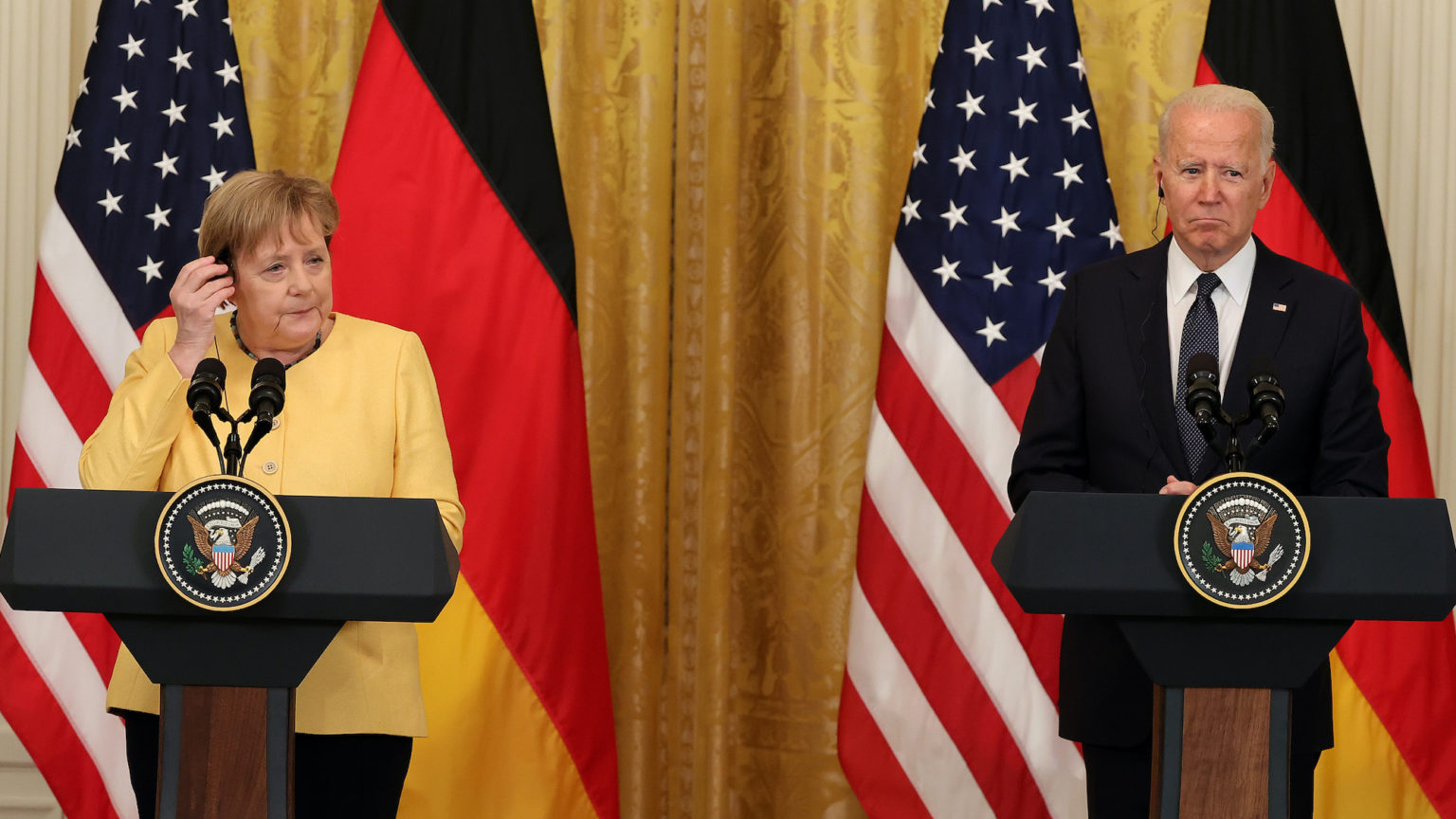 The announcement that Germany and the US have reached an agreement on the Nord Stream 2 gas pipeline seems to have restored some calm to their strained relationship.
The controversial pipeline runs 1,230 kilometres on the floor of the Baltic Sea, providing a direct link between the large gas fields of Russia and the north of Germany. It is quite an achievement. An impressive 55 billion cubic metres of natural gas will flow through its two parallel lines every year.
Until a few weeks ago, the US had adamantly opposed the project, and had even threatened sanctions on companies involved in it. The US argued that it would harm Ukraine, and strengthen Russian influence over Europe.
But now the US government has relented. If all goes according to plan, the first gas can flow this year. In return, Germany has done what it (almost) always does: make promises and pay money. As part of its deal with the US, Angela Merkel's government has agreed to contribute $175million to an investment fund, which aims to develop environmentally friendly energy projects in Ukraine. It has also promised to impose sanctions on Russia if the pipeline is used as political leverage by Russian president Vladimir Putin. But despite these concessions, last week's agreement can be seen as a diplomatic success for Germany — or, as one paper calls it, the outgoing Merkel's 'last victory'.
The deal reveals a lot about Germany right now. Firstly, it shows Germany is quite prepared to assert its national interests, even against the US and its European allies. After all, Merkel didn't just stand up to the US; she also stood up to Poland, to the Baltic States, and even to France, all of whom were deeply critical of Nord Stream 2. Up to February this year, French president Emmanuel Macron claimed Nord Stream 2 violated the principles of a common European energy policy, before changing his tune and supporting Germany against the US. Poland and the Baltic States remain opposed.
Secondly, it shows that Germany is reluctant to admit that it has pursued its own interests. The German government preferred to present the conflict over Nord Stream 2 as one between Europe and the US. For example, after the US threatened sanctions, members of the German government spoke of an attack against 'European sovereignty'. Clearly, they felt they must avoid any mention of German sovereignty. But then, that is typical of the way Germany has done politics for years, hiding its own national interests and priorities behind the veil of the European Union.
It would be better if the German government were more forthright and honest about why it has been so insistent on the Nord Stream 2 project. The principal reason is that Germany, highly industrialised as it is, will be dependent on fossil fuels for a long time to come – even more so since Merkel's government decided, in 2011, to phase out nuclear energy. Indeed, Germany's last nuclear power stations will be switched off at the end of next year.
In this regard, it is ironic that the German Green Party, which headed the anti-nuclear lobby for decades, has also been one of the loudest critics of the Nord Stream 2 project. This is because it not only rejects the use of fossil fuels — it is also involved in the Ukraine conflict, with the party's foundation even opening an office in Kiev in 2008. More than any other German party, it has been engaged in aggressive anti-Putin rhetoric. It even describes Nord Stream 2 as 'shaking hands with the devil'. Given over 50 per cent of Germany's gas already comes from Russia (as does over 30 per cent of its oil), it's hard to see how Germans will be able to heat their homes during winter if they follow the Green Party's line.
But there are reasons specific to Germany as to why it won't follow the Greens' line. Surveys have repeatedly shown that a clear majority of Germans favour the completion of Nord Stream 2. Moreover, German attitudes to Russia are more complex than elsewhere in the West. As Wolfgang Münchau puts it in the Spectator, 'Russia is not necessarily a country many Germans like, but it is a country they understand quite well'.
Which makes sense. Russia – and the Soviet Union before it – has often played an important and sometimes even quite direct role in German politics. In the early 1970s, for example, West German chancellor Willy Brandt defied the US, and the imperatives of the Cold War, and initiated his famous Ostpolitik, which normalised relations between West Germany and Eastern Europe. It was a policy greeted with great dismay by the US government, but it had the support of a majority in West Germany.
Moreover, many older people in the former East Germany, where the Soviet Union was an occupying power, still speak Russian, having learned it at school. Here, in particular, the Western view that Russia is a rampant expansionary power has failed to take hold. When, in 2009, the former Russian president Dmitry Medvedev criticised NATO's expansion into Eastern Europe – accusing the West of breaking its promise made after the fall of the Iron Curtain – many in Germany felt he had a point. And even after the annexation of Crimea in 2014, most Germans opposed the sanctions imposed on Russia by the German government.
It is good that, for the time being at least, the conflict between Germany and the US has been settled. But Nord Stream 2 has shown that nations' interests and priorities are different – not just within NATO, but also within the EU. In January, after the Russian opposition politician Alexei Navalny was found to have been poisoned, the EU parliament called for a halt on Nord Stream 2. Even then the German government resisted. So determined was it to push ahead with the project, it even looked into ways of circumventing possible US sanctions.
This shows how far Germany is willing to go in pursuit of its national interests. The Merkel government, which has so often pontificated about the importance of solidarity in Europe, has risked alienating its closest allies and neighbours. And its refusal to talk openly and honestly about the Nord Stream 2 project has only exacerbated tensions.
To enquire about republishing spiked's content, a right to reply or to request a correction, please contact the managing editor, Viv Regan.