A carnival of irrationality
We need to talk about those anti-vax protests.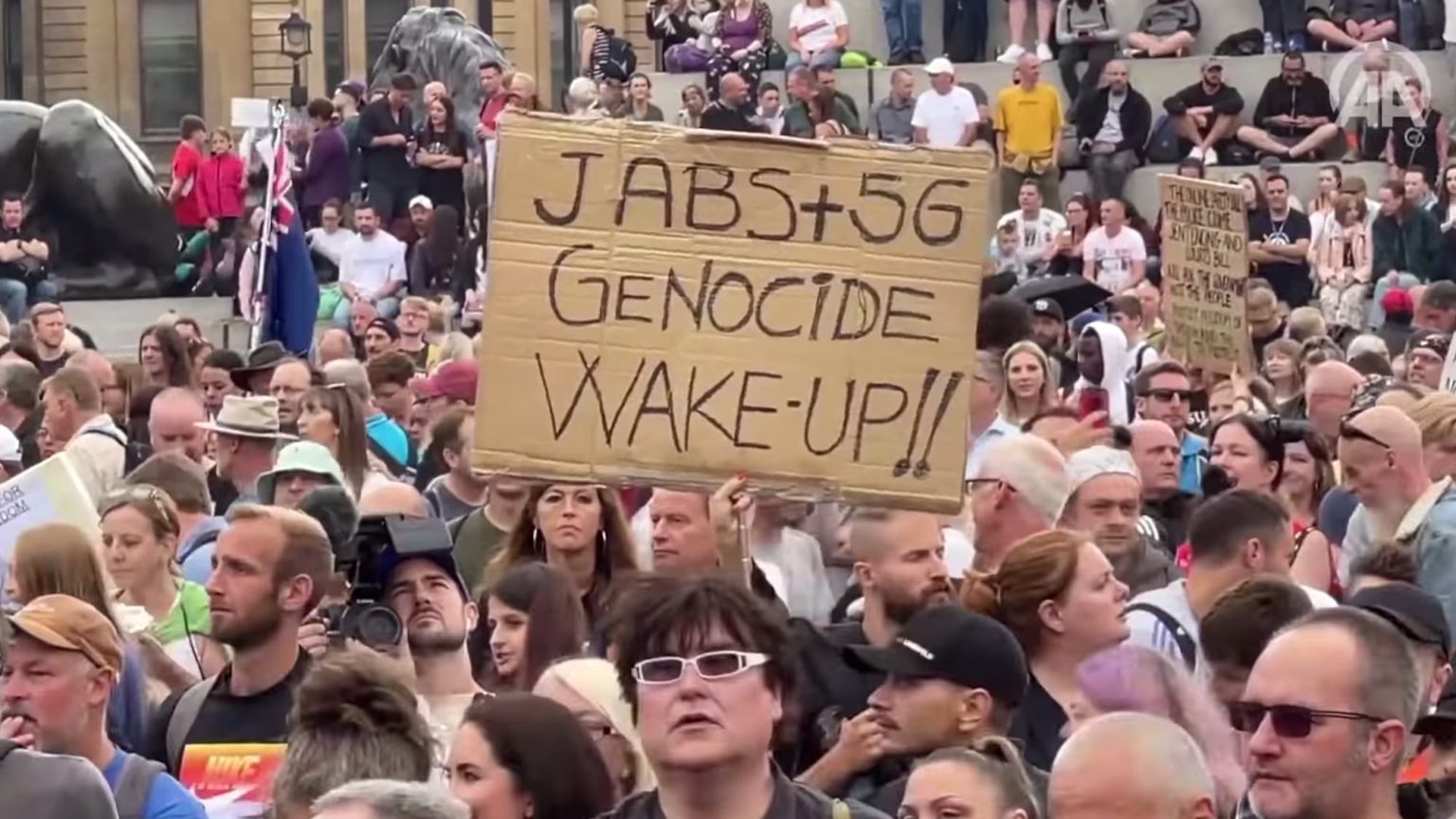 It's clear that a lot of people have lost their heads during the Covid crisis. Panic, dread and kneejerk authoritarianism have all characterised the official response to the pandemic. Those of us who would have preferred a more rational, targeted approach have been disappointed time and again by our leaders over the past 18 months.
But none have lost their heads more than the Covid conspiracy theorists. We have heard lots about this small fringe of people – how they are spreading nonsense about 5G towers and microchipped vaccines from their bedrooms. But until they gathered in Trafalgar Square at the weekend, it wasn't clear just how far some of these anti-vaxxer conspiracy theorists have gone down the rabbit hole. They have become impervious to reason and dangerously anti-human. They cannot simply be ignored.
Among those addressing the crowds were king of the cranks David Icke, the even madder Corbyn brother and racist hothead Katie Hopkins – a rogues gallery of fruitcakes, bigots and saddos.
Speaker after speaker queued up to denounce the life-saving Covid vaccines as 'experimental injections' and 'experimental gene therapies'. The word 'experimental', when deployed in relation to the Covid vaccines, is usually enough of a red flag. Clinical trials have established their safety and efficacy – and anyone with eyes can see that they are preventing hospitalisation and deaths from Covid-19.
But the conspiracy theorists went even further than this. As if vaccine refusal were not irrational and anti-social enough, speakers denounced the vaccines as 'satanic', as a 'bioweapon' that could kill hundreds of thousands of people. These are utterly irresponsible statements.
The most reprehensible comments came from struck-off nurse Kate Shemirani, who compared NHS doctors and nurses to Nazis. 'Get their names. Email them to me. With a group of lawyers, we are collecting all that', she said. 'At the Nuremberg Trials, the doctors and nurses stood trial and they hung.'
The speeches have provoked justifiable anger and outrage. But what cannot be justified are the demands to have these conspiracy theorists silenced or arrested. London mayor Sadiq Khan has alerted the Metropolitan Police to Shemirani's 'hate'. Broadsheet journalists have called for them to face serious jail time. Public-health officials say they should be referred to Prevent, the government's programme against violent extremism.
As bad and mad as these speeches might have been, they are, for now, just words. Most right-thinking people, including those who object to the government's Covid response, have no truck with these warped fantasies. The only thing these protests have achieved is to make the opponents of the authoritarian and counterproductive lockdowns look mad by association.
Ironically, being forced by the state to stay indoors has undoubtedly fuelled this madness. People need normal human contact, to see friends and colleagues, to bring them back down to Earth. None of these views would pass the 'pub test'.
This is actually one of the great benefits of free speech. Fruitcakes must be free to express themselves, and right-thinking people must be free to push back, to say your views are wrong or mad or dangerous. Without the freedom to air deranged views, the necessary rebuttals will never be heard, either.
In fact, those of us who believe in free speech and in the freedom to protest have a duty to push back. Dismantling these views is too important a task to be left to an incompetent state.
The pandemic has created enormous disruption to our lives. It is true that in the course of the past year, governments have made disastrous mistakes, that scientists have covered things up, and that Big Tech giants have censored dissenting voices. This has inevitably led people to search for explanations. It is a shame that, for some, the more logical explanations – that our rulers are incompetent and obsessed with covering their backs – are less compelling than conspiracy theories about nano-particles invading our bloodstreams.
Yes, fruitcakes must be free to express their ideas – but we must also reject them, in the strongest possible terms. And we must always be ready to put forward more rational and more humanist views instead.
Fraser Myers is assistant editor at spiked and host of the spiked podcast. Follow him on Twitter: @FraserMyers.
To enquire about republishing spiked's content, a right to reply or to request a correction, please contact the managing editor, Viv Regan.