Did 'Lockdown Football' cost England the Euros?
Are we allowed to be honest about the failings of Gareth Southgate's soulless, safety-first strategy?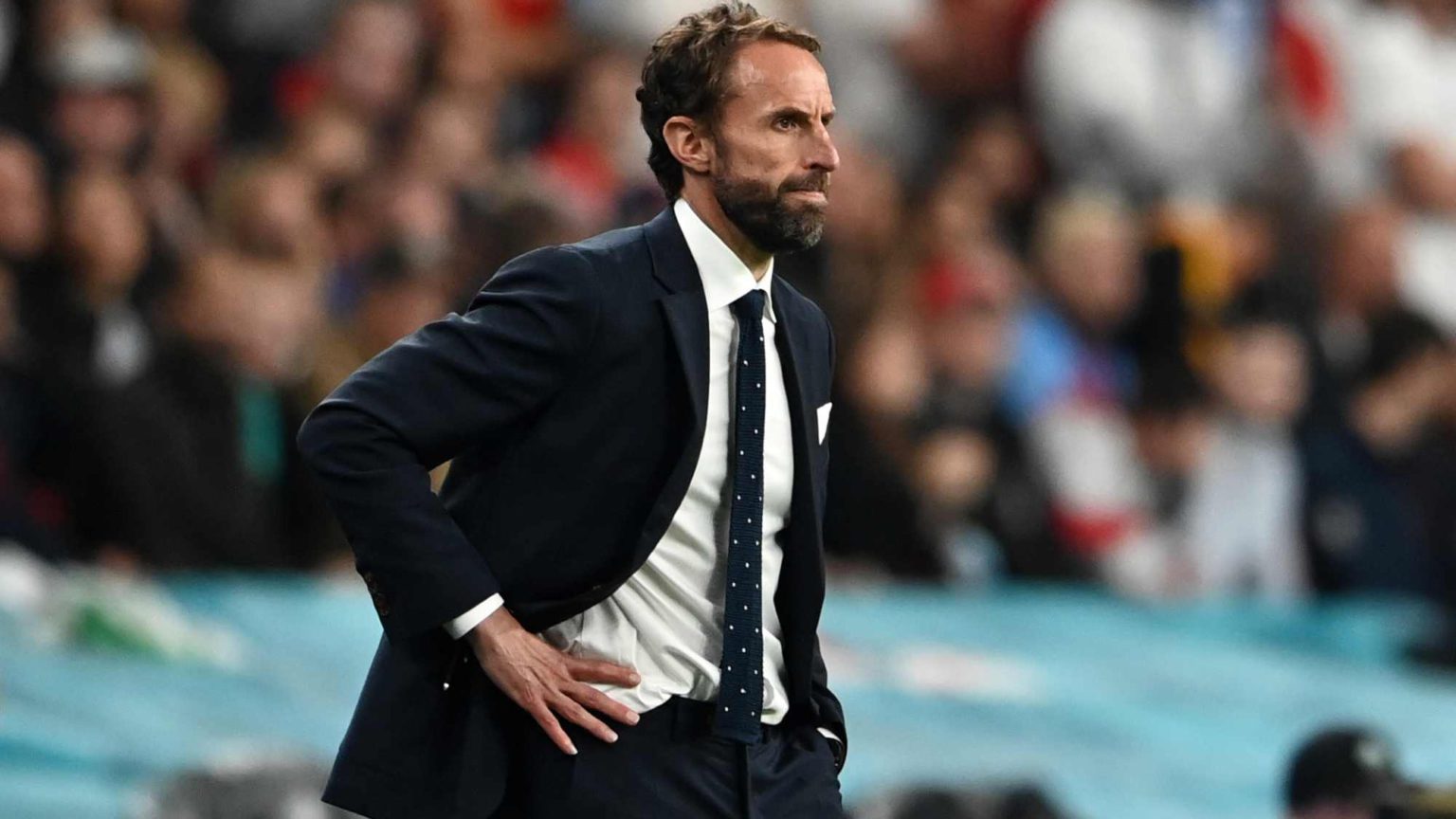 For a month we have been repeatedly told that coach Gareth Southgate and the England football team represent all that is truly great about modern, progressive Britain. As Labour leader Keir Starmer tweeted in the wake of Sunday night's defeat, echoing countless pundits, 'On and off the pitch, this team is the very best of our country'.
No real criticism has been tolerated. Fans booing the players' sanctimonious knee-taking have been told they are not fit to support England. Anybody daring to question Southgate's soulless tactics has been drowned out by calls for him to be knighted, if not beatified.
No doubt Southgate is a nice bloke and seemingly a fantasy husband to many. But now that it's all over, perhaps we might be allowed to say that he is also something of a self-righteous bore and, more importantly, a self-deluded and destructively dull coach?
Because in last night's Euros' final we saw, as some of us had feared all along, that Southgate's team and tactics reflect the current state of our country in a less laudable way. It is what I described last week as 'Lockdown Football', based on the same safety-first precautionary principles that have shackled British society during the Covid crisis.
So for the final, Southgate picked an even more defensive line-up than during the rest of the tournament. After England took the lead in the second minute, General Southgate ordered them to try to defend it for the following 90. They retreated further and further backwards, seemingly playing much of the second half on the edge of their own penalty area.
The official figures show that Italy had possession of the ball for 66 per cent of the match. To be honest, it felt like much more than that. They also had 19 shots, with six of them on target, to England's total of six shots with just two on target.
When Italy equalised and coach Roberto Mancini made some attacking substitutions, England stayed in our defensive bunker as if already playing for penalties. Even when Southgate eventually made some substitutions, he brought on the defensive lump Jordan Henderson 25 minutes before the creative Jack Grealish. Then, right at the end of extra time, he finally introduced the attacking flair of Marcus Rashford and Jadon Sancho – just in time for them to miss the decisive penalties with their first kicks of the match.
The overall effect was rather like watching a football team managed by somebody's grandmother, muttering 'better safe than sorry' to themselves in the dugout. This phenomenon is not peculiar to England, of course – many coaches now put data and formations first and flair players last. It is the sort of approach that gets somebody like José Mourinho damned to hell. Instead, Southgate got nominated for sainthood.
By the end, there was a growing sense of inevitability about England losing. The frustration was that it need not have been that way. At the start of the first half, England had Italy on the ropes, unable to cope with our rampaging wing backs, as demonstrated by the move that led to Luke Shaw's fine early goal. Then the England players stopped running wild, as if somebody had told them to calm down and behave themselves, allowing Italy to get organised and take control.
England had adopted this super-cautious 'pragmatic' approach throughout the tournament. But we kept winning and got to our first major final in 55 years, so who cared, right? The trouble was it was always going to be far harder to bore Italy into submission, the Azzurri being past masters at such tactics.
England needed to be bolder. We might have lost the final anyway, but we could at least have gone down fighting to win. Safety-first Southgate, however, was never going to be the coach to risk that. Which is why, drinking before the match with old mates who have followed England for many years, none of us truly believed in our hearts that we would win – and we had strong suspicions that it might end up in the putrid lottery of a penalty shoot-out.
Anybody can miss a penalty, of course nobody should be racially abused for that, and I am all for giving youth a chance to flourish under pressure. At the same time, we saw there what can happen when a lack of boldness turns into a loss of nerve. Several star players appeared to dodge the responsibility of taking a penalty; as the straight-talking Roy Keane put it, 'If you're Sterling or Grealish, you cannot sit there and have a young kid [Saka] go up for a penalty ahead of you'. (The added irony being that was what happened in Euro '96, when Southgate himself only took and missed his infamous penalty against Germany because the likes of Paul Ince and Steve McManaman didn't want to take it.)
In the end, England got what we deserved last night; though as Clint Eastwood tells Gene Hackman before he shoots him in Unforgiven, 'Deserves got nothing to do with it', and we would have gladly taken a dodgy win. We lost, but never mind, it's only football – and, as every commentator keeps reminding us, England can win the World Cup in Qatar next year! The trouble is we will probably be going there having learned nothing, the assumption being that Southgate and Co are on the right track. We shall see; but if the housewives' favourite couldn't win the Euros at Wembley, I'm not sure about his chances of playing the all-conquering romantic sheikh in the Qatari desert.
One bright spot to end on last night was the England fans. Unlike the players, they did not follow orders. They refused to do as they were told by the coach, the politicians, the media, the FA or anybody else. They booed the Italian anthem, panto-style, inside the stadium, and partied like it was pre-Covid 2019 across the country. It was an exuberant explosion of joy and unruliness after the long months of lockdown, and great to see. It was just a shame that 'Lockdown Football' finally had to suck the life out of the party.
To enquire about republishing spiked's content, a right to reply or to request a correction, please contact the managing editor, Viv Regan.