Labour's Pyrrhic victory
Labour may have won Batley and Spen but it has lost the plot.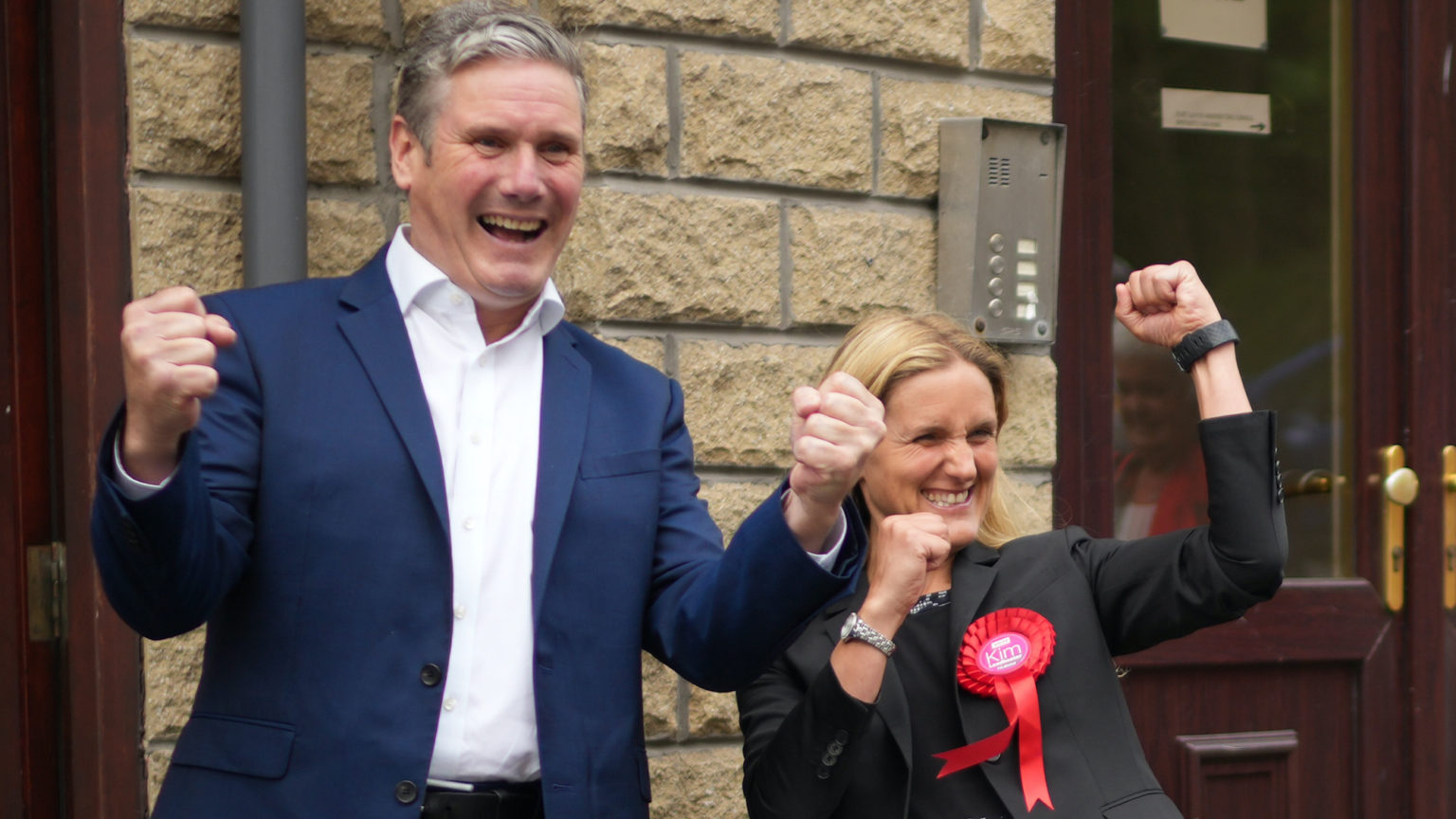 Imagine the parlous state a political party would have to be in to celebrate an electoral victory in which its vote was slashed by 10,000, its majority was a mere 323, and the whole thing took place against a backdrop of racial and religious tension. This is Labour in 2021. Party officials are overcome with glee that Kim Leadbeater has won in Batley and Spen with 13,296 votes. It's a 'fantastic' result, says Keir Starmer. It's 'just the start', he says, conjuring up an image of him and his advisers rebuilding the 'Red Wall' brick by brick, seat by seat. Calm down, Keir. Your win in Batley and Spen doesn't prove that Labour's fortunes are improving. Quite the contrary – this strange, divided and at times nasty contest confirmed just how lost Labour is in the 21st century.
Yes, Ms Leadbeater, the sister of murdered MP Jo Cox, defied predictions. Almost everyone thought Labour would lose, as it has done in many other Brexit-voting Red Wall seats. But in the event, Leadbeater scraped through. She won 13,296 votes, the Tories' Ryan Stephenson won 12,973, and the rabble-rouser George Galloway won 8,264. That sound you can hear across the UK this morning is Labour breathing a sigh of relief. Starmer now has some reprieve, the commentariat is saying, to build his vision and push forward to more and greater victories. What are they smoking? Labour won by the skin of its teeth in Batley and Spen. The party is essentially clinging for dear life to this one brick in a Red Wall that looks as shaky as ever.
This 'fantastic' result needs to be put into context. Leadbeater won 35 per cent of the vote, which, as the Telegraph points out, is the party's worst performance in Batley and Spen since the constituency was first created in 1983. Labour's share of the vote dwindled from 42.7 per cent in 2019, when Tracy Brabin won, to 35.3 per cent. From 22,594 votes to 13,296 votes. Leadbeater's majority of 323 is the lowest majority Labour has had in Batley and Spen since they first won it in 1997. It is now the tenth most competitive seat in the country. A serious political party would recognise that Batley and Spen has just been turned into a potential prize for the Tories at the next election. But Labour is no longer a serious political party and so it is celebrating the dramatic shrinking of its support in Batley and Spen as 'fantastic'.
The truth about yesterday's election is that it was, in the Telegraph's words, a long list of 'all-time lows' for Labour in Batley and Spen. Its lowest ever percentage of the vote, its lowest ever majority. There are various reasons for this. Galloway will have won over many Muslims voters who would traditionally have voted for Labour. At the same time, though, the aloofness and complacency of the Tories, whose candidate seemed to hope Galloway would do all the heavy lifting for him in terms of denting Labour's standing, seem to have helped Labour – and yet it still couldn't muster 35 per cent. There was still a 2.9 per cent swing to the Tories – 'the biggest swing towards a governing party in 39 years', excluding Tory wins in Copeland in 2017 and Hartlepool earlier this year, as one political observer notes. Anyone who thinks Leadbeater's victory is a turning point for Labour and Starmer is delusional.
In truth, Labour's trajectory has not been altered. The lack of enthusiasm for the party in Batley and Spen is of a piece with its general decline in traditional working-class areas. Labour continues to struggle in those parts of the country where large numbers of working people voted for Brexit, don't feel ashamed of Britain's history and think that improving communities' economic fortunes and cultural integrity is rather more important than declaring one's pronouns. The pro-Brexit working classes know that Labour has become an almost entirely metropolitan, middle-class machine, more likely to bow before the needs and ideas of the managerial elites and woke graduates than to listen seriously to a Eurosceptic retail worker in a place like Batley and Spen. Leadbeater's victory hasn't changed any of this. In fact, the thinness of her victory confirms that these trends, the turn of workers away from Labour, are marching on.
Batley and Spen spoke to something else, too – just how reliant Labour has become on the politics of identity. This by-election showed how poisonous identitarianism has become. Various sides whipped up religious and ethnic concerns to try to win votes. Labour did this most shamefully with its leaflets insulting Narendra Modi, the prime minister of India, and promising Muslim voters that Labour will do something – what, exactly? – about Kashmir. This was a flagrant attempt to appeal to the anti-India, anti-Hindu sentiment that exists in parts of the Pakistani-Muslim community. It was 'dogwhistle racism', in the words of Labour MP Navendu Mishra. Though, actually, one could make the case that it was foghorn racism – a brazen effort to exploit communal and religious tensions for electoral gain. At the same time, Labour, and the Tories too, failed to make a full-throated defence of the Batley Grammar schoolteacher disgracefully hounded out of town for showing an image of Muhammad to his pupils – a further capitulation to the toxic politics of identity.
People voted for hope and unity because they know we have 'more in common', Leadbeater's supporters are saying today, echoing her sister's famous phrase. In reality, Leadbeater and her activists stirred up divisions as much as any other candidate did. This was wokeness in action – a complete dispensing with any vision based in class and solidarity in preference for engaging in the neo-pork-barrel communalism of identity politics. If Labour is happy that it just about won an election that exploited and inflamed the segregationist tendencies of the ideology of multiculturalism, then good luck to it. To the rest of us, though, this election is proof of Labour's historic drift away from the working classes and into the distant, technocratic, hyper-racialised world of elite consensus opinion. The party may have won Batley and Spen, but it has lost the political and moral plot.
Brendan O'Neill is editor of spiked and host of the spiked podcast, The Brendan O'Neill Show. Subscribe to the podcast here. And find Brendan on Instagram: @burntoakboy
To enquire about republishing spiked's content, a right to reply or to request a correction, please contact the managing editor, Viv Regan.