Why the UK-Australia trade deal is worth celebrating
It will provide more choice and cheaper goods for both Brits and Australians.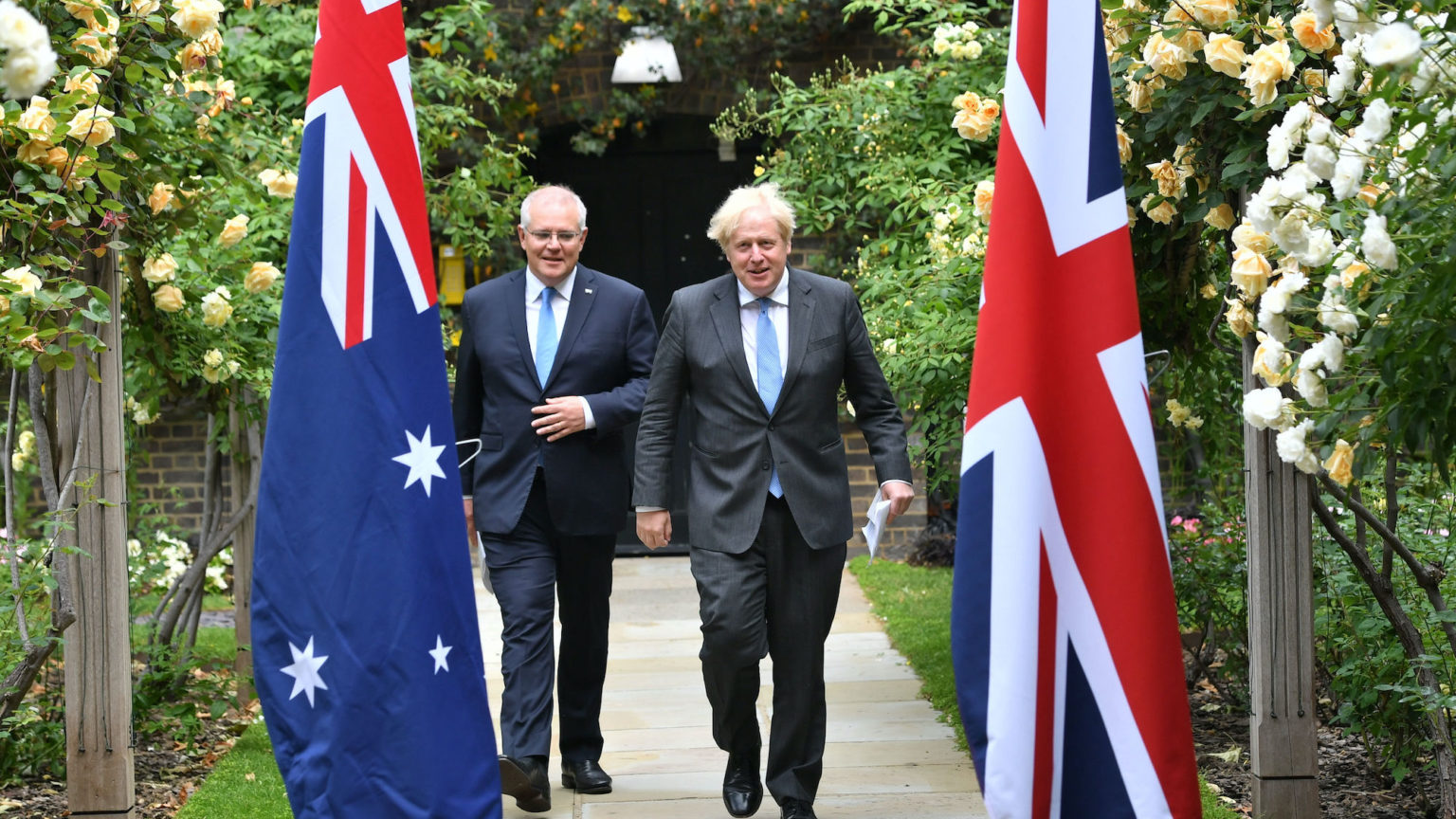 It has become a cliché to point out that much of the media is disconnected from reality. But it has certainly felt that way reading the British commentary on the UK-Australia free-trade deal, which was announced today.
Make no mistake – this trade deal with Australia is historic. It is the first from-scratch agreement that the UK has signed since it left the European Union. And the benefits to both economies are clear.
British consumers will get access to more Australian wine and confectionery; and producers will benefit from the removal of tariffs on British cars and Scotch whisky into Australia. It will make trade in services easier, including for finance and tech. It will even allow young people and professionals to more easily live and work across both countries. The deal will also pave the way for the UK to join the Comprehensive and Progressive Agreement for Trans-Pacific Partnership – an 11-country trading super-bloc worth £9 trillion in 2019.
Yet much of the commentary today has talked down the deal, and talked down Britain. Many of the same people who told us not long ago that agricultural trade with the EU was absolutely essential are now saying that British farmers cannot compete with Australia – a country 9,000 miles away. Indeed, the deal almost did not happen because of vocal protectionist interests in the UK farming industry.
Watching the coverage, it has been hard to find contributors or commentators even balancing the costs and benefits of a deal, let alone mentioning just one or two of the opportunities listed above. On the morning of the deal's announcement, much of the press only talked about the potential risks to farmers.
There appears to have been a presumption that ordinary Brits are all isolationists who want nothing more than to protect the interests of British farmers, no matter the cost. Little thought has been given, in the media commentary and debates, to balancing the interests of farmers against those of consumers.
Why have we not been discussing the consequences of existing tariffs on the standard of living of ordinary families? Will a relatively small quantity of Australian beef, which has to be shipped across the world, really have a substantial impact? How can British industry compete globally if we continue to coddle it?
At the heart of all the negative coverage is a simple assumption – that Brits do not like foreign competition, and that they only want to see Union flags on meat and dairy products. But this assumption is wrong. Very wrong.
Recent polling from the Adam Smith Institute and C|T Group, where I work, shows that British voters have a more considered view, and are perfectly able to weigh up the pros and cons of trade deals.
Brits believe in the core benefits of free trade. A majority in our polling backed the opportunities of a free-trade deal, even if it means some farmers might struggle or go out of business. Where, exactly, are these Little Englander protectionists that we have heard so much about? The polling simply doesn't show them.
It should come as no surprise that British consumers want access to cheaper Australian beef, wine and confectionery. Nor should it come as a surprise that Brits believe that British farmers and businesses can seize the opportunity that a UK-Australia trade deal will provide.
Contrary to the caricature of the inward-looking and protectionist Brexit voter, our research shows that the overwhelming majority of Leavers are supportive of a more outward-looking, free-trading Britain post-Brexit – more so, in fact, than Remainers.
The media debate so far has tried to contrive controversy out of a deal that is a no brainer and will enjoy a lot of support. And why wouldn't it? This deal will provide both Brits and Australians with more choice, cheaper goods and more opportunity. More of this please.
Michael Turner is the head of research at C|T Group's research and strategy business, based in Australia. He is also a fellow of the Adam Smith Institute.
To enquire about republishing spiked's content, a right to reply or to request a correction, please contact the managing editor, Viv Regan.