Eurovision: still mad, camp and utterly brilliant
Who cares that we came dead last? The greatest party on Earth is back.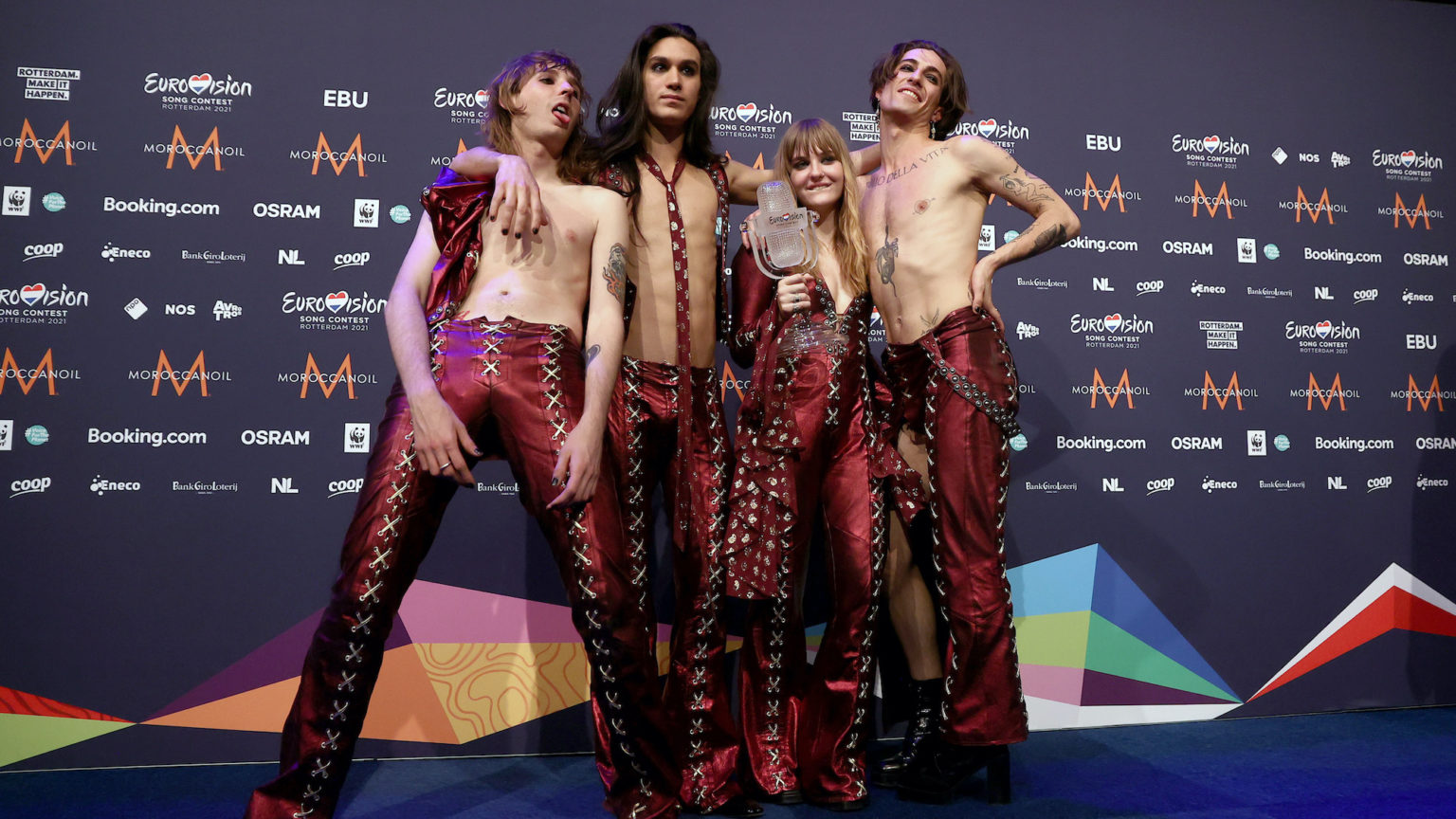 After it was cancelled last year because of the Covid pandemic, the Eurovision Song Contest returned in (nearly) all its glory on Saturday night – beamed into homes across Europe and beyond live from Rotterdam.
The fact that it wasn't cancelled again was a triumph in itself. Case rates in the Netherlands, at an average of about 26 per 100,000 people, reflect roughly where the UK was back in February. Yet the show – as seen on TV at least – looked normal. Indeed, Eurovision's production values these days are, frankly, astonishing. Before the results came in, a short segment featuring performances of the past showed just how much the show has transformed – from stars dressed in polite evening wear with a full orchestra to a mega-camp arena show with cutting-edge lighting and video.
Behind the scenes, there was social distancing, testing and protocols a gogo. This meant there were some absent friends. Last year's hot favourites, Iceland, couldn't compete live because one of the band members had tested positive, so we got a replay from a rehearsal instead. The Dutch winner from 2019, Duncan Laurence, was also unable to do his musical lap of honour after testing positive. Australia's entry couldn't even get to Rotterdam – she was stuck at home thanks to Oz's travel rules (and she was knocked out in last Tuesday's semi-final). Stay local, Australia.
Maybe the UK's entrant, James Newman, wishes he had got a dose of the 'rona and stayed at home. Newman was the only act to get a big fat zero from the 39 judging juries across Europe, Israel and Australia. He then had to endure the embarrassment of scoring a duck from the public vote, too.
It wasn't a surprise, though. While Newman has some songwriting cred – he won a Brit in 2014 – his Eurovision song, 'Embers', never, er, caught fire. It sounded like a perfectly inoffensive but pretty forgettable album track for a boy band. The surprise is not that it did badly, but that six people are credited with writing it.
Another year of nul points has provoked more hand-wringing about the UK being the victim of Eurovision politics. So, let's be clear. The UK's poor showing had nothing to do with Brexit. The UK music industry has plenty of talent, but the cream of those performers, producers and writers have little interest in Eurovision. So we offer up nobodies or occasional big-name pensioners like Engelbert Humperdinck or Bonnie Tyler. It's like turning up to the biggest party of the year in a scabby t-shirt and trackie bottoms, holding a bottle of cooking wine.
Sure, there are certain voting trends in Eurovision that are a standing joke. Greece votes for Cyprus and Cyprus votes for Greece. Countries from the former Yugoslavia often vote for each other. This is more to do with cultural similarities than politics. Another factor is migration. People who have been scattered around Europe tend to vote for their mother country.
Eurovision has tried to get around these trends by splitting the vote 50-50 between national 'expert' juries (ie, music-industry hacks) and the voting public. The result is that the contest in recent years has lost any obvious pattern. This year's winner, Italy, hadn't won since 1990. And it won with a rock song – an event almost as rare as rocking-horse shit. The previous winners, the Netherlands, hadn't won since 1975, while Portugal won for the first time ever in 2017. Meanwhile, Ireland has struggled for years to qualify from the semi-finals, despite dominating the contest so much in the Nineties that it inspired a legendary episode of Father Ted.
Does it matter that the UK's Eurovision entries always suck like a Dyson? We don't need the cultural affirmation of a Eurovision win. We just love having a party and watching 26 three-minute pop songs one after the other – some brilliant, some awful. (Sadly, the semi-finals tend to cull the real turkeys.)
The staging is often brilliant, often mad. Germany offered a woman running around in a costume that was supposed to be a two-fingered peace sign. But one finger kept flopping over, leaving our enthusiastic backing singer looking like a complete dickhead (literally). BBC commentator Graham Norton described the childish, preachy song as 'Marmite, if everyone hated Marmite'. Germany did almost as badly as the UK, saved only by three points from Austria, confirming the two countries' cultural Anschluss.
Eurovision is a highlight of my year, as it is for millions of Brits. You can take it seriously or sarcastically or both. Just don't overthink it.
Rob Lyons is a spiked columnist.
To enquire about republishing spiked's content, a right to reply or to request a correction, please contact the managing editor, Viv Regan.