Why Rhodes should not be taken down
Toppling his statue would yield too much to the neo-racism of the woke elites.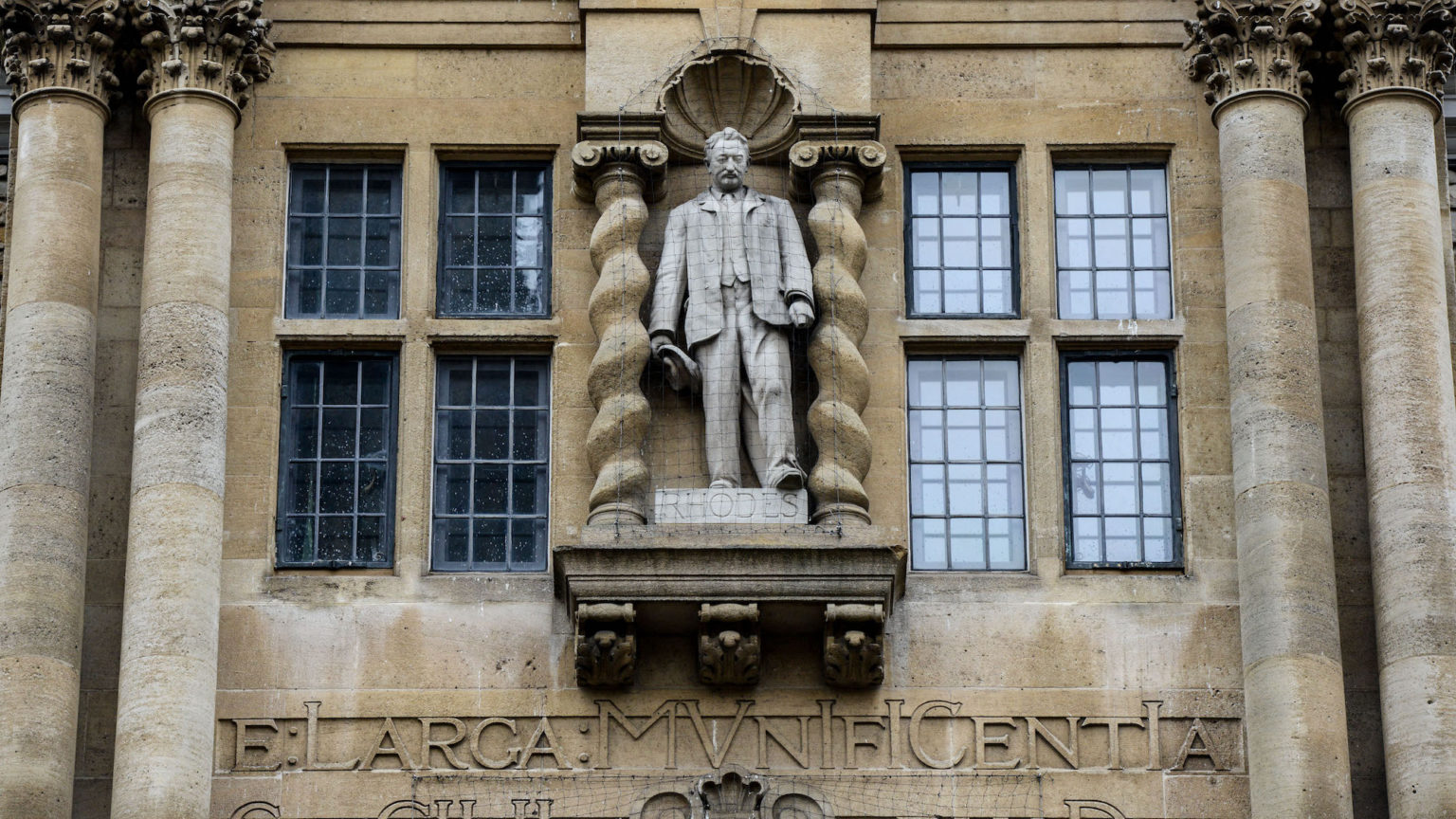 Cecil Rhodes is in the news these days almost as much as he was when he was carving up southern Africa and naming chunks of it after himself, as one does. It's his likeness that generates headlines in the 2020s. The statue of Rhodes that peers down on passing students at Oriel College in Oxford has been at the centre of a woke storm of fury for the past five years. Now, finally, an independent commission has come up with a solution to Rhodesgate – tear the statue down, it says.
It's like a polite, oh-so-British version of what the Taliban did to those Buddha statues in Afghanistan. Only where those hotheads blew up the monuments that offended their fragile religious sensibilities, in the civilised surrounds of Oxford they set up worthy commissions to do the business of erasing sacreligious images from history. The commission was set up after Oriel College itself voted in favour of removing Rhodes last June. And the commission agrees this is the right thing to do. Rhodes Must Fall – the bizarre student movement that became myopically obsessed with the Rhodes statue – is cock-a-hoop. 'We're pleased that the commission came to a decision that recognises the brutality of Cecil Rhodes', it says.
This entire affair has been odd from the get-go. What privileged lives radical Oxford students must lead if they can expend so much energy on a bloody statue. They could have been campaigning for greater welfare assistance for Oxford's poorer inhabitants or setting up a Kurdish solidarity movement. But nope, they moaned and wept over a monument to a bloke who's been dead for 120 years. This was such a colossally self-regarding campaign. Radical students once aspired to change the world – now they just want to change the scenery in the facade of the esteemed institution they're lucky enough to attend.
The years-long agitation against a statue confirmed that emotional security has become the highest goal of radical student politics. Rhodes Must Fall is the Safe Space mentality writ large. Just as members of the youthful woke brigade believe they must be cushioned against difficult ideas – hence cancel culture – so they think their physical environment must also be scrubbed clean of 'problematic' monuments and other reminders of our shady history. I've always thought there is something staggeringly narcissistic in this idea that one has the right to glide through life without ever coming into contact with challenging ideas or images. In a pluralistic society with a complex history you do not have that right. Sorry.
There was also a darker, unwittingly prejudiced ideology at play in the rage against Rhodes. It was fuelled in large part by a belief that ethnic-minority students are especially fragile, even more fragile than their white-skinned, blue-haired counterparts. The Rhodes statue was described as a microaggression. It apparently made black students feel the pain of history. It was virtually an act of violence – this cruel stone thing that mocks non-white students and forces them to relive the horrors of colonialism when they're just trying to get to a seminar.
This infantilises people according to race. It says young black people are less capable than young white people of negotiating the necessarily complex public arenas of 21st-century Britain. The Rhodes Must Fall worldview treats history as an all-powerful, deterministic force. It negates the agency of the individual (especially black individuals), instead depicting them as the fearful victims of the harsh hand of history.
There's an element of neo-racism here. Old racists promoted the ideology of biological determinism, the foul notion that certain racial groups were born with traits that made them less fit for public life or educational endeavour. The woke set push the politics of historical determinism – the increasingly mainstream belief that Empire, slavery and colonialism continue to cast a long shadow over our societies and over the lives and feelings of ethnic-minority people in particular. And thus these people need the therapeutic assistance of the clerisy – whether in the form of statue removals or slavery reparations or some other form of the politics of recognition – in order to boost their self-worth. Call me old-fashioned but I fail to see how setting up the largely white liberal establishment to be the saviours of allegedly distressed black people constitutes racial progress.
If Oriel College caves in to the demands to take down the Rhodes statue, it will confirm that institutional cowardice plays a starring role in the madness of wokeness. It is being reported that Oriel will keep the statue in place, for the time being at least. Good. The statue should stay put – no, not because any of us wants to celebrate Cecil Rhodes or colonialism, but because we are grown-ups who recognise that British history is a long, strange, complicated affair and because we trust that all our citizens, whatever their race, have the capacity to understand that. Rhodes should stay as a monument to our refusal to bend the knee to the unreason and the prejudices of the new woke elites.
To enquire about republishing spiked's content, a right to reply or to request a correction, please contact the managing editor, Viv Regan.