Finally, the truth about the Ballymurphy Massacre
The British army treated innocent men and women as terrorists.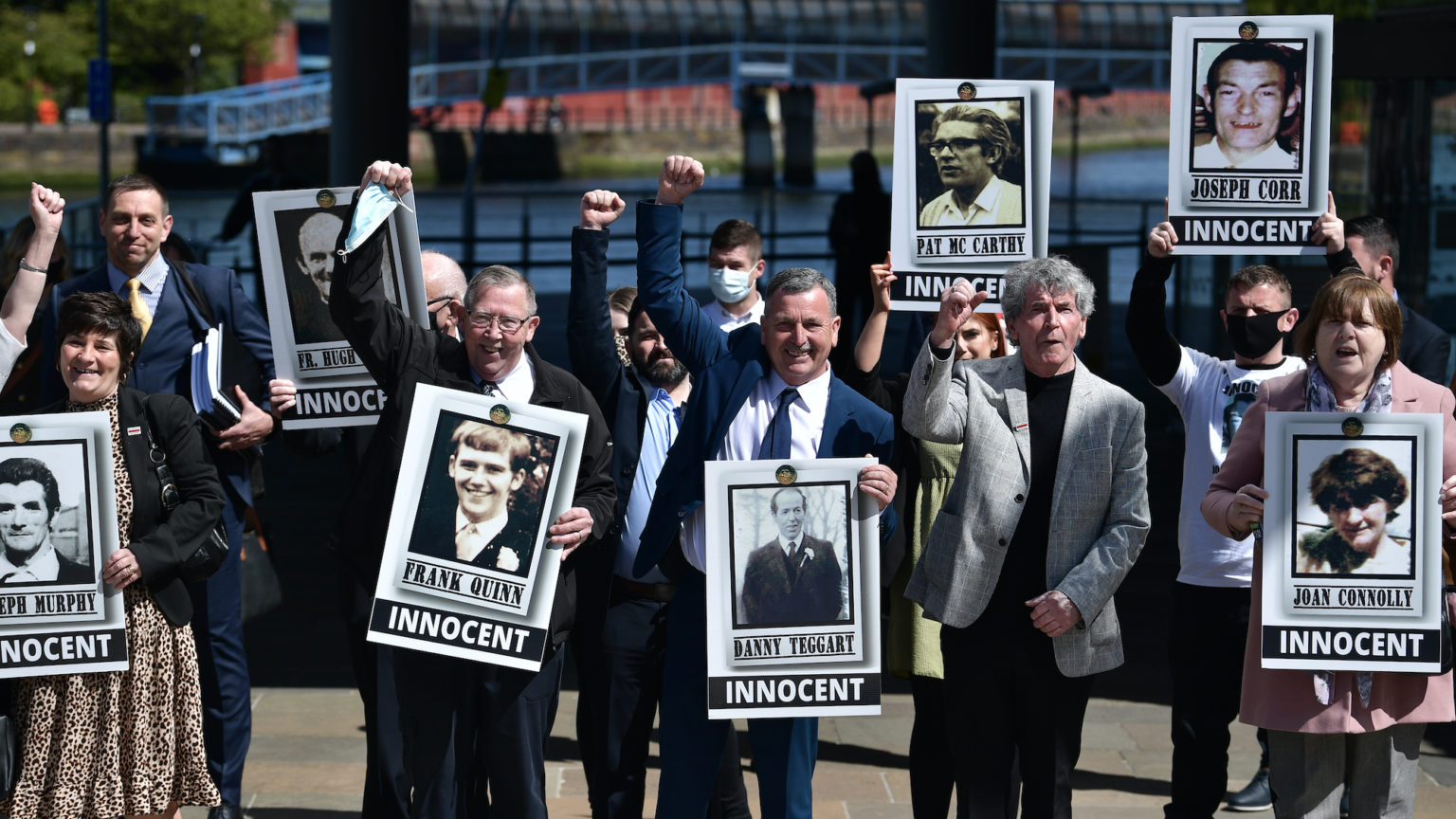 As kids in the early 1970s, we often played on a patch of waste ground at the edge of our estate. When we reached a little cross surrounded by white pebbles, we always stopped to say a prayer for Fr Mullan, who died on that spot. Along with nine others from our area, he was shot down by British soldiers in a series of incidents over a 36-hour period in 1971, known as the Ballymurphy Massacre.
On 9 August, thousands of British soldiers flooded Catholic areas like Ballymurphy, arresting and imprisoning hundreds of people without trial in what became known as internment. As the people of the area protested, the army responded with live bullets. British forces deliberately and consciously attacked our community. They set out to shock and stun through the use of mass terror. Their aim was to put the people of Ballymurphy in their place. This was no accident in the fog of war, as apologists for the British military now claim. Residents were targeted because they did not accept the legitimacy of Britain's rule in the north of Ireland. That made them fair game in the eyes of the British army, which viewed the IRA and unarmed nationalists as one and the same.
As the death toll mounted in the wake of internment, Major General Sir Robert Ford briefed the media that 'the army was in a constant war of attrition against terrorists armed with automatic weapons and bombs'. He claimed that over those three days, his soldiers had shot 19 IRA gunmen dead. The people of Ballymurphy knew this to be false. But a compliant British media slavishly reported his claims verbatim. British army commanders on the ground followed up with baseless claims that the dead were either carrying bombs, caught in crossfire or shot throwing petrol bombs. These false accusations were again lapped up by a sycophantic and uncritical British press.
Soon the cover-up was complete, the dead were labelled terrorists and the media cycle moved on to the next atrocity of the Troubles. Except that for nearly 50 years, the families never gave up fighting for truth and justice for their loved ones. After a tireless campaign involving many setbacks, which was blocked at every turn by British governments, they have been officially vindicated. Yesterday, an inquest made official what the dogs in the street already knew: that those 10 people were entirely innocent when shot down in cold blood by British soldiers.
The inquest verdict by Justice Keegan did not tell the people of West Belfast anything they didn't already know. But it is still important that people in Britain and elsewhere now know how soldiers behaved when acting on the orders of their military superiors in 1971. Fr Hugh Mullan was not carrying a gun or a bomb. He was a peacemaker. He was waving a white babygrow when killed as he went to help a wounded man and administer the last rites. Francis Quinn was shot dead at 19 years old as he tried to help a wounded woman. Daniel Teggart's body was found riddled with 14 bullets, mostly in his back. Joan Connolly's death was particularly harrowing. She was left to die a slow and lonely death in a field after being shot. Locals were pinned down and unable to get to her as British troops continued to fire at anything that moved. It was several hours before anyone could reach her, and by then it was too late.
The dead and dying, once picked up by British soldiers, were manhandled and dumped, like sacks of potatoes on the barracks floor, and left to rot. Soldiers in the Henry Taggart barracks in Ballymurphy held sweepstakes on how many each soldier would kill. When relatives went to the barracks to enquire about their loved ones or to retrieve their bodies, they were laughed at, sneered at and manhandled. One of the dead had his pockets filled with bullets in an attempt to frame him as a gunman. When a young woman was desperately searching for her father, soldiers sang at her 'Where's Your Papa Gone' – a well-known hit of the time. The army had killed her father.
One of the tragedies of the Ballymurphy Massacre was that it made clear to the Parachute regiment, which shot many of the residents dead, that its soldiers could kill with impunity. Five months later, the Paras arrived in Derry where they murdered 14 unarmed protesters on Bloody Sunday. If there were a proper system of accountability in place, Bloody Sunday would probably not have happened. The abject failure or refusal of the state to investigate the Ballymurphy Massacre paved the way for more state atrocities like Bloody Sunday.
Kathleen McCarry – sister of Eddie Doherty, who was shot dead and falsely accused of being a petrol bomber – spoke with empathy about the army veteran who was cross-examined and implicated in relation to her brother's killing. She noted that the ex-squaddie is now 80 years old. She didn't finish her sentence and I would not want to put words in her mouth. But it did make me wonder what good it would do to jail an old man, 50 years after the massacre and long after the end of the Troubles. It is true that many relatives of the dead would like the perpetrators to be prosecuted. Indeed, every political party in Northern Ireland supports further prosecutions for Troubles-related deaths. These parties lack the courage to call for an end to these prosecutions because they don't want to be seen as being on the opposite side to victim's campaign groups.
The Conservative government had a line in the Queen's Speech yesterday about ending prosecutions against British soldiers. But this was deliberately vague. Will we see an end to the prosecutions of loyalists and republicans, too? Or is this yet another attempt to cover up Britain's dirty war and its collusion with loyalists?
My own view is that it is time to end all prosecutions. We need to draw a line under the Troubles and move on. Let us focus on the best way to find the truth for the loved ones and victims from all sides before it is too late. That is where the debate should be focused.
We cannot have both a peace process and a prison process. Terrible things happened on all sides and many people suffered grievously in the Troubles. Some will carry the pain to their grave. But no one has a monopoly on suffering. The continued demand for prosecutions risks weighing down younger generations like a millstone around their neck. Yes, we must recover the truth about the past. But never-ending prosecutions will keep us trapped in the past.
To enquire about republishing spiked's content, a right to reply or to request a correction, please contact the managing editor, Viv Regan.