Why the travel ban must be lifted
Banning holidays won't stop new variants.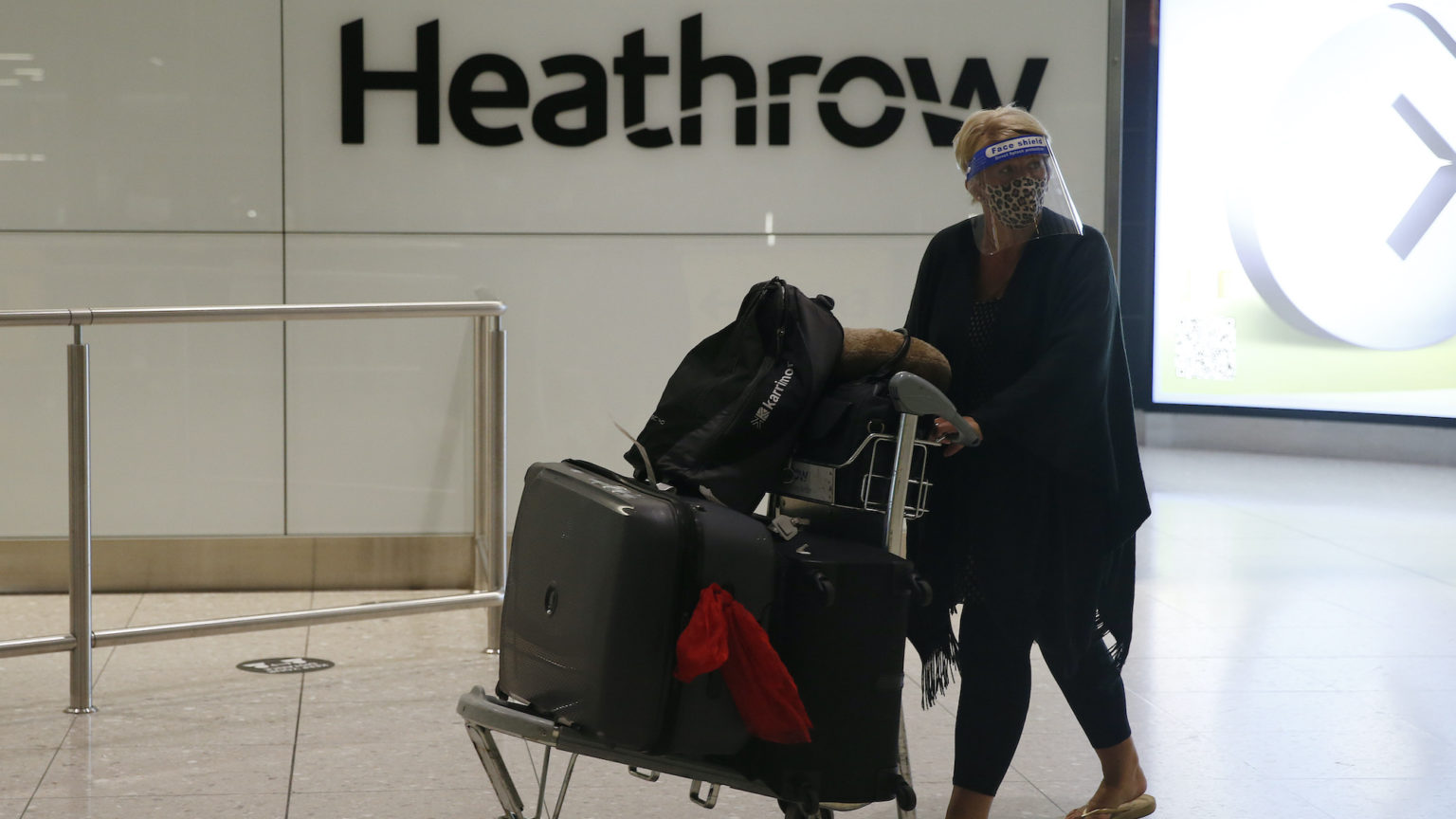 The British Academy warned last week that the pandemic's effects will linger for a decade. That should give us a jolt. Respiratory pandemics have hit throughout history – as in 1889, 1918, 1957 and 1968 – but haven't ever imprinted on whole decades before.
No one claims that the Spanish flu affected the 1920s up to the Wall Street Crash, although it killed 20millon to 100million (estimates vary) from a population one quarter of today's. Covid-19's toll to date is 2.5million. The Black Death of 1347-1349 did change society. But that was of a different order, killing half Europe's population. Even so, 'Old Normal' returned: only 10 years separate the Black Prince's victories at Crecy (1346) and Poitiers (1356). If Covid-19 is so consequential, it is because of our new unwillingness to accept the nature of our coexistence with pathogens, not the virus itself, which is largely a threat to the frail.
Nothing has been changed so much as travel. As of today, I can be fined £5,000 for leaving the country without a 'reasonable' excuse involving work, funerals or property transactions. Holidays are criminal – except perhaps if I produce a letter promising to consort with time-share touts.
These restrictions, imposed when vaccinated adults are a growing UK majority, are predicated on fears of importing vaccine-escaping variants. Some variants of Covid, notably the Brazilian P1 and South African B.1.351 types, have reduced antibody binding. A small clinical study suggests that B.1.351 evades the AstraZeneca vaccine, though no severe disease was recorded in the patient series. Some believe that slow EU vaccination makes the emergence of new vaccine-resistant variants more likely.
But how reasonable are these fears? Just as with the UK's slow reopening, the precautionary principle is being applied, but with no regard for the actual situation on the ground, or for the collateral damage of continued restrictions. Three points are crucial:
First, the long-established 229E common-cold coronavirus mutates to escape immunity from prior infection, so it's predictable that SARS-CoV2 will do the same. Already over 20,000 SARS-CoV2 variants are known to us. The E484K (glutamate to lysine) change of the Brazilian and South African types, which reduces antibody binding by reversing a charge, has occurred repeatedly, including in Bristol. Banning travel won't prevent local evolution.
Second, the belief that variants will be squeezed out globally is delusional. Some are widespread in their countries of origin and many countries do very little sequencing. Some US states, less perturbed than Boris's government, are rapidly opening as their populations are vaccinated. Even much of Europe is less restricted than the UK, and the Brazilian and South African variants account for around five per cent of cases in France.
Thirdly, and linked to this, we cannot, as a trading nation, isolate ourselves, least of all when we are supposedly promoting 'Global Britain'… Lateral flow tests on incoming lorry drivers will detect only some pre-symptomatic cases, not all.
In short, variants will reach us, whether or not your holiday is prohibited. The extent to which they can cause severe infection in the vaccinated is uncertain, but it is likely the vaccines will still suppress them significantly, given that we are dealing with point mutants, not dramatic recombinations.
All this means is that vaccines will need to be adapted over time. That is what we do with seasonal flu, which causes 10,000 to 30,000 deaths annually in the UK, or around two to five per cent of all UK deaths. Fortunately, two things work in our favour: mRNA vaccines are particularly easy to modify and, secondly, coronaviruses do not change as dramatically as influenza.
If we accept the limited victory offered by the vaccine, rather than holding out for an unattainable pipe-dream of Zero Covid, travel bans can be consigned to the scrapheap. And they should be, for they do great harm globally. Asides from separated 'international' families, the major losers from this are anyone unable to work via Zoom and without 80 per cent furlough pay. This group is as diverse as Caribbean hotel maids, Nepalese trek porters, Filipino cabin stewards, Thai bar hostesses, guides and souvenir vendors of every sort, along with swathes of bar and restaurant staff. Many families will be or have already been thrown into hardship by travel bans. Ruined safari lodges leave wildlife valuable only to poachers. Does all this harm count for nothing?
What's more, with international tensions growing, it is vital that we reconnect physically, reminding ourselves of our common humanity. If I fall into a chance conversation across a café table in Paris or Berlin, I'll try to be friendly, as you will. Such conversations bring diverse people together, unlike the echo chamber of lockdown social media.
One last thought. Years ago, I was on a trip to Anatolia with old friends. We stopped to visit an underground city, its entrance hidden behind a millstone, which was rolled aside. Stooping and crawling by torchlight we entered a maze of tunnels and earth-walled chambers until we became frightened by a view of the underside of the road's tarmac, with the trucks rumbling above. Retreating into the hazy December sunshine, I wondered about the troglodytes who had hidden down there all those years ago. Who were they? What did they fear so much above ground that led them to hide in this subterranean gloom? And what little good did it do them? Their culture, whatever it was, is long gone, unsaved by hiding.
Now I fear we are doing the same, trashing our culture, humanity and liberty – including our freedom to travel – through exaggerated fear of a virus that is far less lethal than is popularly believed and which, with adaptable vaccines, we can reduce to a threat no greater than seasonal flu.
It is time to take the British Academy's report as a dire warning, and to recalibrate our approach.
Professor David Livermore is a professor of medical microbiology at UEA and a member of HART, the Health Advisory and Recovery Team.
To enquire about republishing spiked's content, a right to reply or to request a correction, please contact the managing editor, Viv Regan.