Biden is to blame for the border crisis
In his desperation to reject all things Trump, Joe Biden has created a humanitarian disaster.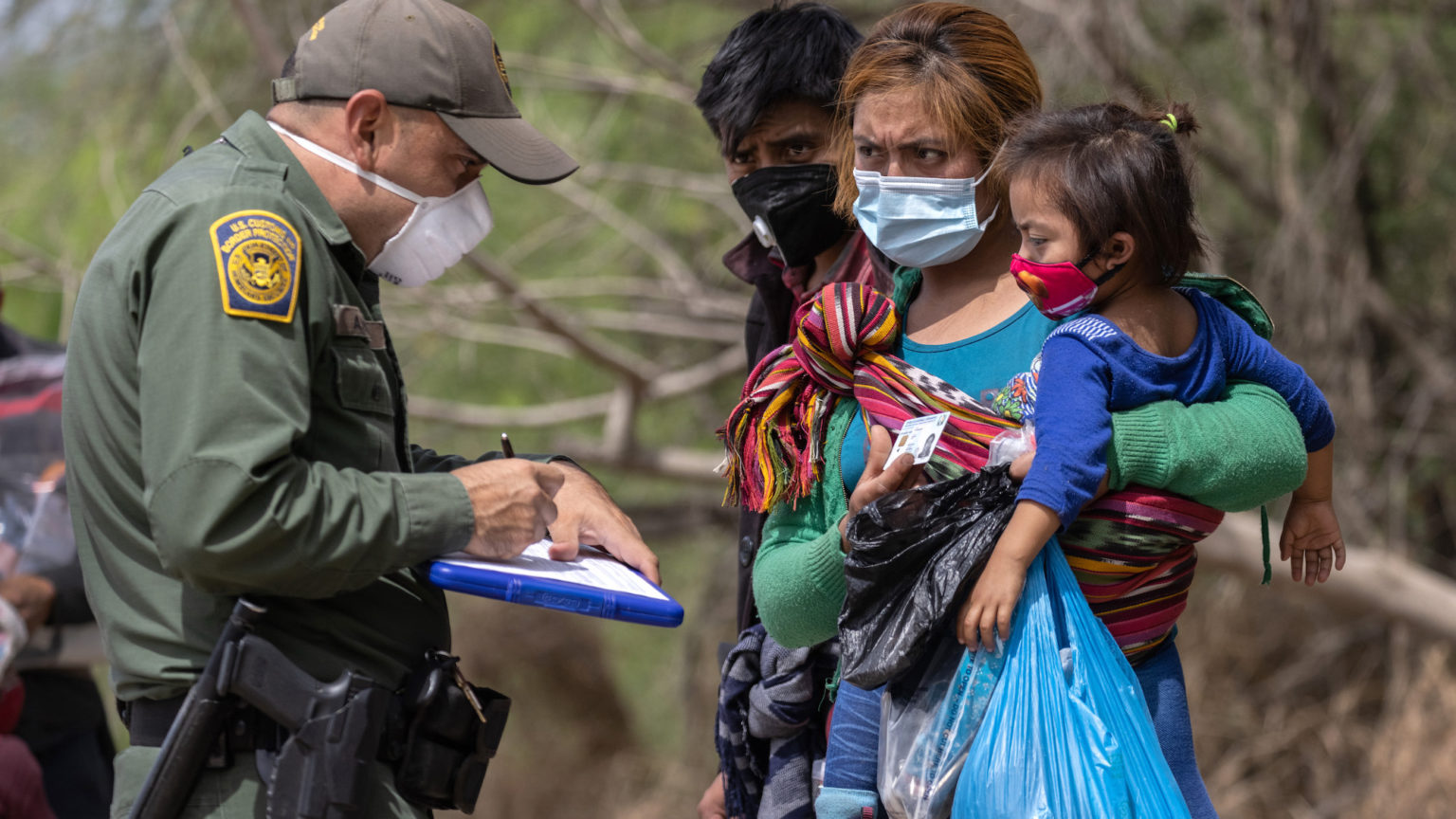 The recent surge of illegal immigrants at the US-Mexico border has reached a crisis point. At the current pace, about two million people from Mexico and Central America will be apprehended this year. That's roughly equivalent to the population of Houston, the US's fourth largest city. The numbers are likely to reach levels not seen since two decades ago.
It's not really the scale of illegal immigration per se that has caused this crisis – it's that the Biden administration and border-enforcement authorities were completely unprepared. Now they are overwhelmed. The most acute humanitarian problem is the arrival of thousands of unaccompanied children, whose numbers have skyrocketed since Joe Biden entered the White House in January. Some 17,000 migrant children are being held – the highest ever.
In 2019, Donald Trump was lambasted by the Democrats and the media for putting 'kids in cages'. Now photos and reports from the border show kids sleeping on top of one another in cramped, grim cells. The administration euphemistically calls them 'overflow facilities', but they are really Biden's own 'kids in cages'. And the wait-times for children in these border holding stations often extend past the 72-hour legal limit.
The Biden team has denied that it faces a crisis, preferring to describe the situation as a 'challenge'. But you do not send the Federal Emergency Management Agency (FEMA), as Biden has done, to help with otherwise smooth operations. The reality is that officials are scrambling to address all-out chaos. The Department of Homeland Security is frantically seeking to set up new temporary accommodations, including converting the San Diego Convention Center into a shelter, and renting out hotel rooms.
All the while, the Biden administration has sought to prevent journalists from getting too close to seeing what is really going on. All media inquiries must go via Washington, and it has introduced an effective gag order on local border patrol from speaking with the media. So much for transparency.
But this didn't need to be a crisis. This is a mess that Biden himself has made. Campaigning for president in September 2019, Biden said he would welcome a surge. 'I would in fact make sure that there is, that we immediately surge to the border, all those people are seeking asylum', he said in a debate. 'We're a nation that says, "If you want to flee and you're fleeing oppression, you should come".' Latin Americans heard him, and many have come, some even sporting Biden t-shirts. ABC reporter Martha Raddatz asked a migrant from Brazil: 'So, did you come here because Joe Biden was elected president?' 'Basically', the man replied. 'The main thing was the violence in my country and the second thing was Joe Biden.' As Mexico's president, Andrés Manual Lopéz Obrador, said, 'Expectations were created that with the government of President Biden there would be better treatment of migrants. And this has caused Central American migrants, and also from our country, wanting to cross the border thinking that it is easier to do so.'
It's not just Biden's rhetoric that has signalled that US borders, post-Trump, were now open again. From day one in the White House, Biden introduced specific policies that have dismantled key features of the Trump immigration regime – but with no replacement.
Trump, along with the Centers for Disease Control and Prevention, issued a Covid-related emergency order (Title 42) that called for the expulsion of all migrants from Central America. But the Biden administration exempted unaccompanied children from that order, which led directly to the spike in mothers sending their kids north. Biden's head of Homeland Security, Alejandro Mayorkas, justified overturning the Trump policy on the grounds that he would 'not expel [orphan children] into the Mexican desert'. But that's not what was happening – under Trump, Central American minors were flown to their home countries, and reunited with parents or social services.
Biden also tore up the Trump administration's Migrant Protection Protocols, also known as the 'remain in Mexico' policy. Under this agreement, asylum seekers waited in Mexico while their cases were heard by US courts. Now Biden seems to have returned to the Obama-era approach of 'catch and release'. Some 87 per cent of migrant families that crossed the Mexico-US border in March were allowed into the US, according to Axios. Typically, when migrants are released into the country, they are required to appear before a tribunal at a later date. But that date can be many, many years later, and most applicants fail to turn up. Now, in an unprecedented move, Border Patrol has released some 2,000 migrants without a court date – an indication of how overwhelmed they are.
Some of the harshest criticisms of the Biden administration are coming from Democrat congressmen from the border in Texas – a region where Trump made electoral gains with Hispanic Americans in November 2020. Representative Henry Cuellar, a son of migrant farmworkers, said he tried to warn the White House back in January, but the administration wouldn't listen. Cuellar, earlier this week, released photos of the overcrowded cells with migrant kids, breaking the Biden administration's blockage of media reporting from the area.
A big problem for Biden is that the incentives for trying to enter the US, as they appear to potential Latin American migrants, are out of whack. On one hand, entering illegally looks relatively attractive. As another Texas-border Democrat, Representative Vicente Gonzalez, says: 'When you create a system that incentivises people to come across, and they are released, that immediately sends a message to Central America that if you come across you can stay.' Six months after applying for asylum, even while waiting for their court case, migrants can seek permission to work.
On the other hand, there are many barriers to enter lawfully (including some thanks to Trump). The numbers allowed in are too low relative to demand from Latin America, and the US's economic needs. The US also lacks a significant guest-worker programme to ease the ability of seasonal workers to move back and forth. By far, most migrants entering illegally and claiming asylum are actually coming to look for work – and who can blame them for trying to better themselves? Especially today, when a soon post-Covid US economy looks ready to take off, while Central American countries are struggling to get vaccine supplies and are suffering economically. And who can blame them for entering illegally and taking their chances of getting caught, when those odds seem so much better than the approved, lawful way?
As this border crisis has highlighted, the Biden regime has been high on its own supply, getting so caught up in its anti-Trump messaging that it has forgotten that it has a country to run. Believing that everything Trump did was immoral, Biden's team immediately dumped all of Trump's immigration policies, without consideration for the consequences. And in the desire to please the 'open borders' left, they failed to consider the human implications of this lofty rhetoric for the migrants who took them at their word.
Biden has proposed his own legislation to reform immigration, including legalising the estimated 11million (or more) undocumented migrants already in the US. But the Biden's administration's incompetence in dealing with the border will make it harder to gain public support for liberal approaches like a path to citizenship. This week, a Politico / Morning Consult poll found a 14 percentage point decline, to 43 per cent overall, in voters who think illegal immigrants should be able to become legal citizens. Other polls have shown that most Americans reject both severe restrictions and open borders: most would welcome more legal immigration into the country, but they still want to see the enforcement of existing immigration laws.
This is a crisis of Biden's making. So far, he has pretended there is no crisis, ignored advice on the ground, deployed Orwellian phrases like 'overflow facilities', tried to pin the surge on Trump, censored the media, and, most recently, put Kamala Harris in charge. These stumbling responses do not inspire confidence that he will be able to get out of this anytime soon.
To enquire about republishing spiked's content, a right to reply or to request a correction, please contact the managing editor, Viv Regan.