School closures are creating a lost generation
The excuses from Biden and the unions for delaying reopening are wearing thin.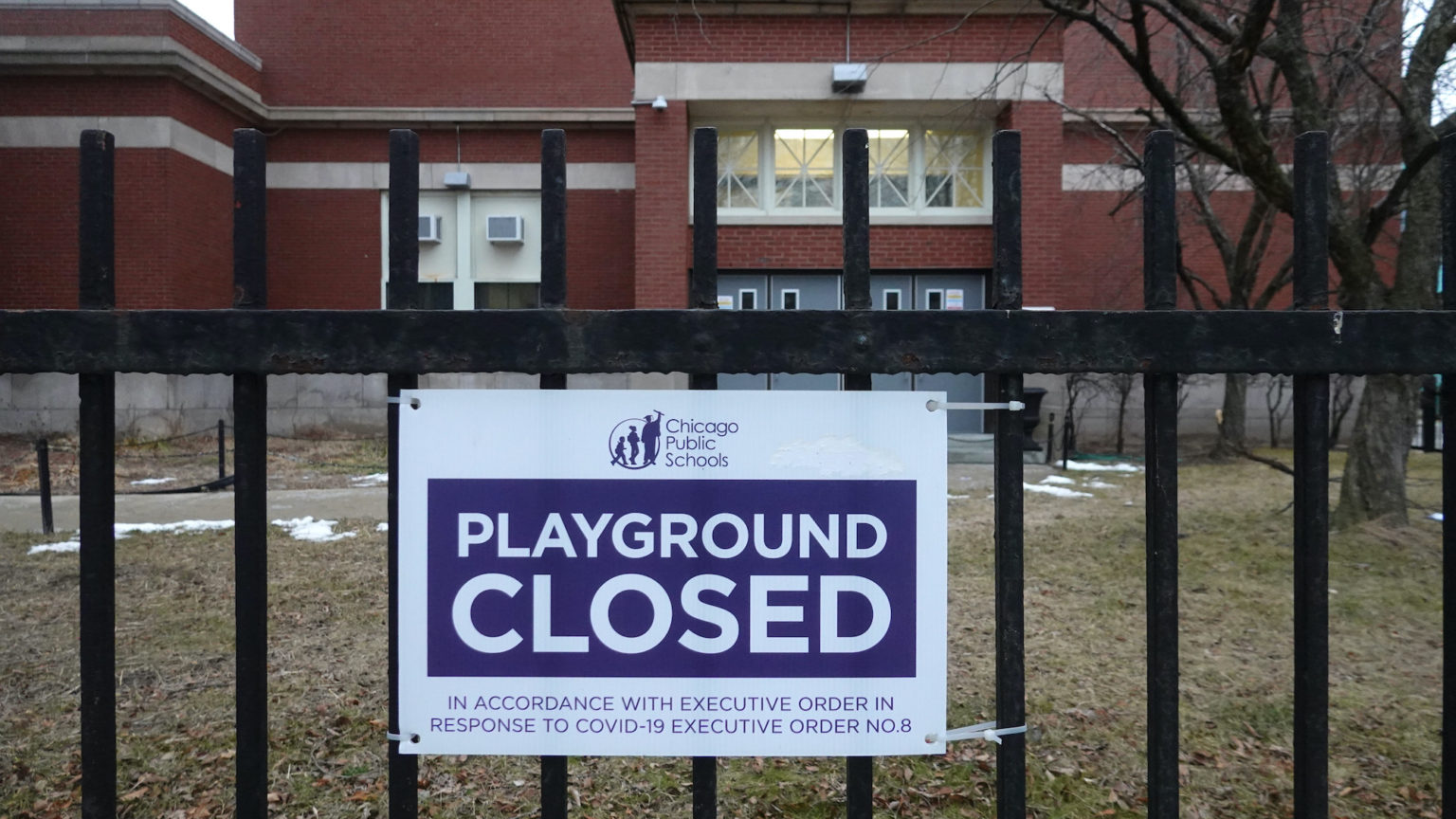 Across the US, most schools have still not returned to providing a normal educational experience. A majority (57 per cent) of children are attending either virtual-only or hybrid schools (two to three days a week in-person), according to the Burbio school reopening tracker.
Today, about one year on from when schools went virtual in response to the spread of Covid-19, it's clear that the lack of full-time, in-person instruction is having a devastating effect on the educational and social wellbeing of children. Research from McKinsey and others shows that students are falling behind academically, with the worst impact being felt by those in the poorest communities. Deprived of essential opportunities to socialise with friends at school, kids are suffering emotionally as well, with teens in particular susceptible to anxiety and depression. A surge of 18 child suicides in Las Vegas led the city to reopen schools. The San Francisco attorney general has taken the unusual step of suing the city's own school district after the number of suicidal children hit a record high.
But children do not need to be borderline suicidal for us to be concerned about the negative effects of remote learning. At home, it's too easy for kids to skip a class, tune out while they pretend to watch a lesson online and disengage from interacting with friends. Parents are rightly worried if their child might become one of the 'lost generation' that we are sadly creating.
Distance learning is taking a toll on parents, too. They have had to juggle work with trying to keep kids focused on schoolwork, often having to become teachers themselves as they realise their children are not learning. After a year of this, many are burnt out.
Perhaps the most striking feature of schooling in the US right now – and most confusing for parents – is how the approaches differ from state to state and from town to town. Nearly all schools in Florida and Wyoming provide full-time in-person instruction, while most schools in states like California and Maryland are virtual-only. Within the same city, like San Francisco, public schools are virtual while private schools are in-person. In our area of upstate New York, neighbouring towns have adopted a range of approaches, with in-person, hybrid and virtual systems all being deployed. Drive 10 minutes to the next town over and the experience for parents and kids can be dramatically different from your own.
What's also striking is how there are so few reports of significant outbreaks of Covid-19 in the schools that are providing in-person lessons. These schools appear to be just getting on with the job of educating kids. Parents whose kids cannot go to school full-time look at the open school districts with envy and frustration.
The evidence that in-person schooling is safe is overwhelming. It has long been recognised that children are at low risk of infection and low risk of transmitting Covid-19. 'The preponderance of available evidence from the fall school semester has been reassuring', wrote researchers from the Centers for Disease Control and Prevention in the Journal of American Medical Association. 'There has been little evidence that schools have contributed meaningfully to increased community transmission.'
Some desperate parents have sought alternatives. Some have put their kids in private schools (Catholic schools, which never shut, have had a big jump in enrollment), while others have hired instructors to teach a 'pod' of kids at home. But these workarounds cost money that many cannot afford.
Despite the evidence of low Covid-19 risk and high educational damage to children, an array of authorities, from state governors to school boards and superintendents, have decided to keep kids out of school. In the blue states and major cities where remote learning is most prevalent, you will often find that the teachers' unions are a major force behind that policy. It's worth mentioning that not all teachers' unions have adopted this oppositional stance, but it is clear that unions are the major obstacle to reopening in many locations.
After months of arguing that schools were too dangerous, many teachers' unions have refused to return to work until all teachers are vaccinated, despite the CDC director saying this is not necessary. But now that many states have made teachers a vaccination priority, we hear new demands from the unions, such as improved ventilation in school buildings. There is always a new excuse for not returning to the classroom.
Some unions and school boards have displayed a shocking level of contempt towards parents. Board members in Oakley, California used profanity and made jokes about parents before a meeting, unaware they were being heard by attendees. The board's president dismissed parents' criticisms over school closings as nothing more than 'they want their babysitters back'. One member, talking about a parent, said: 'Bitch, if you call me out, I'm going to fuck you up.' The board members later resigned.
San Francisco's school district has not been able to find a way to open its school doors, which have been shut all year. It seems this board was too busy deciding to rename its schools, removing the names of Abraham Lincoln and other presidents over their alleged racism. The board had to cease its performative anti-racism after an uproar from parents, who demanded they focus on reopening the schools.
It's unfortunate that the Biden administration is not putting its weight behind parents who want to see schools reopen. Its messaging has been muddled. After much to and fro, Biden himself promised that 'a majority of elementary schools will be open five days a week by the end of his first 100 days in office'. But that aim is woefully unambitious: by the end of April, Biden's goal could still leave 49 per cent of elementary schools not fully open. And it says nothing about middle and high schools.
Rather than put pressure on the teachers' unions, the Biden administration is giving them ammunition for keeping school doors shut. It argues that schools need $130 billion in Covid-relief funding for increased staffing, improved ventilation and PPE. The unions have readily echoed the message that schools cannot reopen until they receive more funds. Randi Weingarten, president of the American Federation of Teachers, says that full-time instruction won't return this year unless schools can find 20 to 30 per cent more space, and more teachers. 'Will we see this year that everything is back to what we saw in September 2019? I don't see that happening', she said.
Weingarten and her union's resistance are infuriating to many parents. But with parents in even the most progressive areas now protesting, it looks like the tide might be turning. The excuses given by Biden, the unions and school boards are wearing thin. Especially as the vaccine is rolling out and showing such positive results, there really is no compelling reason to not have kids in school five days a week.
Nearly all aspects of life involve risk, and it cannot be eliminated entirely. When it comes to educating our children today amid a pandemic, the balance of risk has become clear: the real and evident damage to children's progress and wellbeing from virtual schooling is much greater than the relatively small risk of catching or transmitting Covid-19.
Kids watch what adults do and draw lessons. Yes, Covid is scary. But right now, adults from Washington, DC to small towns need to start acting like grown-ups. We need to convey to kids just how important we believe education is, and we need to demonstrate by example what it means to be brave and resilient. We cannot afford a lost generation.
To enquire about republishing spiked's content, a right to reply or to request a correction, please contact the managing editor, Viv Regan.