Bill Gates and the greening of capitalism
How to Avoid a Climate Disaster turns a 'catastrophe' into a business opportunity.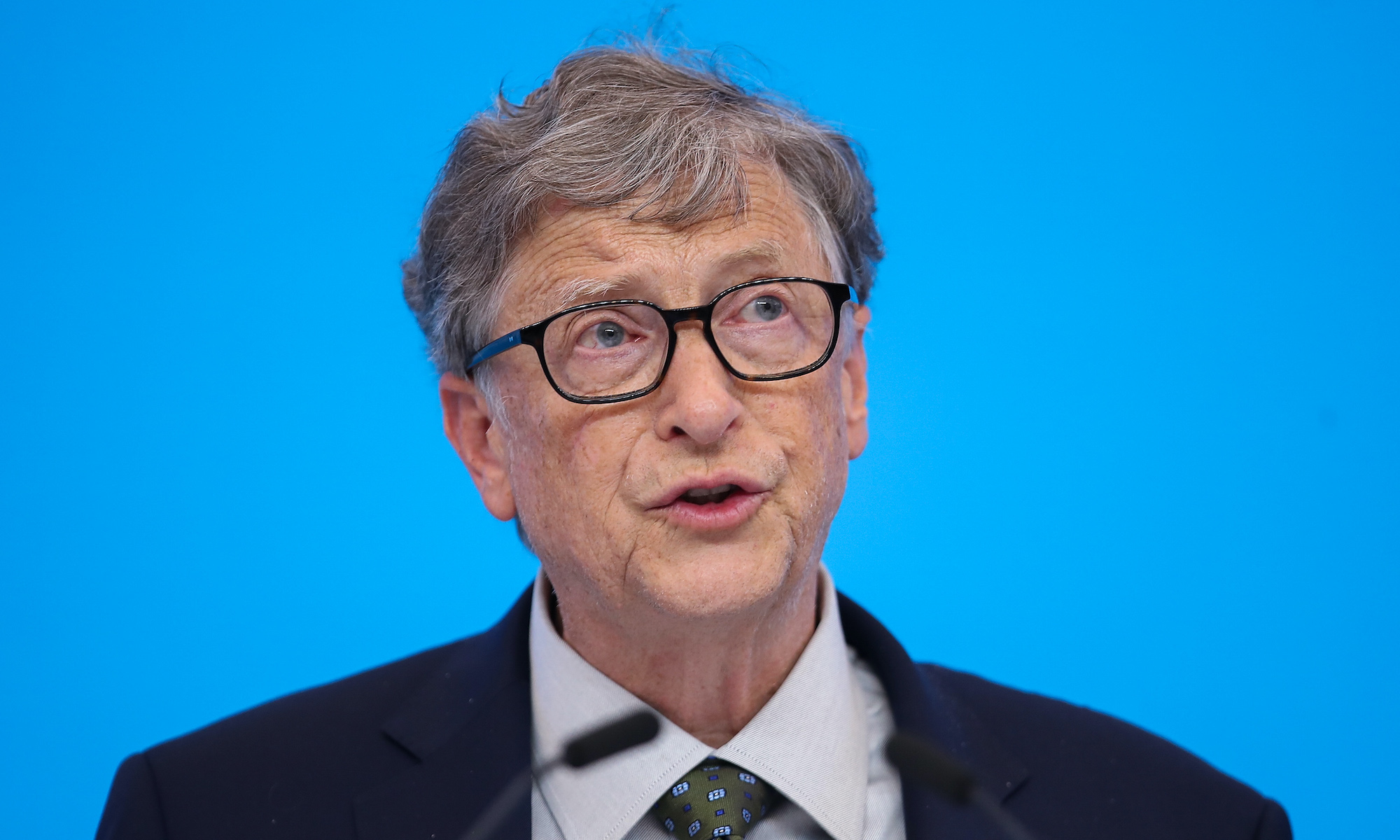 Since stepping down from his day job at Microsoft 13 years ago, Bill Gates, the one-time holder of the title of world's richest man, has certainly stepped up the philanthropic work. It is reported that he has donated nearly $50 billion to charity since 1994, including to his very own Bill and Melinda Gates Foundation. But he is no longer content with merely pumping a portion of his wealth into worthy causes; he wants to impart his wisdom to them, too. And here we have the flagship result: How to Avoid a Climate Disaster – Gates' practical contribution to the environmentalist cause.
What sets Climate Disaster apart from the many other efforts in the save-the-planet genre is its surprisingly can-do, even upbeat approach to the apocalypse. Sure, according to Gates, we, as a species, are still looking The End in its sun-burnt face – 'we have every reason to believe that at some point the impact [of climate change] will be catastrophic', he writes. And, yes, he asserts that unless those 51 billion tonnes of annual greenhouse-gas emissions are reduced to zero by 2050, Armageddon will be upon us. He even reels off the by-now familiar 'cascading' effects of just one to two degrees warming on our planet, from rising sea levels and desertification, to mass migrations and brutal impoverishment. But he doesn't revel in the horrors to come, or beat us around the head with the green version of Judgement Day. He approaches it all like a plumber does a leaking waste pipe, as an unpleasant problem to be fixed, rather than a sign of the homeowner's sinfulness.
It means that Gates' attitude towards climate change is very different to that of, say, Extinction Rebellion or even Greta Thunberg. It's pragmatic, dull even. And that's because he frames climate change principally as a technological problem, for which we will have to find technological solutions. He wants to find a way to sustain and increase levels of energy production and consumption, just without the fossil fuels. He makes it sound so simple. 'We already have some of the tools we need', he writes, 'and as for those we don't yet have, everything I've learned about climate and technology makes me optimistic that we can invent them, deploy them, and, if we act fast enough, avoid a climate catastrophe'. He is, he admits, 'an optimist when it comes to technology'.
And that optimism often shines through his breezy prose, as he makes his central case for the zero-carbon electrification of vast swathes of our critical infrastructure. His focus is less on renewables, for which 'intermittency' remains a troubling flaw, than on geothermal energy, hydrogen and, above all, nuclear power (not just fission, but fusion, too). 'No other clean energy source even comes close to what nuclear already provides today', he writes. 'And it's hard to foresee a future where we decarbonise our power grid affordably without using more nuclear power.' Indeed, Gates calls for a renewed focus on 'advancing the field of nuclear energy', adding: 'It's just too promising to ignore.'
He also attacks the pessimism of those whose only solution is to reduce population size or limit energy consumption. So, writing of those who wrongly warned, in the 1960s, that the planet would soon be unable to support its growing population, he notes, 'What did [The Population Bomb author Paul] Ehrlich and other doomsayers miss? They didn't factor in the power of innovation. They didn't account for people like Norman Borlaug, the brilliant plant scientist who sparked a revolution in agriculture…'
Still, despite Gates' cheery faith in the 'power of innovation', it is easy to see why some might find How to Avoid a Climate Disaster a little hard to stomach. For a start, there is the hey-dude hypocrisy of a man belatedly associating himself with this fashionable assault on fossil-fuels, at the same time as he darts from meeting to meeting in his private jet. He says he plans to use 'sustainable jet fuel', and will 'fully offset my family's aviation emissions in 2021' — these are not the words of a man willing to walk the carbon-free walk. They are an admission of double standards – the tribute wealthy vice pays to green virtue-signalling.
Most of all, however, Gates' intervention will annoy many on the middle-class left who have embraced climate change as a vehicle for political change, who have conjured it up as an indictment of modernity, from the original sin of the Industrial Revolution to the evil of capitalism itself. Where are Gates' diatribes against 'consumerism' or 'materialism'? Where are the attacks on the 'myth of progress'? Or the broadsides against 'fairytales of economic growth'? They are not in Climate Disaster. Gates is too busy waxing lyrical about our 'physical infrastructure', be it steel, power grids or transportation. 'We should be glad that more people and goods are moving around', he writes. Mobility, he adds, is a 'form of personal freedom'. Heck, he even declares that 'there is nothing wrong with using more energy'. He might as well have flown his private jet to an XR meeting just to light his own farts.
Gates' off-script environmentalism, free of 'de-growth' rhetoric and anti-capitalist platitudes, is hardly a surprise. As a billionaire entrepreneur, whose wealth was built on software property rights ('licensing') as much as computing, he certainly has no problem with capitalism. Or certainly none that, in terms of his projected green transition, a little bit more state intervention, from an eco-regulation there to a carbon tax here, wouldn't solve. Indeed, climate change is almost a business opportunity for Gates. Hence parts of Climate Disaster read like an investment portfolio, as he casually name-drops the green-tech businesses in which he's invested as potential solutions to the coming catastrophe. At its worst, it descends into naff advertorial: 'I've been an investor in two companies that have plant-based meat products on the market right now – Beyond Meat and Impossible Foods – so I'm biased, but I have to say that artificial meat is pretty good.' Colonel Gates' Seattle Fake Chicken, coming to a battery-powered mall near you.
But then this, in some ways, is what Climate Disaster is: a vision of the green capitalist future. It is one in which famously sensible technocratic governments, 'guided by the science – actually, many different sciences' – will nudge, incentivise and even force 'the global economy [in its] transition to zero carbon'. And Gates, along with much of the Davos set, is only too happy to do his bit. 'I expect to spend much of my time in 2021 talking with leaders around the world', he writes in the afterword.
And that is telling. Despite many greens' delusions of radicalism, Gates shows once again how 'the battle against climate change' is not only entirely compatible with 21st-century capitalism, but is also, at heart, a thoroughly elite, technocratic project.
So, while the techno-optimism of Gates may be preferable to the uber-miserablism of many dyed-in-the-hemp greens, it still represents the colonisation of politics by those who think they know what's best for the rest of us.
Tim Black is a spiked columnist.
How to Avoid a Climate Disaster: The Solutions We Have and the Breakthroughs We Need, by Bill Gates, is published by Allen Lane. (Order this book from Amazon(UK).)
To enquire about republishing spiked's content, a right to reply or to request a correction, please contact the managing editor, Viv Regan.