The problem with Boris's slow march to freedom
His roadmap out of lockdown is excessively cautious.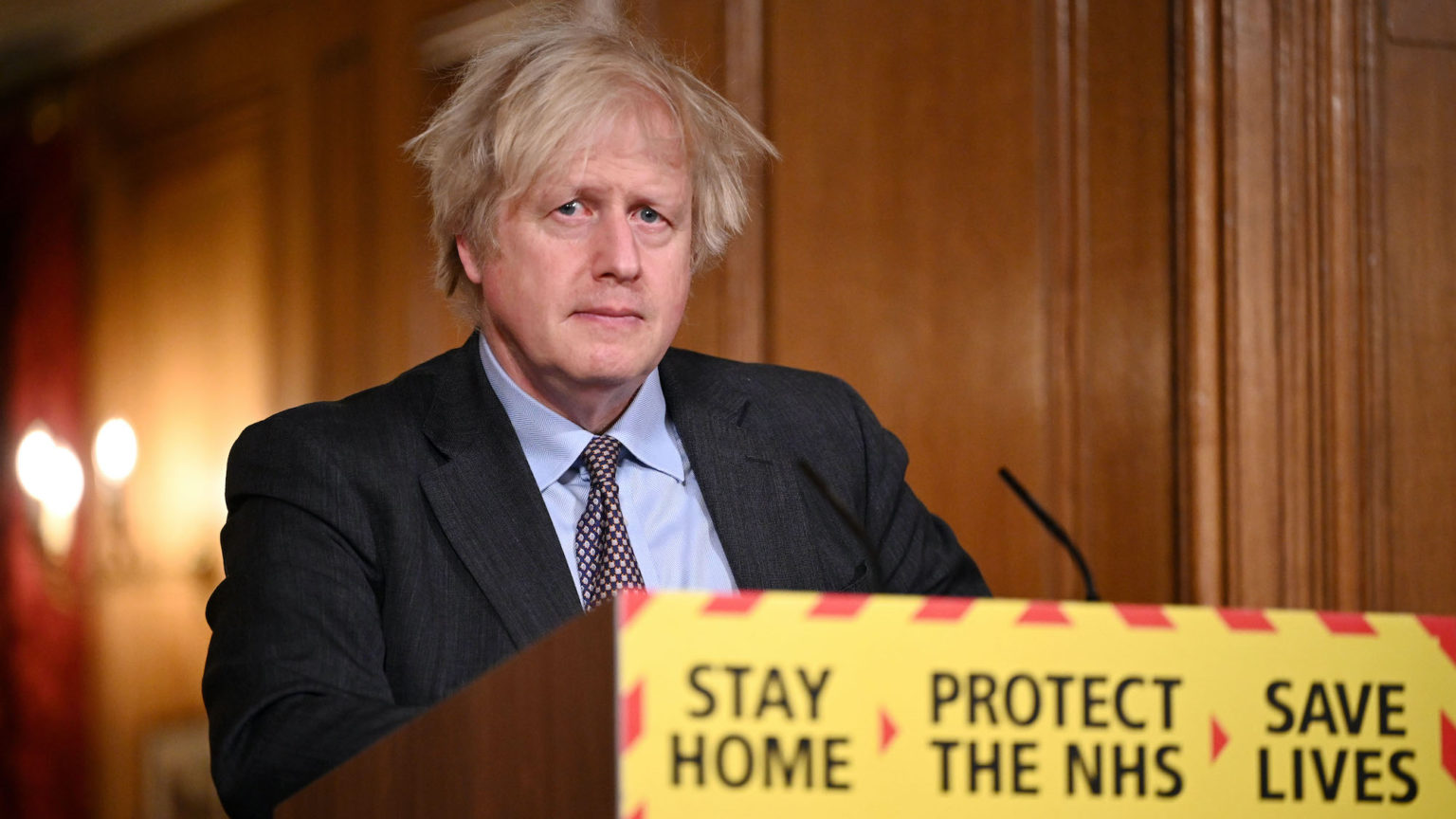 A quarter of Britain's adult population has been vaccinated against Covid-19. The vaccines are proving even more effective than experts predicted. Stats from Israel show that two doses of the Pfizer vaccine are more than 95 per cent effective at preventing hospitalisations. Just one dose cuts the risk of illness by 85 per cent. The Oxford / AstraZeneca vaccine, meanwhile, despite being disparaged by European leaders, is 76 per cent effective in preventing symptomatic sickness. And yet despite all this, it will be another 83 days before any of us can sit inside a pub and toast this roaring success of humanity against disease.
Eighty-three days. That's almost three months. Three months before lockdown is fully lifted. That's many more small businesses going to the wall, many more jobs lost, many more families plunged into destitution. It doesn't add up. Boris Johnson's roadmap out of lockdown seems excessively cautious. It's less a roadmap to freedom, as he presented it, than a fretful, slow-motion march towards a hyper-cautious future in which little liberties will be handed back, one by one, and with caveats. The brilliant new dawn of returned freedom we imagined we would get once the vaccines had been successfully rolled out has diminished into a long night of continued restrictions and ongoing economic torpor. What is going on?
It should be clear by now that the discussion about the future is not merely being guided by the 'data', as the PM claims. It isn't only vaccination analysis, expert predictions and cold, hard numbers that are shaping our perceptions of life after Covid. There's something else, too. The culture of fear. The culture of precaution. The idea that people must be shielded from risk, even if it's just the risk of mild illness, which is what most people will face from Covid-19 now that the old and the vulnerable – the people most likely to die from this cursed disease – have been inoculated.
Boris Johnson rightly criticised the cranky idea of 'Zero Covid', and yet his determination to keep society closed until Covid cases have fallen almost to zero suggests he is not as far removed from those cranks as he might think. Like them, he seems to think it is officialdom's job to protect the populace from… well, anything that is bad; any nasty bug; any possibility of hospitalisation. It isn't, and we will regret it profoundly if this fearful and paternalistic idea, this commitment to extreme risk-minimisation, takes hold in our society.
Here's what is worrying about Boris's roadmap: it speaks to a shift in the way society is understood, in the very relationship between the state and the individual. The problem is far larger than the depressingly far-off dates for the resuscitation of civil liberty and the reopening of the economy: schools reopening on 8 March (with mandatory masks for secondary-school pupils, alarmingly); retail and gyms reopening on 12 April; the number of people allowed to attend weddings and wakes going up to 15 on 12 April; indoor entertainment and mixing coming back on 17 May, though with the 'rule of six'; and all legal limits on social interaction lifted on 21 June (maybe). No, beyond these dates, beyond these distant glimpses of liberty, there is the broader, increasingly influential idea that society can be brought to a standstill in response even to relatively mild risks.
As Fraser Nelson notes in the Telegraph, something odd has happened in the UK. The buzz of the super-successful vaccine rollout has given way to the downer of caution, the celebration of 'slowness' as the best way back to normality. 'The over-50s look set to be offered a vaccine by the end of March, a month ahead of schedule', Nelson says, and yet a 'new goal is now being discussed: to suppress virus levels to the lowest rate possible'. Almost Zero Covid, we might call it. The emergence of 'new goals' has been a huge problem in recent weeks. The question of what we must achieve in the battle against Covid before we can open up seems to change all the time.
This is not to say that everything is rosy. Of course there will need to be monitoring and protection as we emerge from the pandemic. We will need to understand what impact, if any, reopening schools will have on transmission. And of course it is wise to assess the likelihood of an increase in hospitalisations in the under-60s, who haven't been vaccinated yet (but who will be very soon). But given that those most at risk from serious illness or death from Covid-19 have been vaccinated to a very high level of protection – the over-85s are far more likely than other age groups to be hospitalised with this virus, followed by those aged 75 to 84 – it is reasonable to ask what the government is now protecting us from. A virus whose impact on health is declining rapidly, and which will soon be rendered relatively mundane by human intervention? Should the government be protecting us from that? My view: no.
This is where 'following the data' becomes especially problematic. Data can tell us what is going on in terms of the spread of disease, and it can provide models of future scenarios (all of which are just scenarios, we must remember, not gospel predictions). But data cannot make moral judgements on humanity's behalf. It cannot decide what is the proper role of government during a pandemic. It cannot determine what level of risk human beings are willing to live with. It cannot engage in the profound and pressing moral task of weighing up what is more important: restoring social and economic life or preventing people from getting a nasty bug, possibly requiring hospitalisation in some cases. No, these decisions must be guided by moral interrogation, political judgement, and democratic engagement.
The thing about lockdown that most concerned us at spiked was the suspension of democratic life. Even as we recognised the need for restrictions during the darkest moments of the pandemic, we also argued for the right of ordinary people to be involved in a meaningful way in the discussion of Covid, especially in relation to the level of risk that communities and individuals are willing to endure. Right now, we – as in all of us – should have the right to weigh up the risk of some people being hospitalised with a nasty viral infection vs the risk of keeping the economy closed and society in limbo. But we don't have that right. The data rules. We now live in a dataocracy, where the public's only role is to await the precise mathematical moment at which our liberty might be safely returned.
Enough is enough. Zero Covid is a crazy idea. Almost Zero Covid is not much better. And zero risk is a crazy idea, too. Life is full of risk. Freedom itself is risky. In taking it upon ourselves to carve out our own path in life, to be free citizens, we take a risk. We risk making mistakes; we risk making judgement calls that an expert could have advised us against making; we risk injury, of both the physical and emotional variety; we risk being offended; we risk contracting STDs; we risk making a hash of everything. That is all in the nature of freedom. We have decided, as a civilisation, that the individual's risk of making a mess of things is far less dangerous, far less injurious to both the individual himself and to society, than the risk of living in an authoritarian regime in which our only role is to follow instruction. It is far better to live in a free society peppered with risks than in a controlled society where we are cushioned from offence, and insult, and injury, and the need to make moral decisions about our lives and our communities.
As the vaccination programme rolls on, and the most vulnerable are protected from serious illness, we need to say to our rulers: 'We demand the freedom to risk contracting Covid-19.'
To enquire about republishing spiked's content, a right to reply or to request a correction, please contact the managing editor, Viv Regan.