Joe Biden's war on women
On his first day in office, the president signed away women's sex-based rights.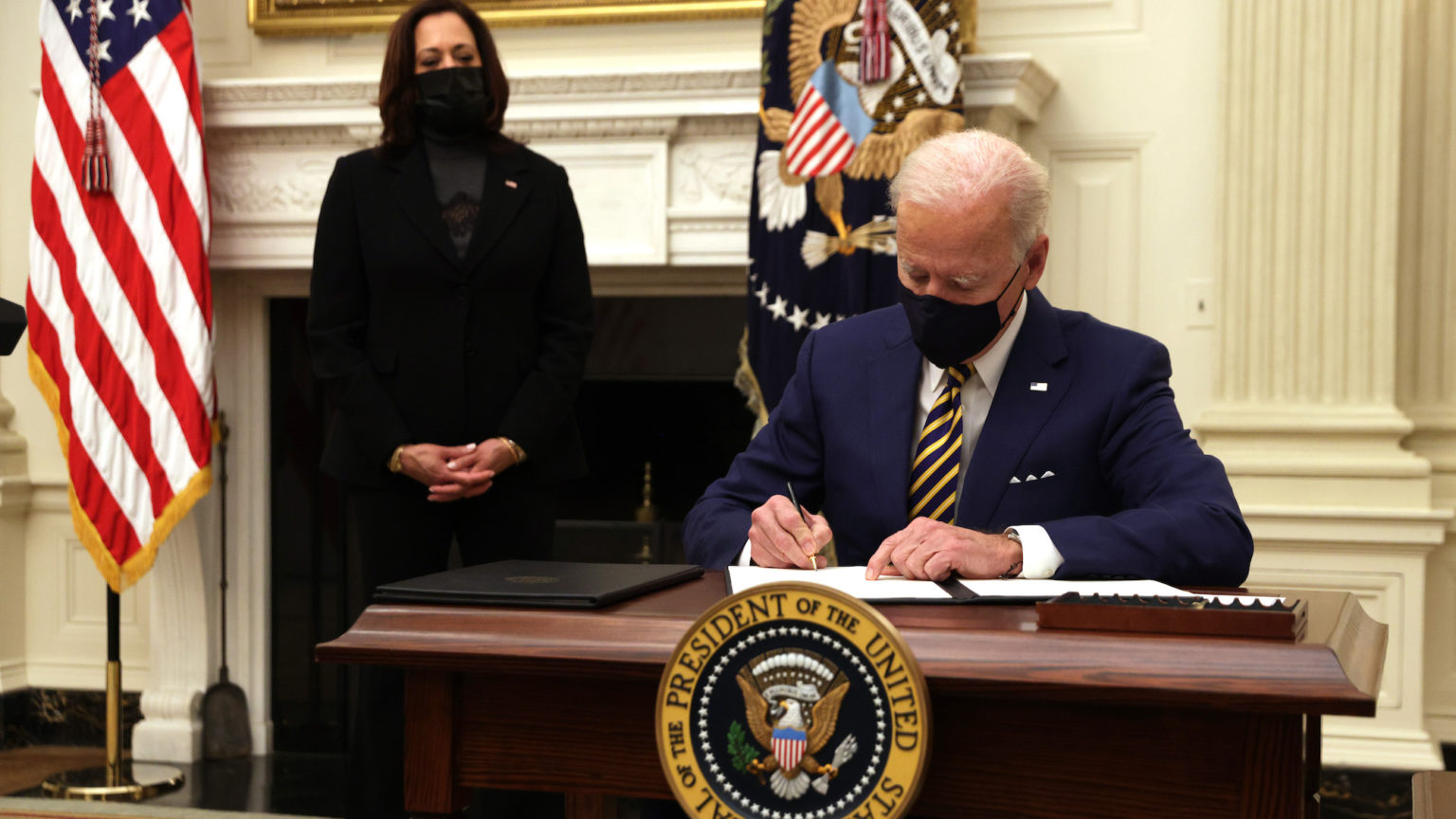 I love the can-do optimism of our American cousins. Last week it was hard not to get swept up by their enthusiasm in welcoming a senile hair-sniffer to the White House. But as a Brit, not only do I feel privileged to enjoy free healthcare and cynicism but also the right to name women as 'adult human females.' On 20 January, on his first day in office, one of President Biden's first actions was to sign off an executive order entitled 'Preventing and Combating Discrimination on the Basis of Gender Identity or Sexual Orientation', which effectively removed the rights of the four million women who work in the federal government, and more who rely on statutory services.
Within hours of the executive order being passed, the hashtag #bidenerasedwomen was trending across social media. With a virtue-signalling flick of the pen, Democrat Biden had managed to do what no neocon Republican had ever managed before: he effectively took away women's single-sex bathrooms, shelters and sports.
President Biden's executive order is based on the Bostock vs Clayton County Supreme Court ruling from 2020. The case centred on a man, Aimee Stephens, who identified as a woman and therefore wanted to wear the women's dress code at his place of work: a funeral home. This could have been an opportunity for the court to stop sex-specific dress codes. But instead it was ruled that Stephens had been fired for being transgender, and that this was equivalent to sex discrimination.
Freedom to live and work free from discrimination is obviously fair and just. The Bostock vs Clayton County case explicitly stated that the ruling ought not to apply to single-sex bathrooms and locker rooms under the same statute, nor to Title IX (education, including sports) or any other federal statute. This raises questions about Biden's selective reading and application of the case.
The executive order will impact on workplace law, educational law and organisations that receive federal funding. Federal agencies are now required to interpret 'sex' as also including 'sexual orientation and gender identity' in their own internal regulations and policies. This sounds dry, but the ramifications will be felt from prisons and domestic-violence shelters to school sports days.
Natasha Chart, executive director of radical feminist organisation WoLF, explains:
'It's very frustrating that Biden has decided that the privacy, safety, and fair competition rights of women and girls were this expendable. Though for all we know, he hasn't heard an opposing view on this. But he's the president now, which means that every American is his constituent.
'Federal employees will likely also be forced to use "preferred pronouns" (inaccurate pronouns) for men who identify as women. This should be seen as a major threat to freedom of speech and is part of a growing pattern of government bodies compelling speech from employees.'
There are parts of the executive order which are to be welcomed. In a country where religious fanatics still hold some political influence, it's obviously a good thing that those who are same-sex attracted can't be discriminated against because of who they fancy. But given that women in the US still lack many of the maternity protections we expect in Europe, let alone robust abortion rights, this executive order obliterating sex-based protections is little more than state-mandated misogyny.
Granted, things are different in the UK, but when I first raised this issue with my former MP in 2015 he looked at me like one of the nutters who marches into a constituency office to complain that the neighbour's cat has been spying on them. At every point over the past few years when I have spoken about the problems of gender self-identification with people in positions of authority, I have been met with embarrassed silence and platitudes about it 'all being rather complicated'.
But the truth is clear and simple. Men on average are bigger, stronger and more likely to be violent than women, and so to exercise full rights as citizens, women need some single-sex spaces and services. Despite this, to appease an apparently marginalised minority, the most powerful man in the world has just removed the rights of 52 per cent of the population. Gender identity is not a fringe issue, it is an ideological hydra that threatens to undermine everything from language to our most basic human rights.
American culture being what it is, the implications of the executive order on sport have received more media coverage than the plight of women in refuges, prisons and those needing medical attention. The Guardian's headline read: 'Joe Biden's gender discrimination order offers hope for young trans athletes', cheering on the right of second-rate male athletes to obliterate the achievements of first-rate women.
With more males identifying as the opposite sex, actual women and girls are being pushed off podia and are losing out. To combat this, last year 17 different US statehouses passed bills to ensure that athletes' participation in sport was in accordance with their sex recorded at birth. Montana was the most recent state to consider doing so. In opposition, state representative Robert Farris-Olsen said that passing the bill would violate the right to privacy enshrined in the state constitution and could mean Montana would lose federal education funding, which amounted to $484million in the last fiscal year. It seems that, thanks to President Biden, few states will be able to afford women's sport, let alone any other women-only services.
Trump was an odious character and was clearly no friend to women. But at least his sexist 'locker-room talk' was firmly in the men's. Self-righteous orthodox left-wingers in the UK have been gushing in their praise of Biden, not because of who he is but rather because of who he isn't. It seems that to them, women's rights are a fair trade for a new, less obviously obnoxious president. One wonders if the women in mixed-sex hospital wards, prisons and refuges agree.
Jo Bartosch is a journalist campaigning for the rights of women and girls.
Picture by: Getty.
To enquire about republishing spiked's content, a right to reply or to request a correction, please contact the managing editor, Viv Regan.