Mark Drakeford, the great bungler
Wales' farcical 'fire-break' lockdown has failed to get Covid under control.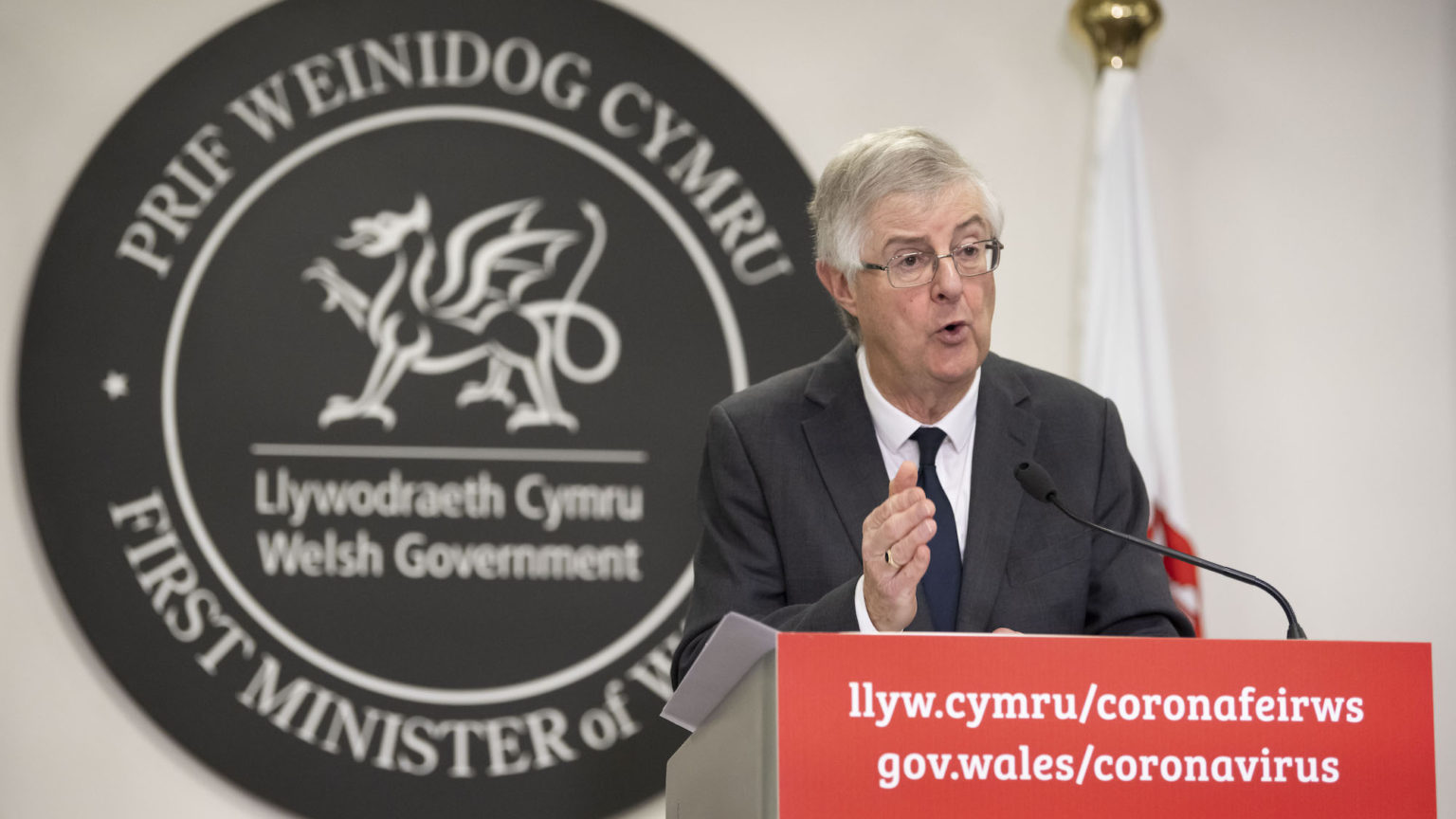 Welsh first minister Mark Drakeford was quick to claim credit for himself and the government he leads when Covid case levels were falling. But now that Wales has rising cases, he's keen to blame everybody else for not following his complex and absurd rules.
The people of Wales reluctantly went along with the daft 17-day 'fire-break' lockdown, dreamed up by Drakeford and health minister Vaughan Gething, which ended on 9 November. It involved such irrational rules as being able to fill your supermarket trolley with as much booze as you like, while aisles selling kettles, toasters and socks had to be sealed off.
We were told the purpose of the 'fire-break' lockdown was to reduce infection numbers and to allow a degree of normal life to resume in the run-up to Christmas. Evidently, Drakeford and Gething have failed in their objectives.
The Welsh government hasn't taken responsibility for its appalling handling of the pandemic, which spans well beyond the farce over non-essential items. There has been no acknowledgement of its failings in the care-home fiasco, along with bungled testing and data breaches.
UK government statistics show that the seven-day rolling rate of new Covid cases is very high across the South Wales Valleys and in Swansea. In England, these levels of infection can be found in substantial parts of Kent and Essex, but elsewhere they are restricted to small, localised flare-ups.
The picture in other parts of Wales is very different. The rate of infection in Gwynedd, north Wales, is among the lowest anywhere in the UK. Neighbouring Conwy is only marginally higher, as is the whole of Powys in mid Wales.
For all its faults, there is, at least, a certain logic to the three-tier system in England. Areas where rates are soaring face far more restrictions than those where numbers are lower, thereby allowing economic activity and a semblance of normal life to resume.
Yet thanks to Drakeford and Gething, there is one set of blanket rules in force across Wales, regardless of infection rates. Café owners in Bangor are effectively being punished because of flare-ups in places more than 150 miles away, where many local people will never have been to in their lives.
Drakeford and his cabinet neither know nor care very much about the worlds of business and enterprise. They don't understand or appreciate the years of sweat and graft that are needed to build up the small businesses that are going to the wall as a direct result of his government's draconian and illogical measures.
Most of the cabinet come from backgrounds in teaching, journalism, the public sector, the trade-union movement and the charity sector. In June 2019, Wales deputy economy minister Lee Waters (a former journalist and charity-sector worker) let his guard down when he said: 'For 20 years we've pretended we know what we're doing on the economy – and the truth is we don't really know what we're doing on the economy. Everybody is just making it up as we go along – and let's just be honest about that.'
That same 'make it up as we go along' mindset is epitomised in Drakeford and Gething's handling of the pandemic. At the start of December, the Welsh government announced that licensed pubs, cafés and restaurants would have to stop selling alcohol on their premises, and close at 6pm every day until further notice. Many decided it wasn't worth opening at all.
Since the 'fire-break' lockdown, supermarkets and off-licenses in Wales have been forbidden from selling alcohol after 10pm. It's worth remembering that at the start of March, Drakeford's government introduced minimum pricing on alcohol in a bid to curb excessive drinking.
Under the current barmy rules, at 10.30pm I can pop to my local convenience store for some milk for the morning, but I cannot buy a bottle of wine to enjoy while watching a late film. Nobody can explain how this will in any way help prevent the spread of Covid. It is nannying and state interference in our lives.
Drakeford has no mandate for his actions. At the 2016 election, the Welsh Labour Party, led by Carwyn Jones, won 29 of the 60 seats in the Welsh Assembly on a centre-left manifesto, with turnout a miserable 45.3 per cent. Jones was succeeded by the Corbynista Drakeford in 2018. The people of Wales have never given their consent to his nannying agenda.
More than 100 Welsh pubs have barred Mark Drakeford as a result of his latest measures, which is symbolic of the lack of respect with which he is increasingly held among the wider population. For many in Wales, elections scheduled for next May (but which could yet be postponed by Drakeford) can't come around quickly enough.
Marcus Stead is a journalist based in Cardiff.
Picture by: Getty.
To enquire about republishing spiked's content, a right to reply or to request a correction, please contact the managing editor, Viv Regan.