Wales doesn't need a nanny-in-chief
First minister Mark Drakeford's priorities are baffling.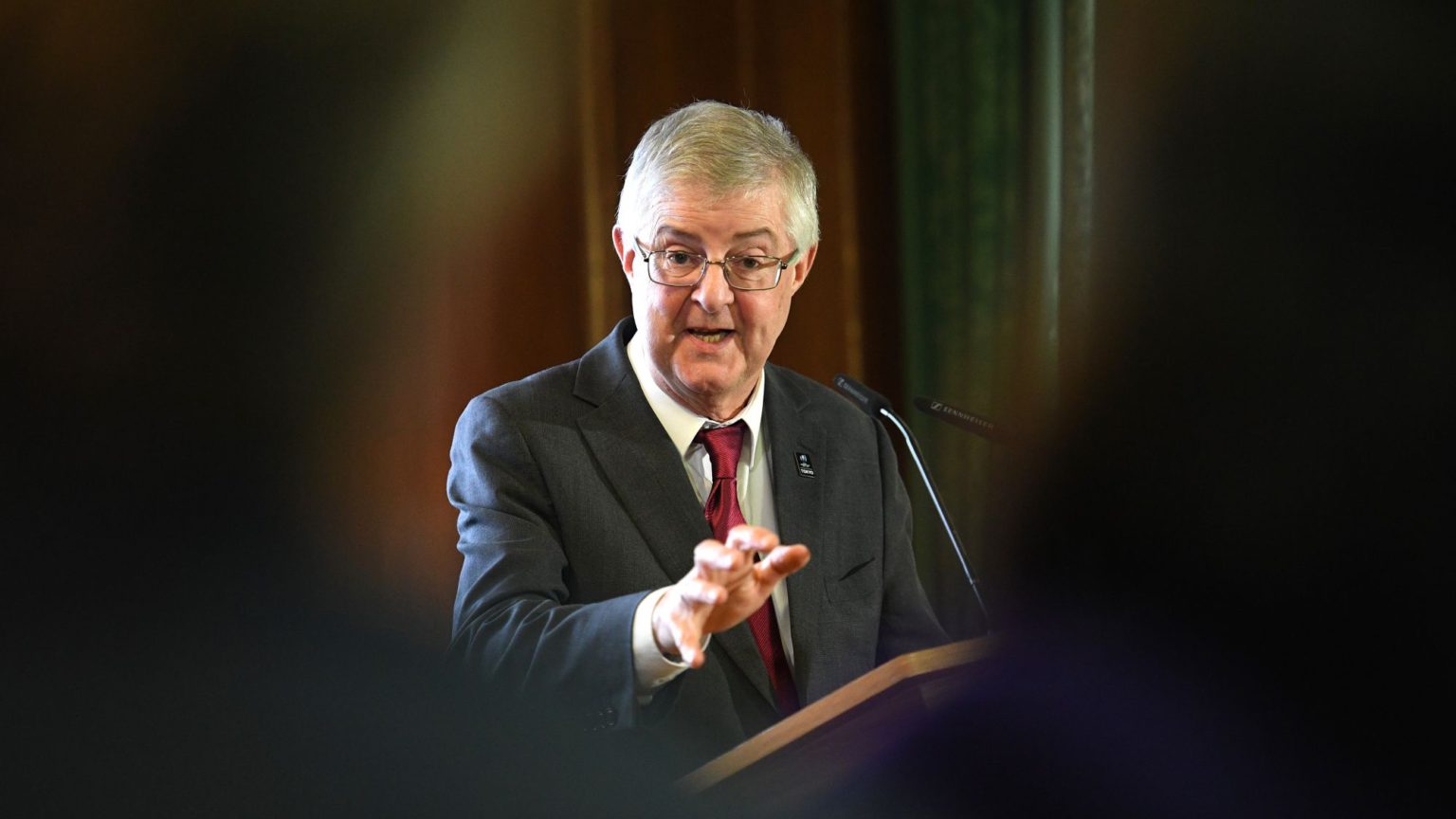 Wales is the sick man of Britain. The 20 years since devolution have been a story of failure and decline. And the current leadership of first minister Mark Drakeford offers little hope.
Under Drakeford's tenure education levels
remained the worst of any of the UK constituent nations. The Welsh NHS lurches from one crisis to another, with A&E waiting times at a record high.
The Welsh economy has not fared well, either. Wales' skilled private sector is grossly underdeveloped and there is a huge reliance on the public sector for employment. Just one of the UK's FTSE 100 companies is based in Wales, and even that has American management. The latest figures from the Office for National Statistics, released in July 2019, show public spending in Wales is £13.7 billion more than the total amount collected in taxes, which works out at a deficit of £4,376 per person.
Fortunately for Wales, matters like foreign policy, defence and work and pensions are not devolved. But in policy areas that are the responsibility of the Welsh government, Wales is clearly lagging well behind the rest of the UK.
Faced with this reality, any sane government would prioritise improving public services and economic development. But Drakeford and his government have a frankly bizarre set of priorities. He behaves like a parental figure to the people of Wales, who he treats like naughty schoolchildren.
This week, Drakeford's government introduced minimum-unit pricing for alcoholic drinks in a bid to reduce binge drinking. The absurdity of this policy doesn't need much explaining.
At 50p per unit, it will not make any difference to the price of drinks sold in pubs and bars and will therefore have little effect on anti-social behaviour in town and city centres. The price of beer sold in shops will increase, however, with savings made on special offers being wiped out. Budget supermarket wines will increase in price by about 25 per cent. One local convenience store owner told me that the biggest increases will be on a two-litre bottle of cider, which will rise from £3.69 to £5, and five per cent white cider, which will surge from £4.29 to £11.75.
However, some will be able to avoid minimum pricing entirely, provided they can cross the border to England. The people of Wrexham and Chester already commute with ease to Cheshire and Merseyside for work and leisure. The people of Newport and Cardiff think nothing of taking a short journey across the Severn Bridge to shop in Cribbs Causeway. No doubt they will stock up on cheap alcohol in supermarkets when on the English side of the border. If people are willing to buy in bulk, there are also numerous online outlets based in England that will deliver to Wales. And all this remains perfectly legal.
So who will be punished by this new law? We know that a price increase won't deter alcoholics, who will always find ways to get their fix. The biggest hit will be to owners of small convenience stores who are already struggling. It will also punish those who don't have a car, those on low incomes, the disabled and the elderly, who will all be denied the chance to enjoy a cheap drink at home. Those who live in west Wales, who live too far away from the border to travel to English supermarkets, will be penalised the most. Like so many of Drakeford's policies, minimum pricing is crass and ill-conceived.
Drakeford is clearly a fan of the nanny state. When running for the leadership of Welsh Labour, he proposed a ban on smoking in town and city centres, and in the outdoor areas of cafés and restaurants. He has also banned parents from smacking their children. That law will come into force in 2022.
But while the Welsh Labour Party does not believe adults can make informed choices about their lifestyles or about parenting, it seems to believe that non-adults are perfectly capable of making political decisions about the future of the nation. As of next year, 16- and 17-year-olds will be allowed to vote in Welsh Assembly elections (by which time it will have been renamed the Welsh Parliament). Come May 2021, 16-year-olds in Wales won't be considered grown-up enough to drive a car, to decide whether they wish to smoke or to buy alcohol, but they will be regarded as mature enough to elect a Welsh government with responsibility for a wide range of policy areas, including health and education.
Like so many senior figures in Labour, Drakeford holds Labour's heartlands in snobbish contempt. 'I know what's best for you' seems to be his attitude. In 2016, Wales voted for Brexit by 53 to 47 per cent. But Drakeford has never accepted Brexit. After the Brexit Party won in Wales in last year's European election – with Labour coming third, behind Plaid Cymru – Drakeford called for a second referendum and said the Welsh government would campaign for Remain.
Unsurprisingly, in last December's General Election the Conservatives did better in Wales than at any time since 1983. Conservative gains included the post-industrial town of Bridgend. The north Wales coastline became a sea of blue.
Even in its safest seats in the South Wales valleys, Labour's share of the vote slumped dramatically. As with the Red Wall towns of northern England, Wales' century-long loyalty to Labour is breaking down rapidly. Yet Drakeford and his cabal made little attempt to reconnect with the needs and aspirations of working-class communities in Wales.
In the days following the election, Drakeford showed little humility. Instead of taking time to reflect on Labour's defeat and listen to the voters, he took to the airwaves and delivered what sounded like a telling off. On Brexit, he stuck to his guns, insisting he was right, and the voters were wrong.
In fact, the Welsh electorate has never endorsed Drakeford's agenda. The Welsh Labour Party, led by moderate Carwyn Jones, won 29 of the 60 seats at the 2016 assembly elections. It was just about able to cobble together a majority government by offering a cabinet portfolio to a Liberal Democrat assembly member and an independent who fell out with Plaid Cymru. But following Jones's retirement as first minister in late 2018, Drakeford benefitted from the wave of Corbynistas joining the Labour Party in previous few years, and duly won the leadership contest by a wide margin, becoming Welsh Labour leader and first minister.
The Welsh public has never been particularly enthusiastic about devolution – and for good reason. Having a first minister who is so out of touch with the public has only made matters worse.
Marcus Stead is a journalist based in Cardiff.
Picture by: Getty.
To enquire about republishing spiked's content, a right to reply or to request a correction, please contact the managing editor, Viv Regan.