The mad meltdown over 'V Day'
Guardianistas are apparently outraged about Britain's swift vaccine roll-out.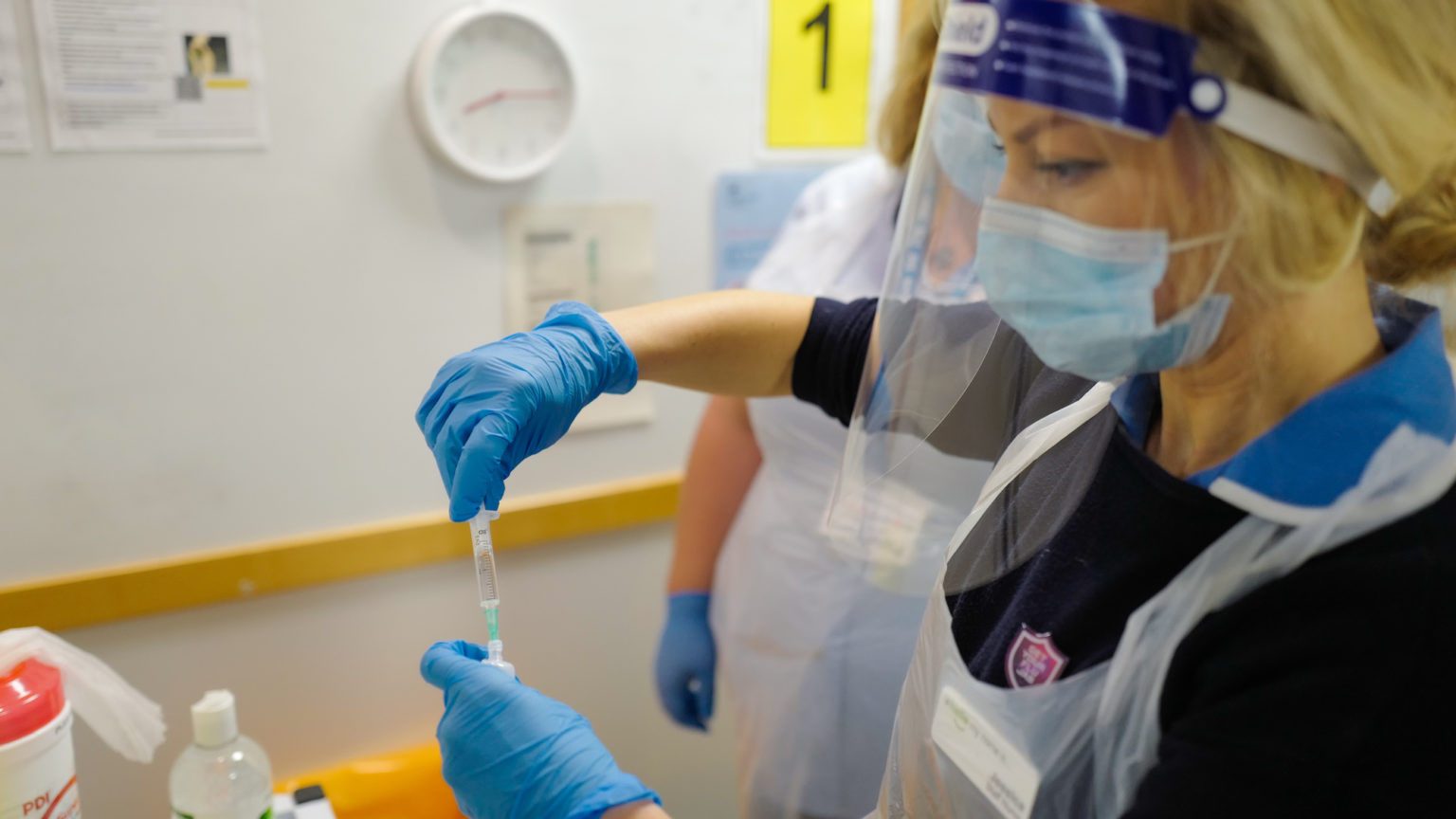 This week the UK became the first Western country to start its Covid vaccine roll-out.
The government was quick to capitalise on the news. Education secretary Gavin Williamson infamously said Britain was ahead of countries like the US and France because it is a 'much better country'. Health secretary Matt Hancock appeared to weep on air and said he was 'proud to be British'. He also christened the day of the first vaccine 'V Day'. Ministers said the UK had benefitted from Brexit and no longer being tied to the EU's bureaucracy.
But all this fanfare was apparently too much for some – even overshadowing the good news that the pandemic would soon be over. Obsessive Britain-basher Fintan O'Toole took umbrage at the 'V Day' pun and complained about 'petty patriotism' surrounding the vaccine roll-out.
'V-Day', really? The vaccine should be a source of global joy, not petty patriotism | Fintan O'Toole https://t.co/nNmZaZWm3i

— Guardian Opinion (@guardianopinion) December 9, 2020
'They had to go and ruin it, didn't they?', he thundered in the Guardian. Apparently, the vaccine is no fun now that the government has co-opted it to tell a 'nationalist parable'.
O'Toole was even moved to ask 'what's so great about going first?', adding that 'very little is really gained by jumping ahead of other countries by a few weeks'. It seems all the lives that an earlier roll-out would save, and the economic cost of lockdown it would cut short, aren't worth it.
Earlier on in the pandemic, O'Toole complained that lives were 'sacrificed' on the altar of British exceptionalism. Now he complains that saving lives has allowed ministers to say something positive about the UK.
Meanwhile, another Guardianista, Joel Golby, also managed to contrive some outrage about the vaccine. He pointed out that the UK 'had nothing to do with this vaccine' and sneered at the 'dumb' and 'weird' excitement over Britain's fast approval and roll-out.
Dry your eyes, Matt Hancock, the UK had almost nothing to do with this vaccine | Joel Golby https://t.co/0jouZhqrDG

— Guardian Opinion (@guardianopinion) December 8, 2020
Conducting some impressive mental gymnastics, he wrote: 'Britain being the first country to roll out a Covid vaccine feels… like camping overnight for three days outside an Apple store to be the first to buy an iPhone: like yeah, you did it, but it's very difficult to respect you for it.'
But the award for the most deranged response must go to Philip Ball. Writing in the New Statesman, he accused ministers of 'openly indulging in rhetoric normally associated with far-right nationalists'. Really? Being proud of the roll-out of a vaccine is the new fascism? That's what people mean when they talk about far-right extremism?
Scientists have a duty to warn the government that its cheap and deceitful nationalism could do real harm to the already challenging vaccination programme, writes @philipcball. https://t.co/fROrjvAM0w

— New Statesman (@NewStatesman) December 9, 2020
This miserable trio's ridiculous comments echo those of Dr Emily Cousens, the academic who said, to much mockery, that she did not want Oxford University, where she teaches, to be the first to develop a Covid vaccine. Back in April, she wrote in the Huffington Post that she was 'worried that it will be used… to fulfil its political, patriotic function as proof of British excellence'.
Luckily for Cousens, the Oxford / AstraZeneca vaccine was beaten to the post by the Pfizer jab. But perhaps when the Oxford vaccine does come out – given it is cheaper than the Pfizer vaccine and easier to store – she will need to take emotional leave.
Yes, a great deal of the government's 'patriotic' messaging has been contrived and corny (and Matt Hancock's tears were downright embarrassing). And certainly Britain has not been a 'world-beating' success when it comes to tackling Covid. But the refusal to take any joy from the vaccine news, all because of some contrived allergy to anything this government does, is even more bizarre.
It speaks to the depths of miserabilism among Guardianistas and Remoaners that even the swift arrival of a life-saving vaccine is no reason to be cheerful.
To enquire about republishing spiked's content, a right to reply or to request a correction, please contact the managing editor, Viv Regan.