Why Labour keeps screwing up on anti-Semitism
Both Corbyn and Starmer treat it as a disciplinary matter, rather than a political problem.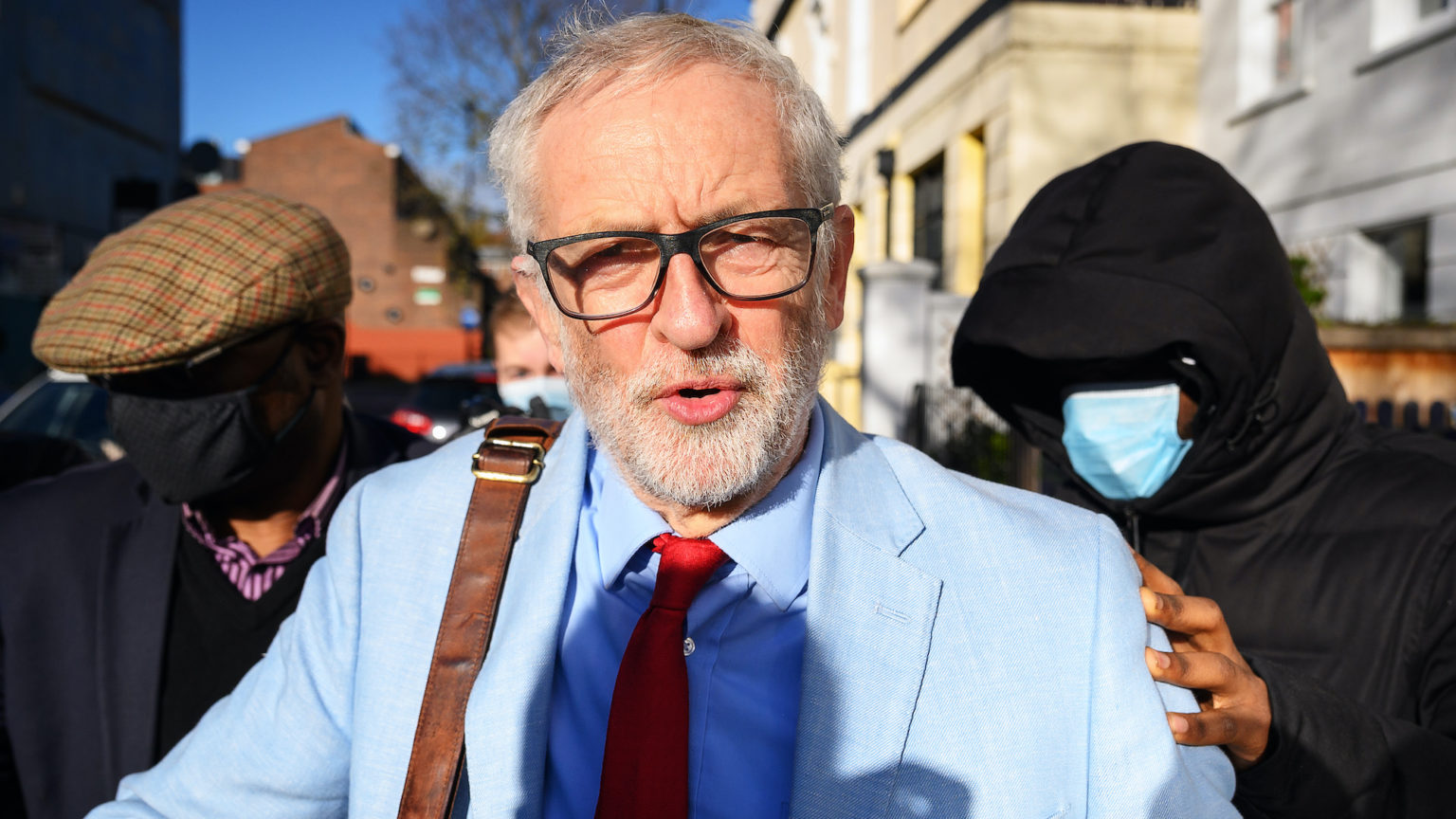 Three weeks ago, Jeremy Corbyn was suspended from the party he used to lead over his response to the Equality and Human Rights Commission's investigation into allegations of anti-Semitism in the Labour Party.
This week, after publishing a new statement saying that he did not mean to diminish the importance of the problem of anti-Semitism, Corbyn was reinstated as a party member by Labour's National Executive Committee. It was assumed this would mean Corbyn would sit once more as a Labour MP. But new leader Keir Starmer has refused to reinstate the party whip, saying that the 'disciplinary process does not have the confidence of the Jewish community'.
The whole episode of Labour's treatment of anti-Semitism is a mess. The way that the party dealt with the problem was evasive and dishonest in the first place, and the way it has dealt with the subsequent Equality and Human Rights Commission (EHRC) investigation has been just as bad. Starmer's about-turns are in danger of making a mockery not just of Labour, but of the anti-Semitism problem itself, too.
Most contributions to this argument are one-sided and are either overly defensive or aggressive. Any attempt to navigate through it will invariably irritate some if not all of the interested parties, so here goes.
First, the Labour Party does have an anti-Semitism problem. (Everyone says this now, because it is the price of admission to the debate, but I said it long before it was recognised as a problem, as did my fellow contributors at spiked.) The problem came about because the Labour left is fixated on Israel as a unique threat in the Middle East. It makes good sense to criticise the aspects of Israeli settlement policy which are destructive. But to isolate those from the broader problems of the Middle East is to single out the Jews as distinctively bad people. Moreover, it is a mistake for a political party in Britain to have a settled policy against any other nation or people.
Labour's anti-Semitism problem was compounded by the emotionalism of the party's brand of anti-capitalism. Pointing the finger of blame for the world's problems at the bankers, or landlords, or Rupert Murdoch, or alleged paedophiles was all part of Labour's attempt to make the politics of anti-capitalism personal. That is a dangerous mix. Once people start making their politics about identifying villains, it is easy to slip into racial stereotypes. Many Labour supporters did just this, naming 'the Rothschilds', or even leading Jewish Labour politicians like Margaret Hodge or Ruth Smeeth, as sources of evil. (It is always worth remembering Karl Marx's advice that capitalism is 'a social, not a personal power'.) As a result, ordinary Jewish members and supporters felt like they were being persecuted for their race.
The problem also festered because many of those left Labour activists, led by Jeremy Corbyn, could not hear the allegation that they were leaning on anti-Semitic tropes because they were so sure that they were on the 'right side of history'. The leading figures of the Corbyn Labour Party all minimised the issue and dismissed it as a smear worked up by their enemies on the right of the party or from other parties. That defensiveness made the problem worse, and lots of people then doubled down on the allegations of Jews working behind the scenes to undermine the left.
It might have been possible back in 2015 for Jeremy Corbyn to have stopped this problem in its tracks. He would have had to read the riot act to his party. A series of meetings around the country with activists called to explain to them why it is wrong to fixate on Israel and on an alleged 'Jewish influence' would have gone a long way to making the Labour Party a friendly place for Jews. But that did not happen. Instead the party made a half-hearted attempt to fold the problem into the issue of racism in general. Back in 2016, Labour thought it had dealt with the issue by producing Shami Chakrabarti's report. When it came out, it looked like an evasion because it was.
Then, from 2017 to 2019, fighting two elections in quick succession, the party leadership and its activist base responded defensively to further allegations. The problem here was that it was of course true that in the electoral contest, Labour's opponents talked up the party's anti-Semitism problem. But the only way to counter that would have been to deal with the issue as openly and honestly as possible.
In May 2019, the EHRC launched its investigation into Labour for its anti-Semitism (at the urging of many Jewish party members and supporters who were understandably distraught at the way they had been made to feel). The EHRC investigation made new problems for Labour. It ought not to have been necessary. A better-led Labour Party, a party more confident and united on the issue, would have been in a position to say to the EHRC that it had the issue under control. But Labour in 2019 was not in any such position. It was left with two bad choices – to surrender all control over the problem to the EHRC or to reject the premise of the investigation.
When the report was published last month, Starmer accepted its findings and recommendations in full. The problem with this approach was that it meant anti-Semitism would not be confronted politically, as a debate with the membership over why it was that they had got things wrong. Instead, most paid lip service to the conclusions, repeating that things had gone wrong without reflecting on their own roles. The only thing that was left for the leadership to do was to treat it as a disciplinary problem of expelling those members that did not get with the programme.
But Keir Starmer was in Jeremy Corbyn's shadow cabinet when the problem arose. The current leadership and shadow cabinet were all in the party. Few of them fought particularly hard against anti-Semitism between 2015 and 2019. Disciplining party members was a way of avoiding any real debate about what had gone wrong.
Corbyn, as the leader over that period, was clearly going to be challenged over his role. His initial response to the EHRC report was defensive and he minimised the problem. That was a problem for Starmer because everyone was watching for how the party would respond and Corbyn's response was bound to cause days of bad headlines. It is not surprising that Starmer felt he had to act.
Still, expelling Corbyn from the party was a mistake. Given that Starmer was Corbyn's replacement, it has made Labour feel like one of those countries where when you are kicked out of power, you get executed. A party which cannot manage a change of leadership without expelling the outgoing leader is one that's in bad shape.
Unsurprisingly, having just campaigned for Corbyn in two successive elections, many in the party were angry at the expulsion. Trade-union leaders like Len McCluskey, who had brokered Corbyn's leadership, were not having it, either. A face-saving deal was done to restore Corbyn's membership of the party and the parliamentary party. But then, hostile criticisms of Starmer for back-tracking made him reverse course once more and refuse Corbyn the whip. Now Labour's left has nowhere to go. It cannot accept the characterisation of its bid for leadership as intrinsically anti-Semitic, but nor can it survive outside of the party.
It was a mistake to think that Labour's anti-Semitism problem could be dealt with by disciplinary measures. In the end it was not a problem of personal behaviour but one of political leadership. Labour leaders need to debate with and educate their members about how to spot anti-Semitism and why it is wrong.
James Heartfield's latest book is The Blood-Stained Poppy, written with Kevin Rooney.
To enquire about republishing spiked's content, a right to reply or to request a correction, please contact the managing editor, Viv Regan.