Brexit bully boys v consensual Carrie? What drivel
The Downing Street gender wars are an unedifying distraction from the government's real problems.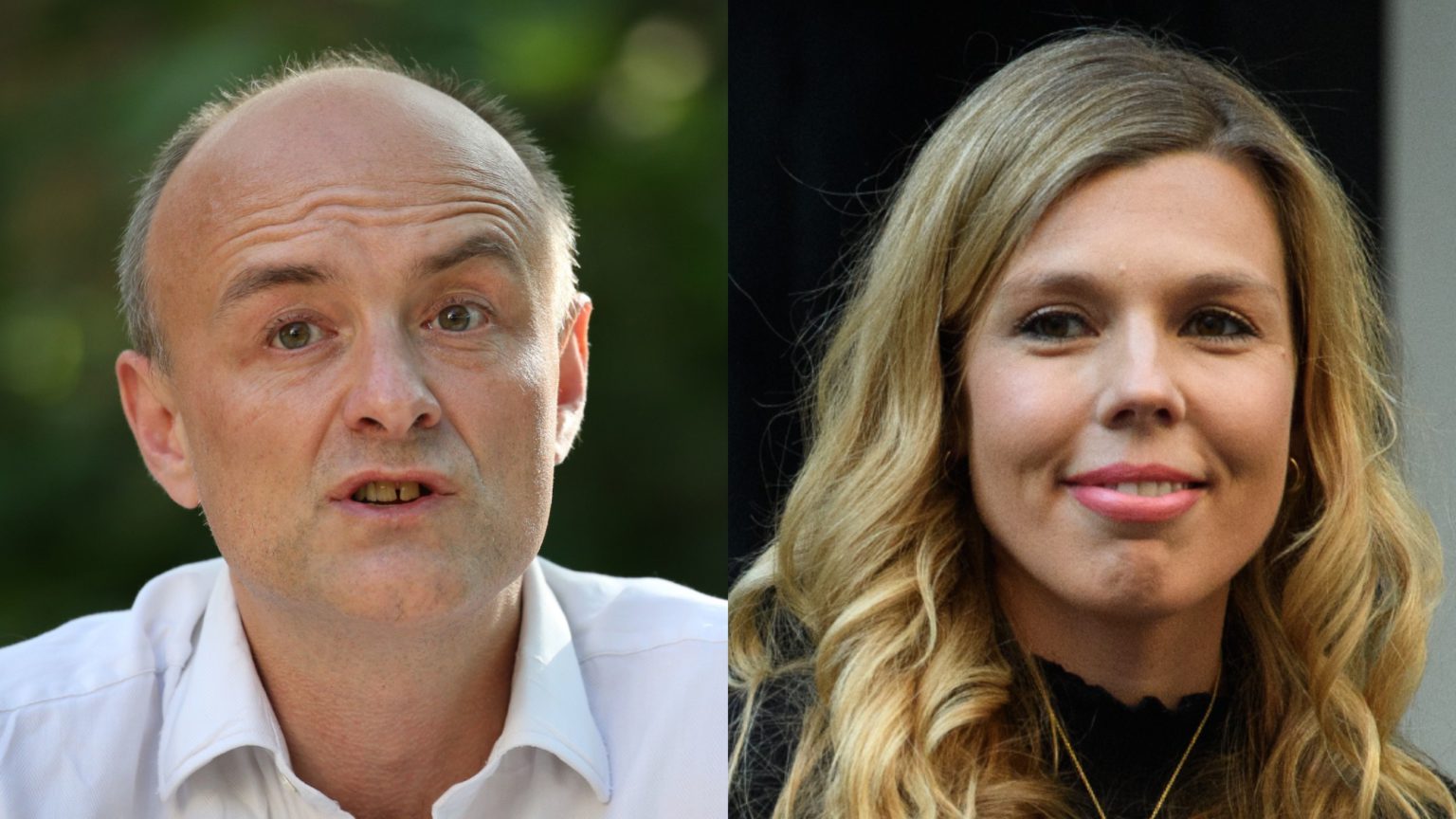 We can't shop, go to a restaurant or visit relatives in care homes. But worry not! The bad boys of Brexit have been expelled from Downing Street. We still don't know what cold compromise might be reheated in the final negotiations of Britain's departure from the EU. But don't fret! Dominic Cummings, the demonic mastermind of the Leave vote (if we ignore 17.4million voters), has gone. And Lee Cain, the 'working-class outsider', promoted from chief chicken impersonator to the prime minister's director of communications, only to be derided as 'one of the mad mullahs', has departed too. Unreconciled Remainers can barely contain their glee.
Yet, believe the press and the prime ministerial storm of recent days is nothing more than a gender spat. After a year of laddish machismo, the 'bully boys' have finally been reined in by Carrie Symonds, Allegra Stratton and Munira Mirza. These capable, consensual women have stepped in to dial down the toxic masculinity and restore order. Young female staff will no longer be scared to go into work. Former aides apparently diagnosed with post-traumatic stress disorder can now, presumably, recover. Stratton, reportedly 'reduced to tears by the viciousness of the coordinated personal attacks on her', can dry her eyes. But Carrie will, I hope, be known as 'Princess Nut Nuts' for evermore.
Depending on your point of view, Carrie has emerged as a kind of Lady Macbeth, manipulating Boris behind the scenes, while the other witches planned a petticoat government. Or there is a triumvirate of nannies in the nursery, punishing the naughty boys and cleaning up the mess. Men are either foppishly lovable but dim (like Boris) or irredeemably wicked (classic Dom), while women are quivering wrecks or manipulative bitches. In each case, all the problems the UK has faced over the past year – from coronavirus deaths to seemingly permanent lockdown to not yet knowing the fate of Brexit – are reducible to too much testosterone and a shortage of oestrogen.
The ousting of the Vote Leave remnants from No10 has been celebrated in the Remainer wing of the media as a victory for competence, an end to macho dysfunction and an opportunity for the PM to build 'a less abrasive administration'. All this wishful thinking tells us is that journalists have short and selective memories. Margaret Thatcher was many things, but consensual was not one of them. Theresa May's leadership turned out to be anything but strong and stable. She didn't get Brexit done and the electorate dumped her.
Back in the summer, it was widely argued that countries with women leaders were faring far better in the pandemic than countries led by men. Jacinda Ardern, Angela Merkel and Denmark's Mette Frederiksen were praised for 'proactive and coordinated policy responses' which meant they had 'systematically and significantly better' Covid-19 outcomes. Only it turns out that Germany is now recording record cases and Merkel is battling state leaders to introduce a tougher national lockdown. Meanwhile, Denmark has discovered a coronavirus mutation that can jump from mink to humans and much of the country is back in lockdown as a result. The lesson from both history and geography is that genitalia have no bearing on leadership ability, and the stereotype of the caring, capable, consensual female is as sexist and fictitious as the belligerent, confrontational, hard-nosed male.
The recent Downing Street drama, with its name-calling, pantomime villains and plot twists, gave us a badly needed distraction over the second weekend of lockdown. But with Brexit in the balance and talk of yet more restrictions being imposed on people's lives, we need a prime minister who does more than mediate playground squabbles. It doesn't matter one jot whether the PM, the cabinet, all their special advisers and senior civil servants are male or female. But one thing's for sure: when so many people are facing unemployment or unable to get urgent medical treatment, when children are being sent home from school for weeks on end and university students are kept in their rooms, the feelings of Princess Nut Nuts should be completely irrelevant.
When it comes to running the country, what matters is not gender or feelings, but what people think, who they represent, what experience they bring to the table and who they are accountable to. The problem with the Boris-led Cain and Dom act wasn't toxic masculinity but that, after a year of them in post, we are plunging headlong into a devastating recession having sacrificed all our rights and liberties. The problem with Carrie is not that she exploits pillow talk with the PM, but that she is a posh, woke southerner who seems to think saving whales is at the top of voters' concerns. And a problem for all of us trying to make sense of the drama is that we have no real idea what any of these unelected friends, lovers and advisers think. At the end of the day, we did not vote for any of them and have no opportunity to vote them out.
Right now, the last thing Britain needs is a political gender war. We don't need less testosterone or more oestrogen. The problems we face are far bigger than this. Boris Johnson needs to hear from those who can look beyond the latest opinion poll and beyond their own faddish preoccupations. I'm not holding my breath.
Joanna Williams is currently researching hate crime in her role as director of the Freedom, Democracy and Victimhood Project at the think tank, Civitas.
To enquire about republishing spiked's content, a right to reply or to request a correction, please contact the managing editor, Viv Regan.