Page 3 at 50: a defence
Anti-Page 3 campaigns have done more to undermine women's freedom than any topless pictures.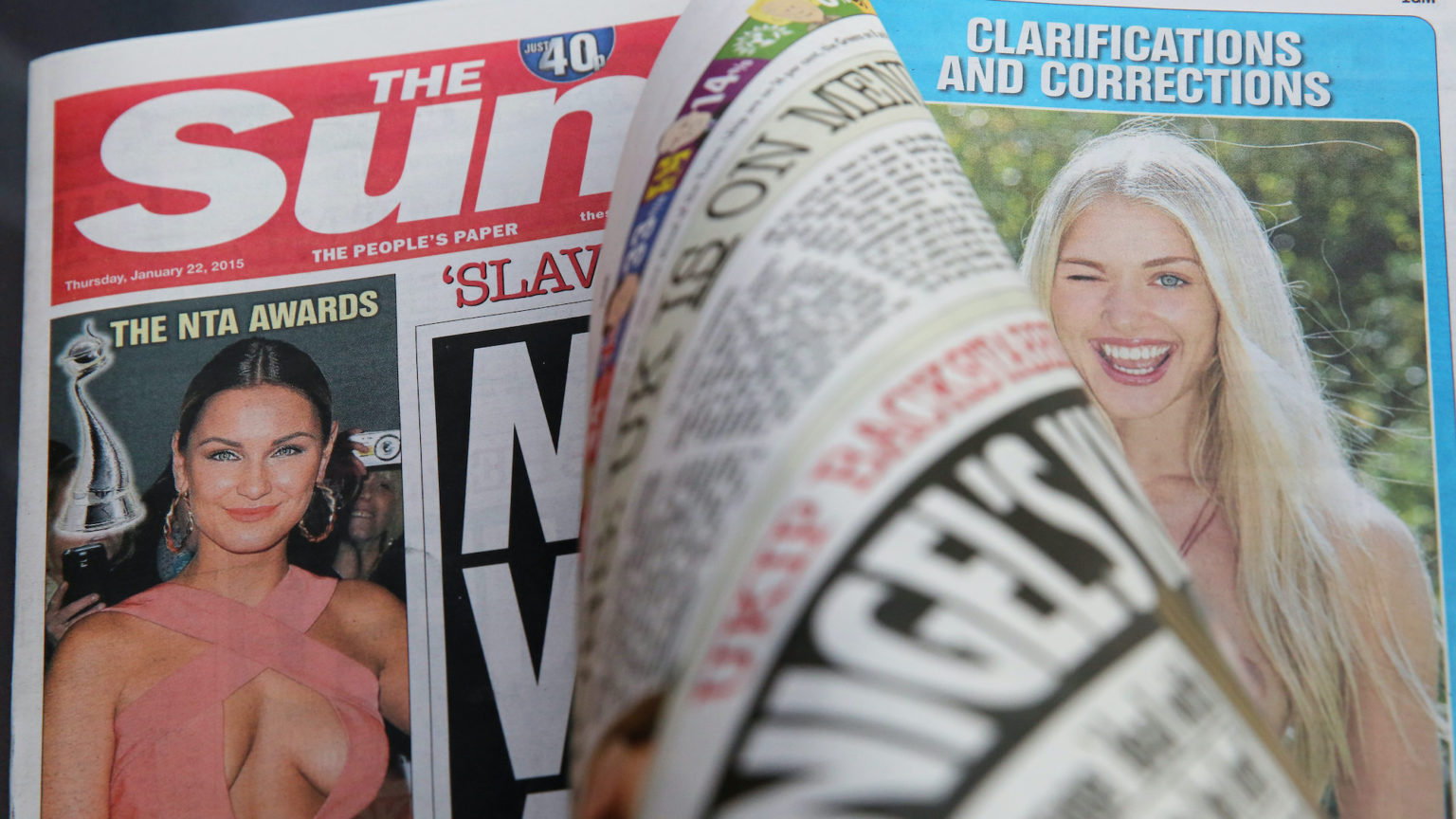 Fifty years ago, the first pair of breasts appeared on page three of the Sun. In a ploy to sell more papers, then editor Larry Lamb dedicated a space for topless pictures of women in the paper, starting with German model Stephanie Rahn who appeared not just braless, but 'in her birthday suit'. Competitive tabloids like the Daily Star and the Daily Mirror soon followed, and for decades Page 3, as it was known, launched the careers of celebrities like Melinda Messenger, Katie Price, Samantha Fox, Jo Guest and Kelly Brook.
Fifty years on, did tits in the tabloids have a damaging effect on women's freedom? Hardly. Pin-up girls and torn-out pictures of topless models might have been an irritant to women walking into garages or catching their husband spending too long pretending to read the column on page two. But it is the response to Page 3 from contemporary feminists that has done more damage to the defence of women's freedom and agency.
From the outset, criticism of Page 3 took a prudish tone. In 1986, Labour MP Clare Short attempted to make publication of nude women in newspapers illegal. Addressing the Commons, Short argued that future generations would 'see those pictures as symbolic of our decadent society' – such decadence, she argued, should be made illegal. Short also made a point about the supposed effect Page 3 had on children, who were said to be 'embarrassed' to be exposed to naked women when attempting to use papers for 'discussing current affairs or for making papier mâché'.
Short was far from a lone voice. She was influenced by a growing trend in feminist politics, which linked pornographic images to men's abusive actions – what today's feminists call 'rape culture'. Short told her fellow MPs that she agreed 'with the women who think that there is some connection between the rising tide of sexual crime and Page 3', but had to admit that, 'obviously, that is unprovable'.
Short's attempts to ban Page 3 were met with cruel derision (the Sun dubbed her 'Crazy Clare', and made nasty comments about her appearance), and she ultimately failed. For 26 years, women continued to pose and get paid for topless pictures in daily newspapers.
It wasn't until August 2012, when a petition started by concerned citizen Lucy-Anne Holmes asked the Sun's editor David Dinsmore to 'stop conditioning your readers to view women as sex objects', that Page 3 once again became political news. Quickly turning into a cause célèbre among feminist campaigners and opportunistic MPs, the No More Page Three (NMPT) campaign revamped Short's arguments against a 'decadent' society for a modern audience.
The time was right for NMPT. Two years before Holmes began campaigning with the slogan 'boobs aren't news', the now widely discredited Hidden Marks report published by the NUS (but now removed from its website) claimed that sexual assault on university campuses was skyrocketing. Others were also quick to draw a connection between supposedly rising levels of sexual assault and, well, images of topless women. It was therefore an ideal moment for the reheated porn-panic feminism of the NMPT campaign.
With dodgy stats thrown in for good measure, Holmes and others drew the same link between images and action that Short had. 'When one in four have been sexually assaulted', wrote Holmes, 'is it wise to be repeatedly perpetuating a notion that women are sexual objects?'. Like Short, Holmes had no evidence to prove that exposure to Page 3 made men any more or less likely to commit acts of violence against women. But that didn't seem to matter.
The NMPT petition made a fuss about 'asking nicely' and was successful-ish. In 2015, the Sun pretended to publish its last Page 3 model, later announcing that it would continue to publish topless pictures online.
But while Page 3 disappeared into an already oversaturated world of digitalised nudity, the patronising view encapsulated by the NMPT campaign lingered on. Using the argument that women's bodies are harmfully over-sexualised, feminists have continued to try to control the choices women are able to make about their bodies and their livelihoods. In 2018, Formula 1 and the Professional Darts Corporation cancelled their long-held traditions of having women in glamorous outfits 'walk on' before a competition after public pressure from #MeToo supporters. Speaking on ITV's Good Morning Britain as a 'feminist voice', journalist Sally Howard scolded two models, who had been sacked from their walk-on jobs, for performing 'a decorative role' that might have made 'girls sitting at home watching you feel demeaned'.
It is not just images of real breasts that cause upset, either. Also in 2018, Manchester Art Gallery agreed to remove John William Waterhouse's Hylas and the Nymphs for a week to engage in a conversation about how nudes should be dealt with in museums and galleries after #MeToo. And the war on boobs continues. After Maggi Hambling's statue commemorating Mary Wollstonecraft was unveiled in north London this week, many feminists took to Twitter to voice their upset at a naked woman being used to symbolise Wollstonecraft's stance on gender equality.
Today's feminists aren't prudes, exactly. They just don't like it when working-class women make their own choices. It's why Labour MP Harriet Harman felt confident praising Kim Kardashian's naked selfies as 'powerful', while describing women who posed for Page 3 as 'fodder' for male editors. It's why yummy mummies feel able to pontificate about the radical act of public breastfeeding, while complaining that their little darling will be scarred for life if they see a pair in print. It's why countless #freethenipple pictures of small, dainty breasts on middle-class women are celebrated on social media as 'brave' and 'artistic' at the same time as a 34F-wielding woman from Romford gets told she's degrading herself by posing for similar shots in a newspaper.
At the heart of the NMPT campaign was an ugly and longstanding disdain among women who believe themselves morally and politically superior to the oiky masses. They don't even hide it. Holmes' NMPT website recounts a time when she found herself in the terrifying situation of having to go into a builders merchants. 'I felt a bit apprehensive before I spoke because I was outnumbered by men who I felt were probably big fans of Page 3', she writes. 'I also spoke to some men who were making deliveries in white vans, because I have read numerous articles which have said that it's white-van men who like Page 3.'
There's nothing exciting or radical about getting your kit off for money. But then there's nothing radical or exciting about self-righteous middle-class campaigning. Beauty fades, and even the most gorgeous woman on the planet has far more going on in her head than she does in her bra. Looking back on the anniversary of Page 3, what's clear is that decades of topless women in newspapers have had little effect on attitudes towards women in society. Instead, the panic about sexist white-van men and demeaned little girls has gotten in the way of a full-throated defence of women's freedom. In arguing for women to be protected from supposedly harmful pictures, feminists have rehabilitated the age-old sexist trope of women being in need of protection from certain ideas or behaviours. Campaigning to strip Page 3 models out of the papers was the modern equivalent of asking women to leave the dining room while the men lit up cigars.
We should criticise the pornification of women – women are far more than their bodies. But, more importantly, we should champion the idea that women are capable of making their own decisions without the help or meddling of patronising middle-class feminists. Give me wall-to-wall double Ds over these tits any day.
To enquire about republishing spiked's content, a right to reply or to request a correction, please contact the managing editor, Viv Regan.