There is no 'rape culture' at British universities
Victorian sexists warned women university was dangerous. Now, feminists do.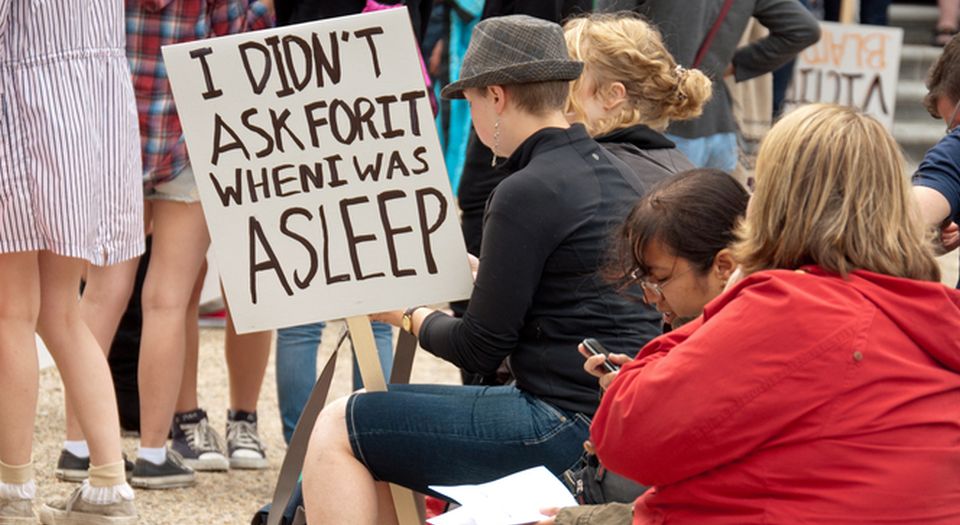 Before the First World War, those who wanted to scare bright women away from universities described an 'infidel' environment that would leave female students 'barren' and destined only for a life of 'spinsterhood'. Studying was considered an affront to the feminine ideal; the sexually pure remained at home while the rebellious few were forced to have chaperones to protect them from predatory male advances. These ideas may seem like relics of the past, but going on the discussion about women on campus nowadays, it appears as if little has changed.
A recent Guardian blog describes university as a 'toxic environment' for women, dominated by an 'insidious rape culture'; a 'world of sexual assault, objectification and harassment'. Reports of vulnerable young women having to run the gauntlet of a university campus rife with 'rape culture' abound in both the UK and America.
But there's one big difference from a century ago: today's panics over rape 'epidemics' are not promoted by Victorian fathers but by female students. Being a feminist on campus in 2014 seems to mean calling for university managers to intervene in intimate relationships and to curtail free speech in the name of protecting delicate women from sexual threats.
Let's be absolutely clear: there is no epidemic of rape in universities. Very few articles cite any statistics to support the assertion that rape is prevalent on campus. Those that do rely on national crime statistics; recently released data suggests that in the UK in the year 2012-13 there were, on average, 22 recorded incidents of rape per 100,000 members of the adult population. This would equate to just over four recorded rapes at a typical university. This is obviously four too many, but it is hardly testament to any sort of widespread 'rape culture'. Rape Crisis, a UK charity that supports women and girls who have suffered from sexual violence, claims that in 90 per cent of rape cases women know their attackers, and that 52 per cent of women suffering serious sexual violence were attacked by their partners. The validity of applying such national statistics to a student population, which is generally young and living away from old networks of family and friends, needs to be questioned.
Other articles cite data from the 2010 NUS report Hidden Marks, which claims 14 per cent of students have experienced physical or sexual assault. Of these, 48 per cent say the perpetrator was not a student (challenging the notion of a university rape culture) and only 17 per cent of the victims reported the attack to the police or university staff because 'they did not feel what had happened was serious enough'. Of this smaller number of reported assaults, the grouping together of physical and sexual offences makes it misleading to use this data to claim anything about rape culture.
The statistic most frequently used to prove the existence of rape culture in UK universities is the Hidden Marks claim that 'nearly one in four' female students has 'experienced unwanted sexual contact'. This figure comes from an online survey of 2,058 self-selecting students who would likely have chosen to participate because they were sufficiently interested in the topic. The definition of 'unwanted sexual contact' includes kissing and 'touching, including through clothes'. Whether these students experienced drunken fumbling as unwanted at the time or only labelled it that way the following morning is unclear. Yet unwanted kissing, touching and even name calling are all used as anecdotal evidence to support claims of rape culture. The myth of rape culture relies on assuming an equivalence between rape on the one hand, and pop songs, drinking games, banter and other behaviour until recently derided as 'laddish' – now labelled 'a bit rapey' – on the other. All of this works to trivialise rape.
It's difficult to see who gains from the rape panic. Hidden Marks suggests 'More than one third of respondents reported that they sometimes felt unsafe when visiting their university or college buildings in the evening'. This completely groundless fear is perhaps only a logical consequence of the popular portrayal of women as being at constant risk. Indeed, the report itself fans this hysteria by claiming 'violence against women students is widespread, serious, and is hampering women's ability to learn.' So, hardly reassuring then.
The rape culture discourse is premised upon an entirely false view of women as innocent, defenceless victims and men as predatory, potentially violent rapists. Campus campaigns like Lose the Lads Mags and No More Page 3 reinforce the view that women are passive victims of lecherous 'objectification', unable to deal with banter, bad songs or boobs. Neither men nor women benefit from this as the everyday, sometimes messy, but often fun experiences integral to growing-up and negotiating adult relationships come to be viewed through a continuum of sexual violence to rape.
The panic around rape culture has very real consequences for university life. It has led to censorship on campus: UK universities have banned student societies from 'laddish' behaviour thought to promote rape, as well as music thought to be 'a bit rapey'. In the US there have been a number of high-profile cases of students losing their place at university or facing draconian disciplinary proceedings over allegations of rape or sexual assault that are later shown to be entirely unsubstantiated. In the UK there are currently campaigns supported by the National Union of Students for universities to make attendance at sex and relationships education classes compulsory. Workshops such as I *Heart* Consent are designed to regulate and intervene in the most intimate aspects of students' lives. Sex is presented as problematic and requiring enough contractual agreements to remove all element of passion, fun or spontaneity.
Instead of being left alone to grow up, students are being taught that privately negotiating their own sexual relationships is dangerous. This is symptomatic of the way in which the myth of campus rape culture damages student life. Students learn to be suspicious of each other and to revel in their own vulnerability rather than see their time at university as an opportunity to experiment, have fun, make mistakes and grow up. Women have far more to lose from seeing all males as potential rapists than they do from having sex they might later regret.
Joanna Williams is education editor at spiked. She is also a lecturer in higher education at the University of Kent and the author of Consuming Higher Education: Why Learning Can't Be Bought. (Buy this book from Amazon(UK).)
Picture: Tyler McKay / Shutterstock
To enquire about republishing spiked's content, a right to reply or to request a correction, please contact the managing editor, Viv Regan.