Good boobs, bad boobs: how feminists police women's bodies
Middle-class breasts on Instagram – good. Big tits in the Sun – bad.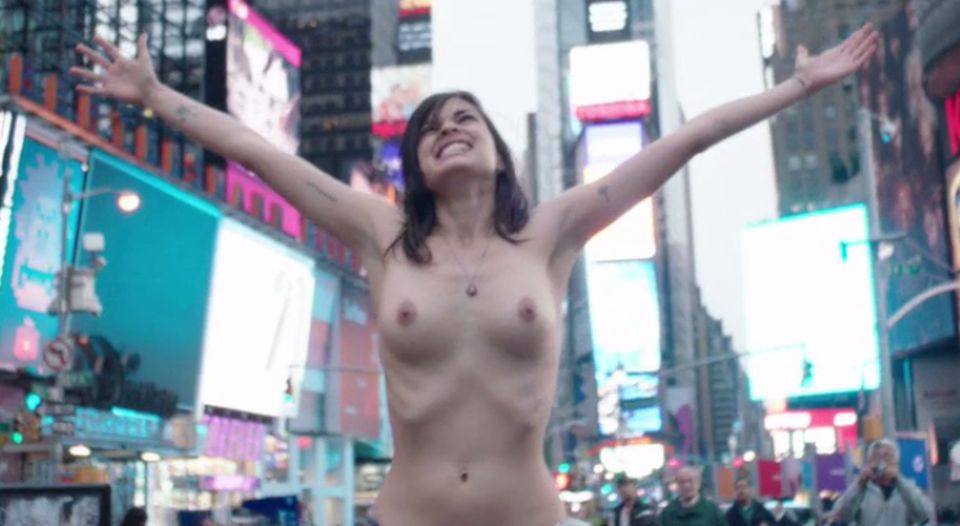 If you want to be a good feminist today, it seems you must have an opinion on breasts.
You would expect the two main sides in the contemporary feminist bra debate – Free the Nipple and No More Page 3 – to be in permanent conflict. After all, one is about exposing nipples, the other about covering them up. But actually, they seem to be the breast of friends.
As a piece in the Huffington Post put it, '#FreetheNipple and No More Page 3 share the same feminist goal: greater equality for women'. This schizophrenic attitude to nudity, this marriage of a breast-exposing campaign with a breast-hiding campaign, seems baffling. The impossibility of wanting to bin your bra and strap it on with moral zeal at the same time doesn't seem to register with young feminists.
The claim that the acts of baring and censoring boobs are equally effective in arguing for women's equality seems to be making a statement about the purpose of the bosom. It suggests that sometimes it's okay for boobs to be on display, and other times it isn't. Another Huff Post article argued that 'nobody can surely say they open Page 3 to see what nature has created to feed children?'. Err, no, of course not – for the same reason that I don't eat chocolate because it is supposedly a source of calcium, but rather because I enjoy it. The implication here seems to be that when breasts are a source of food for babies, they're good; but when they are displayed in a more sexual way, they are bad.
This sinister celebration of boobs as udders is actually regressive. It sets back women's equality by prioritising the biology of the female over her autonomy as a free-thinking individual able to decide what she likes and what she doesn't like.
Its The Good, The Bad and The Ugly of boobs. Good, clever, middle-class breasts are acceptable; bad, fake, Essex-girl breasts are not. And The Ugly would have to be that array of obsequious male nipples appearing under the #FreetheNipple hashtag on Instagram. Feminists who support both #FreetheNipple and No More Page 3 reveal themselves to be not only embarrassed by their fellow females who choose to get their knockers out for cash rather than retweets, but also openly prejudiced about a working-class girl's ability to make her own decisions about her body. So the likes of Katie Price are seen as a dangerous influence on women because they aren't puritanical about their chests. When, a few years ago, Price said she decided to bottlefeed her kids because 'I think only a certain person could handle my knockers!', there was uproar. A woman who prefers her chest to be sexual rather than maternal? The horror!
So, what constitutes a good, wholesome, feminist pair of tits? Well, showing them to other good, wholesome feminists is a good start. The specification of where and when women should be allowed to bare all – on Instagram, yes; in the Sun, no – is really about censoring who is allowed to look at breasts. For feminists, it is okay for like-minded females, babies and men who have pledged their support via Twitter to see breasts, but gruff builders, young lads and pretty much anyone who finds tits titillating cannot be allowed to glimpse a freed nipple.
Both the No More Page 3 campaign and #FreetheNipple speak to a deep-seated class prejudice within contemporary feminism. Whether they are encouraging women to whip out a lactating nipple in restaurants (good breasts) or forbidding men from pinning a perky pair on the wall of their garages (bad breasts), today's middle-class feminists are really only interested in enforcing a top-down puritanism about nudity and control of working-class behaviour.
What this boob-obsessed bunch can't face up to is that no one outside of their tiny cliques really cares about what happens to our chests. The world of Page 3 is old-fashioned, yes, but hardly worth getting your bra strap in a twist over. Many young women have over the years flashed for a few photos and then walked away with heavy wallets and light hearts – I don't see any problem with that at all. Scour Instagram, and you will see the hypocrisy of #FreetheNipple: this hashtag campaign contains promiscuous selfies and shots of casually pierced nipples, all accompanied by token lines about the need to be nice to women. These breast barers are just as keen for attention as those who pose for tabloids, but they think they are involved in a good cause because their 'likes' come from middle-class professional Instagrammers rather than oiks in a greasy spoon.
True supporters of women's equality should reject both these campaigns. If you believe that women have the right to do whatever the hell they want with their bodies, then for God's sake talk about something other than tits. Yet young middle-class feminists see it as their duty to educate stupid men and stupid women about the parameters of breast-baring, about acceptable and unacceptable boobs. Women have a far better tool, above the chest, so can we please engage it? And could feminists please stop being such fun sponges and quit using tit tape to censor women's freedom.
Ella Whelan is staff writer at spiked. Follow her on Twitter: @Russtler91
To enquire about republishing spiked's content, a right to reply or to request a correction, please contact the managing editor, Viv Regan.