Democracy will beat the race identitarians
As the election showed, wokeness will be defeated at the ballot box.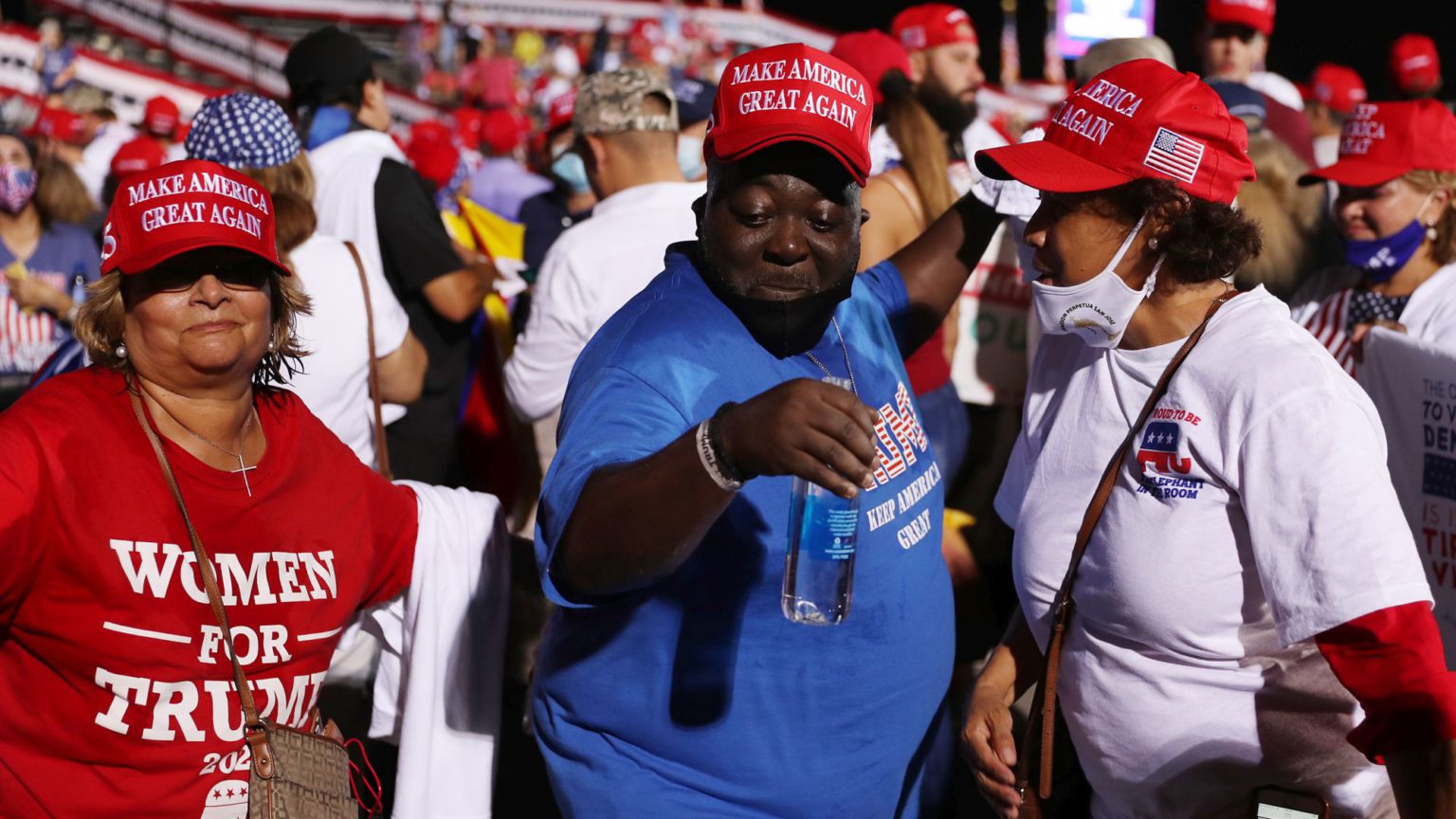 'Whiteness is not static, and it is expandable when necessary. A lot of folks we don't think of as white, think of themselves as white because the lines have never been entirely clear. That's the beauty of white supremacy – it is extremely adaptable', wrote Nikole Hannah-Jones, New York Times reporter and director of the revisionist 1619 Project, in response to the significant increase in the Latino vote for Trump.
Here, Jones is unwittingly revealing the intellectual contortions that racial identitarians perform in order to explain everything – in this case, non-white people's support for Trump at the election – in terms of white supremacism.
She is far from alone, of course. For several years now, the only lens through which American society was acceptably analysed by cultural elites in the media and academia was hyper-racialised and identitarian. No matter the social or political problem, white supremacism and systemic racism became the go-to heuristic. This development peaked during the Black Lives Matter protests earlier this year, which violently and destructively made race the defining issue of American public life.
However, the growth in the white-supremacism narrative has provoked a counter-response. Several thought-provoking and highly articulate liberal 'anti-woke' critics came to the fore, and challenged the idea that racism alone was the cause of all racial disparities. They argued instead that it was precisely the identitarian narrative of race that was fuelling division and a sense of victimhood in those groups on whose behalf identitarians claimed to be acting.
Not that anyone in the Democratic establishment seemed to be listening to the liberal critics of identitarian thinking. Joe Biden claimed that 'you ain't black!' if you were not intending to vote for him, and just a few days before election day, prospective vice president Kamala Harris proclaimed the virtues of 'equity' rather than 'equality', which is identitarian newspeak for imposed equality of outcome rather than equality of opportunity. It demonstrated that the Democratic establishment had fully embraced the assumptions underpinning racial identity politics.
Yet despite the anti-woke liberals' swingeing criticism of left race-identitarianism, come election time many still endorsed Joe Biden. They claimed that Trumpism was more dangerous than wokeism, that wokeness is a reaction to Trump, or, even more bizarrely, that who holds political power has no impact on the 'battle of ideas'. It does make one wonder just how serious a threat many anti-woke critics think identity politics poses if they are willing to support a political party that promotes it. Clearly the populist insurgency that Trump embodied represents too great a democratic force for some anti-woke commentators to stomach.
So, as it turns out, the biggest challenge to left race-identitarianism hasn't come from a liberal intelligentsia engaged in the niceties of 'open debate and discussion'. No, it has come from the electorate. It has come from democratic politics.
This was apparent from the way the electorate didn't neatly fall into racialised political lines, with blacks, say, or Latinos, flocking to the Democrats, and white men backing Trump. Trump increased his vote share among all ethnic groups, except that of white men, where his support fell. From what we can tell of the election data so far, new coalitions of voters emerged that transcend racial lines.
This represents a significant blow against the identity-politics narrative. The voting patterns indicate a deeper engagement and willingness to experiment politically among citizens than identitarians have allowed. And it does seem that Trump's economic policies and the job gains in ethnic-minority communities mean more to them than talk of race and identity. Such changes in people's voting patterns also show up once more the limits of the stagnant two-party framework.
But rather than explore why these more complex voting coalitions have emerged, some race identitarians have chosen to double down on their white-supremacist narrative. Such is their tunnel vision, they even talk of non-white Trump voters as complicit in white supremacism. The race identitarians could do with opening their minds a bit, perhaps during a period of self-reflection, but so far there is little reason to believe they are capable of doing so.
In fact, Biden's victory will surely only encourage the screeching smears and accusations of the race identitarians, given the Democratic Party itself seems to have fully embraced the identitarian agenda. Biden may have made the expected pseudo-moralistic speech, saying he will 'not seek to divide, but unify' America. But no doubt he will do so having permissively accepted violence and destruction in the name of fighting the phantasm of white supremacism. I fear that with the backing of America's new political rulers, identity politics will be further allowed to undermine national unity, solidarity and freedom.
Nevertheless, this election has shown that the ballot box is still the place where voters can make political decisions in a private, quiet place away from the sneers of the opinion-manufacturing class. It is now clear that populism has significant electoral campaigning cut-through and is attracting a broad range of people in a deep desire for a different way of doing politics beyond the racial categories of the identitarian elites. Regardless of the result, it has become markedly clear that the populist revolt is far from complete.
Inaya Folarin Iman is a spiked columnist, and founder and director of The Equiano Project.
To enquire about republishing spiked's content, a right to reply or to request a correction, please contact the managing editor, Viv Regan.