Liberate Wales!
The 'firebreak lockdown' is mad, cruel and unnecessary.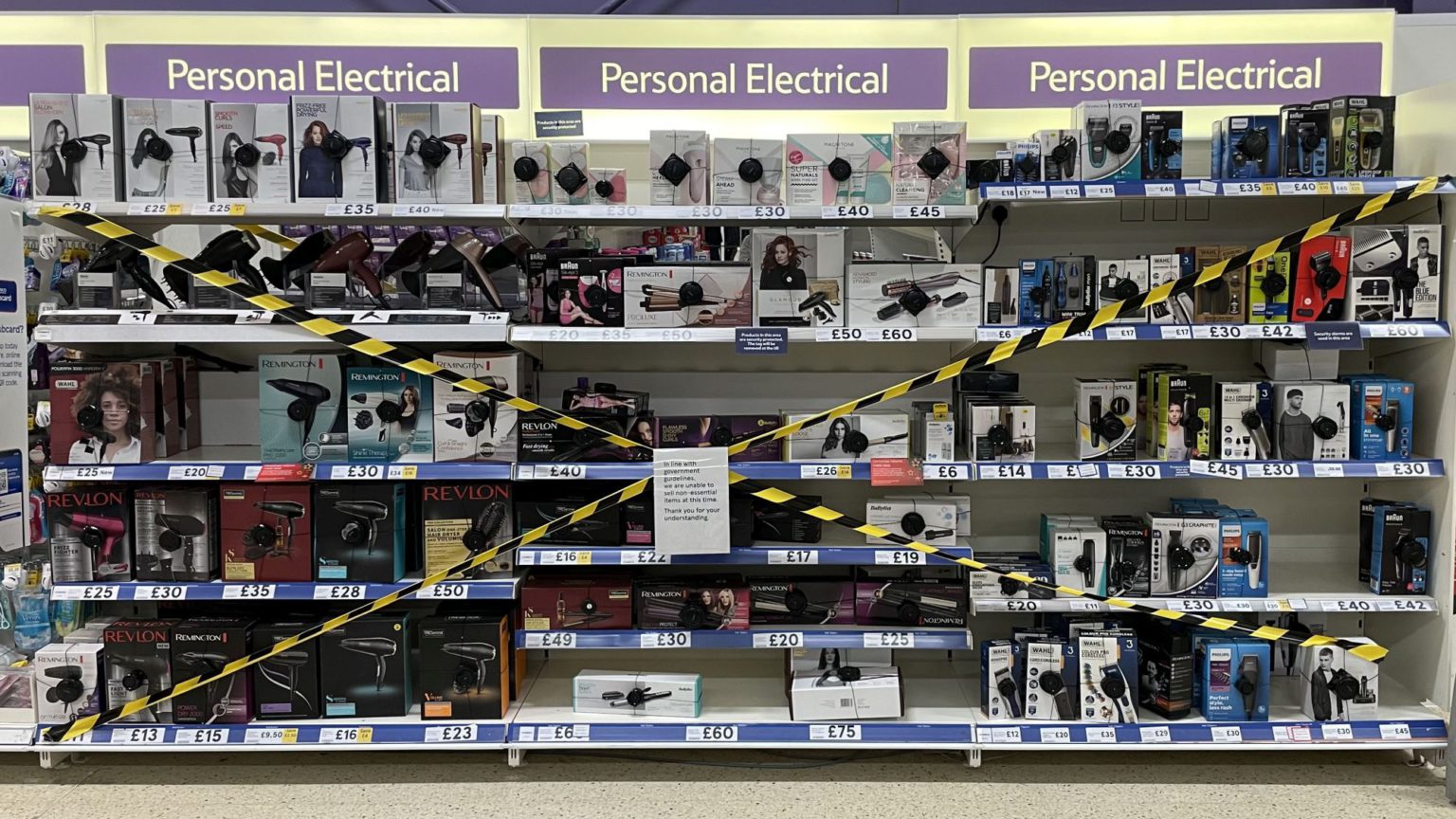 Life comes at you fast in the corona-era. It was only a couple of days ago that Tampax told us its period products were for 'all people who bleed'; less than 24 hours later it turned out this didn't extend to the Welsh.
Katie from Cardiff took to Twitter following a trip to her local Tesco yesterday. 'Can you explain why I was told today that I can't buy PERIOD PADS as I'm sure they are essential to women?!!! But I can buy alcohol, it doesn't make sense', she demanded to know. Other women shared pictures of the same store with the aisle stocking sanitary pads and tampons blocked off.
In a now deleted tweet, Tesco revealed all: 'We understand how frustrating these changes will be for our Welsh customers. However, we have been told by the Welsh government not to sell these items for the duration of the firebreak lockdown.' So that was that. Tampax are 'non-essential' and therefore strictly verboten. Cordoned off, out of reach, unavailable.
Only, of course, as the Welsh government hastily sought to clarify, this wasn't strictly true. Some poor civil servant, presumably working from home, was forced to tweet: 'Hi Katie. We're sorry you've had to experience this. This is wrong – period products are essential. Supermarkets can still sell items that can be sold in pharmacies.'
At this point, the Welsh health minister, Vaughan Gething, felt the need to intervene personally. He said 'supermarkets could sell non-essential items to customers "in genuine need" at their discretion during the firebreak lockdown'. Quite how women prove their 'genuine need' for tampons is anyone's guess. Perhaps cashiers might ask to see blood-stained knickers at the checkout? Yet rather than prompting feminist outrage from the English sisterhood, one female Guardian journalist fawns: 'It must be nice to have a government you trust, which collaborates with other parties and with the public, and communicates through clear, carefully considered announcements.'
What a mess. Tesco has issued a public apology and its Cardiff branch is, no doubt, currently investigating the actions of that rogue shelf-stacker (who, I'd wager, is a spotty 16-year-old boy who blushes every time he has to refill the period-products aisle). But while outrage has been directed at Tesco, and some junior employees will likely take the rap, this is a mess very much of the Welsh government's making.
Wales entered its two-and-a-half-week 'firebreak lockdown' on Friday. Under its new rules, more restrictive than anywhere else in Europe right now, people must remain at home. All restaurants, bars, cafés, gyms, places of worship and most shops are closed. Travel into and out of Wales is banned. People can exercise once a day, but only in a limited area close to home. The only exception is for key workers to get to their place of employment.
Most controversially, in a move apparently designed to 'save' independent retailers and to stop people congregating for a quick coronavirus-spreading gossip in the tampon aisle, supermarkets were ordered not to sell non-essential items. Pictures of shelves stocked full of clothes, books, toys, children's crayons and paints, bedding and other household items, all sealed off with polythene and closed with barriers, have been widely circulated. This move is unlikely to save one independent shop but is guaranteed to boost Amazon's coffers.
Lockdown was bad enough in the spring when the days were getting longer and the sun was shining. Now, to stop frustrated parents being able to buy their bored children a colouring book or a new pair of shoes so they can go for a walk outside seems like a cruel punishment.
On Monday, six people in Wales died following a positive test for Covid-19. This is heartbreaking for the families of those deceased. But we now know that those who die from coronavirus are likely to be fractionally older than the average age at which people in the UK die from all causes, and tend to have underlying health conditions. We also know that while some parts of Wales have relatively high rates of people testing positive for coronavirus (such as Cardiff, which has a seven-day rolling average infection rate of 305 per 100,000 people), vast swathes of the country have far lower incidences. Pembrokeshire has a seven-day rolling average of just 33 cases per 100,000 people and yet is subject to the exact same restrictions as the rest of Wales.
With such a low prevalence of infection in much of Wales, the firebreak lockdown seems unnecessary as well as cruel. Businesses will go under, people will lose their jobs, mental and physical health will suffer. And for what? The first Welsh lockdown clearly didn't work, despite lasting longer than in England, and a third winter lockdown is already being discussed.
Over 60,000 people have now signed a petition calling on the Welsh government to reverse the ban on supermarkets selling non-essential items. In response, Gething said Welsh government ministers were meeting with retailers to ensure that the regulations were being applied 'fairly and consistently', and first minister Mark Drakeford conceded that people may need to buy non-essential products 'for entirely unexpected reasons which they couldn't have foreseen'.
Who do these people think they are? It shouldn't be down to either supermarket bosses or trumped-up local councillors to decide what people do or don't need to buy. Welsh people should be free to decide for themselves when and where to shop and what to buy. Let's go further: people need to be free to decide for themselves whether to meet friends and relatives, go to a pub or restaurant, go to the gym or travel. The Welsh government, like the UK government, needs to lift the crippling restrictions and let people negotiate the coronavirus risks for themselves.
Joanna Williams is currently researching hate crime in her role as director of the Freedom, Democracy and Victimhood Project at the think tank, Civitas.
Picture by: Getty.
To enquire about republishing spiked's content, a right to reply or to request a correction, please contact the managing editor, Viv Regan.