A victory for democracy in Bolivia
At long last, the will of the Bolivian people is being respected.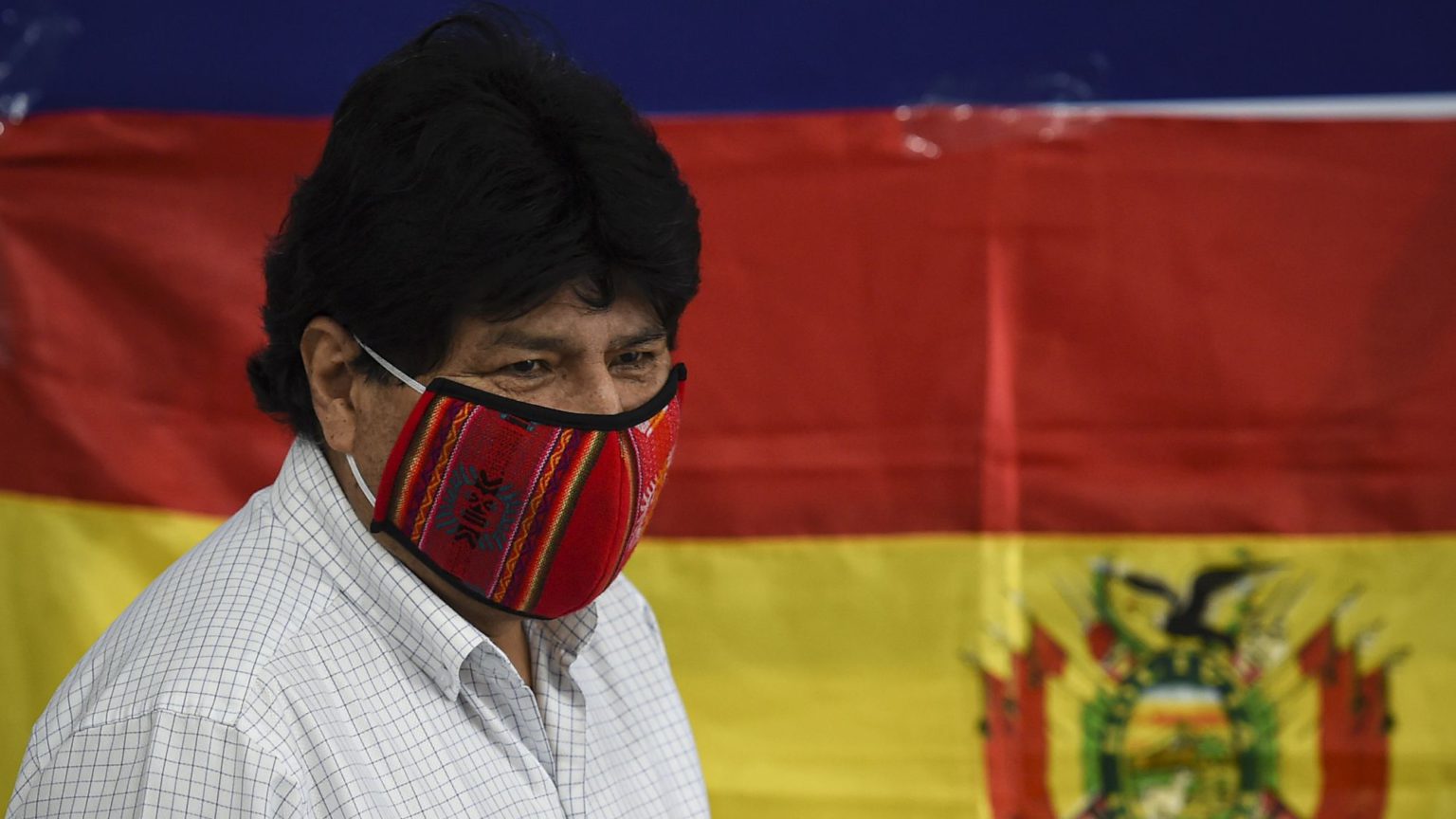 'It is up to us, those who believe in democracy, to recognise the result.' So said centre-right politician Carlos Mesa, as he conceded defeat to Luis Arce, of the Movement for Socialism (MAS), in Bolivia's presidential election.
Mesa's is a welcome statement, coming as it does a year after the Bolivian right, aided and abetted by the US and others, steadfastly refused to recognise the result of an earlier presidential election.
Back in October 2019, it was long-term Bolivian president Evo Morales who was standing as MAS's candidate. Morales won 47.01 per cent of the vote, compared with Mesa, who won 36.51 per cent, which was just above the 10 per cent margin necessary to avoid a second run-off vote. In other words, Morales had scraped through for what was, effectively, his fourth term as president.
But Morales' right-wing opponents refused to recognise the result. As is usually the way with those who dislike a democratic verdict, they immediately flung around accusations of electoral skullduggery. Then, at the behest of the US, the EU and others, in stepped the Washington DC-based Organisation of American States, which had been invited to observe the elections. It promptly cited 'an inexplicable change' after vote tallying stopped and then started again a day later, stating that this 'drastically modifies the fate of the election'.
And, with that, a democratic exercise had been thoroughly undermined. Morales' domestic opponents were emboldened by the OAS's intervention, with Mesa and right-wing activist Luis Fernando Camacho both citing the OAS's claim to justify their calls for street action. The US State Department got stuck in too, accusing Morales-supporting electoral officials of trying to 'subvert Bolivia's democracy'. Even some of Morales' own supporters lost faith, with the miners' union distancing itself from him, and the Bolivian Workers' Centre urging him to 'reflect on resigning if doing so would be for the good of the country'.
It has since been revealed that the OAS's assessment of the elections 'relied on incorrect data and inappropriate statistical techniques'. Some understandably impute a political motivation, too. Either way, following the OAS's intervention, the protests escalated and the opposition's refusal to respect the result hardened. The light-touch coup d'état that followed was almost predictable, with the military making it clear, as one commentator who spoke to Morales has it, that 'neither [Morales], his family, nor his closest allies would be safe unless he immediately left the country'.
And so, with democracy undermined and then betrayed, for the past year Bolivia has been ruled by Jeanine Áñez, a right-wing 'interim' president no one voted for. Which is why this weekend's presidential election and, more importantly, the response to it are so momentous. They mark the rebirth of democratic politics in Bolivia. As Morales tweeted from his Argentinian exile, 'Sisters and brothers: the will of the people has prevailed'.
Yet, at the same time, Morales' invocation of the 'will of the people', and the cheering that has greeted MAS's victory among the bourgeois prats of the Twitter left, stick in the craw somewhat. For they themselves have displayed a rather selective attitude to democracy over the past five years. Yes, they are certainly happy to extol its virtues when it delivers agreeable results, as it did this week. But when it doesn't, they are ready to ignore it. Denigrate it. And, ultimately, betray it.
Indeed, in this regard, Morales himself must shoulder a large share of the blame for the current instability afflicting Bolivian democracy. Yes, the unrest and coup of last year owed much to the machinations of his unscrupulous opponents, and their international supporters. But, in a very real sense, Morales paved the way for his right-wing opponents to refuse to respect a democratic exercise. Because he did it first.
In 2016, Bolivian voters were asked to vote in a referendum on constitutional amendments, which would allow a president and vice-president to run for a third consecutive term. Although Morales, having been originally elected in 2005, was already into his third term, a constitutional tribunal had already ruled that his first term in office did not count, as he had not completed the full five-year term. This meant that, should Morales have won the referendum, he would have been able to stand for president again.
Or he would have been if the electorate had not had other ideas. Because, on a turnout of nearly 85 per cent, Morales narrowly lost – with 51.3 per cent voting to reject the constitutional amendment.
But neither Morales nor MAS was willing to recognise the result. Almost as soon as it had been announced, they set about trying to ignore it, and circumvent it in the courts.
In December 2016, MAS approved Morales' candidature for the 2019 elections, with Morales unabashedly declaring, 'if the people say let's go with Evo, then let's continue defeating the right and continue with our process'. They just needed to find a way to overcome the will of the people first. So, in 2017, Morales took his attempt to invalidate the referendum to Bolivia's Plurinational Constitutional Court, which, in November that year, backed him by ruling that all elected officials could run for office indefinitely. In December 2018, Morales secured another victory in his battle against the democratic verdict of 2016, this time at the Supreme Electoral Court, which permitted him to stand for a fourth term in office.
The damage Morales was doing to democracy in Bolivia was clear. He was expressly rejecting 'the will of the people' because he and his party objected to what was being willed: a constitutional limit on presidential terms, and with it, a limit on their power. In doing so, he was undermining democracy itself, while fuelling and emboldening his right-wing opponents in the process. Indeed, the seeds of the conflagration and coup of last year were being sown then, during Morales' brazen attempt to bypass a democratic judgement. As one report noted in December 2018: 'In the capital, La Paz, as well as major cities, including Santa Cruz and Cochabamba, angry protesters blocked streets and disrupted public transportation, chanting and waving banners emblazoned with the words "Bolivia said NO", in reference to the 2016 referendum.' Even the Catholic Church intervened, stating that use of the judiciary to overrule the referendum 'called into doubt the very basis of democracy, leaving Bolivians with an uncertain future'.
And it is this that seems to have been forgotten by too many self-styled leftists, now dancing in the tweets over what, to them, amounts to Morales' proxy victory: Morales and MAS created the institutional volatility that helped make last year's quasi coup possible. And they did so through their quasi-autocratic assault on democracy.
Not that you would expect much more from Morales' British cheerleaders, from the Labour left to middle-class 'radicals'. At about the same time Morales and his government were trying to undermine the result of one referendum, his British sycophants were lustily rejecting the result of another – namely, the vote for Brexit.
So it is worth cheering the elections in Bolivia. Not because the result may be to one's liking. But because the result is being respected.
Tim Black is a spiked columnist.
To enquire about republishing spiked's content, a right to reply or to request a correction, please contact the managing editor, Viv Regan.