Make America Cringe Again
Kamala Harris's faux-inspirational blather obscures a ruthless, unprincipled politician.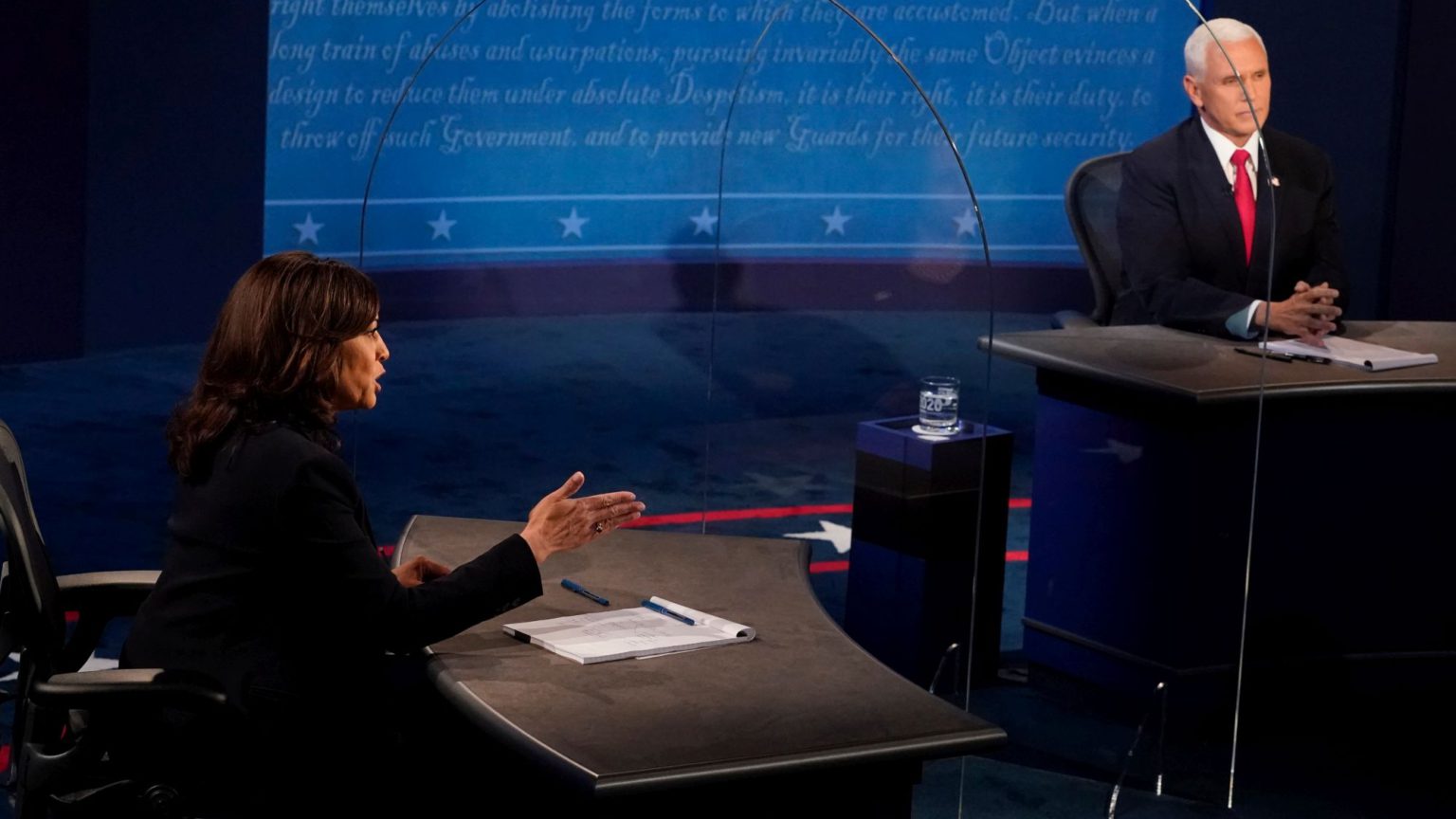 'I'm speaking.' So said Democratic vice-presidential nominee Kamala Harris, repeatedly, during the VP debate on Wednesday night. She was trying and failing to present Republican Mike Pence as an incessant mansplainer, even while he was being unflinchingly, occasionally creepily, courteous. ('Thank you, Susan', was his stock response to almost every question from moderator Susan Page.)
Kamala Harris could well be the 47th president of the United States. Her running mate, Joe Biden, whose recent gaffes include confusing his wife and his sister, is thought unlikely to seek a second term, if indeed he wins in November, given his advanced years and growing fogginess. There is even speculation as to whether he will make it through the first four years.
Given that Donald Trump, three years Biden's junior at 74, is already the oldest first-term US president in history, and was recently hospitalised with coronavirus, the vice-presidential debate took on more significance this year. In Pence and Harris the American people are looking at potential commanders-in-chief, rather than just the understudies.
Other than the fly that landed on Pence's head, and stayed there for a hypnotising two minutes, Harris's sassy deflections of the vice-president's non-interruptions were key moments of the night. And not in a good way. While liberal cable news channels clipped the exchanges, and Twitter proclaimed 'SLAY KWEEN', I'm sure many voters were reminded of the kind of identitarian posturing from Democrats that they have come to loathe.
Harris has particular form in this regard, proving herself willing to throw around accusations of bigotry (and worse) to score political points and damage her opponents. Even her now running mate hasn't been spared this. In one debate during the Democratic primary, she essentially called Joe Biden a racist over his former opposition to bussing. She also said, prior to the primaries, that she 'believed' the women who had accused him of sexual assault.
Where Harris is concerned, identity is essentially her entire pitch. Ever since she was selected as Biden's VP, making her the first woman of colour on a major presidential ticket, she has been talked up incessantly as an 'inspiration'. Even though the main people she seems to give a warm feeling to are Democratic grandees and liberal commentators: she flamed out of the primary after failing to pick up support among women and black voters.
Still, she continues to play the part. She often talks about her background, as the daughter of Jamaican and Indian immigrants, and is given to talking in the mode of an inspirational Instagrammer. In a recent profile in Elle she tells a story about her falling out of her stroller at a march as a child, and her mother then trying to comfort her: 'She's like, "Baby, what do you want? What do you need?" And I just looked at her and I said, "Fweedom".'
This and other improbable anecdotes are used to underline that Harris has been fighting her entire life. But what she is fighting for is still not entirely clear. She talks in wispy platitudes that melt upon contact with your eardrums. In a long interview with the New York Times last year, she talked more about potholes than policy. As the Times revealingly concluded, she is a 'messenger whose message remains a work in progress'.
Meanwhile, she has been dogged by her record as district attorney of San Francisco and attorney general of California, which gives the lie to her claims to be a 'progressive prosecutor'. Despite her vocal support for Black Lives Matter, critics say she resisted investigating police shootings. She also launched a brutal crackdown on truancy that dragged poor parents through the courts, even when their child was only out of school due to chronic health problems.
It would be unkind to suggest she is a principle-free politician who changes her mind purely on the basis of political expediency. But that is almost certainly the case. In 2009 she said she wanted more cops on the street. This year, in the wake of the killing of George Floyd, she derided that position as 'status-quo thinking' and 'just wrong'. During a primary debate she raised her hand in support of abolishing private health insurance, only to claim later she misheard the question.
Identity politics is often caricatured as the preserve of the far left. But some of its keenest practitioners are often those on the centrist, technocratic left. The therapeutic, woke blather of people like Harris provides a progressive-sounding gloss to what is often the same old establishment politics, primarily interested in maintaining power. It makes a candidate beloved by the Democratic elite, Wall Street and Big Tech appear momentarily, superficially progressive.
Harris may be the future of the Democratic Party. But this is a future that looks a hell of a lot like the past – technocratic, aloof, only a lot more cringey.
Tom Slater is deputy editor at spiked. Follow him on Twitter: @Tom_Slater_
To enquire about republishing spiked's content, a right to reply or to request a correction, please contact the managing editor, Viv Regan.