The media's mad obsession with white supremacy
It isn't the Proud Boys who have been rioting for the past two months.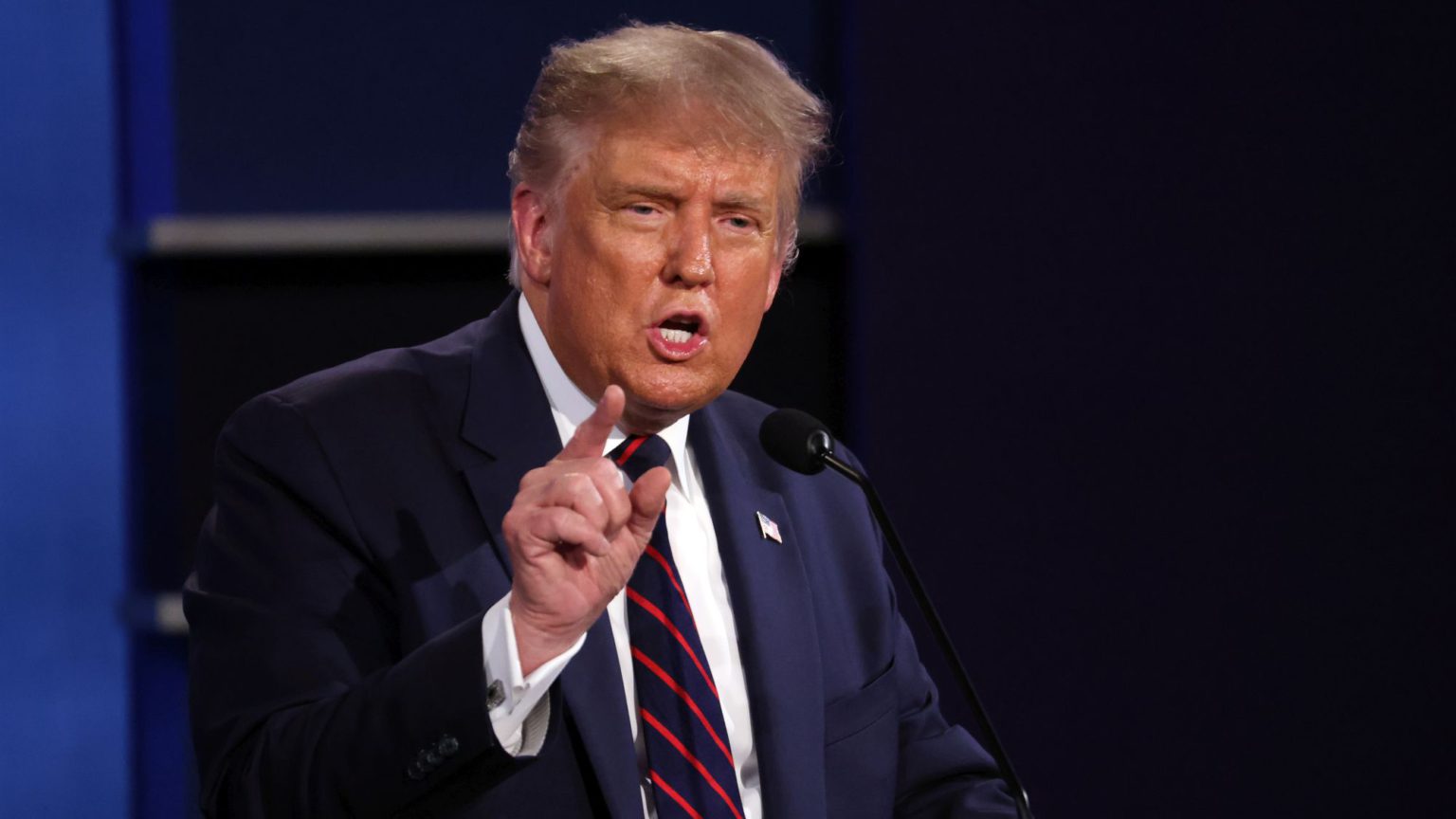 Everyone agrees that the first televised debate between Donald Trump and Joe Biden was atrocious. Like sitting through 'an argument about an arcane procedural rule during a senior bingo night at a nursing home in purgatory', as one columnist put it. But the media's follow-up on the debate hasn't been much better. The way the media have obsessed over what Trump said (or didn't say) about so-called white supremacy confirms that Trump and Biden aren't the only ones who are incapable of engaging in an honest, reasoned discussion about the problems facing America.
Trump and white supremacy have become the main talking points in the post-debate fallout. From CNN to the BBC, and of course across the Trump-loathing Twittersphere, all the talk is of why Trump won't condemn the white-supremacist groups that are apparently tearing apart the soul of America. During the debate, Trump was asked if he would condemn the Proud Boys, the stupid right-wing gang founded by Gavin McInnes to defend Western values (if these chinless wonders are the last line of defence for Western civilisation, then we're even more screwed than I thought). Trump said he doesn't know who the Proud Boys are but he would be happy to condemn them if they are indeed white supremacists. They should 'stand down', he said, and 'stand by'.
It is those last two words – 'stand by' – that have whipped up global fury and rejuvenated the chattering classes' beloved pastime of Trump-bashing. See, Trump is a white supremacist, they're saying. He is now openly calling on groups like the Proud Boys to 'stand by' (we'll leave it to the time-rich, sunlight-deprived users of 4Chan and other sites to pore over the question of whether the Proud Boys really are white supremacists). No one allowed for the possibility that Trump misspoke or messed up his words, something he is quite famous for doing. And even his clarification of his comments – he has now said that the Proud Boys, whoever they are, should definitely 'stand down and let law enforcement do their work' – has not damped down the drama. Trump refused to condemn white supremacists because he is one, the tweeting classes claim.
Biden, who at this point will clamber upon any soapbox that comes his way, says America now has a president who is 'refus[ing] to disavow white supremacists'. Big talk from a man who just a few weeks ago announced that any black person who is even thinking of voting for Trump is not really black. These are the double standards on racism in the woke era: Trump is a vile white supremacist for saying 'stand by' in relation to the Proud Boys, yet Biden is the great hope for civil rights in America despite his belief that all black people must think and vote in the exact same way or else forfeit their blackness. The broader point about that crazy, awful debate – the fact that Trump said 'Sure, I'm willing to do that' when directly asked if he is willing to condemn white supremacists – has been lost in all of this. Trump saying he is willing to condemn white supremacists has somehow morphed into proof that he supports white supremacists.
There is a bigger issue at play in the media elite's obsession with white supremacist groups. It speaks to their alarming inability, or unwillingness, to face up to the real source of disarray and conflict in the US today. It isn't white-supremacist groups who have taken part in the worst, most nihilistic riots to rock America for five decades – it is people who, right or wrongly, identify as 'left' or as 'progressive'. It isn't the Proud Boys who have laid waste to entire blocks in often quite deprived areas in Kenosha, Minneapolis and Portland – it is supporters of so-called 'Antifa' and of Black Lives Matter. It isn't the Proud Boys who have harassed diners and stormed into suburbia calling people 'motherfuckers' and insisting that they bow down to the supposedly correct political worldview – it is the upper middle-class, often white supporters of BLM who have done that, most of whom will shortly be voting Biden for president.
The disconnect between the media's obsessions and the real world grows more vast by the day. Of course there are white supremacists in the US, and of course their views are vile and racist, but the idea that they are a significant or well-organised force simply doesn't stand up to scrutiny. And of course Trump, as president, should be clearer and firmer in his comments on white supremacist or hard-right groups. He should have been clearer in this week's debate and he should have been clearer after Charlottesville. But why are we even talking about white supremacists right now? Why are we talking about the Proud Boys? They aren't the ones who have helped to unleash a wave of instability and destruction in recent weeks. It is the identitarian rabble-rousers of Antifa (just an idea, according to Biden) and other ostensibly 'woke' groups who have done that.
The media's myopic focus on white supremacy is a displacement activity of epic proportions. For weeks now, the mainstream media, and much of the Democratic-leaning political class, have refused to speak honestly about the instability in the US and about the divisive, identity-based ideologies that have fuelled it. Perhaps nervous that their own role in fomenting the dogma of identitarianism will be exposed, or worried that criticism of Antifa and BLM could accidentally benefit Trump, they have either ignored or downplayed the mayhem of the past couple of months. 'Mostly peaceful protests', they've said about fiery, nihilistic destruction. As statues were toppled and beheaded, as businesses were burnt to the ground, as people were accosted and attacked for being white or for failing to raise a fist in support of BLM, the media have shrugged their shoulders or said 'It's not a big deal'. And now they want us to get heated about the Proud Boys, an ineffectual bunch of muppets? Are they kidding?
The events of this week have confirmed the role that the 'Trump is racist' narrative plays in American politics. This mantra is uttered, on a loop, as a kind of distraction. It is used to steal attention away from the complex social, political and cultural problems afflicting America in the 21st century. Incapable of grappling with these problems, or with their own part in causing them, the cultural elites fall back all the time on the easy sloganeering of 'Trump is racist'. Blocks are burnt down, American heritage is destroyed, people are publicly shamed and abused for their skin colour or their belief system, and still all the commentariat and the Dems can say is: 'But Trump is racist.' It has become like a child's cry. Public discussion in America needs to grow up, and quickly.
Brendan O'Neill is editor of spiked and host of the spiked podcast, The Brendan O'Neill Show. Subscribe to the podcast here. And find Brendan on Instagram: @burntoakboy
To enquire about republishing spiked's content, a right to reply or to request a correction, please contact the managing editor, Viv Regan.