The great student lockdown
Why are students being singled out for punishment?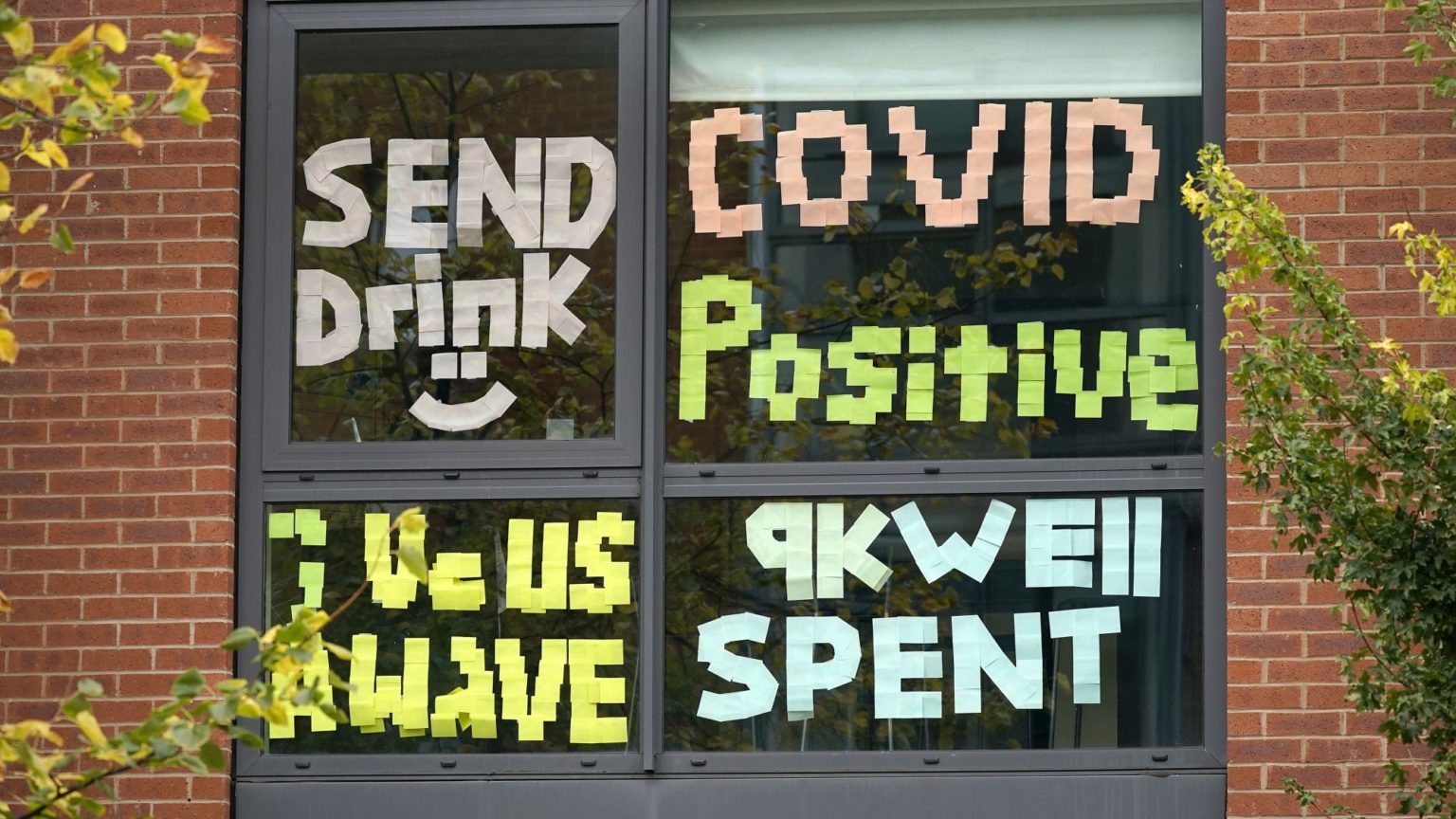 Lockdown is an infantilising experience for all of us. That Boris Johnson's occasional Covid press conferences increasingly feel like fatherly rebukes for our misbehaviour lays testament to this. But no part of the adult population is being more treated like children at the moment than students.
At present around 4,000 students in England and Scotland are in enforced isolation following coronavirus outbreaks at at least 32 universities, including Glasgow, Exeter, Manchester Metropolitan and Edinburgh Napier. Entire halls of residence have been locked down in an attempt to slow the spread.
That students gathering from all over the country would lead to outbreaks of the virus was predicted by basically everybody. Still, universities and the government urged them to take up their places in person, presumably to stave off deferrals and ensure universities could fill as many dorms and collect as much rent as possible.
Given those in their late teens and early twenties are incredibly unlikely to fall seriously ill with the virus, special dispensations could easily have been made. Many of them will be living and socialising almost exclusively with one another, with little contact with the older and more vulnerable.
Instead, many of them have been subject to insane collective restrictions that it would be unthinkable to impose on other sections of the population. The authorities and university administrators have come together to enforce lockdowns on thousands of students following outbreaks on campus.
At the University of Glasgow, where around 600 students are self-isolating following 172 positive Covid tests, students were told that breaking the rules could mean disciplinary action being taken, including termination of their accommodation contracts and even suspension from the university.
The same is happening at Manchester Metropolitan, where around 1,500 students have been locked down. A spokesperson told the BBC: 'Our security teams will increase patrols to support the lockdown and we will take disciplinary action against any students found to have breached requirements.'
Students at Glasgow and MMU have also reported seeing local police getting involved. And if this all wasn't Stalinist enough for you, MMU even sent around an email telling students to take down messages they spelled out in post-its in their kitchen windows, including 'Let us out', 'Fuck Boris' and 'HMP MMU'.
The handling of it has been roundly shambolic. An MMU student told LBC that his flat of 10 has been asked to leave their full bin bags in a cupboard for three days before they can be 'safely' collected. While that smell gathered, he said they also struggled to use the washing machines, as they needed cash to do so.
While we have all been told to isolate if we or someone in our household test positive or get symptoms, these halls-wide lockdowns, including dozens of separate flats, are apparently indiscriminate. One MMU student told the BBC that he and all of his flatmates had tested negative, but were still prohibited from leaving.
For first years, looking to make new friends and enjoy themselves, the existing restrictions were trying enough – particularly in Scotland, where households are banned from mixing entirely. But since term began the authorities have been imposing strictures on students beyond that experienced by everyone else.
Guidance rushed out last week by Universities Scotland and the Scottish government told all students not to visit pubs or restaurants at the weekend, even with their households. It also said staff must be 'vigilant against any breaches of the guidance' and that downloading the Protect Scotland tracing app was mandatory.
While there's been a lot of talk about it this week, the potential Christmas ban also seemed to come early for students. Last week Scotland's national clinical director Jason Leitch made clear on Twitter that students should not visit their parents' homes, and Matt Hancock refused to rule out students staying put at Christmas time.
Young people are often wont to feel hard done by. But it's hard not to see their treatment in recent weeks as uniquely harsh. They have been quarantined at a stroke and threatened with eviction if they do not comply, all the while paying thousands for the pleasure of online freshers' events and lectures via Zoom.
They are being treated even more like children than the rest of us, everything from their movements to their window displays policed by the authorities. That they are adults capable of making their own decisions seems to have gone out the window in favour of harsh, blanket measures unlike anything else we've seen.
That universities and the authorities feel emboldened to treat them in this way is telling. For years there has been a move towards infantilising students, treating them as in need of more support, direction and coddling in order to get them through university life. It's hard not to see HMP MMU as an extreme expression of that.
In 2018, then universities minister Sam Gyimah said 'universities need to act in loco parentis' in relation to students' mental wellbeing. Here he essentially called for a partial return to the system, abolished in 1970, that saw undergraduates as essentially children in need of paternalistic guidance.
Where prior to 1970 in loco parentis meant the policing of students' social and sexual interactions, complete with curfews and gender-segregated halls, today universities talk up their obligations to students' mental health. But what underpins both views is the idea that students are essentially still children in need of support.
It is telling that in all the sympathetic commentary about the great student lockdown, much of it focuses on the toll it is supposedly taking on students' 'wellbeing'. Rather than seeing these students as young adults deprived of their freedom and formative experiences, the temptation is to frame this in terms of mental health.
Here we glimpse why the authorities are daring to treat students in this way. We don't really think of students as adults any more. Which is at least part of the reason why officials, when it came to the crunch, felt so comfortable railroading their rights. Here's hoping the locked-down students fight back against this madness.
Tom Slater is deputy editor at spiked. Follow him on Twitter: @Tom_Slater_
Picture by: Getty.
To enquire about republishing spiked's content, a right to reply or to request a correction, please contact the managing editor, Viv Regan.