The battle for the Supreme Court is tearing America apart
In a healthy democracy, the appointment of judges would not feel like an existential crisis.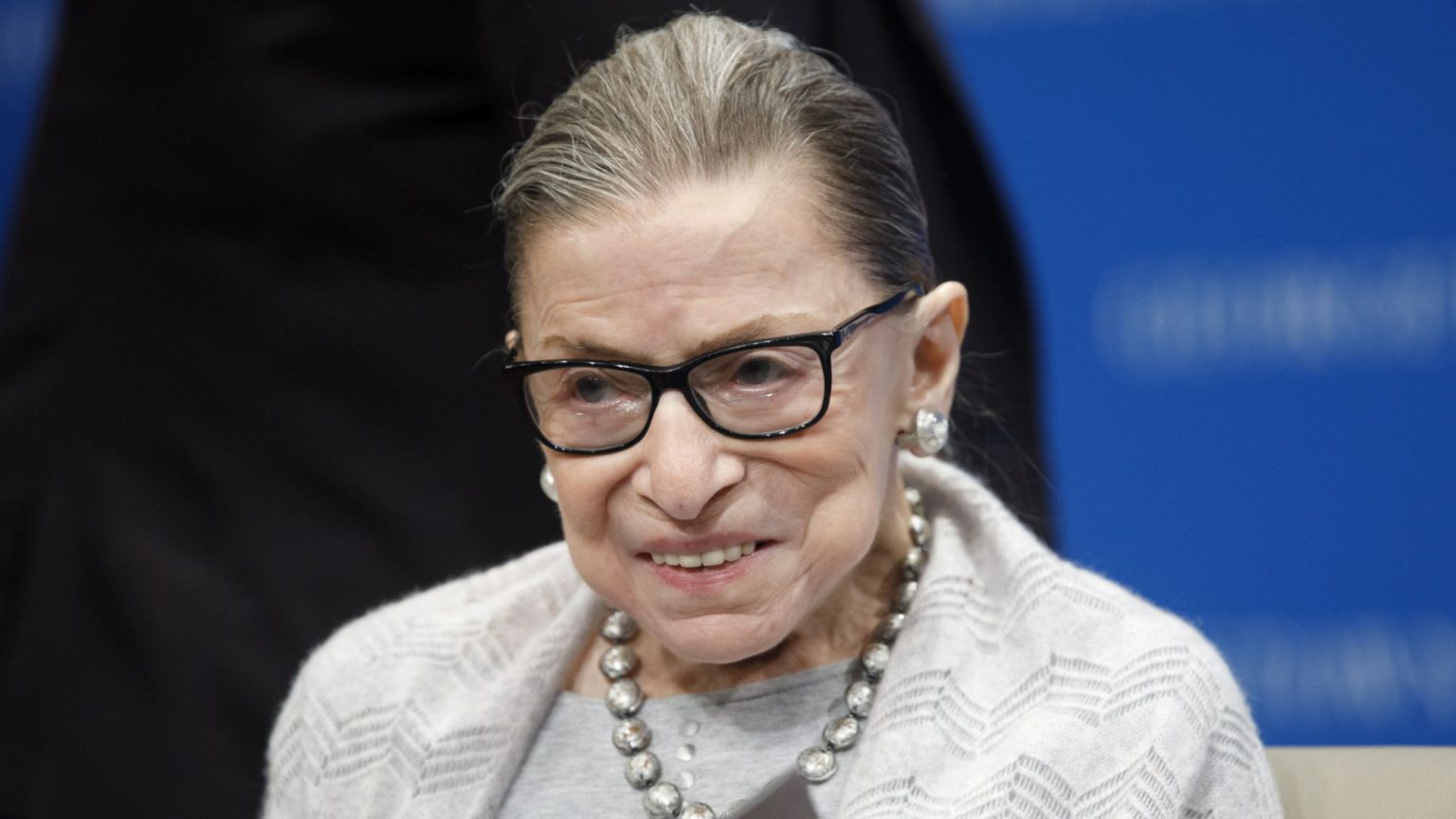 In her life, Ruth Bader Ginsburg became a surprising cultural icon. Her fans called her 'Notorious RBG' (a play on the rapper Notorious BIG), and she was the subject of movies, Saturday Night Live skits and many internet memes. No Supreme Court justice has ever reached such celebrity status before.
Now, in her death, Ginsburg is being honoured and mourned like no other jurist before her. She is the first woman to lie in state at the US Capitol building. Thousands have gathered outside the Supreme Court in Washington to pay respects, many in tears as they lay flowers and handmade signs on the steps of the building.
For sure, Ginsburg had an impressive legal career, worthy of praise. But the adoration of her in life, and the saint-like treatment of her in death, goes far beyond the respect normally accorded to a deceased lawyer or judge, and far beyond what is healthy for a democracy. A justice on the Supreme Court is meant to be impartial, and yet her supporters loved her for being partial – for her apparent support for their favoured political causes, such as women's rights. Too many Americans have invested far too much of their political aspirations in the Supreme Court, and in Ginsburg in particular. The idea that the fate of liberal politics depended on the sustained health of an 87-year-old woman with cancer was always ridiculous. Yet it became a widely accepted notion for many on the left.
Her devotees are not only feeling sad at her passing – they are angry, too. When President Trump and first lady Melania paid their respects last week on the steps of the Supreme Court, the crowd broke with decorum to boo and chant 'vote him out'. And the prospect of Trump replacing Ginsburg, the leader of the court's 'liberal wing', with a conservative-inclined justice, so close to the election in November, has driven some on the liberal-left into meltdown. Reza Aslan, a CNN commentator, tweeted to his followers: 'If they even TRY to replace RBG we burn the entire fucking thing down.' There has been a wave of rioting and arson on the streets of the US this summer, and now some are predicting more disruption following a Trump-nominated replacement. Laura Bassett, a journalist with GQ and the Washington Post, wrote: 'If [Republican Senate leader Mitch] McConnell jams someone through, which he will, there will be riots.'
This outrage shows how politicised the Supreme Court has become. It is now a major focus for the culture wars, over issues like abortion and gay rights, and a critical decider on policy issues like healthcare. Observers regularly evaluate the nine-member court in political terms: they talk of a five-to-four conservative majority becoming a six-to-three conservative majority after Ginsburg is replaced.
On top of this, Ginsburg's passing comes during a presidential-election campaign in which some Democrats have expressed fears of Trump 'stealing' the election or not accepting its result (which is rich, considering that many Democrats still haven't accepted that Trump was legitimately elected four years ago). With heavier use of mail-in ballots this year, the electoral tally could be challenged by either side, placing the outcome in the hands of the Supreme Court, as it was in the Bush-Gore contest in 2000. Many on the left believe Ginsburg's replacement will swing the court-adjudicated result to Trump over Joe Biden.
Ginsburg's death has become a catalyst for political upheaval, exposing deep cultural divisions. It would be one thing if the tribal-like rage in response to Trump's proposed replacement of Ginsburg was limited to hardcore activists, or to unhinged types like the angry woman in that viral TikTok video, screaming in her car at the news of Ginsburg's passing. But heated rhetoric and threats have spilled over into Congress. Even before Trump had announced his nomination of Amy Coney Barrett, Democrats like Senator Jeff Merkley had said 'this is an illegitimate nomination'. Senate minority leader Chuck Schumer said that 'nothing is off the table' in response to Trump moving forward with a Supreme Court pick before the election.
Democrats are now threatening a number of explosive counter-measures, including packing the Supreme Court (that is, adding two to four members), if Biden is elected and the Democrats take control of the Senate. They are also talking of adding Washington DC and Puerto Rico as new states to make a Democratic majority more likely, as well as ending the Senate filibuster, which would effectively mean that the Senate reverts to a simple majority-vote system. Seeking to change the nine-member constituency of the court, which has been in place since 1869, would be a radical move that could shred any remaining public confidence in the court as politically independent. Democrats have spent the past four years claiming that Trump is 'destroying democratic norms', but their proposals for dealing with this are often even more destructive and anti-democratic than anything Trump has done.
It's fair enough to debate the merits of nominating a Supreme Court justice in the months before a national election. Back in 2016, Republican senators blocked Barack Obama's nomination of Merrick Garland on the grounds that it was in an election year. 'The American people should have a voice in the selection of their next Supreme Court justice', Republican Senate leader McConnell said at the time. 'Therefore, this vacancy should not be filled until we have a new president.' Now Democrats cite these words to portray Republicans as hypocrites, going back on their word.
But the party-political hypocrisy cuts both ways – Democrats, including their Senate leader Schumer, said in 2016 that Supreme Court nominations should proceed in an election year. Moreover, McConnell did state in 2016 that his rationale for waiting until the election outcome was that the Senate and presidency were divided between the parties, which isn't the case this year. Beyond the partisan back-and-forth, Republicans have the constitutional right to proceed and historical precedent is clearly on their side, as Dan McLaughlin points out in National Review. The Republicans are using hardball tactics, for sure, but the Democrats would do the same thing if the roles were reversed.
While genuine political debate is to be welcomed, the extreme rhetoric – if not hysteria – surrounding Ginsburg's replacement shows that American politics is going off the rails. Democrats and sections of the media are now claiming that the court vote should be postponed because that was Ginsburg's dying wish. Apparently she said to her granddaughter, 'My most fervent wish is that I will not be replaced until a new president is installed'. But the deathbed wishes of individuals, however revered, do not determine constitutional processes. Like so much of our politics today, this is a form of emotional blackmail, which is supposed to override rational arguments. And on this specific point, Ginsburg's own words are contradictory. After Obama's election-year nomination of Garland, Ginsburg made an ill-advised intervention into politics (by no means her only one) when she said, 'there's nothing in the Constitution that says the president stops being president in his last year'. Democrats today ignore that.
In a healthy democracy, the nomination of a Supreme Court justice would not feel like an existential political crisis. Recall how crazed the Senate hearings over Brett Kavanaugh's nomination were. We can expect the upcoming hearings of Trump's nominee to be even more of a circus.
Today the Supreme Court, an unelected body, has too much political power and looms too large in the American political imagination. As Congress has become dysfunctional and weak, courts and judges have seemed only too glad to step in and play the role of politicians in robes. And Democrats are not the only ones who place their hopes in the courts. Many Republicans, for example, justify their vote for Trump on the grounds that he will select the right judges. But appointing conservative judges does not necessarily result in the decisions conservatives might expect. Consider how, in June, Trump appointee Neil Gorsuch led the majority decision to back LGBT rights.
Investing so much of your political aspirations in justices like Ginsburg, and then threatening to 'burn down' the court when you don't get to name a political ally as her replacement, is fundamentally anti-democratic. Judges should be boring figures, working in the background of politics, not rock stars with huge followings. If you want to change politics, convince others, elect likeminded people and pass laws. If you want to change culture, engage in cultural debate and change the opinions of your fellow citizens. Whether the issue is abortion, healthcare, LGBT rights or whatever, don't look to the courts and judges to be your saviours.
Those who elevate the court to such a high status in politics – equal with elected roles like representatives, senators and the president – are undermining the legitimacy of the court itself.
To enquire about republishing spiked's content, a right to reply or to request a correction, please contact the managing editor, Viv Regan.