Who does Keir Starmer think he's kidding?
The arch Remainer now expects us to forget his campaign against democracy.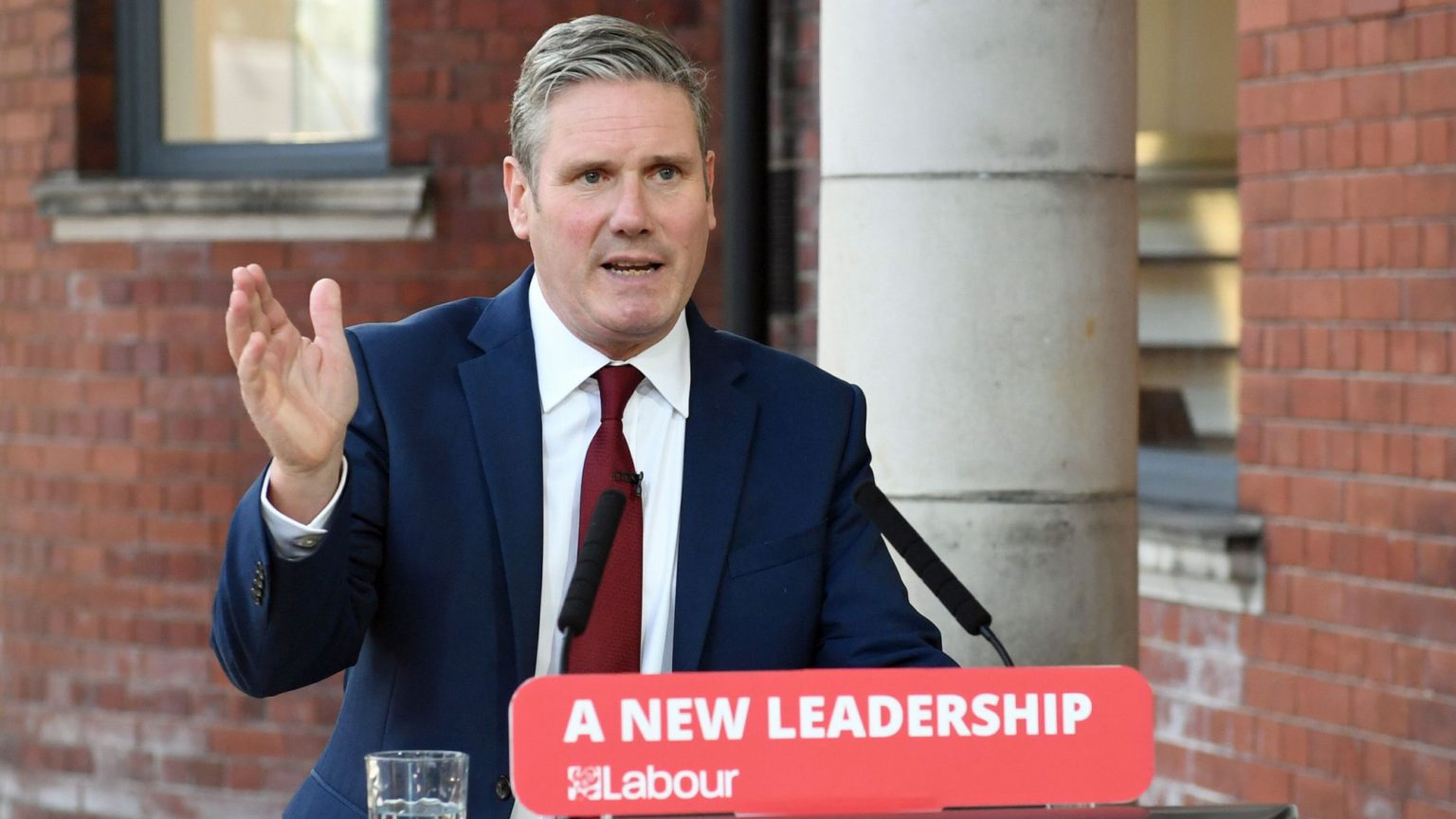 In his big conference speech on Tuesday, Labour leader Sir Keir Starmer sought to draw a line under his party's disastrous record on Brexit. 'Let me be absolutely clear', he said, 'the debate between Leave and Remain is over'.
No shit, Sir Sherlock. In return, let us be absolutely clear. The battle between Leave and Remain should have been over on 24 June 2016, the day after the EU referendum result that Leave won with the biggest vote ever cast in Britain. Instead, for more than four years, the hardcore Remainer establishment within and outside Westminster has done everything in its considerable power to defy the will of 17.4million Leave voters in a desperate bid to disrupt, dilute and ultimately destroy a real Brexit.
One of the major players in that anti-democratic revolt was the Labour Party under Jeremy Corbyn. And the top Remainer in Corbyn's Labour was his shadow (anti-)Brexit spokesman… Sir Keir Starmer.
Starmer used all of his lawyerly wiles to turn Labour into a Remainer party. He led the demand for a second referendum, which he dreamt would overturn the democratic result of the actual referendum. He was instrumental in creating the mess of a Brexit policy which Corbyn stood on in the December 2019 General Election.
No, Sir Keir, we have not forgotten that you pledged a Labour government would sign a surrender deal with the EU (an even worse one than the Tories), then hold a second referendum on it – in which Labour would campaign for Remain, against the deal it had just done. Only a former director of public prosecutions could imagine such a Brexit stitch-up was just.
Millions of former Labour voters in the north and the Midlands showed exactly what they thought of the Corbyn / Starmer betrayal of Brexit, by kicking out Labour MPs in favour of the Conservatives who stood on Boris Johnson's promise to 'Get Brexit Done'.
Now Starmer is desperate to win back Labour's lost voters in those key 'Red Wall' seats. Cue the symbolism of giving his speech (by video) to an empty arts centre in Doncaster, one of the former mining towns in Yorkshire where Labour took a terrible clogging in December. He promised working-class Red Wall voters that 'never again' would Labour trash their traditional and patriotic values, as it did under Corbyn. 'Take another look at the Labour Party', he begged them, 'we're under new leadership'. The not-so-subtle message was: 'Vote for me – because I'm not Jeremy Corbyn!'
Well yes, one look at the contrasting hairstyles is enough to confirm that. But so what? The problem is, he is still Sir Keir Starmer. Why would Leave voters believe that Labour's arch Remainer was suddenly the man to lead a post-Brexit Britain? And even if they accepted that he was sincere about now embracing Brexit, what would that say about Starmer? That he is another politician prepared to sacrifice his political principles and heartfelt beliefs if he thinks it will give him a chance at grabbing power. That is not a good look with which to win back disenchanted voters.
Corbyn, let's remember, was the 'man of principle' who had always been a Bennite Eurosceptic. Until, that is, the one time when it really mattered – during and after the EU referendum, when he shelved his principles and became a half-hearted Remainer because Labour thought that would win them votes. We know how successful that turned out to be. Now Starmer appears to be attempting a reverse-Corbyn, by publicly setting aside his Remainer principles for reasons of electoral expediency. Either way, working-class voters are unlikely to prove to be the short-memoried goldfish that Labour leaders seem to imagine.
Who is Keir Starmer trying to kid? He wants us to believe that Corbyn and his left-wing clique were solely responsible for Labour's worst election result for 84 years. Far be it from me to defend 'Jezza', but Corbyn and his cronies were far from the only culprits. Starmer was a key member of the London-centric leadership that abandoned the party's traditional voters and values and turned Labour into a party of the metropolitan Remainer middle classes.
Labour's anti-Brexit policy, of which Sir Keir was a key architect, was only the most obvious example of the party's turn away from the working classes, from northern England to Scotland and south Wales. Everything about Labour at the last election reeked of a north London supper party.
Starmer's attempt to reconnect with lost Labour voters this week only served to demonstrate how out of touch he remains. To prove his socialist patriotism, for example, he banged on about how proud he and his family were when he received his knighthood from the queen. It's as if Labour believes that normal voters are such simple folk that they will really connect with and admire politicians who are handed such baubles and empty aristocratic titles by Her Majesty.
Starmer's big speech – hailed as a success by many across mainstream and social media – only demonstrated how far removed Labour still is from its lost millions of voters. Even with the Tory government in disarray over the Covid-19 crisis, Starmer can barely lay a glove on the stumbling Boris. Instead, he supports the government's insupportable new lockdown atrocities, pretends he accepts Brexit, and hopes that the Conservatives will collapse of their own accord.
To enquire about republishing spiked's content, a right to reply or to request a correction, please contact the managing editor, Viv Regan.