Are they trying to scare us witless?
Chris Whitty and Patrick Vallance's scary graphs bear little relation to reality.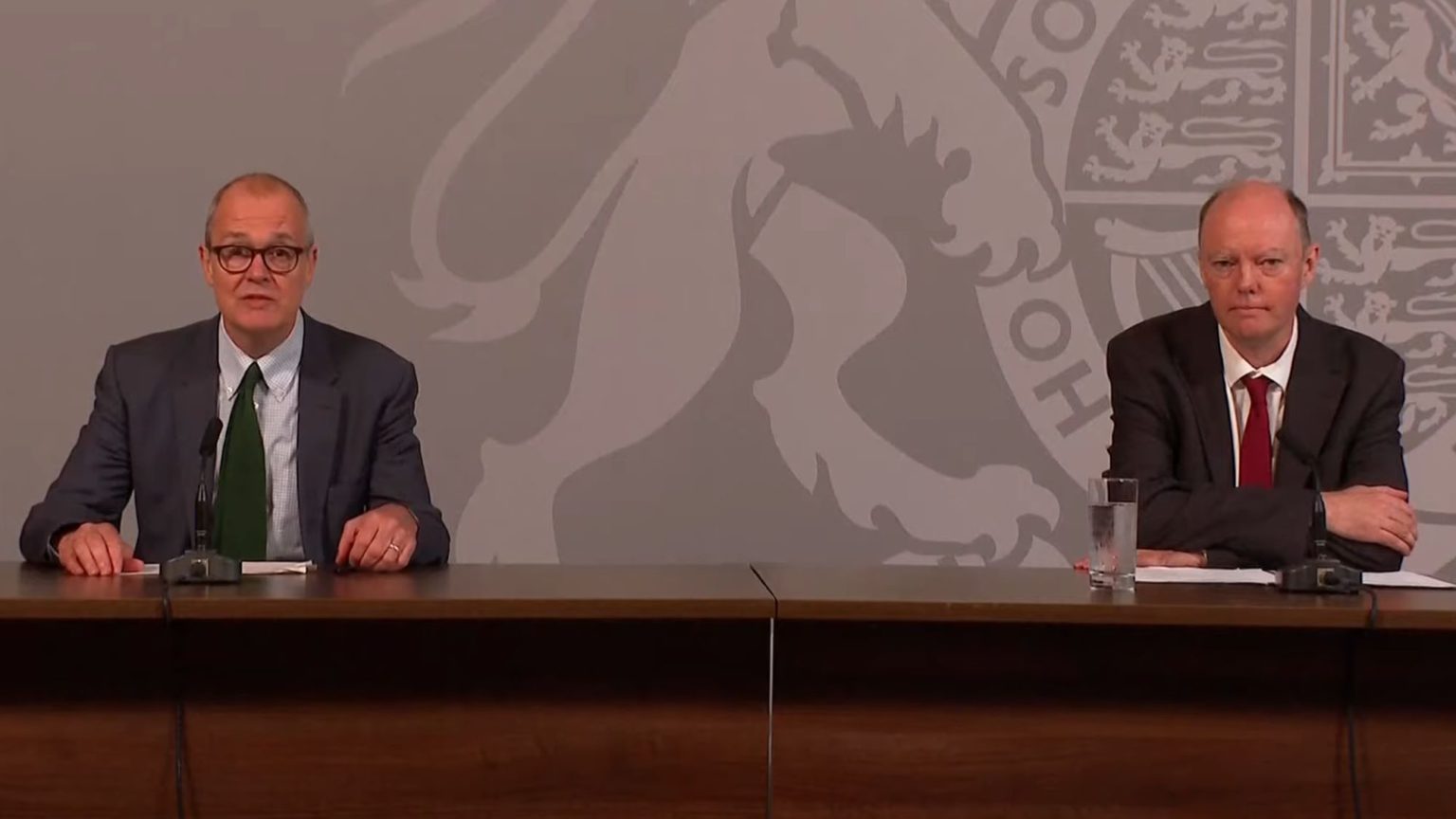 'Covid-19: UK faces 50,000 cases a day by October without action', declared BBC News after today's presentation from Downing Street by Sir Patrick Vallance, the chief scientific officer, and Professor Chris Whitty, the chief medical officer. While Covid-19 isn't going away any time soon, their presentation seemed almost custom-designed to spread fear and justify further clampdowns on our liberties.
The presentation – it wasn't even a press conference as no questions were taken – summarised the situation with the epidemic in the UK. Vallance reiterated the 'hands, face, space' mantra: wash your hands, cover your face, avoid crowded areas, particularly when ventilation is poor. He also rejected suggestions that the virus has become less dangerous. It is a mild disease for most but still capable of causing serious illness and death, particularly in those who are vulnerable through old age or from pre-existing conditions.
He also rejected the idea that false positives can explain rising case numbers. The proportion of people in every age group and every geographical area that are testing positive has been increasing in the past three weeks and this is feeding through to increased hospitalisations and, very slightly as yet, into mortality, too.
For example, government stats suggest that on 31 August, there were 87 new hospital admissions for Covid-19 across the UK. (Wales includes suspected cases as well as cases with a positive test result.) On 17 September, the most recent figures available for England, Wales and Northern Ireland, there were 241 admissions. This doesn't include Scotland as there is currently controversy about its admissions data, but it is likely we are at roughly 250 to 260 admissions per day across the UK.
The real attention-grabber, however, was a graph presented by Vallance on what might happen if cases doubled every seven days. By mid-October, the UK would have nearly 50,000 new cases per day. Vallance suggested in turn that those levels would suggest 200 new deaths per day a month later. It was just an illustration, he claimed, but he must surely have known it would become the headline.
It's a shocking figure because it seems to bear no relationship to reality. Here's the graph of new cases from the government website: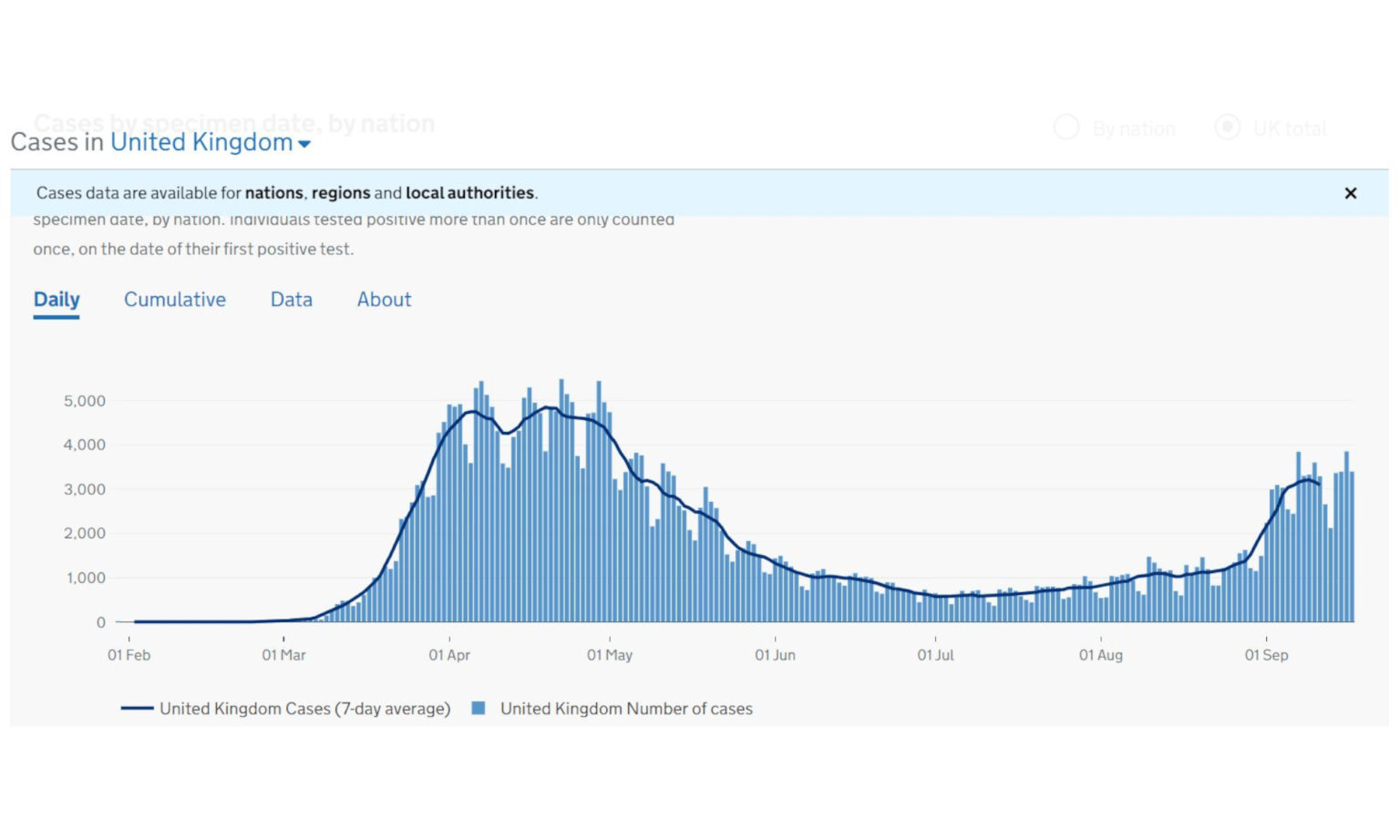 Far from doubling every week, it's not clear that case numbers are even growing at all. The moving seven-day average (the blue line) actually shows a slight fall recently. No doubt there are reporting delays, and perhaps problems with testing mean more cases would be found if everyone who wanted a test could get one.
But based on the figures we have at the moment, it would be just as reasonable to see this as a case of something changing at the end of August into early September that led to a rise in case numbers – more socialising among young people at the end of summer? – but the effect does not appear to be accelerating as yet. It seems wrong to assume the worst.
The graph doesn't fit well with the government's own estimate of rising new cases – between two per cent per day (doubling every 36 days, not every week) and seven per cent per day (doubling about every 11.5 days). In reality, the more people who have had the disease, the harder it will be for it to spread, so there will be a natural tendency for new cases to tail off at some point.
The recent growth in cases has started to feed through to the number of deaths, but they still remain low. The highest number in recent weeks was 24 on 16 September, but that is the only day above 20 in recent weeks. No doubt death figures will rise some more, but are we really at a point where we need to start talking about even more drastic restrictions on our lives?
Vallance pointed to events in Spain and France where numbers are much higher than in the UK. In Spain, there are around 300 new cases per day for every 100,000 people; in France, it has gone up to 192 daily cases per 100,000 people. What he failed to note is that even these numbers, rather than taking off, may be plateauing or even falling now – and the outcome in terms of deaths has been far less scary than March and April.
Covid-19 seems to be a seasonal disease. If it behaves like influenza, for example, we are likely to see a steady rise in cases through autumn and winter. The question is whether these rises justify closing down sections of society and restricting our freedoms, as with the newly implemented 'Rule of Six', which demands – with the threat of stiff fines – that no more than six people may congregate, indoors or outdoors. (Work, education and a few other things are currently excluded from this.)
What is the strategy here? It seems to be to kick the can down the road until the cavalry arrives – a vaccine, a better treatment or both. Yet we cannot expect any of those things to have much impact in the next six months.
Meanwhile, everything else seems to be on hold. Basic liberties are under constant threat. Businesses don't know how to plan. Healthcare and other public services are restricted. Care-home residents live like prisoners. Social life and entertainment, like theatre, is curtailed or closed altogether. Parliamentary scrutiny of Covid legislation is almost non-existent. There is no doubt that this is causing non-Covid deaths and widespread misery.
Whitty at least seemed aware that there is a line to be drawn between precaution and excessive clampdowns. But given the chaotic response of the government to date, the balance consistently seems to be in favour of precaution. Worse, there seems no one to hold the government to account. The other major political parties seem even more gung-ho in support of restrictions than the Conservative government.
We may not want to die from Covid-19, but is this how we want to live?
Rob Lyons is convenor of the Academy of Ideas Economy Forum.
Picture by: YouTube.
To enquire about republishing spiked's content, a right to reply or to request a correction, please contact the managing editor, Viv Regan.