In defence of Tony Abbott
The woke witch-hunting of the former Oz PM shows how intolerant the PC elites have become.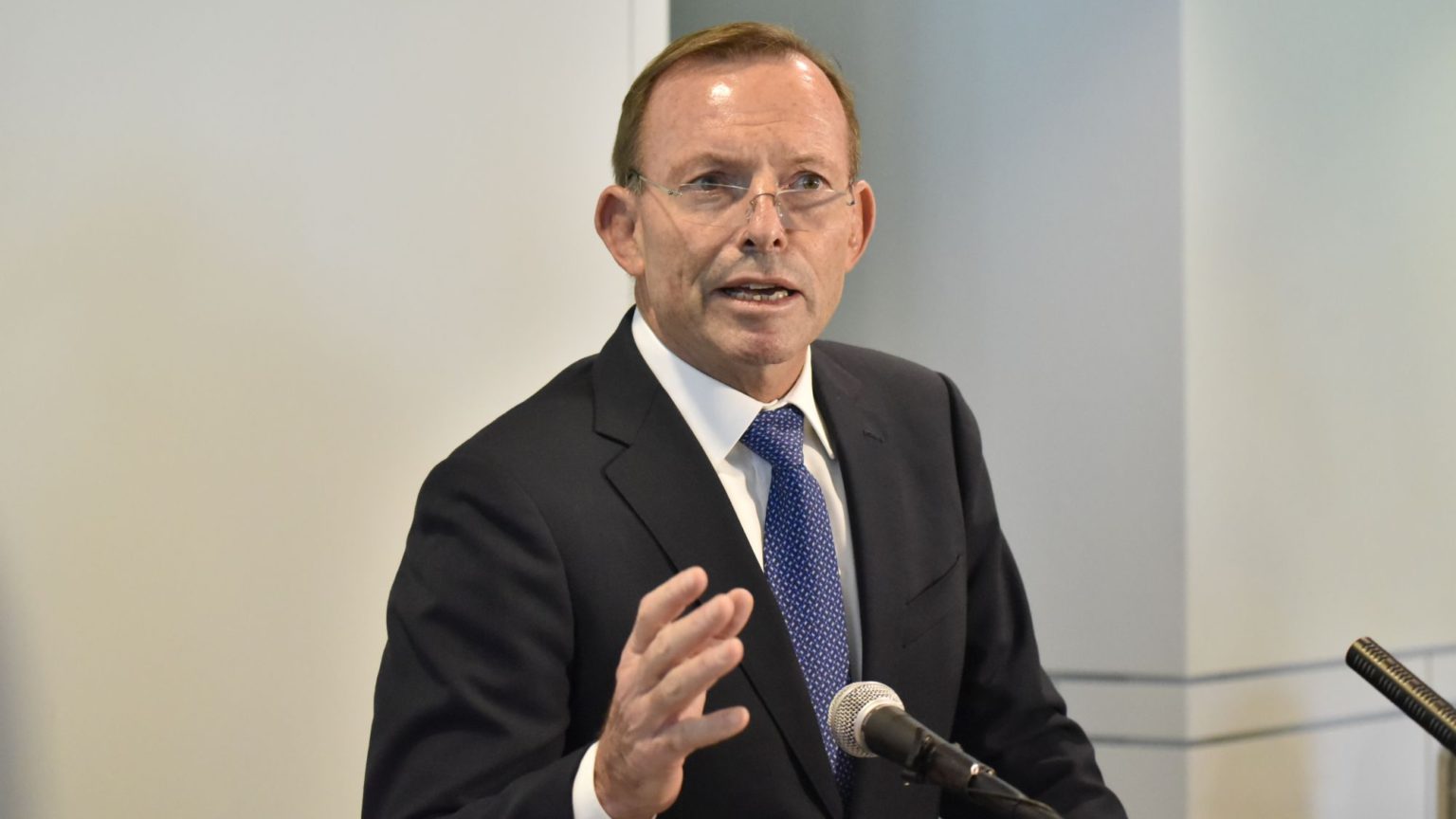 People who say cancel culture doesn't exist have some explaining to do. They need to explain the hysterical demonisation of Tony Abbott. They need to explain why the self-righteous sections of the media and political elites have spent the entire week trying to get Abbott expelled from public life and ideally booted out of Britain, too. They need to explain why Abbott's traditional views on marriage and parenting somehow make him unfit to be co-president of the UK Board of Trade. They need to explain why every virtue-signaller in the UK, from the Twitterati to the death-rattling Corbynista movement, has devoted an insane amount of energy to this attempted excommunication of a man apparently guilty of wrongthink.
Of course cancel culture exists. And this week's outburst of Abbottphobia among the UK chattering classes is hard proof of that. It is reported that Abbott, a traditionalist, a former leader of the Australian Liberal Party, and a former Oz PM, is being lined up to join the UK Board of Trade and to assist in post-Brexit trade talks. Cue meltdown among Britain's self-elected guardians of correct thought.
'He can't possibly be given this role because he thinks marriage should be between men and women only!', they're crying, madly, given that it surely makes not one iota of difference to the future of British trade that one of the people involved in talking about it is sceptical about same-sex marriage. What they are essentially saying is that he is a sinner against PC, a possessor of dangerous thoughts, and therefore he is morally unclean and should be cast out of anything to do with British political life.
Abbottphobia intensified to a bizarre level this week as Abbott arrived in the UK for meetings with officials. Across the media and in political circles, the knives were out. Kay Burley went viral (every contemporary newsreader's dream) when she interrogated the UK health secretary, Matt Hancock, over Abbott's rumoured appointment. Why is the government employing a 'homophobic misogynist', she asked, to squeals of delight from tragic Labour supporters and Remainers who, having lost every election in recent years, are now forced to get their political thrills from watching TV anchors berate politicians.
Pink News leapt on the Abbott-bashing bandwagon, reporting on the outrage that has greeted the British government's rumoured recruitment of this 'homophobe' and 'misogynist', which was a very bold move given Pink News' own well-documented misogyny and its vile demonisation of any woman who questions the transgender movement as a 'TERF' (a PC term for witch).Pink News definitely got some good dirt on Abbott, though – it revealed that he once said that 'children should have both a mother and a father'.
Call the speechpolice! How dare he promote such foul, hateful propaganda! By this reckoning, the vast majority of people in the UK would be morally unfit to work in British public life, given how many of us are likewise guilty of the hate crime of thinking that it's pretty good for kids to have a mum and dad. This is a powerful reminder of cancel culture's true target: not the well-known figures who are getting all the flak, but rather the population at large, who are constantly reminded through these spectacles of cancellation that there are some thoughts they shouldn't hold, and if they do they should STFU.
Politicians got in on the act, too. Labour's Emily Thornberry said it is 'staggering' that the government is thinking of working with this 'offensive, aggressive, leering, gaffe-prone misogynist'. What an interesting choice of adjectives. This looks less like a considered political critique and more like Thornberry having another one of her snobby, madam-like outbursts against 'vulgar' people, in this case against an Australian man who must, of course, be offensive, aggressive and leering. Lady Nugee is frightfully turned off by such creatures. The possible Aussie-bashing behind the hate for Abbott could also be glimpsed in a comment by Tory MP Caroline Nokes, who said on the BBC's Politics Live that this 'bloke from Australia' should not be anywhere near our Board of Trade. Bloke from Australia. What an interesting way to describe a former prime minister. The British upper classes' disdain for the convict nation of blokes and idiots is starting to show.
And what exactly are Abbott's outrageous views? Well, he was opposed to same-sex marriage. As were Hillary Clinton and Barack Obama for a long time. He thinks opposite-sex parenting is better than single-sex parenting. He once said women should ideally be virgins when they get married. In other words, he has traditional beliefs on some sexual and personal matters. To which the only legitimate response is: so what? What does that have to do with trade and Brexit? Abbott is a practising Catholic, and I know this will come as a shock to the godless technocratic elites, but many practising Catholics are sceptical of same-sex marriage. Many also believe in traditional forms of parenting and some are even against sex before marriage (not many anymore, granted). Are we saying that practising Catholics – or Muslims, for that matter – have no place in public life? The whiff of anti-Catholic bigotry in the Abbott-bashing is very concerning.
The attempted cancellation of Tony Abbott shows what intolerant times we live in. The woke elites genuinely cannot even countenance the idea of someone they disagree with on moral and sexual matters having any role in public life. Maybe they should draw up a blacklist of individuals and religious faiths that must be kept far, far away from political discussion.
The truth is that Tony Abbott is not a jeering, aggressive, Trumpite idiot. He is a very knowledgeable, politically sensitive politician whose resistance to groupthink on everything from climate-change alarmism to same-sex marriage actually makes him well-suited to something as tough as the post-Brexit trade talks. He doesn't nod along to the finger-waggers and thought-enforcers that are legion in the modern elites, and that's a good quality. It's a quality we'll need when pushing Britain into the world in the Brexit era.
Brendan O'Neill is editor of spiked and host of the spiked podcast, The Brendan O'Neill Show. Subscribe to the podcast here. And find Brendan on Instagram: @burntoakboy
Tony Abbott appeared on The Brendan O'Neill Show in 2018. You can listen to the full interview here:
To enquire about republishing spiked's content, a right to reply or to request a correction, please contact the managing editor, Viv Regan.