A tragic choice
Neither Trump nor Biden can move the US forward.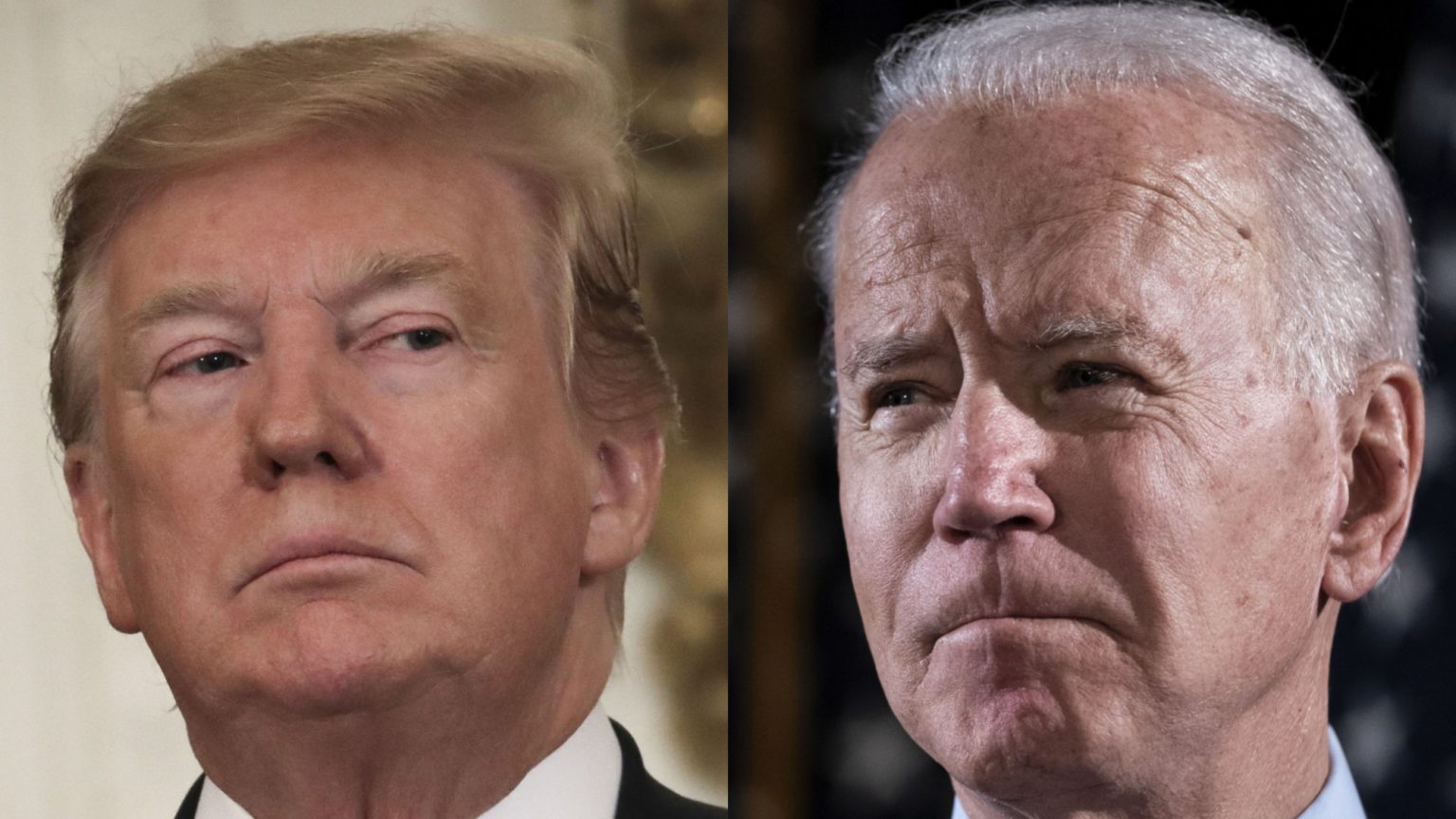 Coming into the Republican Party's national convention this week, Donald Trump has a lot to be unhappy about. Most Americans disapprove of his job performance, and nearly 70 per cent think the country is on the wrong track. And if polls are any indication, he will be out of a job come November. His Democratic opponent, Joe Biden, is ahead by eight percentage points nationally, and is also leading in key battleground states. If Trump is going to turn things around, the convention is perhaps his best opportunity to make this happen.
Trump being Trump, he takes his latest misfortunes personally. Covid-19 was unfair to him, wrecking his 'beautiful' economy. But given his amateurish performance in the White House, including his mishandling of the coronavirus response, Trump ought to feel lucky that he is still in with a shot to win re-election this year. After all, he trailed Hillary Clinton by a similar margin in the polls four years ago, so it's not impossible.
Trump should feel especially grateful for having Biden as his opponent. This may not have been all that apparent a week or so ago, but the Democrats' national convention last week highlighted the limitations of Biden and his party's approach.
Sure, when it comes to character and human warmth, Biden draws a sharp contrast with Trump. And that's the message he and his fellow Democrats drummed home all last week. Celebrities and Republican defectors all described what a great guy Biden is. If the election was to be determined by an assessment of personal character alone, Biden would win by a landslide. But it's very unlikely that it will be the sole criterion voters will consider.
The homage to Biden at the Democratic convention came at the expense of policy details. We heard very little about what Biden and his party would actually do if elected. There was the occasional infomercial on topics like gun violence (guns are bad), immigration (immigrants are helpless victims), and climate change (it's a crisis on par with race relations), but nothing of substance. With so little said about their political programme, the Democrats left a wide opening for the Republicans this week to draw a contrast and offer more specifics.
The Democratic convention gave us a clear picture of Biden's strategy for the upcoming election: make it all about Trump and his bad character. As it happens, that was Hillary Clinton's main pitch in 2016, and we know how that turned out. Can it work for Biden in 2020? Biden is counting on two key differences from four years ago: Trump has proven to be inept and chaotic in office, and he is not as unlikeable as Hillary.
What's striking is how Biden and the Democrats have given up even trying to win back the white working-class voters in the swing states. We heard virtually nothing in the Democratic convention that sought to appeal to working-class concerns. Many of these people were former Obama voters who switched to Trump in 2016, and yet only four years later they are effectively being written off. Meanwhile, Trump's strategists are doing the opposite: doubling down on the working-class electorate. As a recent Wall Street Journal report highlighted, the campaign has identified a large number of non-college-educated workers in key swing states like Michigan and Pennsylvania who did not vote in 2016. They believe a 'silent majority' of these workers can be motivated to turn out to vote for Trump in November.
Biden's electoral strategy is risky. Rather than offer a broad canvas that can appeal to the country as a whole, he is targeting certain demographic groups over others. In particular, he hopes to win over disaffected, more well-off Republicans in the suburbs, especially women. That started to happen in the midterm elections in 2018, but it remains to be seen if such a switch-over will occur in sufficient numbers to outweigh the workers in the Rust Belt he is dismissing.
Moreover, the strategy of focusing on Trump's personality may not be as favourable as first appears. For a start, a focus on personal qualities will inevitably lead to a question about Biden's mental soundness. Republicans tend to overstate Biden's senior moments, but it's evident to all that Biden has lost a step. Further, Democratic strategists are positioning Biden as a statesman-like figurehead, rising above the fray, but it's questionable that will work. You can see the attraction from an internal Democratic Party perspective, as it means the various factions can project their own interpretation on to Biden, seeing in him what they want, thus maintaining unity. But Biden-as-figurehead is a less compelling proposition to those outside the party, as most people want to vote for a president who is an active leader, not just a stand-in.
So, with Biden's potential weaknesses on display, the question is: will Trump be able to capitalise? Trump and the Republicans will certainly try to make their mark at this week's convention, but it is looking unlikely.
The pandemic and the related issue of the economy are likely to be key determining issues of the election. With around 180,000 dead from the virus and the economy in a serious downturn, Trump starts in a deep hole. Yet Biden and the Democrats have given him an escape route. The party has become associated with blanket restrictions on activity, including closing down schools, and these are not popular policies. With many workers and small-business owners in a precarious position in today's economy, Biden is suggesting he might impose a second lockdown. As he told ABC News, 'I would shut it down; I would listen to the scientists'. And his big idea to combat the coronavirus is to mandate the wearing of masks, which doesn't go down well with many people.
That said, you shouldn't bet on Trump handling the issue of the pandemic adeptly now. He has proven unable to offer a balanced message, blending a cautious reopening of the economy with trusting individuals to do the right thing when it comes to social distancing. Instead, he appears to be as equally one-size-fits-all as the Democrats, whipping up opposition to masks per se and politicising public health. Combine this with his penchant for promoting miracle cures and bashing federal health agencies and it is hard to see Trump changing his tune and reassuring people.
Another issue that Trump could potentially take advantage of is rioting and violent crime. This is emerging as a critical issue: a recent Pew Research Center poll found that 59 per cent said it is 'very important' to their voting decision in November. Again, Biden and the Democrats are politically vulnerable here. Along with the major media, they have been loath to utter a word about riots and crime, for fear of tarnishing Black Lives Matter and playing into Trump's hands. At the Democratic convention, Chicago mayor Lori Lightfoot spoke about racial justice, but failed to mention widespread rioting in her city – and which required her to bring in a heavy police presence to protect her home.
We can expect Trump to try to make the most of this issue at his party's convention. But so far, his 'law and order' pitch has not been very effective. Trump's heavy-handed responses (like sending in the National Guard to multiple cities) and fiery rhetoric tends to inflame, rather than calm, these situations. In the eyes of many, especially the Republican voters in the suburbs who he wants to hang on to, Trump does not restore 'order' – in fact, he seems to be the instigator of disorder. They can easily imagine four more years of Trump-initiated chaos.
Finally, if the Republicans were wise, they would downplay Trump and their policies and other party figures. But they aren't wise, and that's not going to happen. Instead, the agenda is packed with Trump family members and hangers-on. The Republican Party's platform has been replaced by a campaign press release called 'President Trump's Second Term Agenda', which gives the idea that there is nothing more to the party other than Trump's re-election. The convention thus kicks off with an embarrassing picture of a party subsumed to a cult of personality.
Let's face it, neither Trump nor Biden is an image of dynamism and health. You can't help but think that their physical states also reflect the poor health of their respective parties, and American politics generally. At a time when the country faces new challenges, both candidates seem to promise to move the US backwards in time, a 'return to normalcy' – Trump to the days before the pandemic; Biden to the years before Trump. Yet, deep down, few believe that either candidate can deliver on a 'return to normalcy'. In a time when a pandemic has dominated our political imagination, the presidential election is just adding to American's anxiety about the future, rather than providing reassurance that our leaders know the way forward.
Sean Collins is a writer based in New York. Visit his blog, The American Situation.
Picture by: Getty.
To enquire about republishing spiked's content, a right to reply or to request a correction, please contact the managing editor, Viv Regan.