Kamala Harris and the scourge of identity politics
The Democrats have embraced identitarianism. This is such a bad move.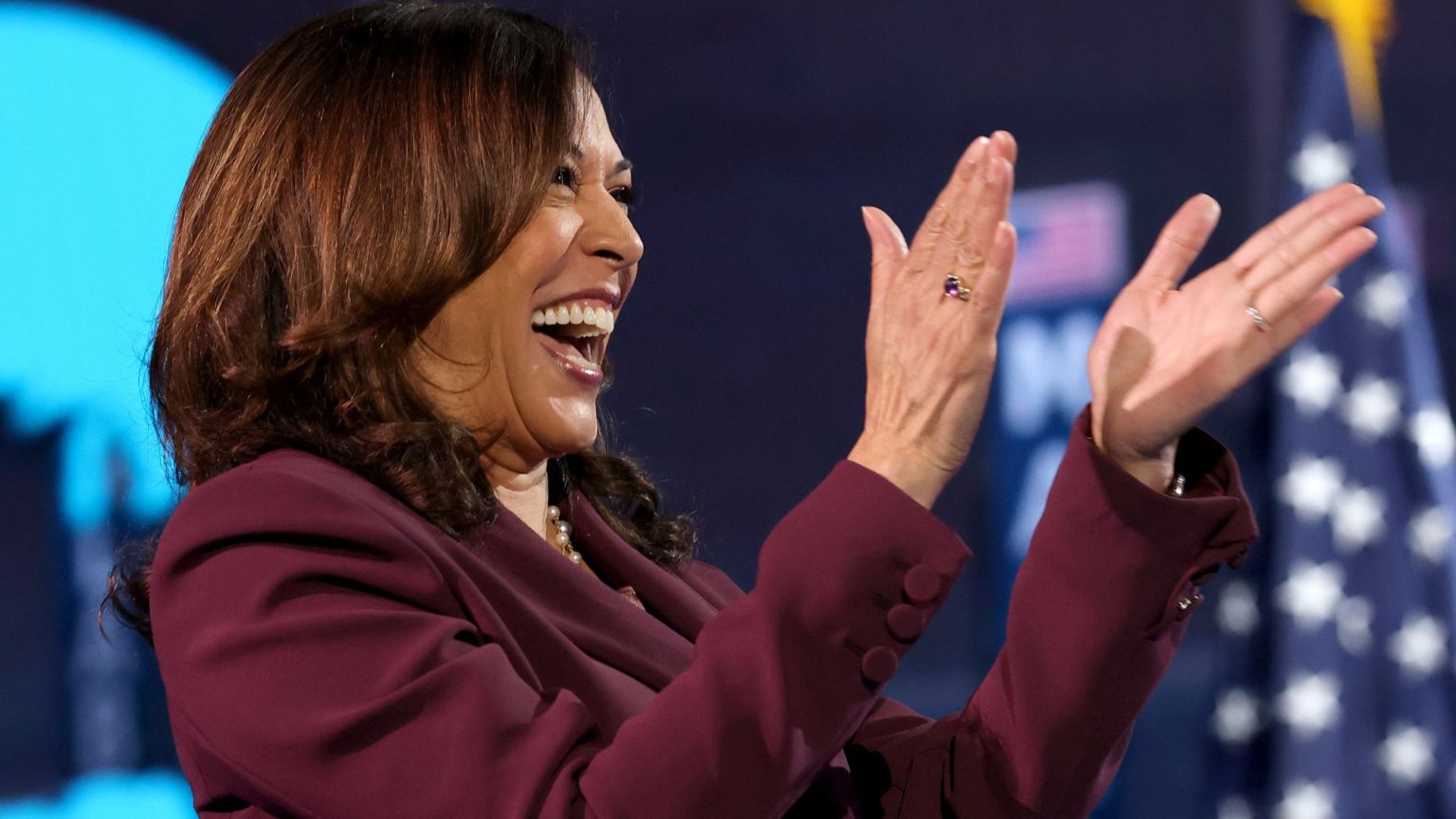 Anyone who thought, and perhaps hoped, that the Democrats might tone down their divisive politics of identity in the run-up to the presidential election will have had a rude awakening during the DNC this week. The official unveiling of Kamala Harris as the Dems' VP candidate, and the race-focused gushing of the media elites who see Harris as the antidote to Trumpism, confirmed that identitarianism is pretty much all the party has left.
In the words of Buzzfeed – approving words, naturally – Harris's acceptance speech at the DNC confirmed 'how important her identity will be' in the presidential race. She talked about her blended family, her Indian mother and Jamaican father, her African-American activities at college.
And of course she railed against the scourge of 'structural racism'. The disproportionate impact of coronavirus on black and brown people proves that this sickness is not an 'equal opportunity offender', she said. This was a dispiriting portent of political life in the Kamala era: when America needs unity in the face of a serious health crisis, Harris gives us yet more racialisation, yet more bending of every issue and problem to the myopic racial imagination of the new elites.
Strikingly, she talked about Covid-19 almost as a sentient force. Sure, 'this virus has no eyes', she said, 'and yet it knows exactly how we see each other, and how we treat each other'. It knows. This was her cue for the key point of her speech – how to deal with the virus of racism. 'There is no vaccine for racism', she said: 'We have got to do the work.'
Her meshing of the Covid pandemic with the post-George Floyd explosion of racial debate was pure identitarianism. It summed up the belief of the identity-obsessed elites that America is infected with a disease of racial hatred and it falls to the well-educated and socially aware to find a cure for it. In the past, an aspiring leader might have talked about galvanising America's people and resources to find a treatment for a destructive virus like Covid-19; now we have an aspiring leader who uses a destructive virus as little more than a segue into her desire to galvanise her fellow right-minded people to find a treatment for the racism virus infecting so many Americans.
Harris's identity was the focal point of comments by the Obamas and Joe Biden, too. Barack Obama said her 'story' would inspire people. What about her policies? There was, bizarrely, much talk of 'little girls'. Michelle Obama said that when she was 'a little girl' she got used to 'hardly ever seeing anyone' who looked like her in the newspapers or on TV. But now, thanks to Harris, 'all those girls growing up today… will be able to take it for granted that someone who looks like them can grow up to lead a nation like ours'.
Is politics for adults or children? Is it about inspiring voters (adults) to support a vision for the best way to run society and organise and distribute its resources, or is it about sending a message to little girls (not little boys?) about people who look like them? The little-girls discussion, where Harris's role is reduced to one of a kindergarten teacher keeping kids happy, was pursued by Biden too. '[L]ittle black and brown girls, who so often feel overlooked and undervalued in their communities… today, just maybe, they're seeing themselves for the first time in a new way', he said.
The strange focus on the feelings of little girls points to an infantilising dynamic in the politics of identity. For all the discussion of Harris as an empowering figure sending a message of strength to people of colour, in truth even her own impressive achievements are downplayed or pushed aside when she is reduced to a tokenistic figure whose most important value is apparently her heritage and skin colour.
From the front page of the New York Times to the world of social-media influencers, Harris has been talked about primarily as a woman of colour. Not as a former district attorney and attorney general or as a senator, but as a woman with a certain shade of skin. This is how identitarianism dehumanises people. Harris's chief role, it seems, is to increase the visibility of non-white people. Perhaps she should be seen and not heard? No wonder the discussion of this high-achieving 55-year-old woman can so casually drift into chatter about little girls.
What's striking is how much cultural and political pressure there is on Harris to define herself as an identity first and a politician second. As a writer for the New York Times says, yes it is 'important to assess… the impact of her policy positions and credentials', but we must also focus on 'the cultural resonance of her selection'. If the headline to this NYT piece is anything to go by ('Kamala Harris's Cultural Impact') it seems that this side of Kamala – her skin colour and culture – is more important than the other side: her policies and beliefs.
Some have even chastised Harris when she has tried to shift attention away from her racial heritage. Writing in Newsweek, Oneka LaBennett, a professor at the University of Southern California, recalled the time last year when Harris was being pressed on her racial identity and she replied: 'I describe myself as a proud American.' LaBennett says 'guarded answers like that won't cut it'. Instead, if Harris wants to 'meet the moment', she will have to 'openheartedly address what binds and divides African-Americans and Asian-Americans, while reflecting on her place within [these] two communities'.
So Harris can never simply be a proud American? Apparently she must always be an African-Asian-American, and she must talk publicly about this heritage, and analyse it, and promote it. Here we can see how the politics of identity grates against old ideals of collectivity and even citizenship. Immigrants to America and their descendants once aspired to become American, to be 'proud Americans', in fact. Now one such daughter of immigrants is being told off for referring to herself in such terms. In the past, it was racists who would have told people like Harris that she isn't a real American; now it is the PC set who reprimand her for describing herself as an American and cajole her into discussing her apparently more real identity.
But of course, Harris is no innocent in all of this. She has embraced the politics of identity, in the same way that Hillary Clinton – having insisted in 2008 that she was not running as a woman – embraced the persona of grandmother, mother and woman when she entered the 2016 race. Indeed, Harris has slammed the critics of identity politics. 'I have a problem, guys, with that phrase, "identity politics"', she said at a Democratic meeting in New Orleans in 2018. 'Because let's be clear, when people say that, it's a pejorative.'
But if the phrase 'identity politics' is used as a pejorative, that's because it is something we should disapprove of. This race- and gender-obsessed politics is bad for everyone. It's bad for members of ethnic-minority groups, who come to be patronised and flattered and treated as tokens. It's bad for democracy, which works best when politicians appeal to the electorate at large rather than to fragmented community groups in a PC version of the old pork-barrel politics. And it's bad for social harmony and open debate in that it pits communities against each other (whites are privileged, blacks are victims) and it grants people the right to speak primarily on the basis of their heritage rather than the content of their minds. This is happening to Harris right now. She seems to have been picked, and is certainly being celebrated, because of her identity rather than her intellect or vision.
Back in 2018, Harris said the phrase identity politics is 'used to divide'. No, it's identity politics itself that divides us. It is anathema to social solidarity, national identity and freedom of speech. Deviate from it and you will be cancelled. Try to define yourself as an American or a citizen and you will be told off. Insist that you are colourblind on matters of race and you will be demonised. Identitarianism is pushing out everything else. It's the only game in town. If the Democrats think it's the game that will help them win back the voters they have lost, they are in for a shock.
To enquire about republishing spiked's content, a right to reply or to request a correction, please contact the managing editor, Viv Regan.