Free speech is not just for people you agree with
Too many on the right are selective in their approach to free speech.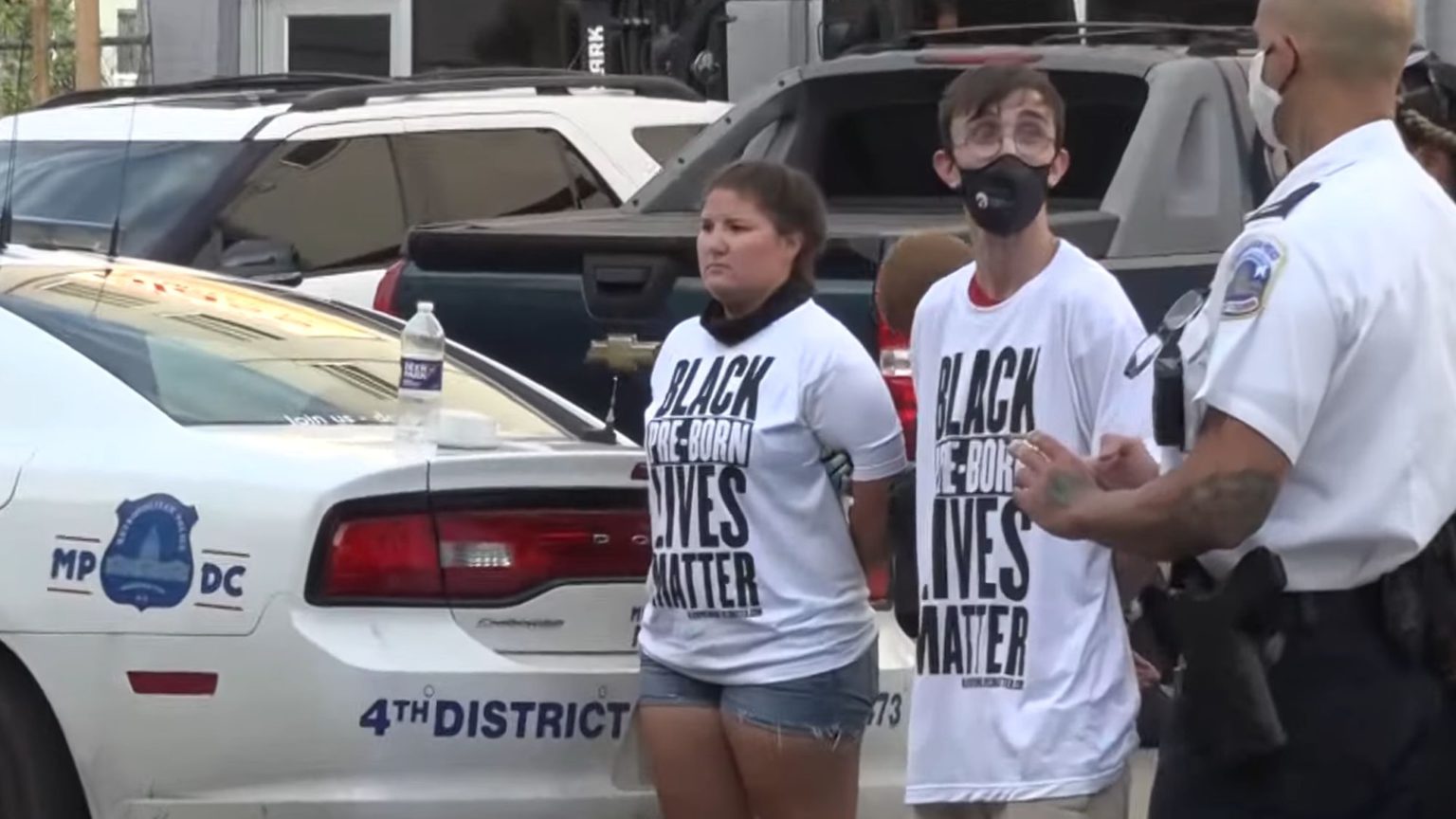 On 1 August, early in the morning, two people – one a student at Towson University, the other an employee of Students for Life of America – were arrested outside of a Planned Parenthood facility in Washington, DC for writing the phrase 'Black Preborn Lives Matter' on the sidewalk with chalk.
The organisations behind the act, the Students for Life of America and the Frederick Douglass Foundation, claim they had permission from the city, which the city denies. Regardless, the pair were arrested and taken off in handcuffs by the police.
Their arrest has been decried by media figures across the right, and rightfully so. The arrests are inexcusable. The right to protest is a critically important part of a free society. The idea that we, as citizens, can advocate for our beliefs, regardless of what those beliefs are, is deeply enshrined in the American Constitution. Pro-life activists, like everyone else, have a First Amendment right to advocate for those beliefs – especially if, as the activists claim, they had a permit. And even if they didn't, all they did was chalk some sidewalk. They didn't throw a Molotov cocktail. It's not the sort of action that ought to land you in jail.
Police shouldn't be arresting peaceful protesters, simply because they are protesting. The free expression of ideas, through peaceful protest, is critical for America to remain, well, American. In this regard, complaints on the right are firmly justified.
But these complaints have gone further, straying on to shaky ground. For some on the right, the offence is not simply that the police arrested these pro-life protesters — it's that the police arrested these pro-life protesters and didn't arrest the various Black Lives Matter protesters over the past several months.
First of all, that's not true. Thanks to the fact that we all have cameras on us 24/7, we have seen countless cases of police abuse against peaceful BLM protesters. Policemen fired rubber bullets at a woman just holding a sign; they bashed and beat a reporter, and so on, and so forth. There are hundreds of examples. Just look at Portland, where, a couple weeks ago, unmarked federal agents were nabbing people in the street. BLM protesters have endured their fair share of police abuse.
Put that aside, however, and the complaint is still flawed. The police should not be arresting protesters equally. That the police acted unjustly once doesn't justify other acts of injustice.
If we criticise the police for arresting peaceful pro-life protesters – and we should – ought we also criticise them for attacking and arresting peaceful protesters against police brutality? The right to free speech is viewpoint ignorant – that means it shouldn't matter if you're pro-life or pro-choice, for or against police reform. What matters is that you have a fundamental right to protest.
Where's the outrage from people on the right for the abuses heaped on those in the George Floyd protests?
If you only defend free speech when it is convenient for you, then it's not a defence of free speech at all. Politics in a free society requires that all groups of people be able to advocate their views freely and safely without fear of reprisal. When the police and the state start picking winners and losers, then the government is functionally taking a side in society's debate.
As things stand, the state is pro-abortion and the state is against police reform. If you take the other position on either of these – if you are pro-life, if you are for police reform – then you should support free speech, and the right to disagree with the state without being treated like a criminal. As conservatives and as liberals, as Americans, and more broadly as people living in a free society, it's incumbent on us all to defend free speech always, regardless of the viewpoint, no ifs or buts: Free Speech Matters.
Sam Rutzick is a contributor to Young Voices and a graduate of Columbia University.
Picture by: YouTube.
To enquire about republishing spiked's content, a right to reply or to request a correction, please contact the managing editor, Viv Regan.