Boris's obesity strategy treats us like children
People are not tricked by advertisers into eating unhealthily.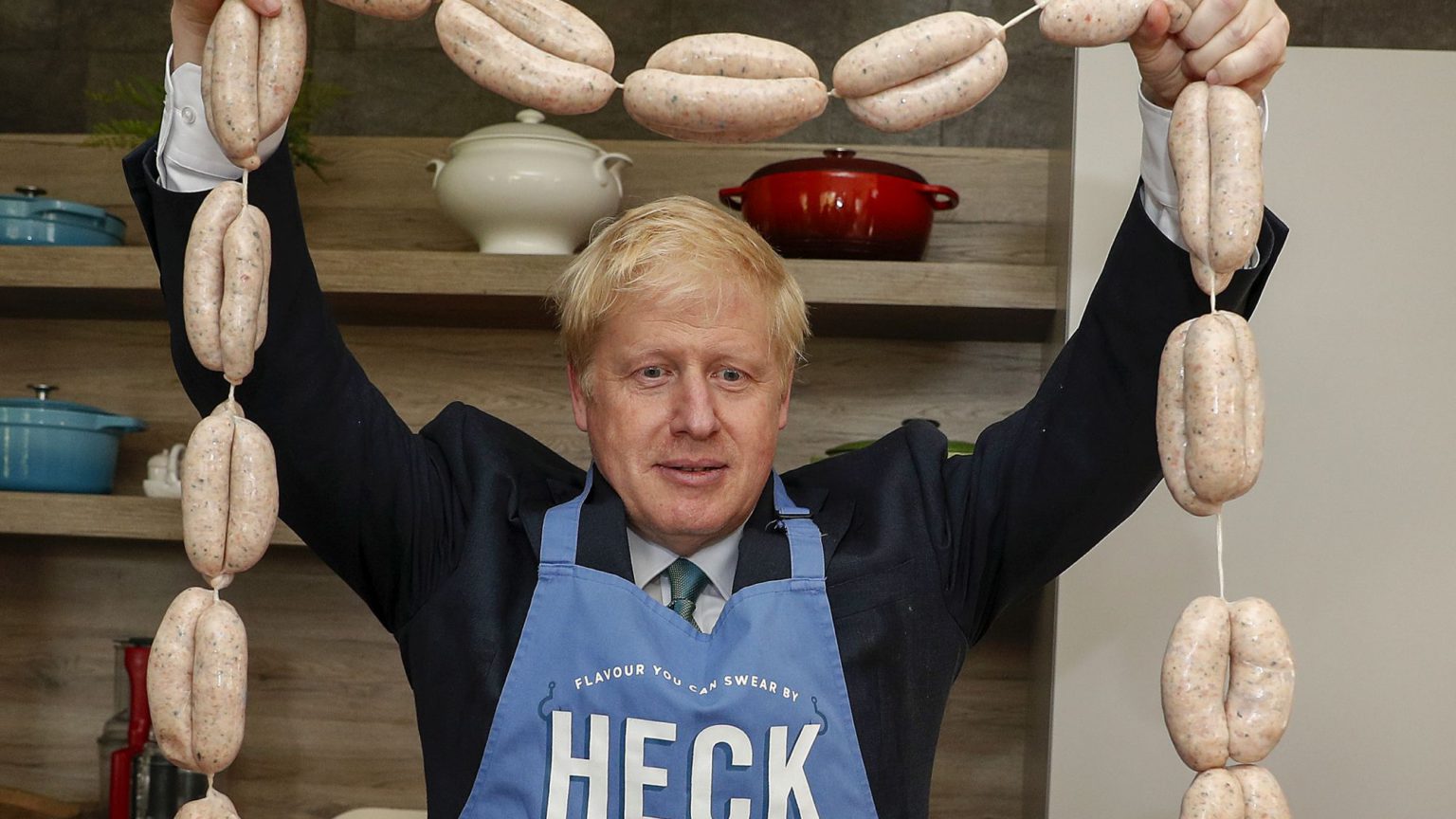 Here's the story: our chubby, fun-loving prime minister, Boris Johnson, has a nearish-death experience with Covid-19, experiences a Damascene conversion about his unhealthy lifestyle, loses a bit of weight, and realises that it is vitally important that we all do the same. If that means another round of 'nanny state' fussbucketry, then so be it, despite his widely proclaimed 'libertarian instincts'. Thus we have a new obesity strategy.
The Westminster government's policy paper, Tackling Obesity: Empowering Adults and Children to Live Healthier Lives, has drawn wide praise. At last, say health campaigners, we have a government that is willing to make the tough decisions. Celebrity chef and food crusader Jamie Oliver told LBC: 'I'm actually doing something I didn't think I'd be doing. I'm applauding Boris for doing something bold, forthright, having not one, but a handful, an ambush of initiatives I believe will make a difference.'
This is a high praise for a document that includes little more than micromanaging tweaks, more NHS intervention with patients, and an illiberal advertising ban. It will do nothing for obesity rates – let alone rates of obesity before any putative 'second wave' of Covid-19 infections — its justification. It is more pointless interference in our lives. We can be pretty confident that these policies won't work because they are pretty much the same policies trotted out time and again.
One proposal is to put calorie counts on restaurant and takeaway food from businesses employing more than 250 people. This won't make much difference because they are quickly ignored and most of our food is eaten at home anyway. And if you're ordering a pizza or a kebab, you probably weren't worrying about your waistline much anyhow. In any event, many of the big chains provide nutrition information already, if you want to find it.
There will be a new campaign to encourage us to eat healthily – including an app! (Health secretary Matt Hancock will be delighted, he loves an app.) Never mind that over 10 years ago, New Labour introduced Change4Life, continued by successive governments, that provided a family of cartoon characters suggesting we make small changes to their lives. There's an app for that, too, and the whole thing has clearly achieved bugger all but provide a handy stipend for a coterie of lifestyle meddlers and advertising executives.
Along with more calorie labels (including on alcohol), there will be a review of the 'traffic light' labelling system. Again, we've had that for a while already and it's not achieved anything. Calorie labels on mass-produced booze products are not particularly objectionable, but I don't imagine knowing that a pint of lager has 200 calories in it will stop anyone from having another drink.
Perhaps the biggest change will be 'to end the promotion of foods high in fat, sugar or salt (HFSS) by restricting volume promotions such as buy one get one free, and the placement of these foods in prominent locations intended to encourage purchasing, both online and in physical stores in England'.
This may make food more expensive, but more likely there will be workarounds. For example, my local Co-op recently had a deal on big bags of own-brand crisps – £1.70 for one bag, £2 for two bags. Would it be banned? How much of a discount for buying more is a 'volume promotion'? If you're buying snacks or sweets anyway, are you going to ignore HALF PRICE slapped on the shelf, even if it's not at the end of the aisle?
The worst idea is the proposal to ban advertising of foods high in fat, sugar or salt (HFSS) before 9pm. A ban on promotion is still an attack on free expression, even if the aim is corporate profit. It denies us the right to find out about products and decide for ourselves whether to buy them or not. There is even the perverse effect that if a company produces a lower-fat version of a product, but it still counts as high fat, they can't advertise it before the 'watershed'!
The ban will impact not just on frozen pizza and cheeseburgers, but also on olive oil (high in fat), cheese (high in fat and salt) and honey (too much sugar, even if it is 'natural'). A similar ban by Transport for London led to advert bans for a cuddly, right-on home delivery company and even on some of TfL's adverts. Moreover, the existing ban on adverts in programmes aimed at children hasn't made a blind bit of difference to the much-inflated official rates of childhood obesity. Why does anyone think that extending the ban will help? More likely, it will hit the production of new programmes on TV networks that rely on advertising.
What's remarkable is that Public Health England – which has been worse than useless in its handling of the current pandemic – is now at the forefront of promoting this kind of nonsense. Clearly, sitting about devising ways to shame us about our eating habits is a damn sight easier than delivering a viable system for testing to see if people are infected with a killer virus or ensuring we've got enough protective equipment for medical and social care staff.
As for Boris's personal story of how a bout of ill-health encouraged him to change his ways? Well, that's not atypical of how we coast along till life gives us the proverbial kick in the arse and we decide that we should try getting some exercise and eating more salad. It was a decision Johnson made all by himself. No doubt he had a little nagging from his much younger fiancée, Carrie Symonds, about how it would be a good idea for him to be around to watch his new baby son grow up.
He didn't need more nanny-state policies to do it. It is seriously doubtful that Johnson's substantial waistline was a result of him reacting like one of Pavlov's dogs to a pre-watershed advert for Just Eat and firing off an order for chicken chow mein, mixed starters and a big bag of prawn crackers. There's plenty of evidence to show that adverts work to persuade us to buy a particular brand or use a particular service, not whether we eat at all.
Even worse, throwing money at policies like these does nothing to help those people for whom obesity is a significant problem in their lives. Not only is being very overweight linked to various health conditions, but it is also just bloody inconvenient, even disabling in extremis. It also attracts considerable opprobrium. According to health campaigners, we live in an 'obesogenic' environment, surrounded by tasty and convenient treats. Regardless of whether that is true or not, we certainly live in an obesophobic environment, where rotund people are attacked as weak and stupid, doomed to an early grave and accused of bankrupting the NHS. The media are constantly telling us that thin is best and how we really must change our lives.
In those circumstances, the policies presented in the obesity strategy will make little difference. They may even make things worse. Permanently losing large amounts of weight is far from easy.
Advert bans, calorie counts and prescriptions for gym membership will make little difference to obesity rates – but they will chip away at our freedom to choose how we live.
Rob Lyons is convenor of the Academy of Ideas Economy Forum.
Picture by: Getty.
To enquire about republishing spiked's content, a right to reply or to request a correction, please contact the managing editor, Viv Regan.