Who would Black Lives Matter erect a statue to?
The row over Colston's plinth reveals the self-regard and historical illiteracy of some campaigners.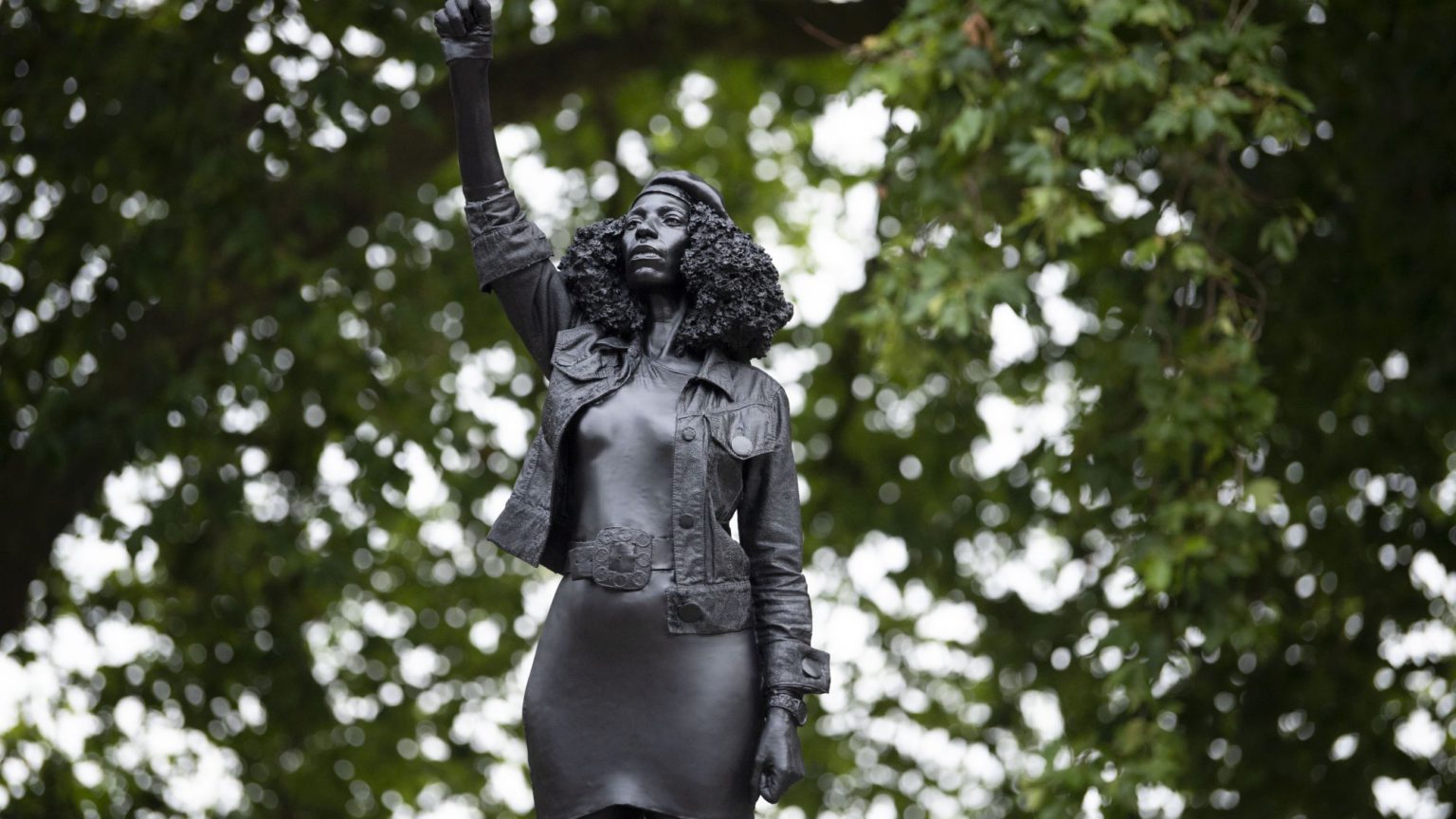 The toppled statue of Edward Colston was this week temporarily replaced by a statue of a Black Lives Matter (BLM) protester. Artist Marc Quinn fixed the black resin statue of protester Jen Reid to the plinth in the early hours of Monday morning. Twenty-four hours later the mayor of Bristol, Marvin Rees, announced it had been removed, so that the people of Bristol could decide, democratically, what should take Colston's place. Many will have seen the toppling of Colston and his replacement by Reid as fitting, as an enlightened re-arrangement of street furniture. But take a look at the wider context here, particularly the historical one, and alternative possibilities present themselves.
Following the toppling of Colston, demonstrators in London subsequently vandalised the statues of Churchill and Gandhi in Parliament Square, sparking a debate on whether the wartime leader's statue should also be removed. London mayor Sadiq Khan has promised a review of the capital's statues; the coalition 'Stop Trump' has produced an interactive map of 60 UK statues that 'celebrate the racists'. In Poole, the council was stopped only by local residents from removing Scout leader Robert Baden-Powell from the seafront. The iconoclasts have set their sights wide. Media interviews with some allegedly involved in tearing down Colston's statue revealed that they had no idea who he was. When an activist was asked by Channel 4's Cathy Newman if the statue of Churchill 'should be there', her guest replied 'some say that he's a racist, some that say he's a hero, I haven't personally met him…'. There is a bandwagon rolling who knows where.
That Colston was temporarily replaced with a statue of someone from Black Lives Matter reflects the self-regard of this movement. The battle over statues is the latest chapter in cancel culture – where people seek to annul what rubs them up the wrong way, and to dictate what the rest of us should and shouldn't read, view or listen to. And yet these activists are unsure of what or who they prefer. This is partly because the criterion is ever moving, and partly because a lot of the culture cops are culturally and historically subliterate.
This isn't only a contest over individual monuments, but over public spaces and how we engage with history. For the campaigners, history is oppressive and they are its victims. For decades now, public bodies have treated us as potential victims of one kind or another, with forewarnings and helplines placed after soap-opera episodes. There is also a generational element to this. Young people have been invited on to interview panels to recruit their teachers, and are otherwise over-entitled by a cult of the young. Each new generation believes itself to be king – what's new is the adults have now willingly handed over the crown to the current crop; and what they feel, they believe to be real.
The argument against certain statues, of Cecil Rhodes or Edward Colston, isn't just that they are offensive, but that their continued existence oppresses people today – that statues hold people and social progress back, because they are a conscious celebration of racism and imperialism. But this again is historically illiterate. In major cities across Europe, 1848 to 1914 was an industrious period of statue building, with 78 installed in Paris, 59 in Berlin and 61 in London. European powers were cementing a sense of national identity and empire. By the time they had finished, Britain was on the cusp of achieving suffrage, if not social revolution, and class power was beginning to shift irreversibly. All without a statue of Eleanor Marx or Tom Mann. Across the Soviet Union, Stalinists raised figures of party officials on street corners, but they left the people cold. After the edifice collapsed, many were carted off to eerily comic statue parks, as in Budapest.
Statues are not that important; they tell us what some with influence believed was worth memorialising at a particular time. They are a window to others' concerns, or lack of concerns. I've always been bemused by the statues of Bomber Harris and General Haig, the architects of the fire-bombing of Dresden and the Somme offensive. But it has never occurred to me to expect them to be removed. They are a reminder of how cheaply the lives of ordinary people are held by the establishment, particularly in times of war. Allowing monuments to stand isn't legitimising anything. They are merely part of the fabric of the past woven into today.
In the wake of Colston's toppling a petition was circulating in Bristol, urging the authorities to erect a statue of Paul Stephenson, who led a bus boycott in the city in 1963, after the Bristol Omnibus Company refused to employ black drivers or conductors. There also could have been an argument for Stephenson to be placed opposite Colston in the square, looking right back at him. Colston was memorialised because he was a huge benefactor to Bristol, through the proceeds of the slave trade. The two statues together would tell a more poignant and enlightening story.
We need to understand our past, not just morally judge it. History cannot harm us, but if we turn our backs on it, it has a habit of sneaking up on us, and then we run the risk of going through it all again.
Michael Crowley is an author and dramatist. Visit his website here.
Picture by: Getty.
To enquire about republishing spiked's content, a right to reply or to request a correction, please contact the managing editor, Viv Regan.