The rise of the White British Saviour
Middle-class white people need to stop hectoring poorer white people about privilege.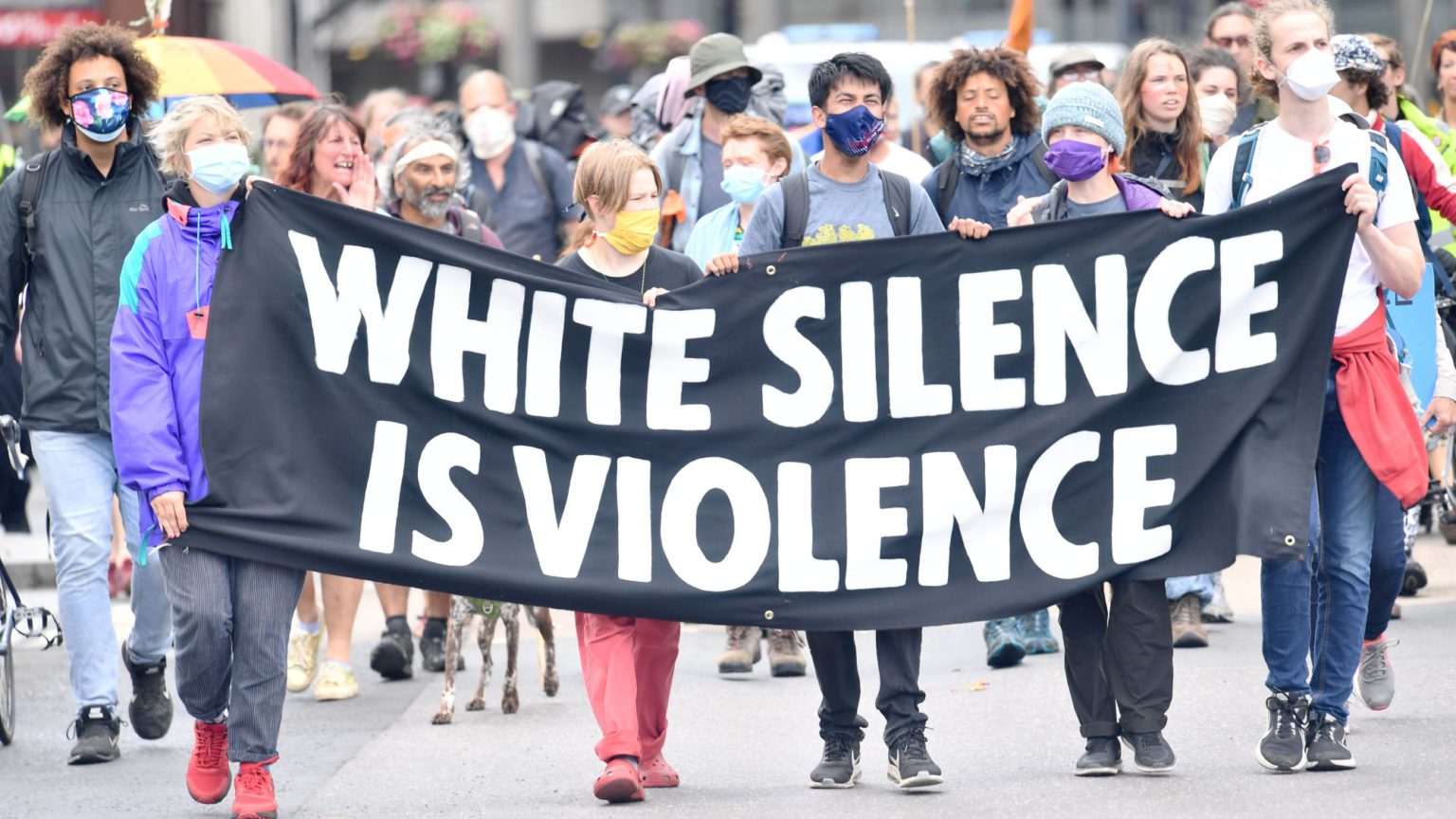 The Black Lives Matter movement seems to have hastened the importation of divisive US culture-war politics into the UK. This has led to a number of absurd claims being made which are completely irrelevant to the British context. This includes framing police brutality as a shared UK-US problem, and arguing that the UK's race relations are as bitter as those across the pond. As a consequence we also seem to be developing our own version of the White Saviour figure: those middle-class white people who lecture other white people on racial issues.
Britain is witnessing the rise of a youthful white middle-class convinced that it represents the height of enlightened thought. This was exemplified by a BBC Sounds segment posted on Twitter yesterday, featuring University of Southampton academic Dr Charlotte Lydia Riley and journalist Amelia Dimoldenberg. Dripping with condescension, the pair proceeded to insult supposedly unrefined and loutish 'Karens', those women in need of education on matters of white privilege and socially acceptable behaviour.
Overwhelmed by 'white guilt', members of this new tribe strive to spread out culpability for racism among the rest of the white population. Often it is insufficiently woke working-class people who they have in their sights. According to these White British Saviours, even those in deprived coastal towns and former industrial areas, places which have been starved of meaningful public investment for decades, including communities which have witnessed the large-scale abuse of white working-class girls, must be lectured about their supposed privilege.
These people paint an incredibly skewed yet undoubtedly powerful picture of British society. They frame our society as some sort of sinister, white-supremacist superstructure. We should not underestimate how enticing this kind of grievance politics is to many people. But this view of British society is extremely misplaced and unwarranted.
The UK government recently offered a pathway to citizenship for millions of people in Hong Kong, in light of China's clampdown on freedom there. Moreover, the most recent Crime Survey for England and Wales shows that the vast majority of ethnic-minority people have confidence in their local police force – with a number of non-white groups having even a higher level of confidence than white Brits. In the British workforce, the two highest-earning ethnic groups, by hourly pay, are workers of Chinese and Indian origin.
Contrary to much of the divisive left-wing rhetoric in the media, Britain is one of the most tolerant, anti-racist, anti-discriminatory places on Earth. While Brexit has been portrayed by some as a case of a xenophobic country detaching itself from an oasis of tolerance and open-mindedness in the shape of the EU, the reality is, in many ways, the other way around. A study by the European Union Agency for Fundamental Rights has found that people of black African descent faced 'widespread and entrenched prejudice and exclusion' across the EU. But the UK had one of the lowest levels of reported race-related harassment and violence in the 12-country study.
The co-author of a study published by Frontiers in Sociology, Professor Mariah Evans, concludes that 'prejudice against immigrant workers or minority or religious groups is rare in the UK, perhaps even slightly rarer than in equivalently developed EU countries'. Using a well-established symptom (or consequence) of prejudice – aversion to 'outgroupers' being neighbours – that study revealed that prejudice against immigrants, people of other races, and religious groups such as Muslims, Jews and Hindus, is relatively low in the UK.
Of course, none of this is of interest to the White British Saviour. In fact, these findings are treated as an inconvenience. This is because the members of this ever-growing 'Brahmin class' of pseudo-intellectuals are ultimately more concerned with gaining brownie points from fellow snobbish peers, on social media and among their friendship groups, than they are with the facts.
They also frame BAME communities as an oppressed mass, and so ignore, or even scorn, those from minority populations who think differently to them. This is where their neocolonial mindset is laid bare – they believe that non-white people who 'resist' identity politics have been duped into sustaining the structures of 'white supremacy', as opposed to being independent-minded individuals with agency.
The White British Saviour represents one of the most socially divisive forces in British society today. The flawed identitarian narratives and smug elitism of these people must be robustly challenged. A failure to do so will mean that their influence becomes more entrenched in various spheres of British life.
Dr Rakib Ehsan is a research fellow at the Henry Jackson Society. Follow him on Twitter: @rakibehsan.
To enquire about republishing spiked's content, a right to reply or to request a correction, please contact the managing editor, Viv Regan.