This is McCarthyism in BLM clothing
The Black Lives Matter movement is being used to usher in an era of crushing conformism.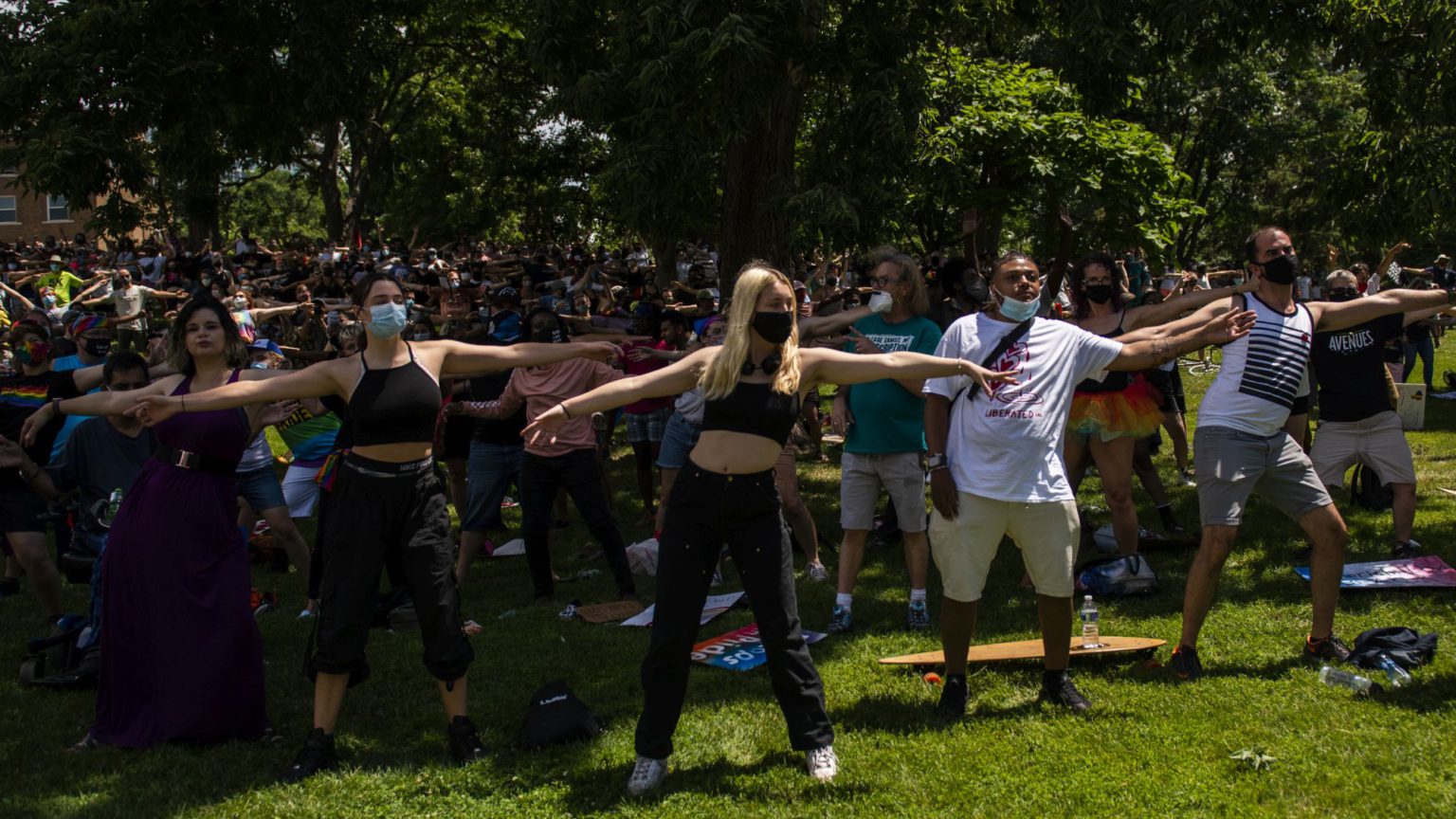 The Black Lives Matter (BLM) protests have accelerated and intensified our culture of crushing conformism. I was sympathetic to those whose justifiably angry reaction to the appalling killing of George Floyd on 25 May led them to break Covid-19 lockdowns and take to the streets. Yet, somehow, an idealistic and well-motivated protest against injustice and police brutality has increasingly come to resemble the 17th-century Salem witch trials, or the McCarthyism of the 1950s, dramatised by Arthur Miller in The Crucible.
The first sign that something was amiss was Blackout Tuesday, when friends were posting black squares on Instagram and other platforms. Not only was this gesture taken up by celebrities, media organisations and large corporations, but those who were thought to have posted clumsily, insincerely or self-servingly – or who had failed to post at all – were criticised and called out. How had an innocuous expression of solidarity immediately become the focus for recrimination and shaming? Later the same week, my employer and my trade union emailed me on the same day, both proudly announcing their support for the protesters' cause. How had an avowedly anti-establishment protest become the basis for consensus? Perhaps a little over-zealous, but so far so harmless, you might think. Yet there are three things that justify characterising the present moment as a latter-day Salem.
First, there is the pressure to adopt certain behaviours or say certain things. This is not just a matter of posting the correct hashtags and properly worded messages on social media, where a culture of calling out and clapping back has become normalised, though that is bad enough. The same imperative now extends to the offline world, where people perform self-abasing rituals of obeisance, such as taking the knee and foot-washing, and declaim public admissions of inherited guilt. Even if kneeling politicians are seen by many as performing superficial gestures for the cameras, there is still pressure to conform and vilification of those who refuse – as Daily Mail columnist and serial dissenter Peter Hitchens discovered when he was followed through the streets by a group of protesters angry at his presence. It is also difficult simply to opt out of obligatory confessions of guilt and professions of support, since silence is now deemed to be equal to complicity with violence – reminiscent of those whose refusal to answer accusations about their un-American activities in the 1940s and 1950s was taken by Senator Joseph McCarthy as 'the most positive proof' of guilt.
Secondly, there has been a symbolic cleansing of the public sphere. Censorship of films like Gone with the Wind and the defacement and destruction of statues indicates a desire, not to contest, but simply to erase bad ideas and the artefacts and icons held to represent them. These have included monuments to figures such as Winston Churchill, who most Britons regard as a national hero. I'm no fan of Churchill, but I suspect that spray-painting 'racist' on his statue is unlikely to change the minds of those who are. Even worse than the direct-action vandalism of protesters, though, has been the reaction of the authorities – either boarding up statues or pre-emptively taking them down. The top-down targeting has been even more scattergun than that of DIY statue-topplers. It was broadcasters who pulled an episode of the much-loved 1970s sitcom Fawlty Towers, for example, and it was rugby football's governing body that suggested banning fans from singing 'Swing Low, Sweet Chariot'. The cultural illiteracy of these new puritans is astounding. Fawlty Towers featured racist attitudes in order to ridicule them, and rugby fans were singing a song written in the 19th century by a former slave and adopted by the 1960s civil-rights movement. Before Prince Harry waded in to offer his support for banning a song 'associated with slavery', perhaps someone should have told him it had previously been proscribed as 'undesired and harmful' by the Nazis, or that one of the most famous versions of the song is the 1920s recording by Paul Robeson, later targeted by the McCarthyites for his radical political activism.
Thirdly, and most worryingly, people's attitude to BLM has become grounds for being suspended or sacked from their jobs, particularly in the media and universities. The ever-lengthening list of things that can get you in trouble at work includes saying 'All Lives Matter', saying 'Canada is not a racist country' (a view shared by most Canadians), criticising the concept of 'white privilege' and questioning the relevance of BLM protests on the Isle of Man. Even tactical criticism of BLM is dangerous – as data analyst David Shor found when he questioned the political effectiveness of rioting. Shor was only summarising the research of a black academic, but that did not prevent him from being accused of 'anti-blackness', since quotation and context are now no defence. People have been suspended and investigated for reportedly quoting someone saying 'a word that should never be used' during a news editorial meeting, and even for reading out Martin Luther King's Letter from Birmingham Jail during a lecture on the history of racism.
In many of these cases it is difficult to know which is worse: summary dismissal by an employer anxious about reputational damage, or accusation and denunciation by colleagues and students. An anonymous (black) history professor at Berkeley wrote that he did not dare publicly voice his criticisms of BLM because 'dissent could almost certainly lead to expulsion or cancellation'. His concerns seem entirely justified. Students at Cornell have demanded that a professor be fired for questioning whether a well-publicised incident of a protester being pushed to the ground should be described as police brutality, for example, and academics have petitioned the management of the Journal of Political Economy to remove its editor after he criticised BLM's call to defund the police. Astonishingly, dozens of poets have also petitioned the management of the Poetry Foundation, demanding that its president be replaced and that the governing board issue a 'meaningful statement' in support of BLM. The Foundation's mistake, apparently, was that its initial statement of solidarity was too 'vague' and 'contained no details, action plans, or concrete commitments'. Even if all the accusations were true, all the accused were indeed guilty, all the words, songs and films deeply offensive, do we really want to live in a world of political-purity tests for opinions, words, artworks, films and songs? We will all be like the Hollywood Ten, our future job prospects dependent on professing the correct political views.
How has a well-intentioned protest against a manifest injustice turned into something so censorious? Part of the answer, though perhaps an overly cynical one, is that there is an element of generational turnover here, as those who can do so use adherence to new orthodoxies to advance their own position, undermine rivals and challenge the authority of the old guard. Something of that dynamic seems to have been at play in the denunciations and subsequent sackings at numerous media companies, including the New York Times and the Intercept, as Matt Taibbi has detailed. Similarly, members of the Black Artists for Freedom collective have called out the 'racist culture' of the creative industries, demanding 'No more stereotypes. No more tokenism. No more superficial diversity.' Implicitly downgrading black artists' present status to mere tokens is the prelude to claiming greater future opportunities. The situation in the UK cultural sector is even worse, according to Steve McQueen, who describes it as 'shameful' by comparison with the US. Yes, that's the Steve McQueen whose film 12 Years a Slave won three Oscars, a BAFTA and a Golden Globe, whose artwork won the 1999 Turner Prize, who holds the honours of Order of the British Empire and Commander of the British Empire, and who was knighted by the Queen in December. I don't doubt for a moment that McQueen encountered racism growing up in Britain, but his own stratospheric success and recognition might lead one to question whether the situation is entirely bleak.
Regardless of the motivations of individuals, the atmosphere of distrust and recrimination has developed so quickly because it has focused and accelerated pre-existing trends. More than a decade ago, I taught a class on how the meaning of signs and symbols in popular culture is contested rather than fixed, making the point that negative words or icons are sometimes re-appropriated by those on the receiving end. One of my go-to examples was the word 'queer', now more likely to work as a positive self-identification than as an insult; another was the full name of the hip-hop group NWA – until, one year, a sharp intake of breath from some of the students was enough to tell me something had changed. A colleague who was attending the lecture gave me a (friendly) warning afterwards that I really couldn't say that, even though that was precisely the point of the example. If I was teaching that class today, I honestly don't know if I'd dare to use what seemed back then to be a textbook illustration of defusing the power of words to hurt.
Freedom of speech, already under attack for years, is particularly threatened by identity politics. From that perspective, words, ideas and cultural symbols are understood not as things to be interrogated and argued over, but as defining – and so potentially threatening to – one's very sense of selfhood. No doubt people are sincere when they say that words or images make them feel unsafe, or when they describe unwelcome or insensitive speech as a form of violence. In this respect, BLM is no different from other strands of contemporary identity politics, as illustrated by the recent online mobbing of JK Rowling by trans activists and their allies, wounded by her view of the biological distinction between men and women. Rowling's measured response – that 'I know and love trans people, but erasing the concept of sex removes the ability of many to meaningfully discuss their lives' – prompted verbal abuse far worse than anything she had said. At its most extreme, symbolic violence can be understood to justify a physical counter-attack, such as that visited on the writers and cartoonists of Charlie Hebdo in 2015.
To some observers, BLM looks like a radical 'neo-Marxist movement' bent on 'dismantling capitalism'. Yet the truth is that, as Fraser Myers observes, going woke is good for business – good for share prices and good for the overall capitalist system, which thereby gains 'a new sense of mission and moral purpose'. It also seems likely that, whatever temporary upsets there may be, the outcome will not fundamentally disturb the position of political and economic elites, who are already seizing on BLM as a pathway to 'neoliberal redemption', as Cedric Johnson puts it. No wonder my employer was as on-message as my union.
The real radicalism of identity politics is more insidious, because it seeks not only to change institutions and public spaces, but also to change how we relate to each other and how we understand ourselves. The flipside of treating words and symbols as weapons rather than signifiers of ideas to be debated and challenged is a greater distrust of other people. While the impulse to ban and censor is hardly new, there has been a spiralling loss of trust in our fellow citizens in recent years; a growing sense that people are not to be engaged rationally and politically but nudged and managed by behavioural engineers.
Ultimately, we are asked to distrust ourselves. According to the new gurus of unconscious bias and race awareness, our sincerely held beliefs about ourselves cannot be taken at face value. A graphic illustrating contemporary understandings of 'Becoming Anti-Racist' is indicative of current thinking. It imagines people as moving from the Fear Zone, where they 'deny racism is a problem', through the Learning Zone where they begin to understand their own 'privilege', to the Growth Zone, where they can acknowledge how they 'unknowingly benefit from racism'. People who think they are not racist need to be re-educated to believe they are the beneficiaries of racism. The graphic is currently circulating among psychologists and other health professionals, who may soon begin to diagnose racism as something akin to a disease or a mental disorder. The really radical change is to separate us from each other and strip us intellectually naked before the inquisitorial eye of the new thoughtpolice of trainers and awareness-raisers.
We need to reassert our own and others' capacity for rational debate; to take our own and others' beliefs and opinions seriously as ideas to be engaged with, rather than seeing people as driven by unconscious biases or manipulated by 'dog-whistle' language. No matter how many join in at the time, in the end witch-hunters are never regarded as heroes. Nobody looks back on the McCarthyites fondly.
Philip Hammond is professor of media and communications at London South Bank University.
To enquire about republishing spiked's content, a right to reply or to request a correction, please contact the managing editor, Viv Regan.