Reopen the churches
It's outrageous that you can go to a garden centre but not to a cherished place of worship.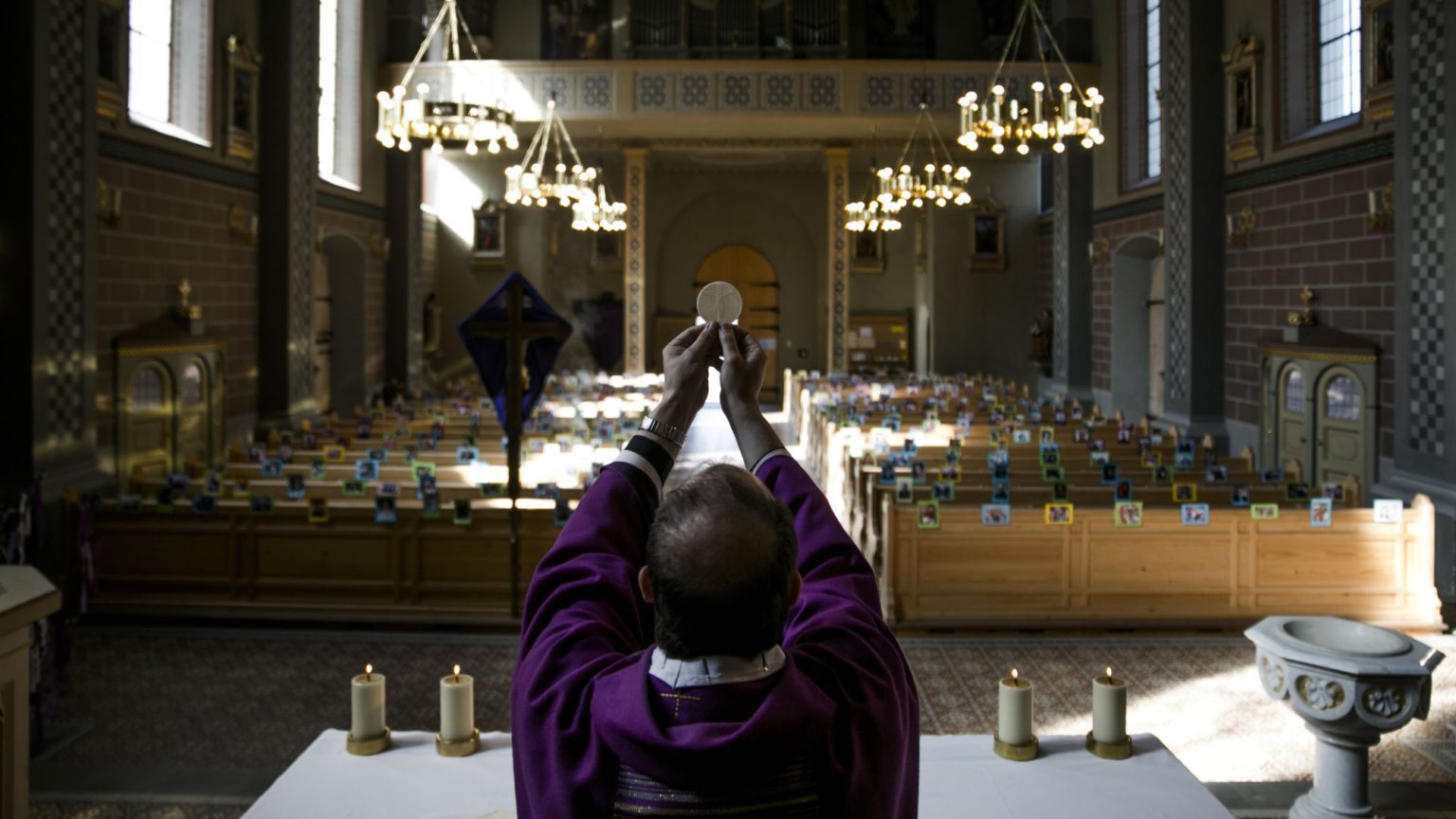 I was brought up as a Catholic in Ballymurphy, West Belfast, in the 1970s. I have fond memories of attending 8.30am mass every Sunday morning at Corpus Christi with my father and siblings. My claim to fame is that Mother Theresa and her missionary nuns attended the same church when they were in West Belfast for a stint, and would often chat to our family.
Memories of my old parish church came flooding back last week when I chanced on two lovely pictures among the otherwise miserable news headlines. The first was of parish priest Father Paddy McCafferty, sitting in the sunshine outside Corpus Christi hearing confession, while observing social distancing. The next was a woman at prayer inside St Mary's, Belfast's oldest Catholic church, as the caption read that churches in the north of Ireland have reopened for socially distanced private prayer. St Mary's, in the city centre, is my go-to place for a bit of quiet reflection on my visits home. I know of friends and family who were desperately missing the church, so I was delighted to see that the Stormont executive had seen churches as a priority in easing lockdown.
So why are Catholics in England not allowed this small comfort? The government has already opened hardware stores and garden centres, and signalled that car showrooms and other retail stores can open from 15 June. . But churches cannot open, even for socially distanced private prayer. Soon enough you'll be able to buy houseplants or a new three-piece suite, or squeeze into a small boutique, but not kneel quietly in a church and pray.
Unsurprisingly, Catholics are angry. In a letter to the prime minister, seen by the Tablet, the Archbishop of Southwark, John Wilson, called the ongoing closure of churches for private prayer 'an infringement of both religious freedom and equality'. Cardinal Vincent Nichols, leader of Catholics in England and Wales, could barely hide his frustration in an interview on BBC Radio 4 on Sunday. He took part in a government taskforce aimed at easing lockdown restrictions for places of worship, after having initially conceded that they needed to close at height of the pandemic. It's clear from previous interviews that the cardinal was optimistic that the government would allow churches to reopen for private prayer, alongside shops and car showrooms, in mid-June. But churches have now been told that they will have to wait until the third phase of eased restrictions, and no date for reopening has been given.
The churches were not asking for mass and other church services to resume, but simply to open their doors to the faithful for private prayer. Detailed plans were submitted to the government to show how churches would comply with social distancing, and thousands of volunteers have been signed up to oversee the cleaning and supervision. And yet this all fell on deaf ears.
Archbishop Wilson's letter to Boris Johnson makes clear that he feels the decision is an affront to religious freedom: 'Total church closure was justifiable in the initial weeks of the pandemic. However, to enable non-essential shops and services to open, while keeping churches closed for individual prayer, is an infringement of both religious freedom and equity.'
Caroline Farrow, a Catholic commentator, went further in her column for the Catholic Universe: 'It is a total insult to rank the deep spiritual needs of believers as being of less importance than a bedding plant, set of garden furniture or pot of paint.'
This apparent disregard for the importance of churches to many people is reinforced by the fact that they merited just one mention in the government's 50-page document about the easing of lockdown.
One interview that has stayed with me was a vox pop for TV news, aired before the start of lockdown. An older lady leaving church told the reporter that she would never be able to face staying away from her church, and prayed that it would not come to that. She made an impression because I thought of my own late mum, and the very recent funerals of my mother-in-law and the mother of a good friend. Eulogies for each of these wonderful women all talked of the role of the church in their lives – as a place of worship, but also as a place of retreat and of community. I feel heartbroken for this lady, knowing she can still not return to her church, even to sit for a while and see familiar faces in the distance.
I also fear that the failure to allow churches to reopen reflects a broader religious illiteracy among many in political life. All faith groups have conceded that it is too soon to have large congregations packed into religious services or communal worship. But that was not what Cardinal Nichols and others have been asking for. The reason churches in Italy and the US have kept their doors open, or reopened after a short period of closure, despite terrible death tolls from Covid-19, is that for many people of faith the church is a place to be near to God and to worship him. Millions of churchgoers may have been denied the eucharist for two long months, but they want the chance to be in the presence of Christ in the blessed sacrament – especially at this terrible time. It's also hard not to conclude that good old-fashioned religious intolerance plays a role here.
The executive in the north of Ireland clearly sees this as an issue of fairness and equity. The UK government should follow suit. If it doesn't, we should do what a nice Filipino woman said to me recently, as I sat outside the door of Our Lady of Muswell in north London. Just after she had lit a candle on the steps, she said: 'Never mind their vindictive rule, let's open the church now anyway.' Amen to that.
Kevin Rooney is convenor of the Academy of Ideas Education Forum and co-author of The Blood-Stained Poppy.
Picture by: Getty.
To enquire about republishing spiked's content, a right to reply or to request a correction, please contact the managing editor, Viv Regan.