Why has the Italian government sidelined schools?
As Italy opens up, the education system and the families it serves have been forgotten.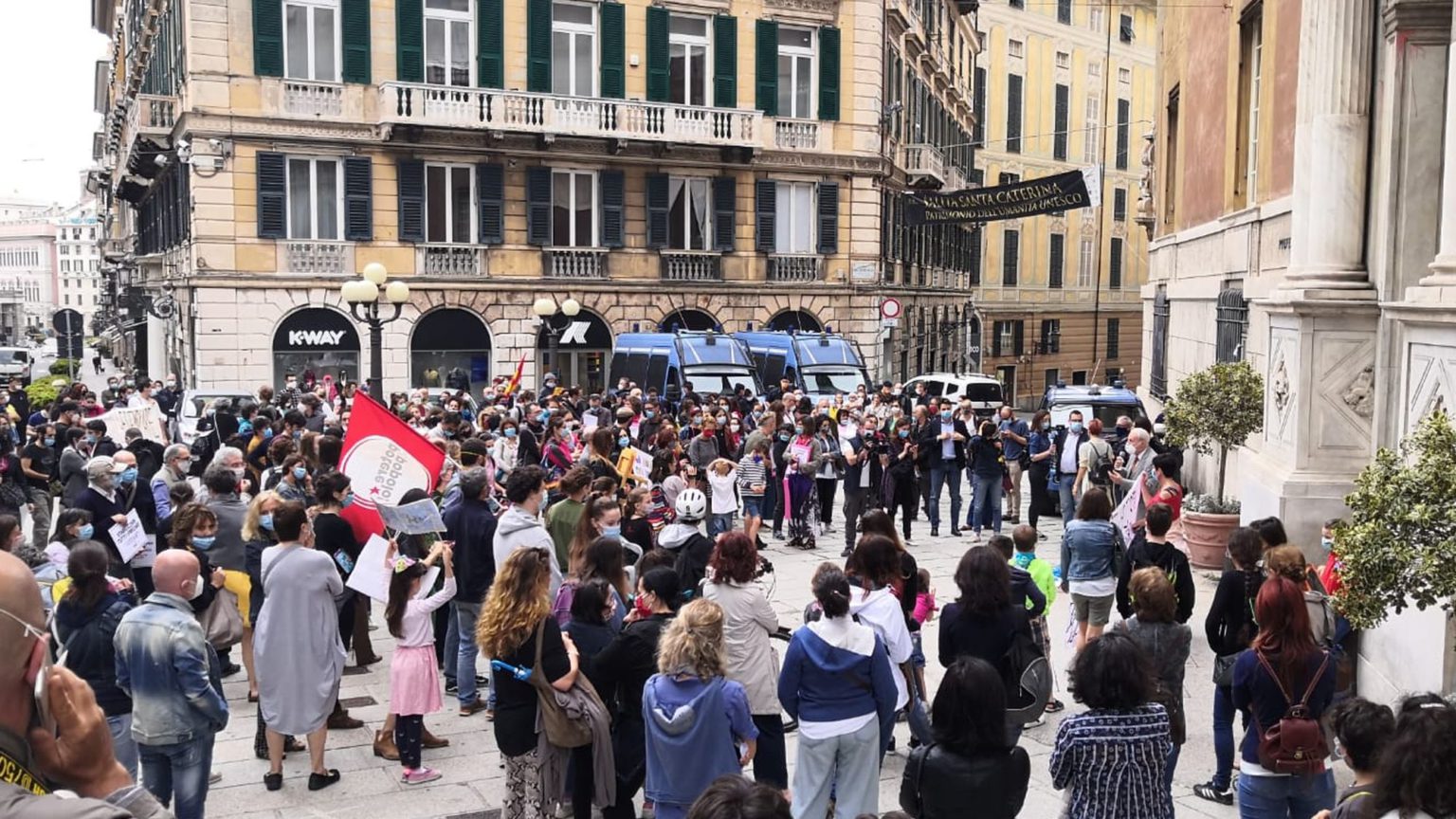 At the weekend, coordinated mass demonstrations have taken place in cities across Italy. Italy's schools have been closed since 24 February in the north and since the second week of March elsewhere. Thousands of teachers, students, parents, educators and allies took part in static protests on Saturday to push the government to take immediate action to reopen schools in September.
Italy has already opened two of its airports, Serie A football clubs have started training again, and our borders will open to the EU on 3 June. Given all of this, many Italians are dismayed that children's education is barely an afterthought in the government's lockdown exit strategy. As the summer approaches, parents, students and teachers are nervous. The government has yet to issue any clear plans for reopening schools in September. The schools were the first thing to be shut down earlier this year, and it seems as if they could be the last thing to open up.
Because of the government's inaction, parents, teachers and students formed an organisation called Priorità alla Scuola (Priority on School). These campaigners have organised demos in symbolic and central places in many Italian cities to call for all schools to be fully, continuously and safely opened in September.
The organisers, Costanza Margiotta, Filippo Benfante, Cristina Tagliabue, Maddalena Fragnito and Gloria Ghetti, state:
'We – teachers, students, parents – ask the government to guarantee the constitutional right to education for children and young people who have been forgotten during the emergency. It is not possible to disentangle the educational function of the school from its role in socialisation. With the enormous effort of teachers, students and parents, distance learning has made it possible to keep up a semblance of a school year. But its limits are there for all to see as it deepens the social and cultural inequalities of our country and promotes the early abandonment of education.'
Priorità alla Scuola has asked the government to hire more teachers, to build more schools and to find more classroom spaces (for instance, by converting existing buildings and abandoned spaces into temporary schools while building new structures for the longer term). The campaigners emphasise that distance learning was meant to be a short-term emergency solution and not a long-term replacement for school-based education.
Protesters gathered in 19 cities on Saturday. In order to keep in line with social-distancing rules, the protesters all stood two metres apart. In Milan, approximately 2,000 people held banners in front of 100 schools. The banners paraphrased Antonio Gramsci, saying: 'Get educated, because we will need all our intelligence.' More than 1,200 people demonstrated in Florence. In Rome, 500 stood outside the Education Ministry. Hundreds also protested in Bologna, Turin, Naples, Genoa and other cities.
I spoke with protesters in Faenza, northern Italy. Giovanni, a 19-year-old history student from the University of Bologna, told me that distance learning is not working. 'The children who are in their first and second years of primary education are at risk of developing huge social problems, having been left out of school for six months. They can't hug or play with their friends, and the government must do something', he said.
Martina, an economics and finance student from the University of Bologna, told me she was protesting for two reasons. First, she has two small brothers and she has seen how alienated they have become through distance learning in recent months. Secondly, as a university student, she is concerned that the government has not made any plans to accommodate medical and science students who will need to access laboratories in order to learn:
'Not all learning can be done online. The first thing that the education minister had to do when she closed down the schools was to have a plan for how to reopen them. The cost of this lockdown will not come today or tomorrow, but our politicians are short-sighted because the cost of this will come one day in the future.'
Martina cited a recent article in The Economist which highlights the trade-off between health and education. 'It's difficult to manage this. But I do not trust the leaders of our country. We are treated like children even if we are citizens', she said.
Elisa Alberghi, a secondary-school teacher and mother of two children, said that schools needed to be at the heart of reopening the country: 'They shouldn't be the first to close and the last to open. Our future is made in schools.' Alberghi felt that while distance learning was necessary for the initial crisis, it should not become the norm. She is also worried by the fact that the virus has become a pretext for neglecting the educational system.
The Italian government needs to stop ignoring the needs of children and parents. Now is the time to reaffirm the importance of education. Reopening schools should be a priority as we open up the rest of society.
Julian Vigo is a writer and academic.
Update: Since this piece was written, the Italian government has published a technical document on how schools might open in September.
Picture by: Julian Vigo
To enquire about republishing spiked's content, a right to reply or to request a correction, please contact the managing editor, Viv Regan.