The #MeToo movement is gaslighting us all
Feminists now claim they never wanted us to 'believe all women'. This is a shameless rewriting of history.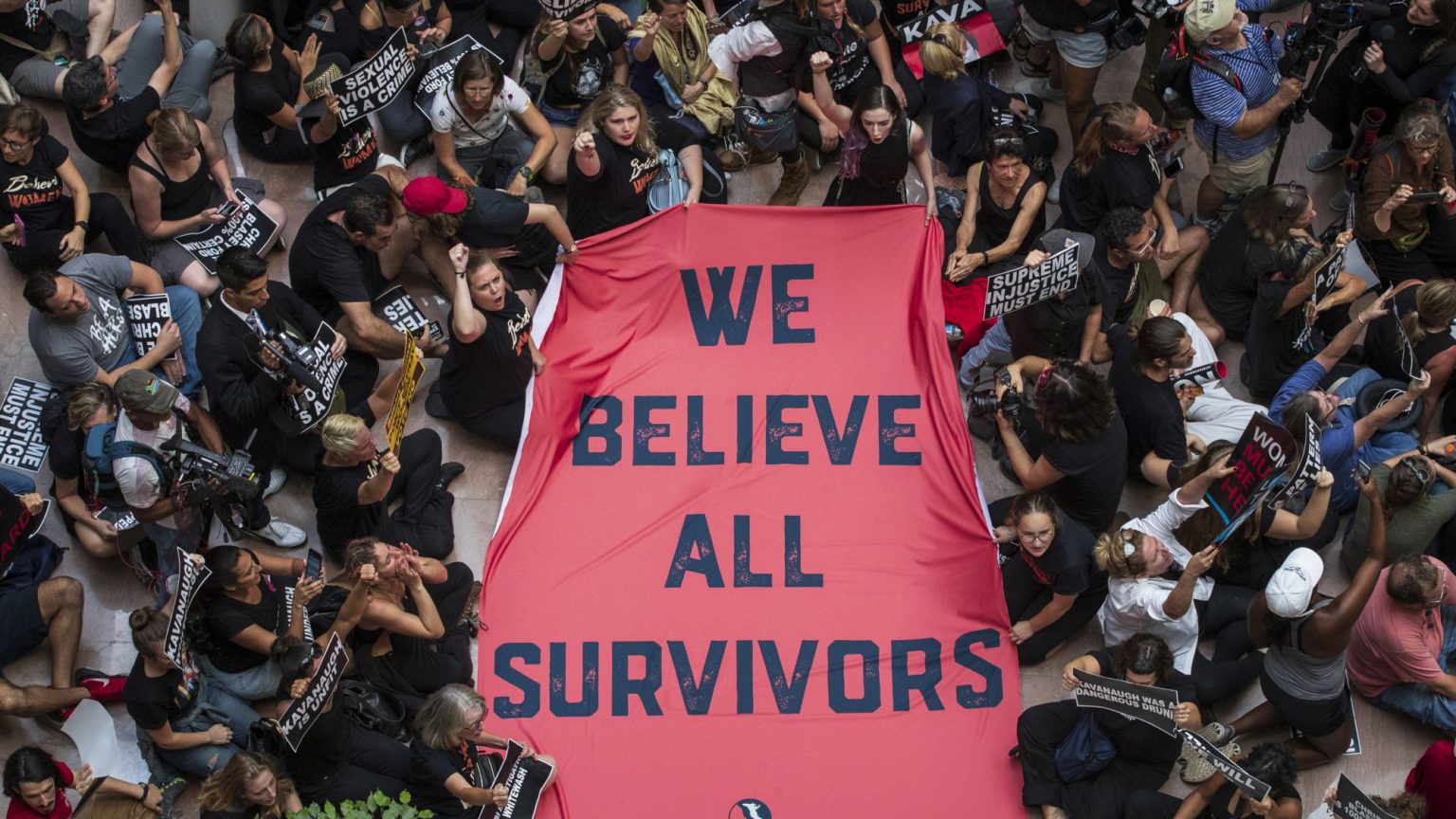 The #MeToo movement claims to have shed light on many things, including the scale of sexual harassment in the workplace and women's fear of speaking out about it. But as the hashtag phenomenon has aged, and more high-profile friends of #MeToo cheerleaders have been caught up in sexual harassment scandals, it seems that #MeToo has revealed more about the contemporary feminist movement than anything else.
Take a recent New York Times article written by Susan Faludi in response to the debate over Tara Reade's allegations against Joe Biden. Biden has been accused of serious sexual assault by Reade (a former staffer). Many critics of #MeToo are pointing to the hypocrisy of the #MeToo advocates who are reluctant to give Biden the Weinstein treatment. Apparently, Biden is too much of a 'decent man' to throw under the bus.
In her article, Faludi claims that those who point out the inconsistencies in the #MeToo movement are falling for a 'right-wing trap'. Using Twitter searches, Faludi argues that the feminist movement never said 'believe all women', but that 'believe women' was 'simply the rejoinder to the ancient practice of #DoubtWomen'. This is a complete rewriting of history. You don't have to be a right-wing Trump supporter to smell a rat when watching the way the Biden allegations have been handled by the #MeToo movement.
When it comes to high-profile political battles (like presidential races) everyone knows dirt-digging and mud-slinging are fair game. Just as right-wingers claimed that Christine Blasey Ford's allegations against Brett Kavanaugh were a part of a left-wing plot, some liberals believe that Reade has been coaxed out of the woodwork by haters of Biden.
Politics is full of hypocrites, which is why a healthy dose of scepticism is always worthwhile when assessing allegations of misconduct – especially when the accused is running for president. But scepticism, doubt and waiting for proof are exactly what the #MeToo and #IBelieveHer movements said were keeping women silent. Faludi is being disingenuous when she claims that the calls to believe and support 'victims' and 'survivors' did not represent a blanket instruction to believe all women.
When the #MeToo movement was in full swing, there were countless articles and commentaries arguing that it was oppressive to expect women to prove that they had been harassed or assaulted. Even legal changes have reflected this attitude. For instance, Title IX proceedings on US campusesonly require a 'preponderance of evidence' – as opposed to evidence beyond reasonable doubt – to prove an allegation of sexual misconduct. Why? Because not believing a victim is seen as damaging.
Faludi references the furore over Margaret Atwood's cautious criticism of the #MeToo movement to argue that feminism is not uniform, and it is therefore not hypocritical for feminists to be sceptical of Tara Reade's claims. But even Atwood asked, 'why have accountability and transparency been framed as antithetical to women's rights?'. Has the great feminist author fallen for a right-wing trap by interpreting 'believe women' slogans as problematic for due process?
The #MeToo and #BelieveWomen or #IBelieveHer slogans which have proliferated over the past four years express a broader belief within contemporary feminism that women are being routinely harassed and abused by men, and are being forced to keep silent about it. This is why the #MeToo movement spoke of an 'epidemic' and 'crisis' of sexual harassment. At no point did any high-profile feminist come out and say, 'Just to be clear, we don't think all women tell the truth and so please be judicial in your support for hashtag pronouncements of personal experience'. Worse still, feminist supporters of #MeToo allowed the movement to become an exercise in witch-hunting, often for political reasons. And rather than focusing on the most serious instances of abuse and harassment, more trivial cases were brought to the fore. In the UK context, many have pointed out the hypocrisy of #MeToo-ers being vocal about pervy cabinet members, but rather quiet about grooming gangs, for example.
Belief is a difficult thing – you don't always have evidence when making your own private judgement about whether or not something is true. Knowing someone's character might not be sufficient evidence in a court of law, but we use our personal judgement all the time – there is many a man I have avoided after a conversation with a close friend. But when it comes to accusations of criminal behaviour, we should never pronounce someone guilty until they are proven so.
The idea that we need to 'believe women' – some or all of them – is bad for justice. It suggests women should not be treated the same as men. Just because we are more likely to be victims rather than perpetrators of sexual assault does not mean we cannot lie about it. The #MeToo movement's real legacy is that it has promoted a patronising view of women as child-like figures who always speak the truth and must be protected from scrutiny.
If defending due process makes me right-wing, then pour a bottle of peroxide on my head and call me Kellyanne Conway. The #MeToo movement has done nothing for women's freedom or for equality – it is time to move on.
To enquire about republishing spiked's content, a right to reply or to request a correction, please contact the managing editor, Viv Regan.